5 Mistakes That Google Doesn't Like and How to Stop Making Them
When Linksmanagement experts audit clients' websites, we notice some huge mistakes which almost always impact Google's rankings of the last ones. Based on our experience, we can say that your own page is most likely affected by some of them. So, if you want to get more organic traffic and better positions in search engines, stick around and learn how to diagnose the problems fix them.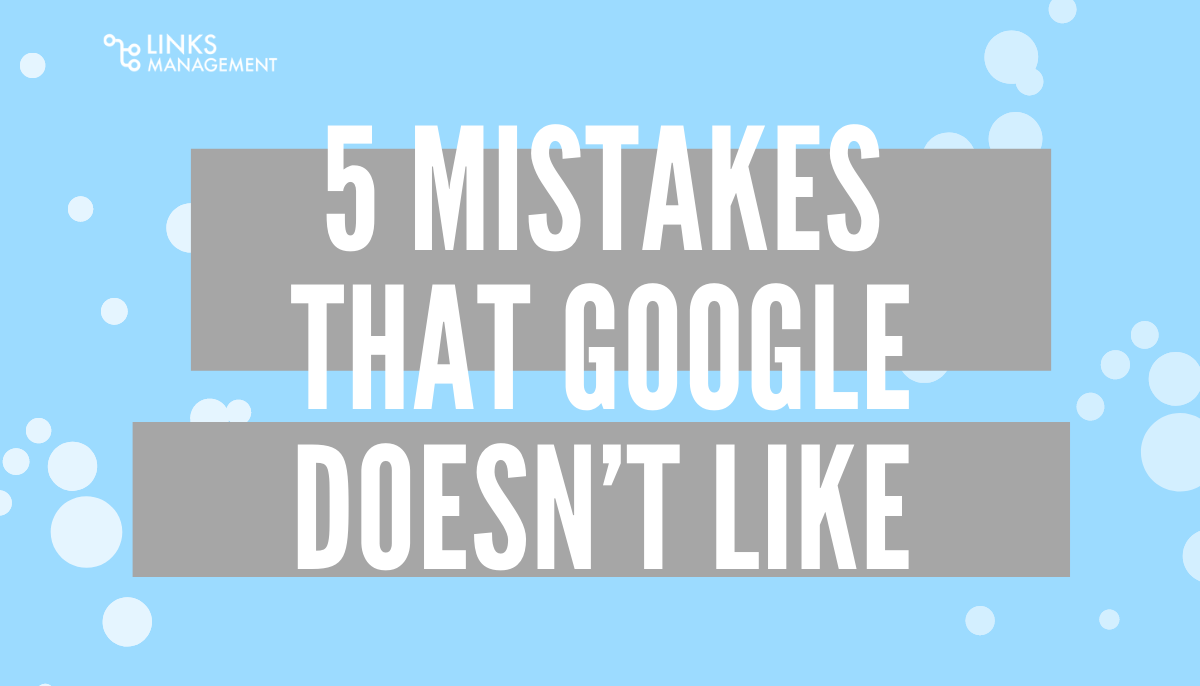 About 77.8% of business owners, marketers, and webmasters make the same mistakes in their content marketing strategies & SEO campaigns, failing to achieve their goals and losing thousands of dollars monthly. These types of errors we will try to fix today.
Content Marketing: 5 Mistakes to Avoid
1. You write content for search engines only
When each of your blog posts is a collection of keywords relevant to your business, their readability becomes very questionable. On the other hand, not optimizing your content at all can be named the next great mistake. 
The solution lies in between. As a business blog gives you a chance to get seen by search engines and increase organic traffic, it's surely a good idea to find out the keywords you can rank for, and employ them while writing. Use services that help identify the LSI words for your content, and keep them in mind when writing for the blog. 
What you shouldn't do is stuff those keywords in every sentence hoping this will help users find you or will make search engines rank your content as more relevant. 
>Say important things, answer the questions, and soothe the pains of your users in the first place. You'll see that LSI words will come to your mind much more often than you might think. 
2. You keep your content too corporate / too selling
The content itself is a great thing to use in order to stop hiding behind your brand and show the human side of what you do. Demonstrate your emotions, share passions, be real. 
The other mistake often seen with corporate blogs or pages is that they are too focused on the brand itself. They talk about how cool their product is, what amazing features it has, which changes have been made to the product lately. This is not exactly what the readers who run across your blog are expecting. Instead, they are probably looking for some answers and practical tips. 
So, don't turn your blog into another landing page for your services. Make it valuable and worth sharing, and you'll have access to a much larger audience.
3. Expecting results way too early OR giving up way too early
Remember that it takes time to build an audience. You have to consistently provide value over time so your audience can trust that you will be there. To see the result you are looking for, you will probably need about 12 to 18 months.
In fact, your first 3 months of creating content are less about the audience but more for yourself, so you get comfortable with the process and really find your voice.
4. Not doing research
This is quite straightforward. If you want to gain Google's trust, you should prove that you are an expert in a specific area, whether it is electric bikes, ads, or AI. That's what research is for. That's how you can give some value to potential customers.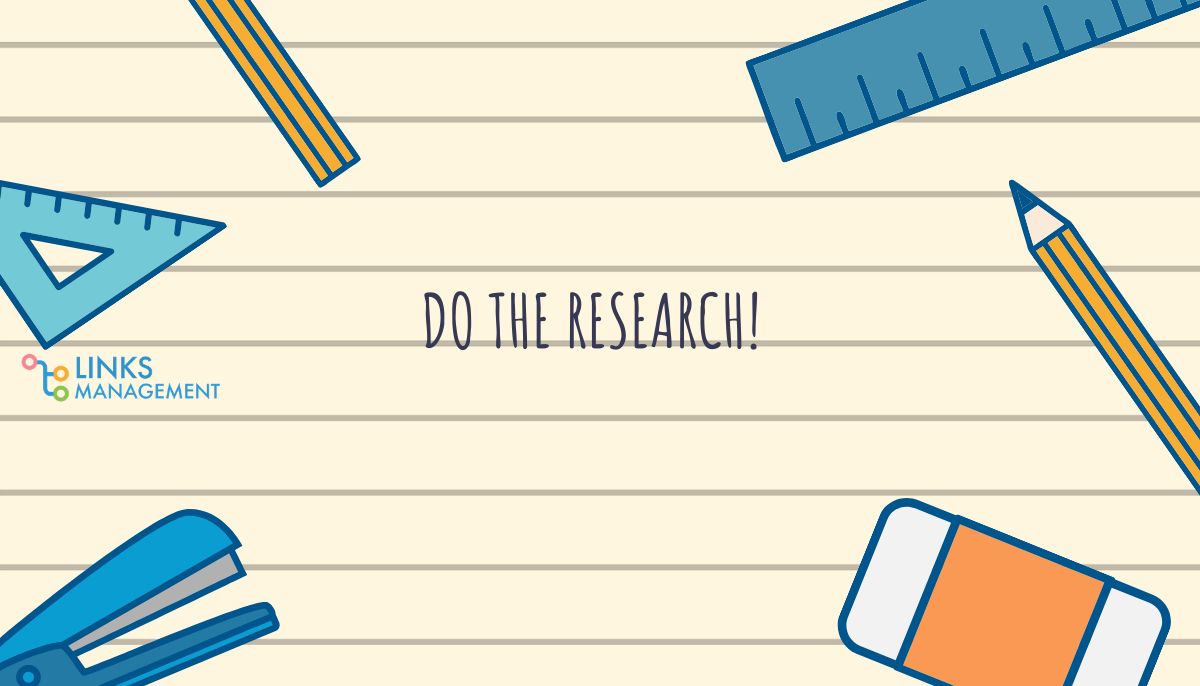 So, there are 3 major research pieces we recommend you to check out before publishing your content (each of them is self-explanatory):
Trends
Competitor research
Audience feedback
5. No CTA
As a final touch, don't forget to add a call-to-action button to your content (no matter if it's written or shot). That's what makes your visitors convert. Keep it simple and personalized. To stuff your landing page with millions of CTA is also a bad choice. 
5 SEO Mistakes That Google Will Never Forgive You
So, we got to the main and not an easy part. Performing SEO in the wrong way and violating search engine webmaster guidelines may cost you too much. According to our analytics research, you may save almost 11,700$ on your SEO if you avoid certain mistakes. Let us try to save you the money.
1. Wrong quality
What matters to the search engines when they are looking at your backlinks profile and assigning you a position on the SERPs? 
Vary links with different DA/PA as your goal is a natural-looking profile.
Pages on your site the backlinks point to. Backlinks to the main page are the #1 sign that you try to manipulate the engines, so send around 50% of the links to inner pages.
Niche relevancy. The sites you choose backlinks from should be in your business niche.
Consider the things that matter, first of all, don't discard some sites that may seem old-fashioned to your taste. Chances are their parameters will work just fine both for you and for Google. 
If you have no time for that, Linksmanagement can provide you with top-quality backlinks that will diversify your backlinks profile and get more organic traffic than ever before.
2. Wrong anchor
Unnatural anchor texts were hugely hit by the recent Google update, and many sites lose rankings because they choose bad anchor texts for their backlinks. 
What to do? Thousands of users have improved their positions on the SERPs by creating a natural-looking backlink profile with the help of the LinksManagement anchor text distribution formula:
Naked URL (45%) + Branded anchor (30%) + Generic anchor (14%) +  text (11%)
We recommend you to stick to the formula and stay safe.
3. Wrong speed
A hasty purchase of links will not give faster results but will draw unnecessary search engines' attention to your link building. 
What to do? >Don't disregard help. Use LinksManagement SEO Cost Calculator to find the number of links you need and the optimal speed for your purchase. Then start your campaign using the SEO Expert Tool and the data you've got from the Calculator.
4. On-Page Optimization: common SEO mistakes
There are several on-page mistakes that you can fix right now increase your SEO results:
Not having current XML Sitemap
Poor internal linking steps
Wrong URL architecture
Cloaking unintentionally
Making use of unindexable formats
Suspicious redirects
Duplicating or missing out on Meta description
Not making use of transcripts
Reckless use of subheadings
5. Link Quantity VS Link Quality
When it comes to search engine deoptimization, don't chase after the quantity at the expense of quality. Take care of the quality of links. A decade of quality links is more useful than a hundred, acquired from a donor with a bad reputation. 
To make it look organic, LinksManagemen has arranged 15+ manual filters to precisely select the most suitable backlinks individually for your website.
To be at the top and climb Google's ladder, we recommend you start fixing these content marketing SEO problems slowly. That's how you get the best possible rankings results. 
Fix My Mistakes
free
SEO Cost Calculator Tool
Enter URL & See What We Can Do Submit the form to get a detailed report, based on the comprehensive seo analysis.