Backlink broker №1 – Links Management
Note:

 Google has recently cancelled Page Rank, that is why some information in this post may be out-of-date. Instead, we use a new system of links ranking – SB Rank, which is based on DA and PA index.
Link broker called the company that sells backlinks. Today the popularity of the site is mainly determined by its position in organic Google SERP. There are many factors that affect the ranking, but none of them can be compared with backlinks, especially of high quality ones. Using one-way PR1–PR8 (and sometimes even with higher rank) backlinks you'll be able to transform your site from a middling one to one of the best resources in its niche. Everything that seems complicated, in fact, is really easy: learn about Jovan and Nimrod Flores success to be sure that there's nothing impossible.
Sing up to get access to our comfortable and user-friendly inventory, or let our SEO Expert Tool do all the job for you.
Our customers
For more than 6 years, since 2009 we're the leading text link broker for USA, UK, Australia and Canada. Sure, our geography is not limited only to these countries. Many European and other countries have successful experience of cooperation with LinksManagement (more text links brokers review)
Why LinksManagement is your best link broker?
Authority, quality manual backlinks, a huge database and MONEY BACK GUARANTEES – what's more do you need to be sure of relevancy of the money spend?
As you already understood, backlinks can really help you to achieve the best results in website rankings and promotion. Quite a lot depends on the keywords you choose for moving your site to the top, but in general, most client successfully increase their audience up to 5 000 – 30 0000 visitors per month. Use our special Free SEO Cost Calculator to identify the degree of complexity of your task. Naturally, moving up to the top, you compete with competitors, and outranking of them is also LinkManagement's primary task.
PR level – a precise measure of a link's power
PR level of each page is a total amount of weigh, transferred to it by all incoming links.

But what is the relation between inbound links and Page Rank?
The answer: Google PR and number of backlinks have strong logarithmic relationship between them. Currently, the PR value is predetermined by incoming links to a value of 67%. It means, getting top quality backlinks from our backlink broker, you'll definitely and to a large extent affect your website position in SERP.
What is the degree of difficulty between PR1–PR2, PR2–PR3, etc.? How many links is needed to increase the PR from PR3 to PR4? Will the same number of links be enough to raise PR level from PR7 to PR8?
Many of our customers asked these questions before starting a partnership.
PR has a logarithmic dependence. Not the most convenient answer, but it's true. Thus, every increase in the PR value has the degree of difficulty of ~5. It means, to move from PR4 to PR5 is 5 times harder (in other words, you must have 5 times more links) than to move from PR4 to PR4.
The table clearly shows the level of complexity in changing of PR level. It also explains a small number of PR10 sites on the Internet with the large number of sites with PR from PR1 to PR3.
Backlinks catalogue with the most convenient options

When you get registered, you'll get access to backlink catalogue, where you can filer possible backlink opportunities due to specified criteria:
PR. We're links broker that provides wide opportunities for users with different financial capabilities. Choose the PR level you need and can afford. PR1 to PR links are available at a regular basis, PR9 links also appear.
DA. MOZ domain authority level. Nowadays Domain Authority is used by us to know the credibility of a particular blog or website. It determined whether a website is trustworthy.
PA. Page Authority measures the strengths of individual webpage.
%. The percent of successful links placement by the exact publisher. Since backlinks are placed manually, different publishers successfully place different % of backlinks on their pages. For you not to be disappointed when your purchased link is not placed, LinksManagement show you the probability of successful link placement for each webpage (payment for not placed links is automatically refunded to your account).
OL (outbound links quantity). A value that directly affects the amount of transferred weight. All weight transmitted by referred page is divided through all its links. So, the less the number of outbounds – the better.
Weight. Passed PR Weight to your webpage, calculated based on the Google PR formula.
Price. Backlinks price for PR0 starts at less than $0.5, and goes to $2000 and more for PR8–PR 10 links. Practice shows that the best approach is a combinational one: use a variety backlinks with different PR level to obtain the optimal result.
One-time or monthly payment. If you need links for a certain period of time, you can use monthly payment option. It's all up to you, but we believe that one-time payment is much in demand.
You can find backlink opportunities using filters "By Categories" (Animals, Arts, Business, etc.), "Homepages", "Countries".
Success from the very start is possible with LinksManagement
You're lucky if you find us from the very beginning. We know how hard it's to understand all SEO aspects, especially if you have limited time. For such users we introduce totally free SEO Expert Tool that will help you to start from pole position. Just specify your keyword expectations: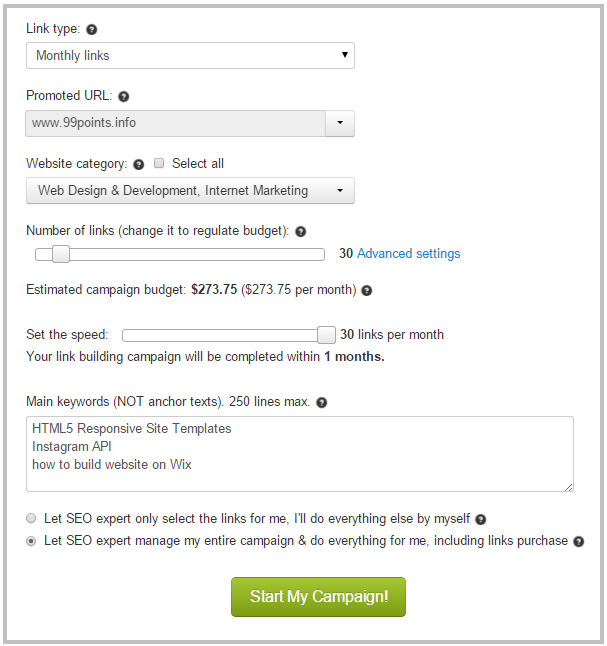 Free SEO assistance is the best for saving your site and redirection of your efforts to the necessary channel.
We should say SEO Expert Tool is popular not among only newbie site owners and SEOs – it also help to PRO customers and business owners who just have no time to cope with it. Be sure – you'll get 100% quality help.
Why LinksManagement is much more than just increasing the PR level with backlinks? The TOP-10 reasons to become a partner of us
Links from less than $1.
Total control over the placed links.
Experience of cooperation with more than20 00 of website owners.
All links are placed manually.
NOT side-wide, forum or comment-type links.
Surrounded at least with 500 characters.
All links are coming from 100% relevant pages.
All links are of do-follow type and already indexed.
You have a unique ability to see the links before the payment.
Only active websites with a high trust level.
Our links become yours
PR1. All PR1 links are coming from the pages with genuine PR level. Do not doubt – you're paying for something really valuable.
PR2.Significantly affects your site search rankings, PR level and indexing. With only PR2 and lower PR level links our site can reach PR5 and even PR6 level.
PR3. Generally, placed on the pages with 5–10 outbound links, which is good for transferring enough PR weight.
PR4. Relevant pages, unique quality content…get ready to the boost.
PR5. At this level the most authoritative sites appears, including .gov and .edu domains.
PR6. Your links will 100% be surrounded at least with 500 characters and be placed in the best place.
PR7. Different C-Class IPs allows them to look natural, living for the time you want.
PR8. Get mega-power links to become a real biggie. The price for such links may seem high, but believe us – it's worth it – you'll be world-known.
FAQ
Oh, my broker link, how can you help me – I'm tired of backlinking alone?
LinksManagement professionals will boost your promo by providing backlinks of different PR level. As a rule, in 2–6 month our customers feel the result. Moreover, if you'll get some luck, you'll be able to get top for the shortest term.
Where can I see links prices and what is the dispersion of prices?
Prices for backlinks varies from $0.01 to $2000 and more, depending on many factors. Sure, they're set by the publishers. Sing up and log in to see the available offers in Cost column. You can also sort list from the cheapest to the most expensive (as well as by many other criteria).
How much money is needed to take 1st spot in SERP?
It predetermines by competition level. For some keywords (especially long tail ones) you can move top even with $50 monthly budget, and for some even $1000 is not enough. Sure, it's practically impossible to oust global companies for their main keywords. Still there are so many other uncovered fields, so you shouldn't worry.
How long should I want to appear on top?
Again, it depends on the competition level. Anyway, our FREE SEO Cost Calculator gives you the unique possibility to estimate the number of links you need to outperform your competitors.
How can I be sure that LinksManagement provides only quality backlinks?
We're using only white-hat promo methods, so our links have at least 10 times higher PR that ones, placed in "dirty" places.
All links are placed manually. We're about individual approach to each client.
Detailed reports for the performed work.
Money back guarantee.
We sell natural links, surrounded with your content.
Visit LinksManagement SEO blog to know more.
Please if You Copy or Rewrite Any Parts of the Content on Our Website, Make Sure to Include a Link to Our Website as an Original Source of the Content.

Related Posts