How to Get High Quality Backlinks For SEO
In course of our SEO research, we often face situations when websites with a lower number of backlinks have better rankings on Google than sites with a higher number of backlinks. The same thing frequently happens to our customers, who outrank their competitors by acquiring quite a small number of our backlinks. Here is an amazing example to share with you. We found a website with only 34 backlinks for the 'bad credit loans' keyword phrase that had better rankings on Google than his two competitors with 1,080 and 5,081 backlinks for the same keyword phrase. Check out the details of this research.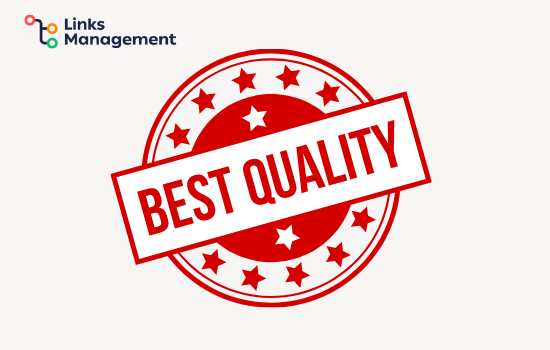 When we come across such situations, we analyze the backlinks quality of such websites to find out what factors allow them to outrank their competitors having a few backlinks. We have carried out many studies to answer the question of links quality criteria and their effect on the search engines rankings. So it was concluded that if you want to get high rankings on Google and other search engines, your backlinks should correspond to the following factors.
Backlinks Quality Criteria
After the last Google Penguin 4.0 Update, it became even more important for backlinks to come from websites hosted in the same country where you want to rank well. For example, if you want to be #1 on Google.com in the USA, your links should come from websites hosted in the USA. Since LinksManagement is focused on USA business owners, most of the sites in our inventory are hosted in the USA. And websites from non-English countries are automatically filtered out to the list of 'Other countries'.

Backlinks should come from DA40-DA100 webpages.

Backlinks should come from relevant webpages. Even if a referring website is NOT relevant, but a referring webpage on that website is relevant to your site topic, a backlink from this webpage is considered as relevant and quality. Note: links from non-relevant websites also improve rankings on Google, but not so much as relevant links. Also, note that relevancy is very important.

Backlinks should be placed manually, and not automatically using some script. Automatically placed links are easily detectable by search engines and, in most cases, are useless since search engines just disregard them. (Sometimes, in excessive quantities, they can even hurt your site rankings.) 100% of links, built by LinksManagement are placed manually.

Backlinks should be placed on webpages frequently indexed by Google and other search engines. That's why LinksManagement filters out websites that are indexed by Google at least once a month to make sure you can only acquire high quality, frequently indexed backlinks with us.

Backlinks should be placed on pages with real DA/PA. We have implemented an algorithm that allows us to detect and filter out all websites with fake rankings from our inventory.

Backlinks should be placed on websites that are NOT deindexed, NOT banned, NOT on link farms, NOT on bad neighborhood sites. LinksManagement has implemented algorithms that detect and filter out all low-quality websites from our inventory:
sites deindexed by Google
sites penalized by Google
sites totally banned by Google
bad neighborhood sites (sites linking to other low-quality sites)
link farms
sites with duplicated content
sites that violate Google Webmaster Guidelines
or any other websites considered as low quality by LinksManagement
Backlinks should be placed on webpages with low numbers of outbound links. The number of outbound links directly influences the link juice from the referring webpage to your website. That's why LinksManagement automatically filters out all webpages with more than 30 outbound links from our inventory.

And finally, in our opinion, perfect links should be placed within the content of the referring webpage! If you carefully analyze backlinks of websites that outrank their competition with a low number of backlinks, you'll see that most of their links are placed within the page content. Our research has shown that this is one of the most important reasons for a backlink profile to look natural and for a website to have strong rankings on Google. (100% of links, built by LinksManagement are surrounded by unique content.)
We believe that our backlinks that correspond to each of the aforementioned factors greatly help our clients successfully achieve their goals, i.e. to get #1 on Google for their targeted keywords and increase their traffic and sales. For instance, check out how Sean achieved the Top 10 on Google in 1 month with just 4 backlinks.
free
SEO Cost Calculator Tool
Enter URL & See What We Can Do Submit the form to get a detailed report, based on the comprehensive seo analysis.