How to Rank Higher on Google in 3 Months: Deep Guide for 2021
The year 2020 wasn't a walk in a park (it still isn't), but the good news is that the whole world has gone online. And it's not going to change in 2021. If you're a website owner, freelancer, a real estate agent, SEO pro, or just a human being living in the 21 century, the chances are you use the powerful exposure that Google can bring to get more clients in your industry.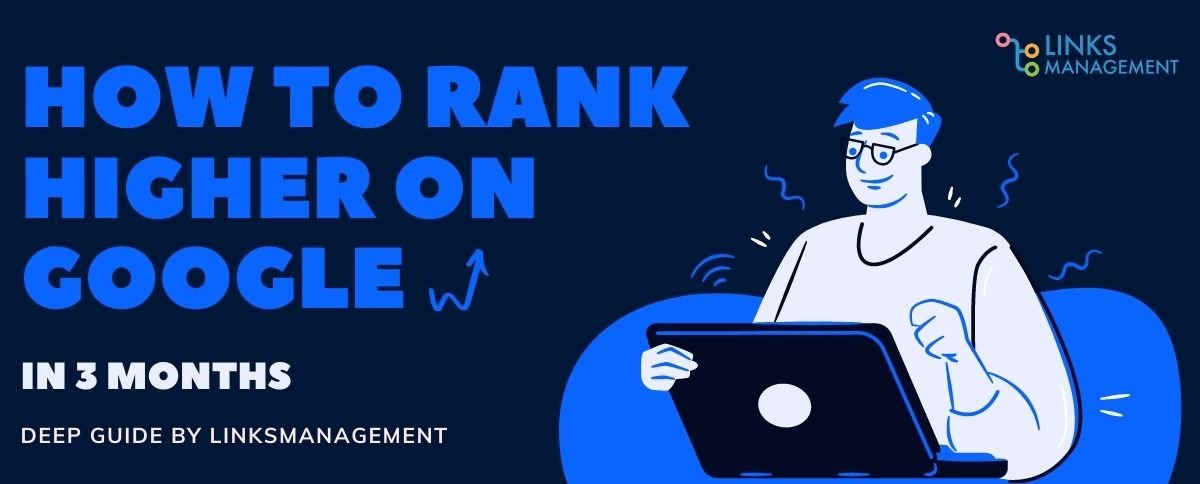 Starting an online journey, at some point, you are going to have a web page, whether it is a blog, e-commerce store, affiliate marketing website, or a funnel. When building a brand, one of the biggest things you will ask yourself is "How to rank higher on Google?". To be honest, in the search line, you will probably type something like this: "How to increase Google ranking for free?" Well, that is what we are going to dive into.
Yes, we know the struggle of getting your website from zero to "making money and traffic." It isn't that hard to submit a website to Google, but it takes time, money, dedication, and headaches to get your blog ranking on the first few pages, not to mention the first few results.
No, there is no "one and only" way of improving Google rank (it's quite a difficult and daunting task.) And it's not as fast as we've dreamt of (effective SEO takes from 3 months and up to a year.) However, there is a set of steps you can take in order to boost your traffic and get to the top of search engines. LinksManagement will provide you with the best and the most efficient ways to do that.
These tips and strategies are like the stairs of a huge Google ladder, using which you can climb to success. All you need to do is to test them on durability for your website. And before jumping into the topic, we would like to remind you that these "stairs" should be utilized as a set and no other way.
So, let's figure out how to boost Google's ranking get to the top of search engines. Now, a good idea is to start with on-page SEO.
On-Page Optimization: Techniques to Improve Google Search Results
Recently, our experts did a study and found out that the Top 3 results on Google get 75.1% of all clicks (for information, the #1 alone gets 31% of the clicks!) Answering the question of how to get there, you might think of link building firstly. But the truth is that the successful performance of your website requires optimization of a combination of factors that specific search engines consider significant. That's why we suggest you start with fundamentals — on-page SEO.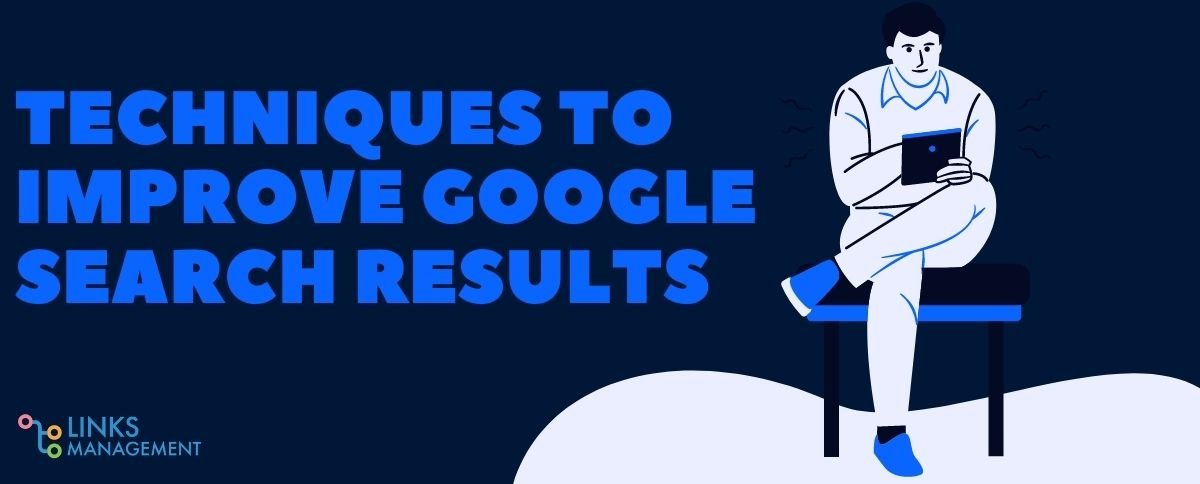 Step 1. Clean Up Technical SEO Issues
You can't overcome giants with a slow landing page speed or a site that isn't indexed correctly. It can make or break your site's rankings.
So, here are the things for you to check in the first place:
Duplicate or missing title tags;
images with missing ALT tags;
duplicate description tags;
302 redirects that should be 301 redirects;
broken links;
multiple versions of the homepage;
mobile device optimization.
One more thing to remember is the on-page audit. An in-depth website audit provides insight into the technical aspects of your site. Plus, it reveals pages with plain or duplicated content that hinder your website performance. 
Step 2. Research Targeted Keyword
How to outrank the competitors, become #1 in your niche, and win more customers? The right keywords are the answer. 
Wait, wait, wait. Don't scroll the page down because "I've already read that." We offer you to look at things from a different angle. 
To be more precise, look at long-tail keywords. So, if your desired key phrase is "link building", for example, here are a couple of reasons why you need to switch to "link building services in Canada."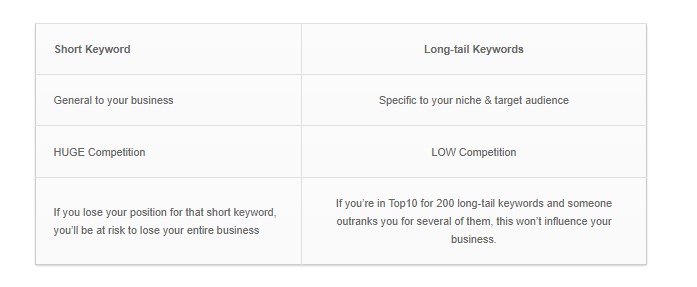 1 How to Find the Right Keywords?
Knowing what you are up against is probably one of the most important elements of getting content to rank. To make that happen, create content hubs.
What does it mean? Let's say you have a short-tail keyword that you want to rank for. Your goal is to look for a subtopic and break the keyword down further. Here is an example of a content hub for the keyword "Gift Ideas"
Gift Ideas Christmas → Gift Ideas Christmas Mug →Gift Ideas Christmas Ornament
Gift Ideas Birthday → Gift Ideas 20th Birthday → Gift Ideas Birthday Bracelet 
Gift Ideas Girlfriend → Gift Ideas Girlfriend DIY → Gift Ideas Girlfriend Boston
Returning to the subject of rankings, let's say you want to be in Google Top 3 for the keyword "keyword research" (sorry for the tautology). So, first of all, pull out 10 of the most popular keywords that are subtopics to the main one. Then, think of how a person of a specific profession / from a specific city would type the request in the search line.
Take a look at someone who owns an affiliate marketing website VS  an eCommerce website VS a local business website. They all are going to take different strategies. So, they all are going to look for different keywords to find the most relevant information on the web. Some of them will type "keyword research for SEO" or "keyword research tools", others —  "keyword research Google Ads," "keyword research tips," or "competitor keyword research." Apply this approach while analyzing the market. 
Step 3. Сreate Valuable Unique Content in Your Niche
If you are not at Google's Top 3 now, the third thing you need to do (after fixing technical SEO issues and researching targeted keywords) is to fill your website up with high-quality and what is more important, valuable content for a certain audience and within a certain niche.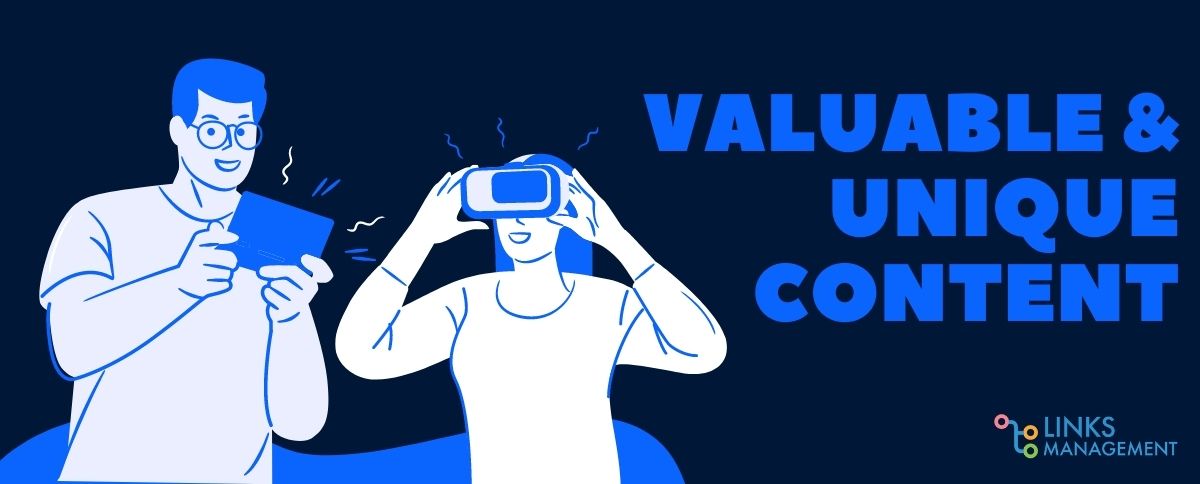 And that's why we want to ask you a question — do you know that search engines prefer niche pages over broad websites? Take advantage of that by having a complete focus on your specialty. You can become the credible go-to source for anything in your industry. This allows you to offer more value than any broad site on the web, which then, in turn, helps with your rankings in the long run.
To help you with this step, LinksManagement has conducted a survey to determine the best things you can add to your content in order to catch the attention of the audience. So, you'd better work on the following types of content:
Infographics(upvoted by of users)
eBooks (took a liking to of readers)
Surveys (highly praised by over of users)
Videos (upvoted by a tremendous of users)
Learning materials (more than set a high value to this type of content)
Providing researched-based and valuable articles, you kill two birds with one stone — create elaborated content to get mentioned by other websites. 
Off-Page SEO: What Is Important for Google Rankings in 2021?
When it comes down to off-page SEO, you have to deal with link building, since it directly affects your ranking positions. However, we would like to start this part of the article with something that relates to both on-page and off-page SEO.
Step 1. Click-Through Optimization
Let's talk about Google as a product. Its main goal is to provide users with the most relevant and trustworthy data for their keyword search. A large part of Google's decision-making on where to rank people actually takes place on the search results page and how the audience interacts with your website. 
Let's say your page is ranking on position #7 for the chosen keyword. Google will have an expectation, for example, of a 5% click-through share whilst you are in that position. But instead, you get 10% CTR. Google is going to be like: "Whoa, hold on. This page is more popular than we thought." Then, the Google algorithm waves its magic wand of rankings and gets you higher. It's as simple as that: the better your click-through-rate, the better your rankings can become.
So, how can you do this for your website? This is where organic CTR optimization comes in. The premise is easy: be conscious about the language and wording that you use in your website's meta title and description. That's the key to click-through success.
Companies spend hundreds and thousands of dollars in the AdWords pay-per-click space to fight and compete for their share of click-throughs for specific keywords. As part of your research, run a Google search for a competitor or another website in your niche and pay mindful attention to the language they use in that title and description. You want to be taken advantage of this because that is the money spent on the research that you don't have to. 
Step 2. Make Use of a Link-Building Strategy
How else does Google decide if you're popular enough for them to pump up your rankings? If other websites are talking about your webpages, it shows to search engines: "Hang on a minute, these guys are being spoken to about, let's rank them higher." So, how to rank on Google in the first few results? Implement a top-notch backlinking campaign.
It's the essential step which your website won't succeed without. Backlinks have been and still are the strongest ranking factor. They are a stamp of approval from other websites telling search engines that a certain page is worth linking to, therefore, worth looking at. 
If your question is "How to increase Google ranking for free?", our answers would be tips like "to become a go-to source for media outlets," "guest post," "to make use of broken link building," "try the Skyscraper technique," etc. But if you ask us "How to prove to Google that your business is the one they should be pushing to the top of the customers' searches?", we would tell you one thing: "to get high-quality backlinks with good anchor text unique keywords backing them up".
Providing high-quality trustworthy backlinks for our customers for over 10 years, there are 3 things you should remember while creating the smoothest SEO campaign:
The profiles of the backlinks you get have to appear natural to Google. How? The rule of A.R.T. (authority, relevancy, trust) is still working. All your backlinks should fall under these three criteria.
Get links for diverse anchor texts, 25% of which should contain the URL of your website. The rest of the anchor text has to include your website's domain name or brand.
50% of your backlinks send traffic to your inner pages.
How to deal with all of these points? That's what LinksManagement has been created for. We offer you to benefit from more than 8 MILLION in the USA, UK, Canadian, Australian, European webpages, and the largest inventory of US publishers. The first-class DA40+ backlinks improving Google rank are at your disposal.
In the year 2021, we expect two things to be over — pandemic and headaches of website owners about earning quality backlinks for Google search ranking. If the first point is still in question, the second problem can be solved in a few clicks.
Get into the Top Google Ranking
free
SEO Cost Calculator Tool
Enter URL & See What We Can Do Submit the form to get a detailed report, based on the comprehensive seo analysis.