Natural PageRank Distribution Formula
Note:

 Google has recently cancelled Page Rank, that is why some information in this post may be out-of-date. Instead, we use a new system of links ranking – SB Rank, which is based on DA and PA index.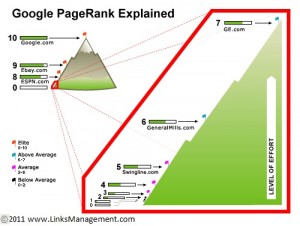 The easiest way to increase your site's Google PR is to buy links on those pages, which pass high Google PR Weight to your web page. However, to make your link popularity campaign look natural to Google, your site must have backlinks from pages with different PageRanks!
There are a few simple rules, which you should remember while purchasing backlinks for your site. To look natural for Google:
Your link popularity campaign should be slowly & gradual.
You need to have more low PR links and less high PR links. Ideally, your link building structure should look like this:
For example, if your site is PR0, and it has no PR0-PR1 links, purchase at least a 300 PR0-PR1 links for it before you start buying higher PR links. Directory submission service is one of the cheapest ways of getting many PR0-PR1 links. (If you want to get 300 links from directories, you need to purchase at least 3,000 directory submissions. Most directories won't add your link or will remove it with time or it won't even be found by Google on their site. This is why you need 3000 submissions to get 300 links.)
If your site is PR0, and it has from 300 to 500 PR0-PR1 links, you can start buying PR1-PR3 links, but don't buy PR4+ links for your site at once since it may look unnatural to Google. At first purchase several PR1-PR3 links. A week or two later purchase a few more PR2-PR3 links. A week or two later purchase a few more PR3-PR4 links. A few more weeks later purchase a few more PR3-PR4 links. And only then you can slowly start to purchase PR5 links for it. And even later – PR6 links.
Buy 3-5 Relevant Links a Week to Get Top 10 on Google Within 3-6 Months
Check Out DA40-DA100 Links We've Got for You
If you don't have a LinksManagement account yet, you can sign up for free or find out more about our link building service.
Please if You Copy or Rewrite Any Parts of the Content on Our Website, Make Sure to Include a Link to Our Website as an Original Source of the Content.

Related Posts