SEO On-page Analysis Tools
On-page SEO is aimed at optimization of all website pages for beneficial perception by search engines and maximally high ranks in search results by specific keywords. In other words, you need to do everything possible on the site to improve its chances to become the first in Google. Off-page optimization does the same by external means such as backlinks. Before you start to develop your off-page SEO profile, pay maximum attention to on-site refinement that does not require big investments but builds strong basis for successful site promotion in the Internet.
Onpage SEO helps to make the website maximally attractive and comfortable for visitors. There are quite simple rules that anyone can implement. Let's get deeper insight into on page SEO and consider additional on-page SEO factors, not mentioned in the first part of analysis.
Major On-page SEO Tips to Get Traffic for Free
We will not go through the tips that have been already reviewed. There is much more things to consider:
#1: Main page structure
While the entire page structure must direct visitors to the information they need maximally fast, the main page is the key in this approach. No matter what you have – a blog, an online store, a corporate website, – it is the calling card that must promote your brand, show the best content you have, make a visitor feel that he is in the right place. It was one of the most important on page SEO factors in 2018, and it still makes sense.
The home page design, including theme, color scheme, images is a matter of personal taste and specific resource type. However, there are certain elements generally required for all kinds of websites: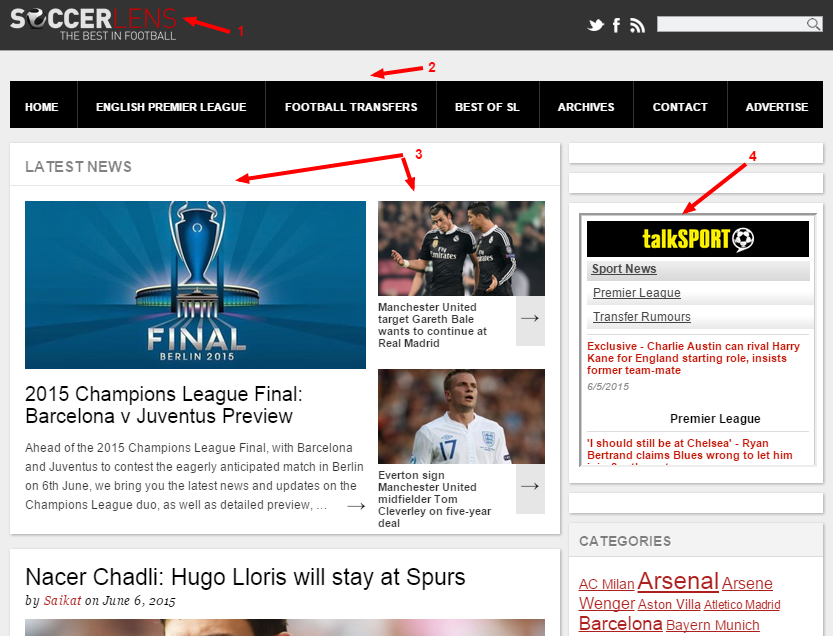 1 – Logo
Logo and favicon are major brand identity attributes that will make your site recognizable among others. Make sure you have an original logo, specially designed for you. It will be better to make it not only a beautiful image but filled with sense: graphics must be associated with the site specialization or business philosophy.
2 – Main menu
This is a major navigation tool that must contain the links to important sections and pages of the website. A user should not take hours to find what he needs, everything must be right on hand. Make sure that your main menu has links to all pages and site areas you want users to visit.
3 – The best, the most up-to-date content
One of the most frequent SEO advices from Google is posting the best content on the most visible place so that it could catch the visitor's attention quickly. According to the onpage SEO analysis 2015 states that the content pages linked from the main page perform better in search results. So select a few pages of such kind and post the linked shortcuts on the home page. There is no need to locate them right on the page center – you can use any page area visible for user.
4 – What you want your users to do on the site?
A certain zone of the homepage must be devoted to the major purpose of this site. If this is an informative portal, and you want users to read as many pages as possible, there must be tag cloud, latest news/posts sections, as shown on the image above. If your blog has some featured options for registered users, and you want to enlarge the number of subscribers, there must be a sign up form.
Choosing between static and dynamic page layouts, it's better to use a hybrid template that features both static and dynamic areas. In static there can be some of your best content, major site idea, something that doesn't change. Dynamic area is good for posting latest news, posts and other updates.
#2: Breadcrumbs
Breadcrumbs really help to navigate through website sections. Make sure that every internal site page has a breadcrumb. There are many plugins that set breadcrumbs automatically in WordPress and other CMS: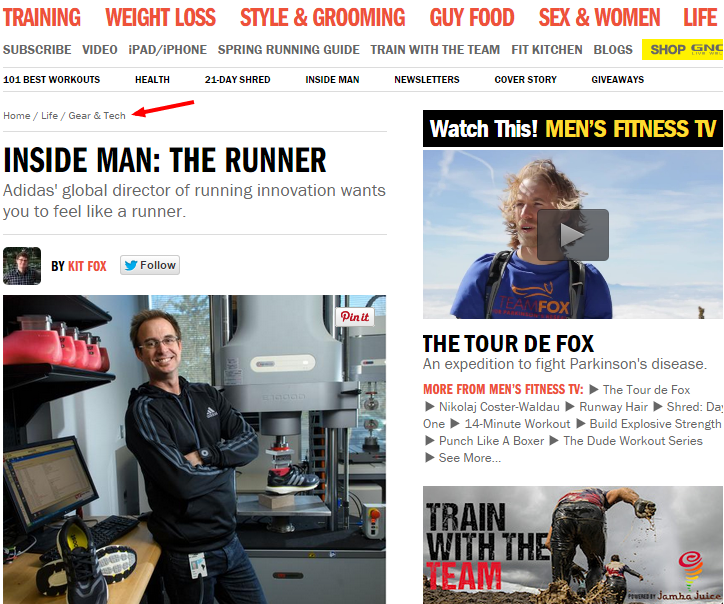 #3: Sitemap
Sitemaps serves both for search engines and for user's comfort. An XML sitemap is required to submit to various search engines, while HTML sitemap is arranged for users to find the required content quickly. Basically sitemap is a list of all website pages. It is better to place a link to sitemap right on the main menu of the site. While XML sitemap is simply a list of site page URLs, an HTML sitemap can be formatted according to the website style: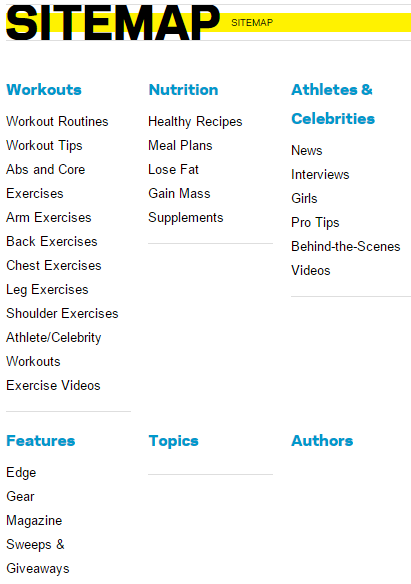 #4: Image optimization
Image content is highly important for user experience, and you need to optimize images for enhancing the site load and response speed. Currently it is highly popular to represent information purely in images (like infographics), and there are still many capabilities for SEO:
Fill in Alt Text tag to add text description to images. Here you can include keywords, just make sure not to overdose them.
Include keywords to image filenames that also must be meaningful (not just image1.jpg, file1.jpg). Use dashes to separate the words in the filename: man-fitness-workout.jpg.
Place all image files into a dedicated folder like yourdomain.com/images/
Make image size as small as possible to speed up the site load. Of course, don't scarify the image look and quality, as the content must look attractive.
Besides the aforementioned onpage SEO factors there are:
Meta tags optimization
Text content optimization
Site load optimization
External and internal URLs optimization
Mobile version deployment
Decreasing the bounce rate
Social media optimization
Useful Tools for On-page SEO Analysis
#1: Google Webmaster
Adding a website to Google Webmaster Tools is highly important for correct understanding how exactly search engines scan your website.  There you can check the site for mistakes and correct them in a timely manner, as well as to setup robots.txt and other elements for onsite SEO optimization. Webmaster Tools from Google are not directly intended for onsite optimization, but they really help in that direction.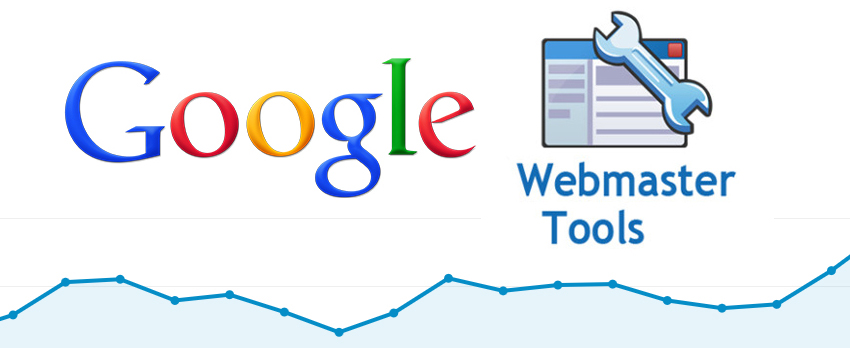 Google Webmaster Tools help in the following:
Submitting the site sitemap to Google Webmaster tools help to tell search engines that your site actually exists
Getting feedback on the indexed pages
Getting notifications about numerous potential problems like access issues (problems in crawling the content and others)
Check statistics about internal and external links
Also Google Webmaster Tools help to get information about website visitors and their behavior on the site, the time visitors spend there and page bounce rates, keywords users enter to find your site, etc. All this forms a decent on page SEO report for improvements.
Moreover, Google Webmaster Tools is a great helper in removing duplicated meta tags that negatively influence on website SEO. Using the same meta tags for numerous site pages is one of the most popular mistakes of onsite optimization. There are more HTML improvements available in Google Webmaster Tools:
#2: Website Auditor
This program serves for technical audit and SEO analysis of the site. It helps to prepare the website pages to promotion in search engines. This program requires only the site domain name, and you will need to check off the required options for analysis:
There are three versions of Website Auditor (as well as other tools from PowerSuite collection): freeware, Professional and Enterprise. The freeware version has limited set of features and will show the onpage SEO report about certain pages, not the entire site. Professional version doesn't have such limitations.
It will be highly important to make onpage SEO before promoting the website on external resources. When you run the audit in this program, you will be offered to make proper settings about the scanning depth and excluding unnecessary pages from the list of analyzed objects. After making these settings the program will begin onpage SEO audit. From time to time during the audit user needs to pass the CAPTCHA test. Average site requires from 30 to 60 mins to complete the audit. You will get the per-page analysis from numerous sides. More about program capabilities is here:
The report contains dead links, wrong 404 errors processing, 302 redirects and other critical problems. The major role of Website Auditor is detecting such shortcomings. Based on this report you can correct all these problems, enhancing website usability and 'attractiveness' for search engines.
#3: Rank Tracker
While Website Auditor helps to correct problems revealed by technical audit and analysis of existing content, Rank Tracker helps to build a powerful semantic kernel based on a few keywords and helps to monitor the ranking of your website by specific search queries. The program helps to track the dynamic positions and build graphs that easy to read.
First you will be offered to integrate the website with Google Analytics that helps to collect statistics about your website positions and traffic. You also will be offered to integrate Google AdWords to calculate KEI parameter (keyword efficiency index). It helps to detect the priority keywords you need to build your SEO around. It is a very convenient tool for semantic kernel generation. Building website content based on correct search queries is a highly important factor of onsite SEO.
There are a few methods of keyword collection based on:
Google AdWords
research of competitors
Yandex Wordstat
Google Related Searches
Bing Related Search
Ask Related Search Suggestions
Google Autocomplete
Yahoo! Search Assist
Bing Search Suggestions
Ask TypeAhead
SEMRush
Yandes search tips
Keyword Discovery, etc.
In settings you can add your competitor websites to track their positions and compare them with yours. Alongside with onpage SEO audit from Website Auditor this semantic kernel analysis will help to build strong SEO profile for further offsite optimization.
When on-page SEO begins to work?
On page SEO optimization helps to adapt website for future ranging in search results. Correctly performed optimization makes website content perfect for user's perception, make it maximally target-oriented and helps to define the keywords you need to play around. But it is not capable to provide you the desired positions in search results on its own. In order to provide the site with powerful traffic growth you need to combine onsite optimization with offsite SEO.
Basically offsite SEO is building links to your site or its specific page from external sources. These links are called 'backlink'. Correctly generated onsite SEO and backlink profiles give ability to gain high positions in search results on the engine you are oriented at. In our case it is Google.

Spending much time and efforts on onsite SEO it would be a great mistake to neglect backlinks. That is why, after undergoing all onsite tricks, it's time to work on proper backlink generation. A couple decades ago users could get such links only by direct contact with other website owners, exchanging external links manually. Today's technology doesn't consider mutual backlinks as effective, and there are many tools for automatic one-side backlinks generation. While there are many requirements for backlink quality, it is rather hard to find a proper platform for getting enough number of external links that will DO the work you need for boosting up your site's ranks. There is one that has a time-proven reputation – LinksManagement. This is a platform with thousands of backlink sources on specific subjects that help to get backlinks relevant to your topic. They help to bring much target traffic to your pages that increases the people's trust to resource, boost its popularity online and improves the position in search results by the queries you choose.
This approach is much more efficient than simply sit and wait until millions of online users will find out about your site's existence, as backlinks make people know about it much faster, working directly among target users interested in your products, services or information in the blog posts.
LinksManagement features very simple interface and terms of use, suitable for any budget and estimated results. Its major advantage is minimal risks: a backlink buyer gets exactly what he pays for without any unexpected consequences. You do not require being an expert to build a high-quality offsite SEO profile, as it features integrated helper that will calculate how many external links you need to gain specific rank in search results. SEO managers that work with LinksManagement users also prompt the best options and direct their strategies by useful recommendations. LinksManagement team is aimed at its users' success providing all possible informative and technical support.
You can get familiar with the interface of this system for free, as well as get SEO report about your current site's SEO. Try it!
Please if You Copy or Rewrite Any Parts of the Content on Our Website, Make Sure to Include a Link to Our Website as an Original Source of the Content.
Related Posts