Latest On-page SEO Techniques, Strategies and Tips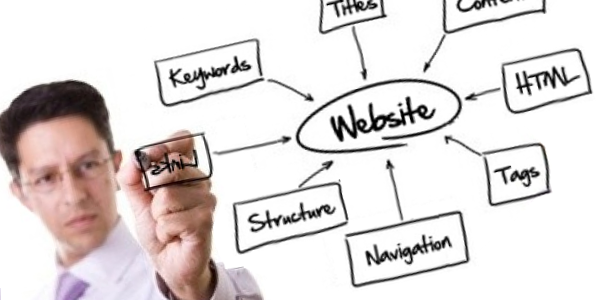 Onpage SEO optimization is basically an adaptation of website for search engines. Various techniques help to make a site easier for indexing, gain higher rank and take up higher position in search results. While Google and other engines constantly evolve, on-page SEO practices also change in response. If you want to gain maximal benefit from website SEO, you should always follow up-to-date approaches. We have collected the best 2018 on-page SEO tips that comply with the latest Google regulations and help to make your website pages perfectly digestible by its algorithms.
While there are dozens of recommendations, all tips are comfortably divided into a few sections:
Structure
HTML
Content
Social media
Go through these on-page SEO checklist and add more, if you have, in comments.
#1: Website structure On-Page SEO tips
URLs
The first thing you need to optimize is URL. An easy-readable, clear URL is good both for SEO and for users. www.LinksManagement/best-on-seo-practice is more likely to be clicked than www.LinksManagement/p=12345. In URL building you should avoid two major mistakes:
You need to get rid of ugly URLs with some numeric codes and other stuff that makes no sense for user
Don't use long-tailed URLs that also confuse users
A perfect URL should be short and easy to understand. Google confirmed that the first 3-5 words in a URL are the most important.

While keywords in URL are said to become less important for Google due to the employment of Google Hummingbird algorithm to define the page relevancy, Google still underlines the keyword in search results:
Crawling
Obviously it is essential need – Google must be able to crawl the website pages, at least those that you want it to crawl. It would be great if such pages were on the next-to-index level or at least on the third nesting level. Keeping keyword-rich pages maximally close to the index is one of the best On-Page SEO optimization techniques that make it easier for Google to see these pages and consider website as relevant to your target keywords.
If you want some page update to be captured by search engines maximally quickly, put a link to this updated page right on the homepage (level-one page) until Google reaches it. If you do not want some pages to take part in the ranking, apply meta 'noindex' or 'follow' tag instead of robots.txt file.
Duplicated content
In 2014 Matt Cutts ensured that duplicated content is not a problem anymore:
However, in reality 100% identically duplicated pages still affect the PageRank, and it is better to remove all duplicated pages from the website or close them properly. Google Webmasters tool helps to check the duplicated content: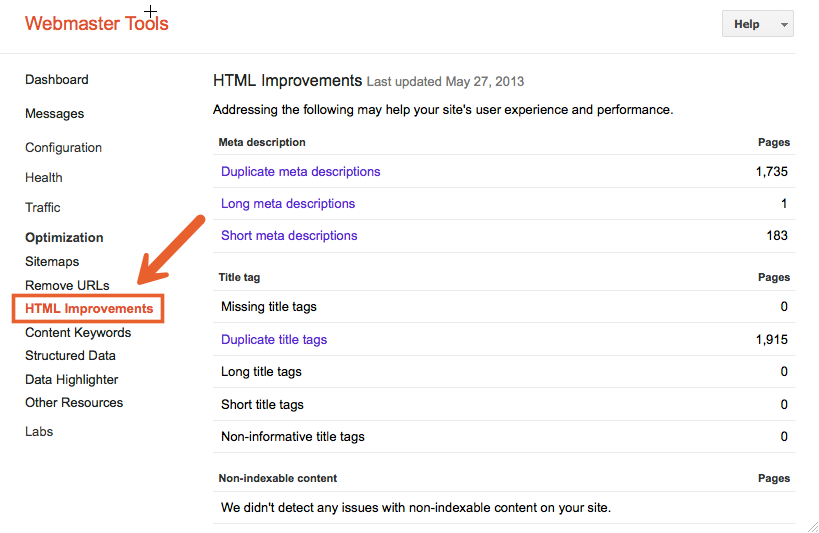 It is more about detected duplicated meta tags, while copyscape.com helps to find specific page copies online.
Website loading speed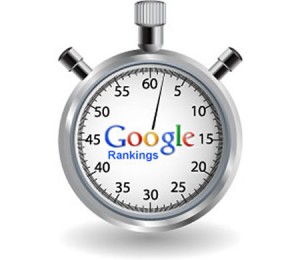 This onsite optimization parameter is more about usability. You definitely don't want to make your site visitors leave the page while it actually even hasn't been loaded. It must take up to 3 seconds for a website to load in modern high-speed Internet connection. If it takes longer, you need to optimize your website code better.
Speed is also a part of Google ranking algorithm. And while you will not benefit a lot from a cosmic loading speed, you will definitely loose, if the site loads too long. You can significantly increase the loading speed by compressing images, moving to faster hosting, removing all unnecessary code fragments.
Mobile version
The golden standard of mobile website version is having the equal set of URLs for all devices and using responsive design to display them properly on any gadget. However, it is not always technically possible. If you can, follow the principle of equality.
If you cannot do this by meaningful reason, use canonical tags to point to the best version of each page and set redirects for proper screen size.
Bounce rate
Bounce rate shows how quickly website visitors leave its pages. Google considers that if a user came to the site from search results page and quickly left, the quality of content he saw there is not good enough. That is why on page SEO best practices are aimed at minimizing the bounce rate. There can be numerous approaches:
Adding a relevant internal link on the beginning of content – make a person be more interested, offering direct answers to his questions
Setting up a clear and smooth navigation
Developing attractive website design, etc.
#2 Best On-Page practices for HTML
Title & Headers
Traditional rules of writing 'title' tag and header content haven't changed. Title and H1 tags are better to contain different content, and it is good to have keywords. Title tag is one of the most important onpage SEO factors, and the place of the keyword there is essential: the closer the keyword to the beginning, the more weight it brings in search results.
It is not required to begin the title with a keyword. However, if you want to get maximally good result by a certain keyword, than do this.
Description
The content of description meta tag must be unique for every page and written by a human. A properly written, informative description can make a user prefer your link to all the rest and increase the overall click-through rate.
The optimal length is about 150 characters. It will be better if the description will not be cut off when displaying in search results list.
You should take care about keywords, H1, ALT+ title for images tags too, they should not be empty on all website pages.
Internal linking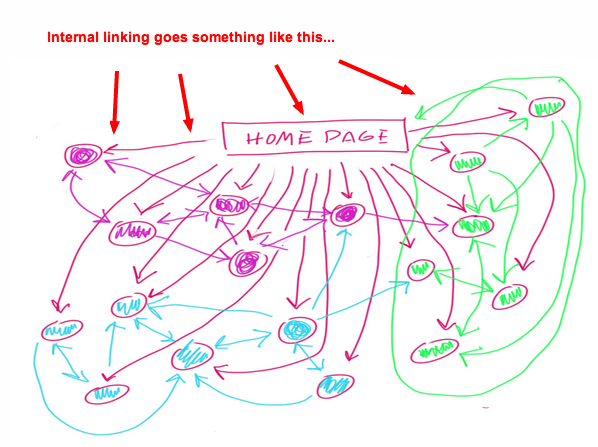 Internal linking is one of the leading on page seo strategies that helps to:
Spread the keyword weight along the site properly
Promote site pages indexing
Improving the site usability
There are different schemes of internal linking, and here is a detailed insight into this topic:
It is recommended to have 2-5 internal links on each page, but they must be relevant, useful and equally spaced on the page.
#3 Content as main part of On-Page search engine optimization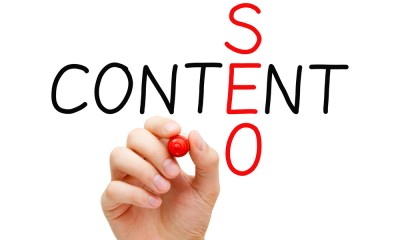 The era of SEO-specific, technical articles has finished. Now only texts that are useful for site visitors can bring benefit.  If you post text only for keyword presence or posting links, it is a perfect bait for Panda penalty. The list of the top On-Page SEO techniques in terms of content includes:
Post only relevant, unique content on your pages
Do not exceed 1.25% keyword density on the page
Regularly update content by new posts – interested visitors will come back to see the updates
Don't generate dozens of short posts with links, keywords and ads – these are killing for ranking
Keep up to 1000 – 1500 words in a post for blogs or reviews and don't post more than 500 words for each e-commerce article.
Enrich your content with numerous multimedia – images, videos, etc.
Don't generate numerous pages about the same exact subject to optimize for different keywords. It is much better to create one page per topic optimized for multiple keywords.
Meaningful content guarantees that user will spend longer time reading your page, decreasing the bounce rate. You can use various engagements to make user spend the time on your site:
Meaningful content is the best possible attraction
Eye-catching, comfortable website design makes people stay on the page longer
Easy website navigation and clean page structure with nice-looking font style, text formatting, etc.
Internal links to relevant pages help a visitor to deeper his knowledge about the topics he is interested in.
#4 Social media
Social shares and likes attract natural traffic to the website. That is why it will be better to place as many social sharing buttons, as you can to enable people like, tweet, share the content as they want. Social sharing is not included to the search engine algorithms yet, but they definitely bring indirect benefits by increasing social sharing, promoting website in different social media services.
#5 On-Page SEO is not enough?
You have created an eye-catching website with high-quality, SEO-optimized content that is regularly updated, took care about all meta tags and tags, created smart website pages structure and wait for visitors. However, all onpage SEO is the inner optimization work that creates a good basis for further position of the website in search results. But this is only a basis that must be supported by another part of SEO – offsite optimization.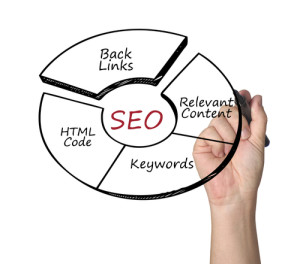 Let's say the search engine has found the newly created website and has indexed its pages. And here is a question: where this site will be placed in search results by the keywords it was optimized for? Without off page optimization it will be so far on the bottom that even the most curious online user will not be able to get to it.
The most important technology of offsite optimization is backlinks – the links to your site located on other websites. Depending on the donor website's ranking you site will get different amount of weight in search results. The higher rank is, the more weight a backlink brings. There is a plenty of backlink types and secrets of their generation you should know for successful SEO promotion. Full and diversified backlink profile highly increases the trust to your site, brings much target traffic and brings significant weight to its pages.
However, building such backlink profile is a long and complicated process that can cause problems even for professionals. Experienced SEO specialists use backlink building services that simplify and automate the process of finding backlink sources, purchasing and publishing custom backlinks with required anchor text and other parameters. If you have already optimized your site using on page SEO best practices and want to promote it in search results by certain search keywords, take advantage of using LinksManagement backlink marketplace to find reliable backlink sources with the required DA and PA.
If you doubt what kind of backlinks and how many of them you need, apply for freeware backlink calculator that will prompt what backlink profile is required for your site and how much it costs.
Please if You Copy or Rewrite Any Parts of the Content on Our Website, Make Sure to Include a Link to Our Website as an Original Source of the Content.
Related Posts