Pay Bitcoin, ETH, LTC & 6 Other Altcoins & Get 15% BONUS

Back in 1999, Milton Friedman, an American Nobel Memorial Prize winner in Economics, predicted that in foreseeable future the internet would cause a reliable e-cash system development. Today, we understand that Professor Friedman was perfectly right!
The wide use of cryptocurrency is not uncommon any more. With every single day there are emerging more companies that accept payments in Bitcoin, ETH, LTC and other cryptocurrencies/altcoins.
The latest statistics from bitcoin.com illustrates the growing demand for altcoins. Here are the key findings on the most widely supported cryptocurrency – Bitcoin:
58% crypto market dominance
96 countries allow bitcoin usage
12.000 transactions per hour
Nevertheless, the price fluctuations on altcoins remain unclear. Cryptocurrency exchange rates are basically volatile and irrational. You have to keep an eye open for any prices bumps on altcoins so to instantly convert them in USD or any other currency.
With this in mind, LinksManagement offers you to pay with Bitcoin, ETH, LTC & 6 other altcoins and get 15% BONUS.
As soon as Bitcoin or Altcoin prices start to plummet, send them to us so to instantly convert those coins into USD! Plus, you'll get an extra 15% bonus to your account and spend the money on your website promotion!
PRIME ADVANTAGES OF PAYING ALTCOINS:
Preserving your investments in volatile markets with a floating Bitcoin and Altcoin exchange rate.
Investing in your business, traffic growth, leads capture, and sales boost.
Getting a 15% bonus for your payment.
How to pay with Altcoins?
If you want to pay for our backlinks or services with Bitcoin, you can do it with your Bitcoin Wallet or send us your payment manually to our Bitcoin Wallet.
First, go for Add funds command in your personal account.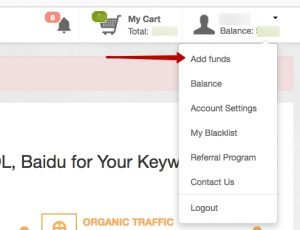 Click it and choose the payment method. In this case we need Bitcoin.
In case you want to pay with ETH, LTC, DASH and 5 other Altcoins, you should get through the same procedure: in your personal account choose "Add funds" function – Choose a payment method (ETH, DASH, LTC & 5 other altcoins)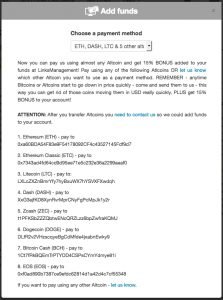 Don't forget to address our support team and indicate the Altcoin type, paid amount, and your wallet number. This should be done for the proper processing of your payment.
We currently accept:
Ethereum (ETH)
Ethereum Classic (ETC)
Litecoin (LTC)
Dash (DASH)
Zcash (ZEC)
Dogecoin (DOGE)
Bitcoin Cash (BCH)
EOS (EOS)
If you want to pay with some other Altcoin – just let us know so we could properly process your payment.
Pay for our services with cryptocurrency, earn extra money, and be calm in the presence of altcoins market swings!
Get 15% Bonus For Altcoins Payments
Please be reminded that if you have any questions let us know them, and we'll do our best to crack your problems!
Please if You Copy or Rewrite Any Parts of the Content on Our Website, Make Sure to Include a Link to Our Website as an Original Source of the Content.

Related Posts