9 Tips to Success in Your SEO in China

Would you like to engage an additional billion readers to your website? We bet you do! There is one and the only country with such a mass audience – China. In this article, we are going to cover the basics of SEO in China and reveal the most popular Chinese search engines.
Chinese Search Engines
When talking about SEO in China, we cannot but admit these search engines – Baidu, Haosou, Shenma, Sogou, Youdao etc. Still, Baidu is the one that leads the parade. Bare statistics prove this – distribution of Chinese visitors to Baidu as of 2017 amounts to 80.54%.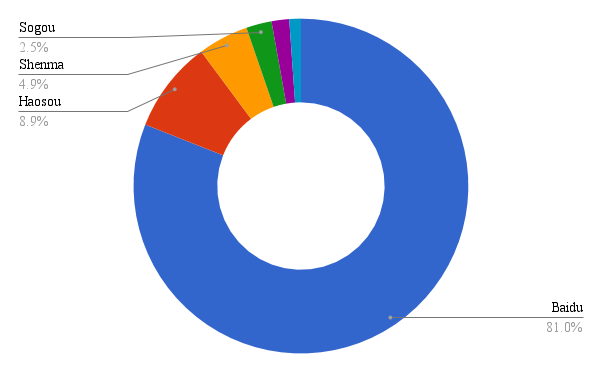 Such a prevalence is explained by the fact that Chinese government blocked Google, Facebook, YouTube, Instagram and many other resources in order to control the information floating around the Internet. This ban has also encouraged the growth of local businesses. Perhaps if Google hadn't been prohibited, Baidu would not dominate in the market. However, Chinese always preferred the local search engines instead of Google.
What is an SEO in China
Thus no wonder that running a website in China is usually associated with Baidu – the most prominent search engine with its unique features. Needless to say that some methods that work for American and European websites, turn out to be inefficient for the Chinese market.
So, if you are going to reach Chinese audience with your website, you ought to know what is Baidu and foster your SEO efforts towards it to get high rankings.
Here are some basic recommendations for your 2018 SEO strategy in China.
1. Baidu Webmaster Tools
The very first thing you ought to do when going online in China is signing up the Chinese version of Google Search Console – Baidu Webmaster Tools. This is the only way to get the relevant data on your website performance. Moreover, it provides you with some unique set of features such as your website name protection and management of your links. Though, the greatest challenge you'll meet is the interface in the Chinese language.
2. On-Page Optimization
To get higher rankings and traffic, you need to take care of your website speed and security. It means that on-page optimization matters a lot in China too. So keep this in mind when planning your SEO campaign.
3. Link Building
A short while ago Baidu didn't pay attention to the way you were getting backlinks to your backlink profile. And everyone used to some shady methods of link building, black-hat SEO etc. Currently, the only right way to build a strong backlink profile is using white-hat SEO.
The amount and quality of inbound and outbound links serve as a ranking factor for Baidu. No surprise that linking to some Chinese hosted website will add more weight to the website.
4. Content Issues
All we know that content is king. And Baidu considers many things when evaluating content. Ensure that you've placed a unique content on your website, because if not you may be penalized.
Moreover, Baidu likes qualitative and long-read content. Make sure that content on every your page is at least 300 words.
When it comes to engaging Chinese target audience, it means that you need to have your content translated into Chinese. Still, keep in mind that Baidu prefers simplified the Chinese language.
5. Keywords
Using keywords in meta tags matters a lot for Baidu. Keywords play a crucial role in getting high rankings and traffic in Chinese SERPs. So, don't forget to add 3-5 keyword phrases for the every single page of your website.
This is also true for title tags. Use keyword-stuffed phrases or branded name.
Keywords in your anchor texts play an essential role in high rankings too. Ensure that your incoming links are properly optimized and contain relevant keywords.
One more common thing with an American analog – are ALT tags. Make sure to indicate alt tags to make sure that your images rank too.
6. Chinese Censorship
Make sure that you don't use any of the terms and words blacklisted by the Chinese government. Moreover, it is a must to be careful with any political topics and doesn't criticize the government. Otherwise, be sure that Baidu will de-index your website and you'll get no rankings at all.
Before going online in China, you need to get an Internet Content Publishing License from the Chinese Ministry of Industry and Information Technology. Without this license, your website will gain no success in China.
7. Domain And Website Speed
Some time ago, there was a myth that in order to get high rankings in China, you'd better use .cn domains hosted in China. However, now it doesn't seem to be so important. Many Chinese-based companies use .com domain and enjoy high rankings as well as the websites with .cn domains. Still, it has been proved that there is no correlation between domain name and rankings.
The thing that really matters is your website speed. The faster your site is, the better for Baidu. So, if you don't host in China, the speed of your website may be slow. A great alternative to the Chinese hosting may be Hong Kong, Macau and Taiwan which decrease page load time.
8. Physical Address in China
If your website is in the list of Chinese business, it will the best signal for Baidu that your company is based in China and thus provides relevant services of goods.
9. iFrame, JavaScript, and Flash
Try to avoid using iFrame, JavaScript, and Flash on your website. The reason is that Baidu crawlers are not able to access just files. There ought to be an HTML alternative if you want your website to be properly crawled by Baidu.
To sum up, we'd like to mention that it actually doesn't matter for which search engine you optimize your website. Since the only way to gain impressive results – is to meet your readers' needs and to make everything possible to provide them with quality content, user-friendly interface, and security. Your readers, customers, and prospective clients are the reason you are implementing SEO campaign.
Please if You Copy or Rewrite Any Parts of the Content on Our Website, Make Sure to Include a Link to Our Website as an Original Source of the Content.
Related Posts