SEO Tools List Offering 10 Best Ways to Boost Your Site's Performance
authoritylabs

Every time when it comes to making your business work faster and more efficiently, several options appear. Perhaps, the most trusted method is to apply corresponding tools that allow enhancing your company from any location in the world. When we're talking about perfect software to help in your work, we usually mean effective SEO software.
Even the most experienced SEO experts can get lost in the pool of newly released SEO software tools. Some are trying to get SEO software free, but efficient instruments are worth paying. Choosing proper keywords is only half the battle. It might be difficult to cope with SEO tasks without SEO software due to the following reasons:
necessity to create unique and attractive description/title
need to fix category/product pages
need to provide internal linking
work with URL parameters
handle communication gap
Being a professional digital marketing team for ages, LinksManagement has defined "must-have" SEO tools list for every business owner who wants to expand his online business. These tools have increased website's traffic by 2, 3, and sometimes 5 times! From keyword research instruments to other 'weapon', you will learn how to generate organic traffic, gain new customers, and defeat competitors.
Wish to find out the most efficient ways to check website SEO? Need an excellent SEO tools list for everyday usage that does not require too much time and money? Here is the list of 10 best tackles tested by the market experts. We are not talking about less effective SEO software free – only demo versions are free of charge.
Pro Rank Tracker
Fee: $0-189 (depending on the package)
Site: proranktracker.com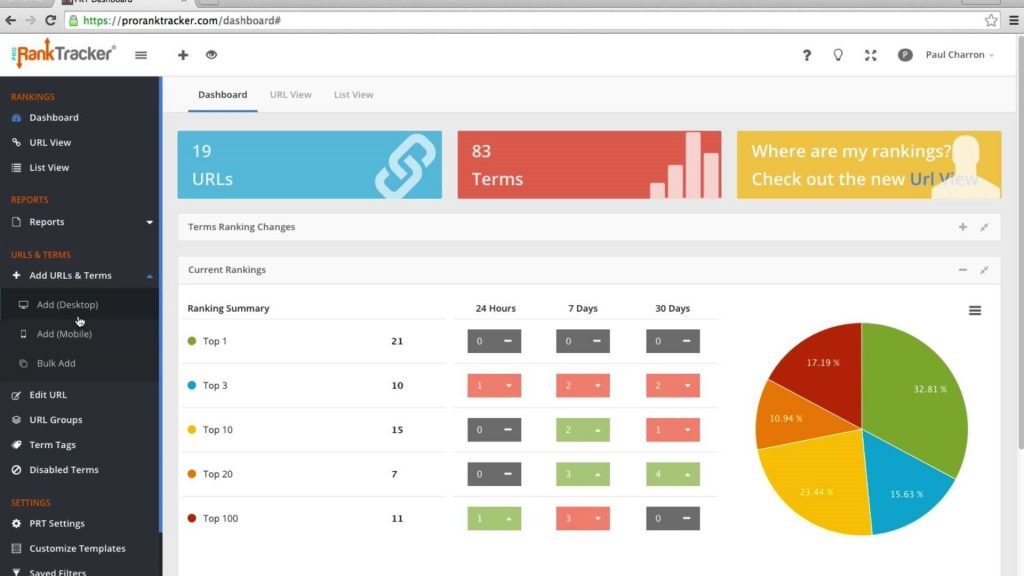 Probably, one of the best ways to beat your rivals and maximize revenues is to analyze SEO ranking. Pro Rank Tracker is a top preferred ranking tracking tool for informing you on the up-to-date website and video trends. The tool is recognized for such features as:
accurate algorithm
daily reports
web-based tracking
100% safety
package of languages
YouTube & Google videos tracking
mobile rank tracking
Its obvious advantages are affordability, ease of use, high quality, and responsive customer support. Track your online performance much easier now.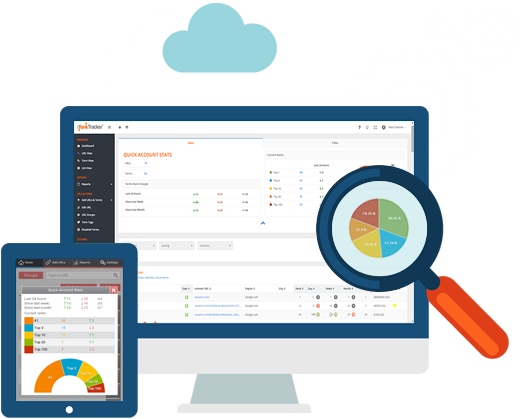 RankWatch
Fee: $99 – best buy; $449 – XXL package with 7500 keywords included
Site: rankwatch.com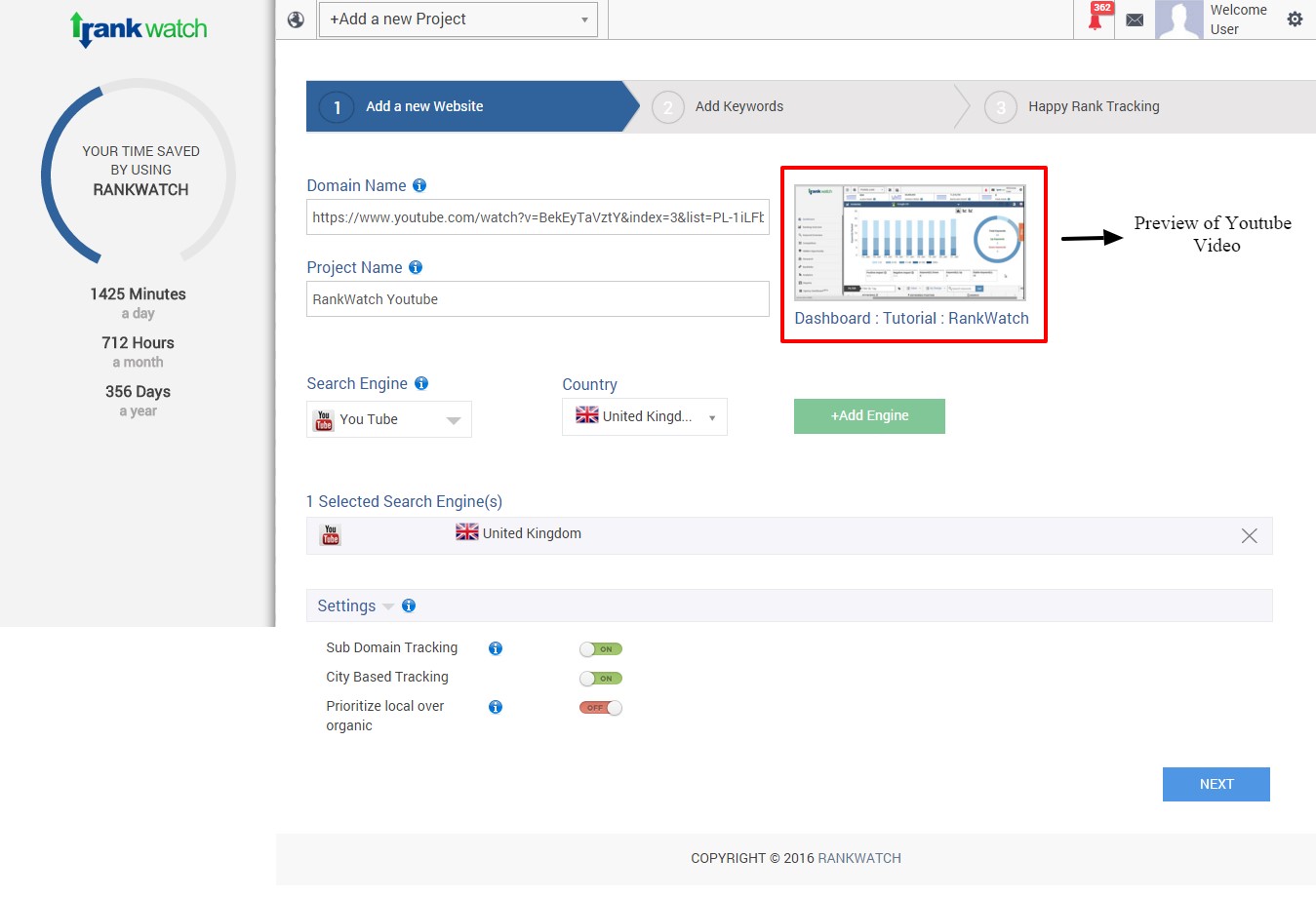 If you're looking for a user-friendly interface to control all your marketing data in one place, there is a nice option in the shape of RankWatch SEO tool.
Apply both local and mobile site tracking to obtain a competitive advantage. The following features are offered:
excellent SEO management
white-label interface
CEO dashboard
in-depth site/backlinks analysis
determine/optimize keywords
e-mail alerts
city-based rank tracking
integration with Google Analytics
sales prospecting
Overcome competitors and stimulate profitability drivers with RankWatch.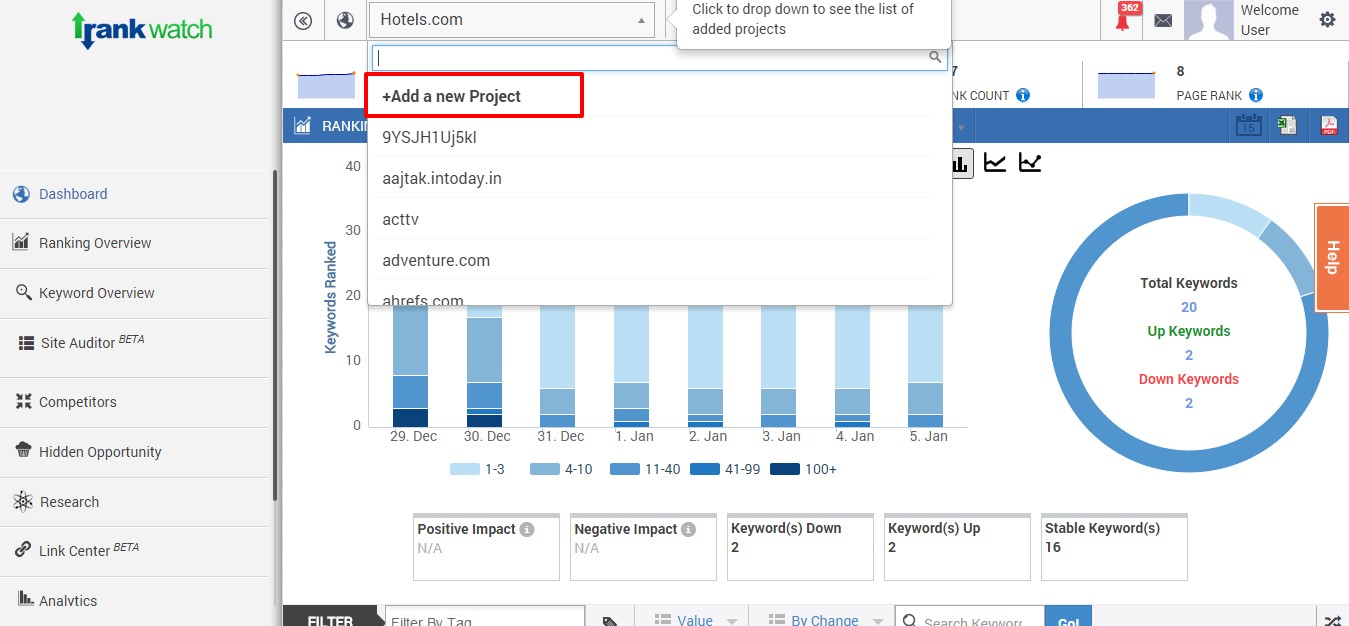 SearchMetrics
Fee: $69 (essentials only); $149 – for pro.
Site: searchmetrics.com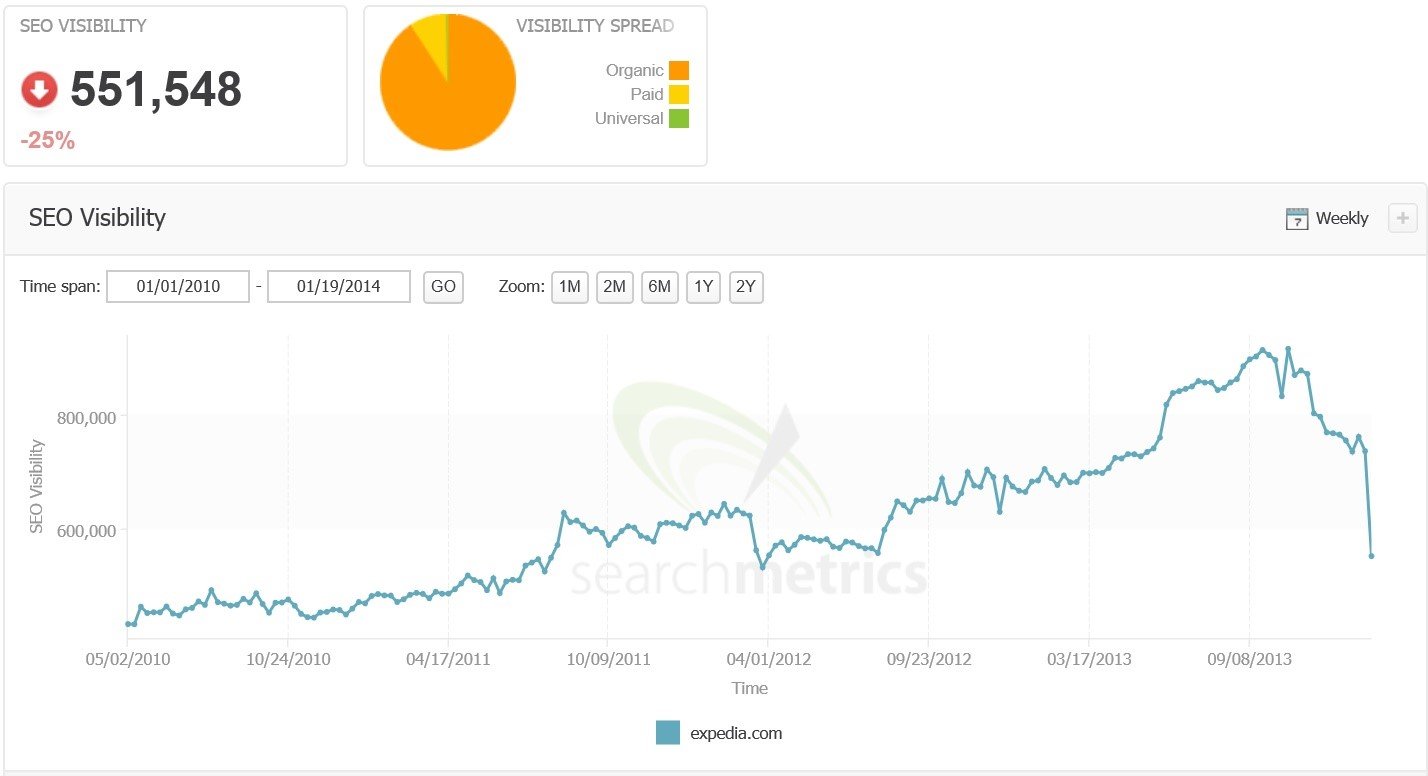 This enterprise SEO and content marketing platform has already helped millions of online businesses around the world. SearchMetrics platform was designed to assist a user in getting to the point of SEO and adjusting the web page to various parameters admired by the popular search engines like Google and Yahoo.
The SEO tools from this company make it possible to discover the intentions of your rivals as well as interpret the received data for your benefit. With SearchMetrics, you will boost your marketing success through such options as:
testing and optimizing domains
searching for relevant keywords
analyzing social media signals
optimizing links
reporting smartly
app ranking
discovering research cloud & content performance
SEO Rank Monitor
Fee: $19-199 (depending on the selected plan)
Site: seorankmonitor.com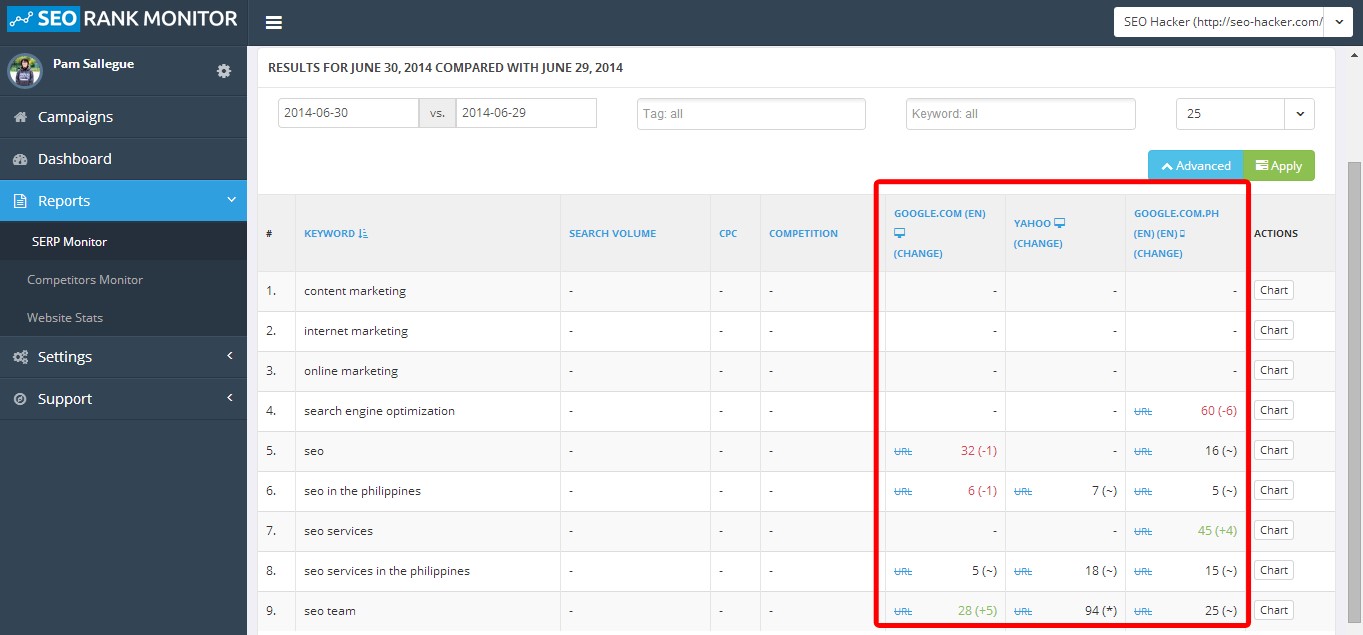 Generating reports for your own e-commerce or client's business has never been easier – SEO Rank Monitor software keeps on tracking your competitors and improving your SEO performance for ages. There is no doubt you'll get 100% accurate ranking results without conducting tiring annual checking on search engines. You can compare your website's activity at three search engines at a time! The SEO tool involves:
local rankings
mobile tracking
automated white-label reports
advanced filtering
comparing data sets
sharing reports
user-friendly interface which reminds of a convenient mobile app
Spy on your rivals without being noticed!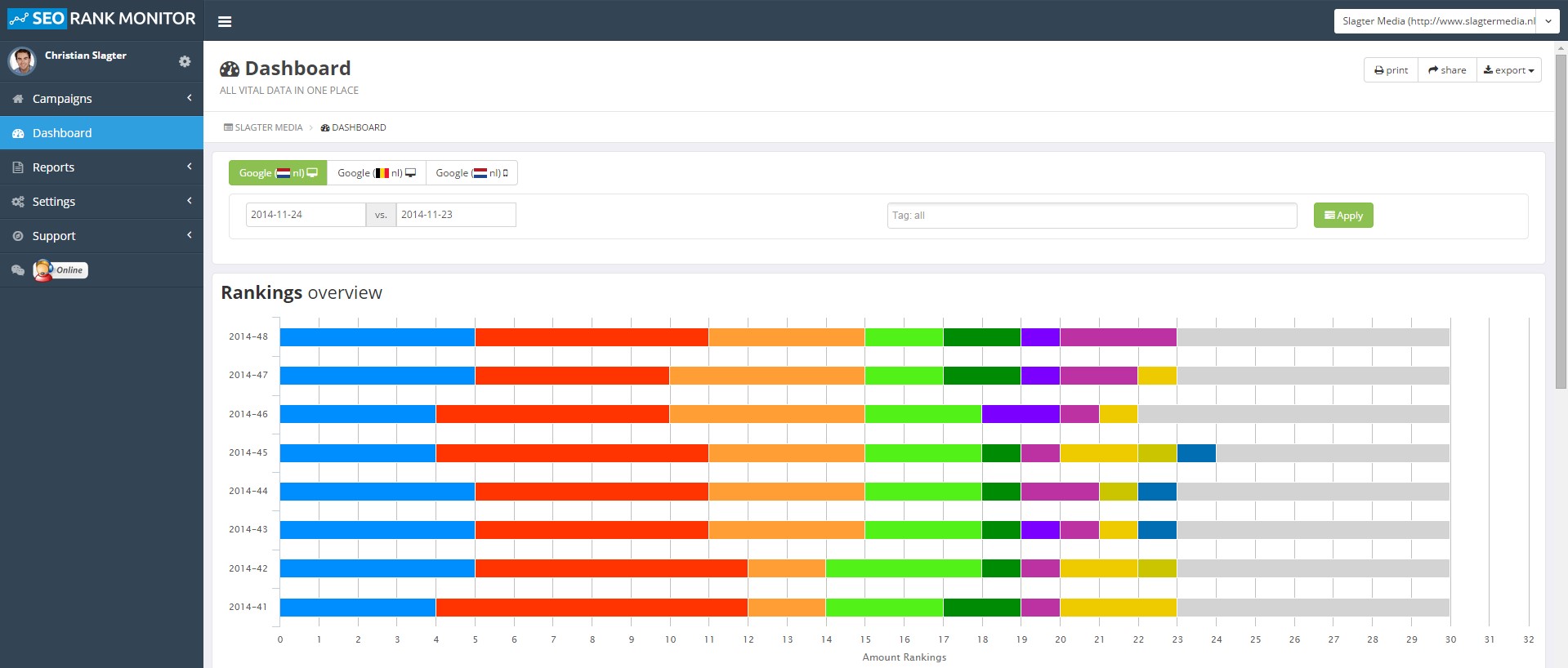 SERP Stat
Fee: $0-239.2 (the price includes discount)
Site: serpstat.com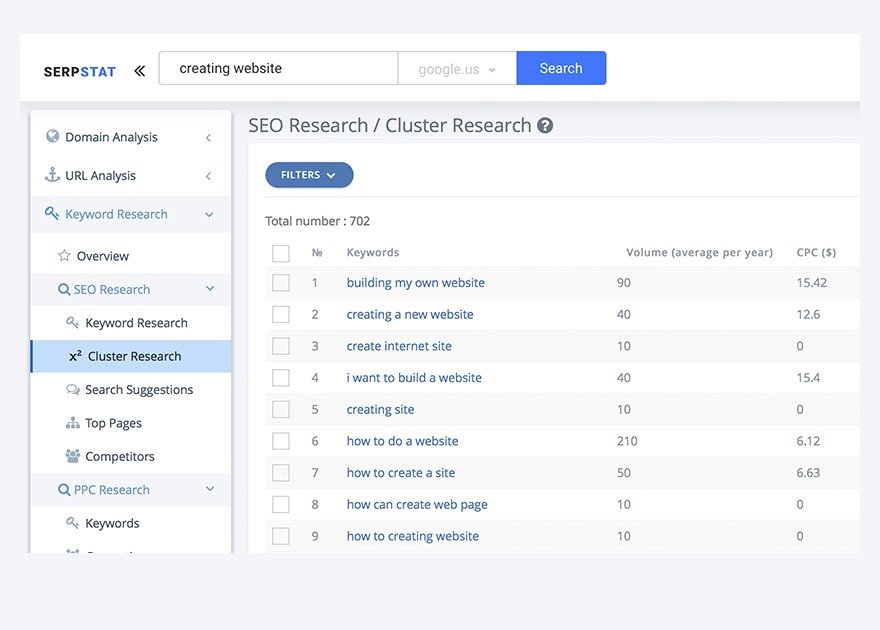 If you are looking for the SEO tool to boost your content marketing, there is a solution. It is easy to learn how to work with SerpStat. How to compare your own productivity in Google with the competitor? How to receive automatic reports regarding the changing site's positions?
This SEO software includes:
cluster analysis
tree view (is about taking your page to the Google's top)
expanded filters
search suggestions
in-depth URL analysis
missing keywords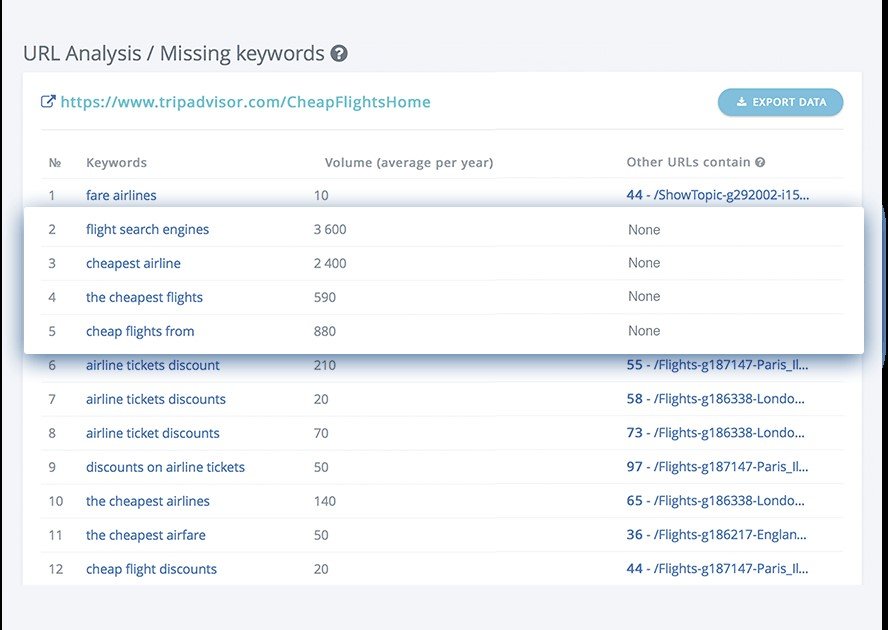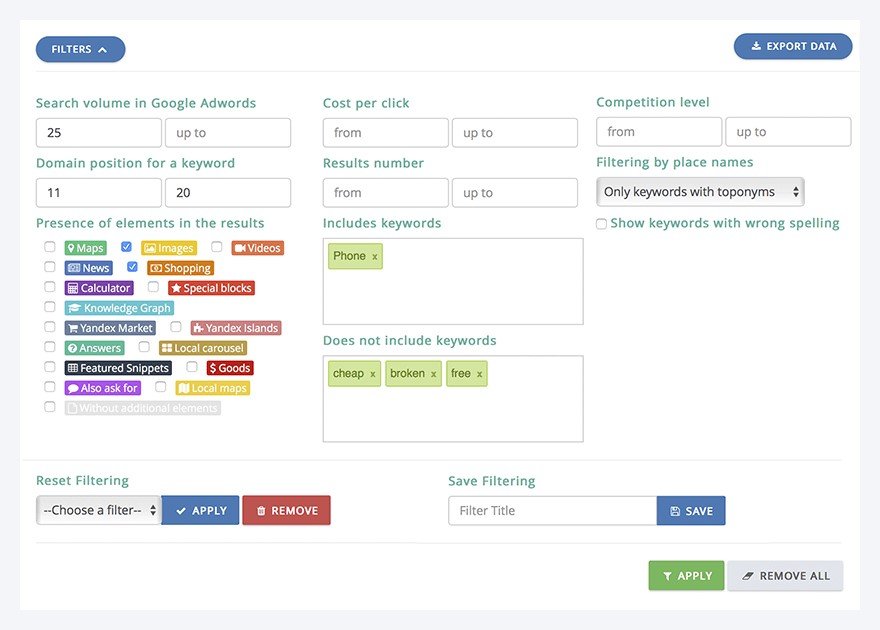 Top Visor
Fee: $0-600 (depending on the size)
Site: topvisor.com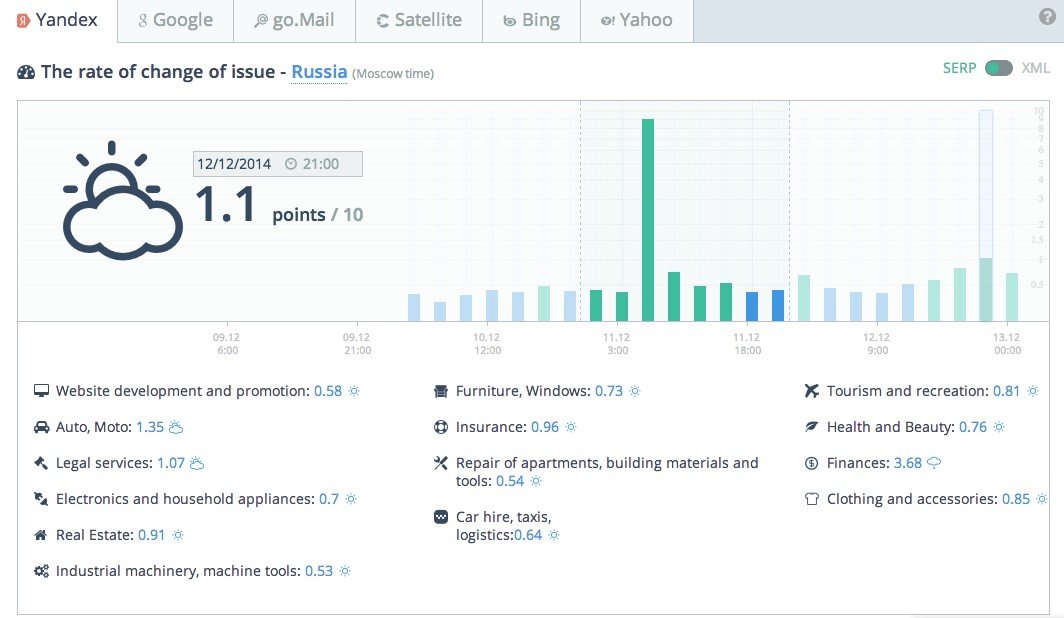 Top Visor is a cutting edge technology for those who are interested in PPC tools and all-in-one SEO packages. This SERP checker tracks, evaluates, and displays productivity of your launched SEO campaigns. This is a fast and stable app which guarantees:
quality rank tracker
proper keyword research
site auditor
mobile app
If you have a large project, you will find special "table regime" for easier work.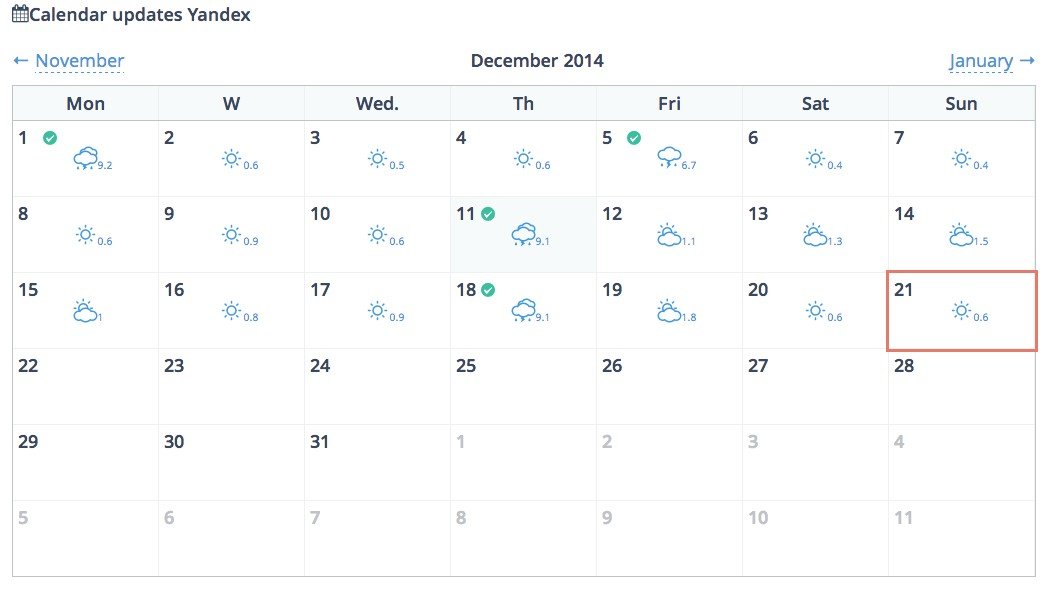 IWebTool
Fee: $4.95 per month
Site: iwebtool.com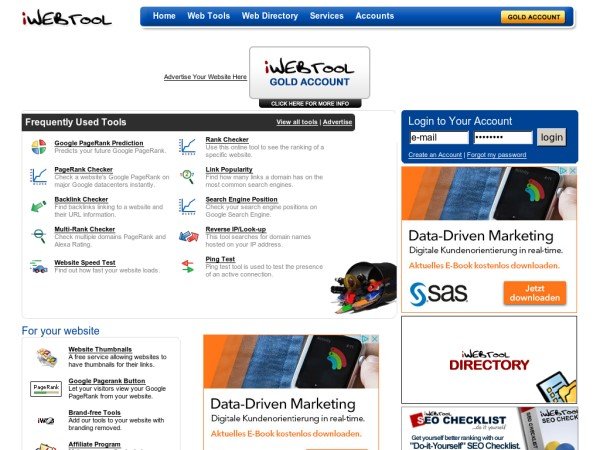 Are you looking for such features as:
backlink checker
link extractor
HTML Encrypter
ping test
website speed test?
Well, IWebTool offers amazing tools, which provide easy links as well as nice design to the web tools. A nice combination of colors along with the opportunity to automatically fill domain name with the current page are just few more features mentioned by the loyal clients.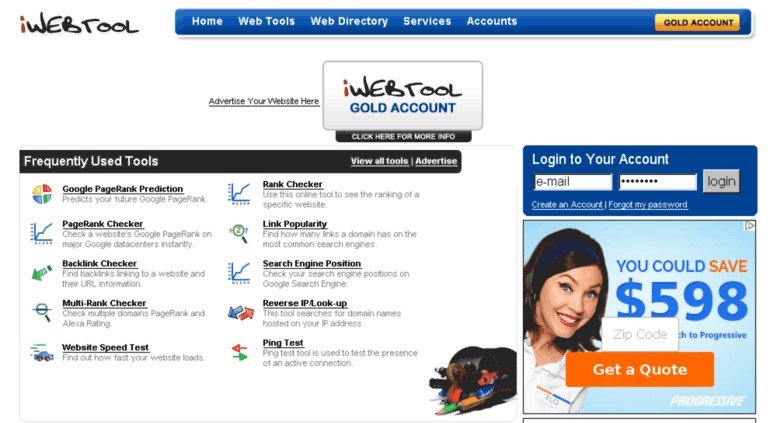 Authority Labs
Fee: $0-600 (depending on the size)
Site: authoritylabs.com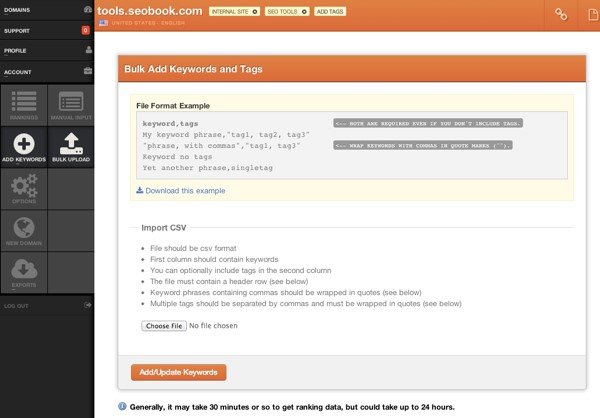 Authority Labs is a powerful web-based tool which is simple to apply. In order to obtain the most accurate rank checking reports and generate your profits, only in-depth evaluation of such factors as analytics, links and competitive analysis are required.
To specify, you will be able to:
track different SERPs
export PDF reports
compare reports against other market players
export single domain or complete history in CSV format
share a public URL
work with named groups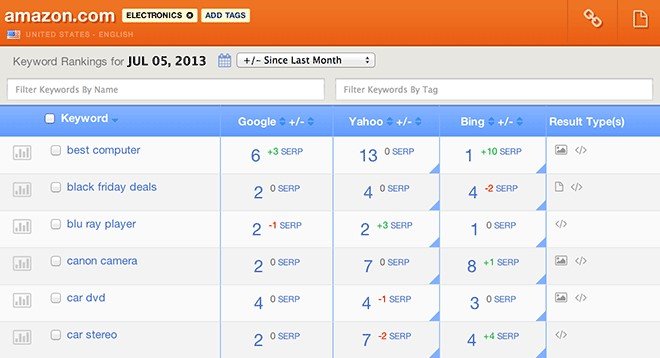 SEMrush
Fee: $69.95-549.95 (depending on the tariff)
Site: semrush.com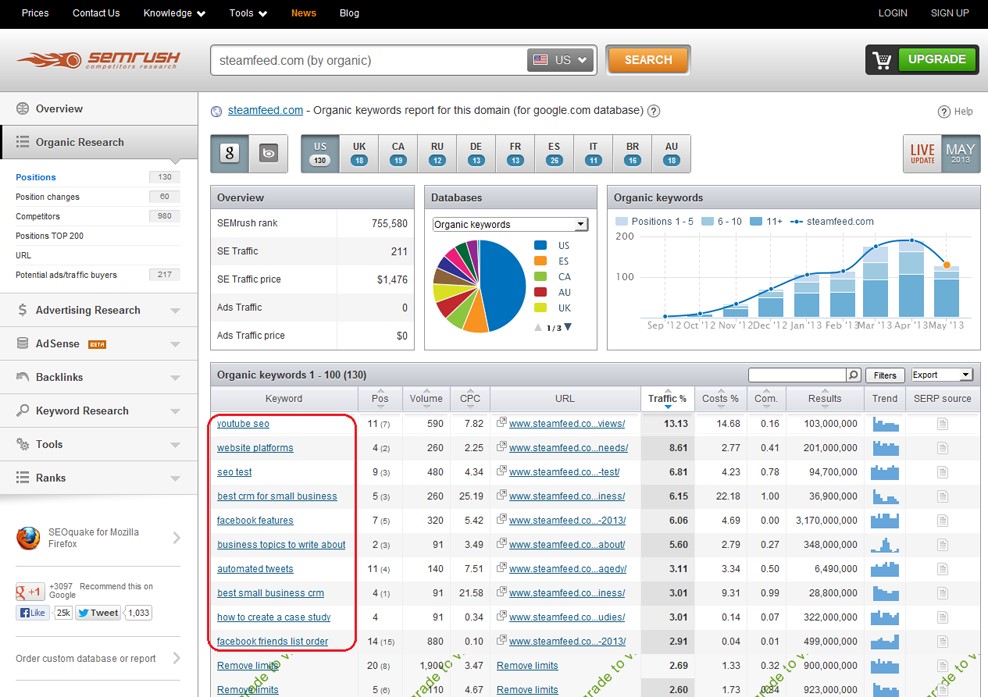 Most probably, many SEO junior and senior specialists have worked with SEMrush to test the website's overall health. It is hard to imagine link-building campaigns without finding out how many keywords a website is ranking for in search engine. This software occupies an important place in our SEO tools list. It allows:
checking organic traffic
conducting advertising research
conducting backlink analysis
creating video ad campaign
enforcing keyword research
Use SEMrush to define whether the site experienced a significant drop. In other words, avoid trouble sites.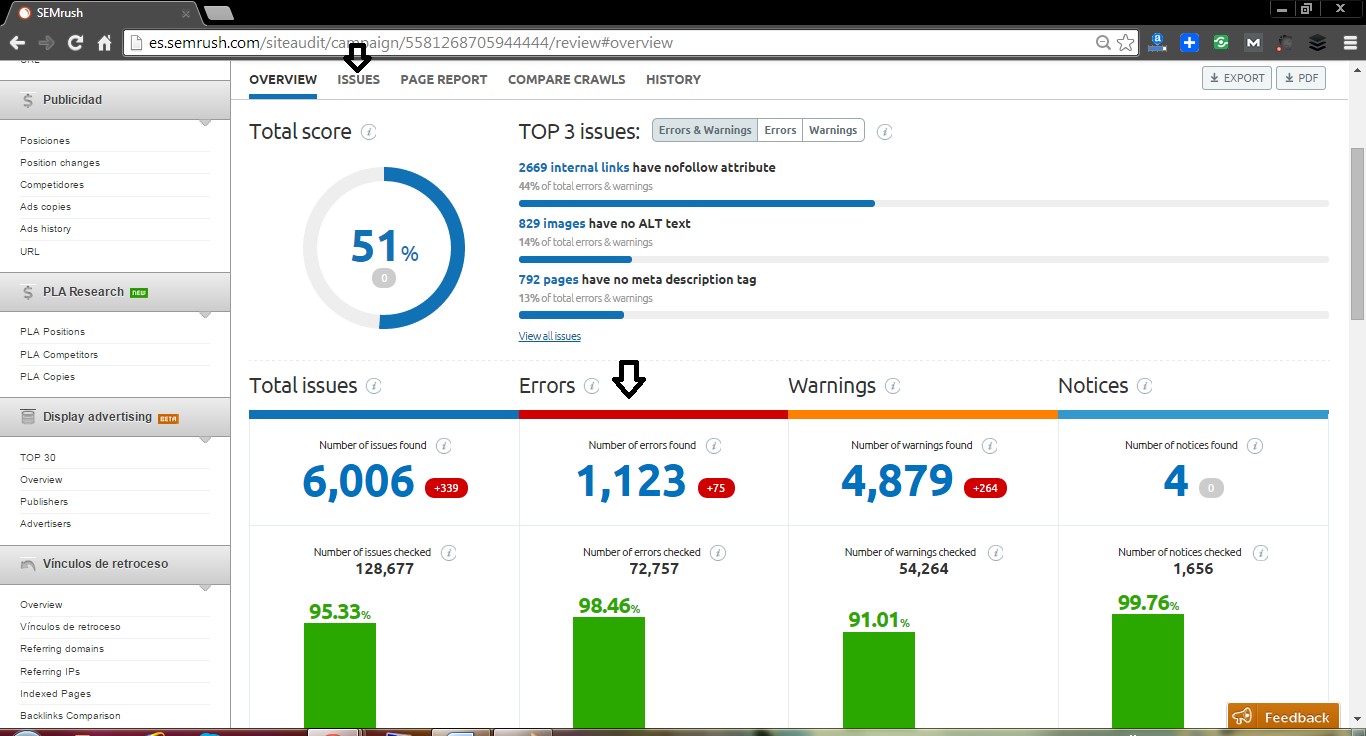 LINKIO
Fee: Free 7 Day Trial, $19.99-149 (depending on the package)
Site: linkio.com

Using the right anchor text for your internal linking and backlinks campaign is probably one of the most important stuff that you'll need to do on your website while doing SEO. Read this great article to learn some interesting and very useful stuff to optimize your anchor text's and make sure you get the best out of it.
SERPBook
Fee: from $9.95 per month
Site: serpbook.com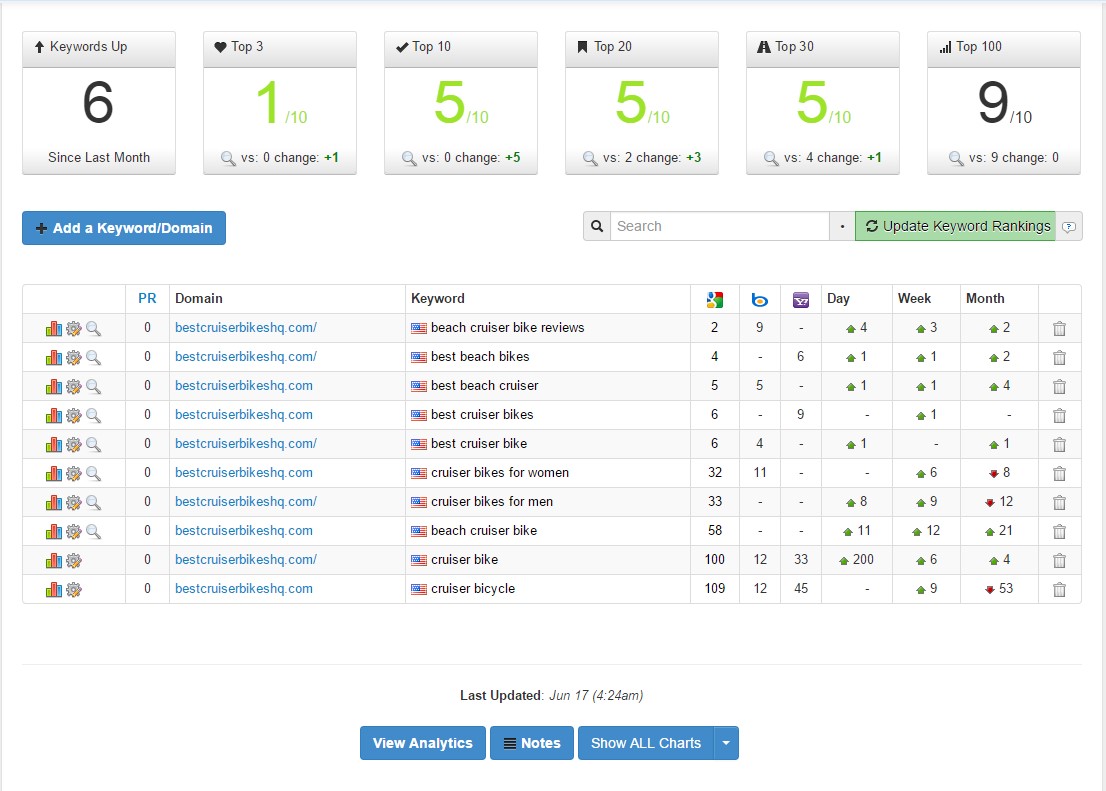 In case you are searching for the fast, user-friendly, and cost-effective instrument to track keyword rankings, SERPBook is the last but not least favorite option on our SEO tools list. The main features include:
excellent notification system
daily updates
reporting dashboard
keywords by categories (regional, local, YouTube, etc.)
keyword suggestions
mobile tracking
table settings
Google Analytics integration
add-on users
With its speedy interface and personalized approach, you'll definitely find this tool enjoyable. It is good for the owner of several websites.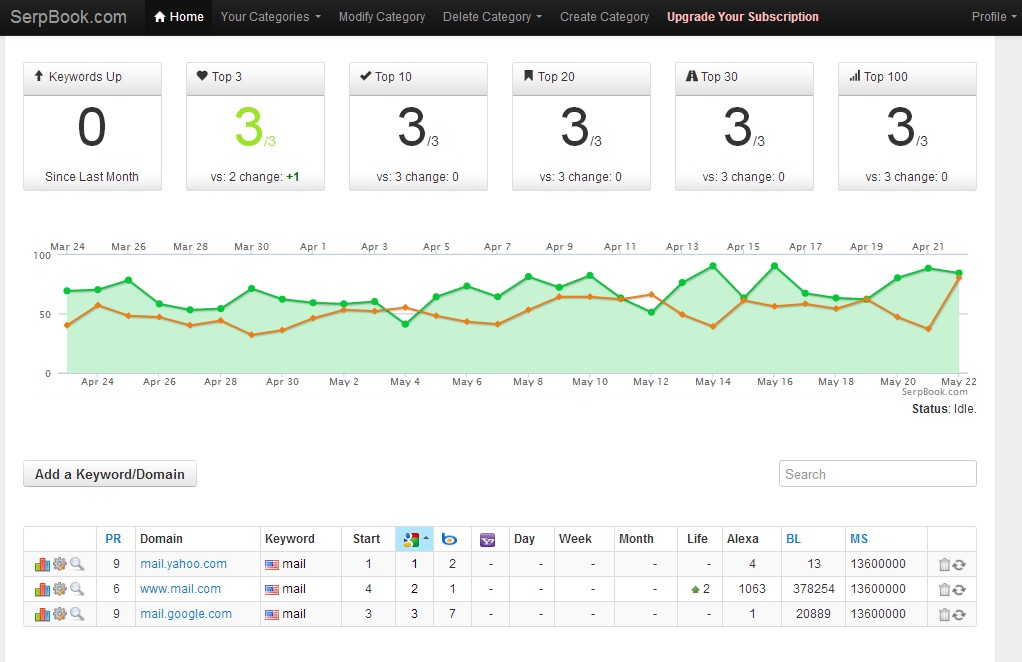 So far, all of the items mentioned on the SEO tools list above make the life of both SEO expert and business owner easier in several ways. They:
provide daily reports on your online business efficiency
keep your website safe
recommend keywords to attract clients
spy on your competitors
help you to reach the top in Google, Yahoo, or other search engines
assist in maximizing profits
Users all over the world appreciate this SEO software effectiveness and security. By the way, which SEO audit software do you personally prefer? Feel free to leave your feedback below in the comments. Join other SEO experts in their discussion! And find out here the list of 10 FREE Effective Website SEO Checkers.
Please if You Copy or Rewrite Any Parts of the Content on Our Website, Make Sure to Include a Link to Our Website as an Original Source of the Content.
Related Posts