Best Backlink Building Software: Submitters and Automated Tools

Before we start reviewing the backlink building software, let's revise why backlinks are crucial in an SEO campaign.
Backlinks are one of the factors for successful website promotion. Many search engines measure website credibility by the number and quality of its backlinks. Search engines follow a simple rule: the more sources refer to the site, the more useful and interesting this site is (and correspondingly ranks better).
Does it mean that success can be achieved just using up-to-date backlinking software? Definitely, no. Many factors play into the search engine rankings: usability, content quality & uniqueness, pages relevance to search queries, etc. But links still have a very significant weight, despite repeated statements on the struggle against reference promotion. Download our free SEO reports to learn more about site promotion and become a guru in link building.
Today, for the successful site promotion it's not enough to have homogeneous reference weight from the outside. One should pay attention not only to the donor sites relevance but also to the diversity and uniqueness of the anchor text. This uneasy job requires a serious approach, plenty of time, and the ability to work with specialized backlink builder software programs.
Since 2009 LinksManagment has been providing DA40-DA100 links for business owners, marketers, webmasters and SEO companies in the USA, UK, Canada & Europe. Our customers' reviews prove that you can increase your website rankings on Google, Bing, Yahoo, Ask, AOL, Baidu, and 500+ more search engines within 3-6 months.
Find out how many links you need to outrank your competitors using our professional Free SEO Cost Calculator and start your campaign right away. You can launch the backlink building campaign automatically with the help of our SEO Expert Tool.
Why LinksManagement:
The largest inventory of US publishers — currently more than 8 mln of the US, UK, Canadian, Australian, European websites.
Money Back Guarantee — check out our rules & policies.
Success stories — our clients speak for us.
More than 7 years on the market — our product are getting better year after year.
10+ filtering options — you can easily find backlinks from niche websites by applying a bunch of filters.
See the backlink page before you buy a link on it — you decide by yourself whether the website meets your needs and only then buy backlinks.
Gradual purchase — links will be purchased automatically in the way that looks very natural to Google – according to your set link building schedule.
Backlinks from .edu and .gov domains.
Automatic backlink building software
SEO Link Robot

Video presentation:
Automated SEO link building software was created by Stephen Hawkins. The tool's main tasks are the quick building of backlink and site promotion. So, if you don't have enough time to perform linkbuilding manually, this SEO robot may be quite helpful. Such software is useful when you need to post articles, press releases, social bookmarks, or RSS feeds. SEO Link Robot can reduce the operating time significantly. Steve Hawkins claims that the tool can reduce your promotion efforts by up to 95%.
SEO Link Robot has two main functions: content publishing and content promotion. "Content publishing" includes the following tools: articles spinner, article poster, Web 2.0 poster, and linker. "Content promotion" consists of a special tool for working with social bookmarks, RSS submitter and pingers.
Advantages
Quite affordable.
Integrated with two most popular and advanced spin software: "Spinner Chief" and "The Best Spinner". It makes possible to implement the most high-quality content distribution.
Automatic email confirmation.
Compatibility with "captcha" services.
The ability of Web 2.0 accounts creation on more than 30 websites in less than a minute.
Built-in articles collector.
Ability to create random reference pyramid, using articles tags.
Ability to make links unique and place them in articles before publishing.
Automated link building on Web 2.0 sites.
Automated social bookmark posting on all of you links on top 50 services.
Ability to submit RSS feeds to over than 15 directories.
Creation of mini-networks for Web 2.0 sites promotion.
Working with more than 30,000 statistics sites for meta-index, pinging each of them.
Ability to create accounts in more than 50 article directories and post articles to each of them.
Working with more than ten press-release sites.
Disadvantages
Slow operation.
Program copy can be installed only on one computer.
Need to backup all data before updating the program (chance to lose all data).
Periodic malfunctions.
Scrapebox
The software offers a fast gathering of relevant links. It's one of the most popular programs in SEO. The program is a paid automated link building software ($97). It's an "upper class" soft that allows you to evaluate your niche competitiveness and automatically comments target sites, getting backlinks and traffic.
Being able to improve your domain and pages ranking, Scrapebox has the function of RSS submit and ping (it is also involved in promotion). The program has both "blackhat" and "whitehat" promotion methods, which helps to attract fewer search engines attention and gives a better chance of a high ranking (for example, you can post "whitehat" qualitative comments on carefully selected .gov and .edu pages). To use all SCRAPEBOX potential you have to understand the variety of possible techniques.
Bookmarking Demon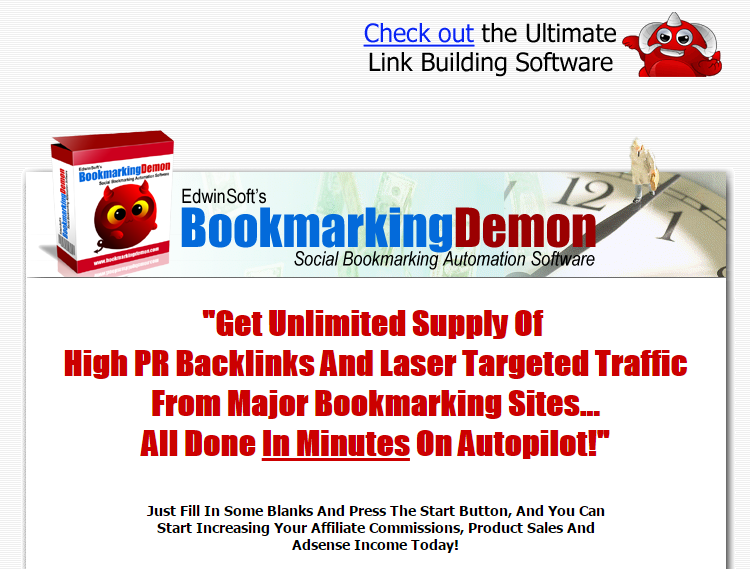 Video presentation:
Its purpose is getting backlinks from social bookmarks. The Demon is frequently updated, so it's a profitable purchase. Bookmarking Demon justifies its title and will enable you to post bookmarks automatically to all the resources available in a single pass. Own proxy protects your IP from unnecessary problems and comes along with the program.
LinkAssistant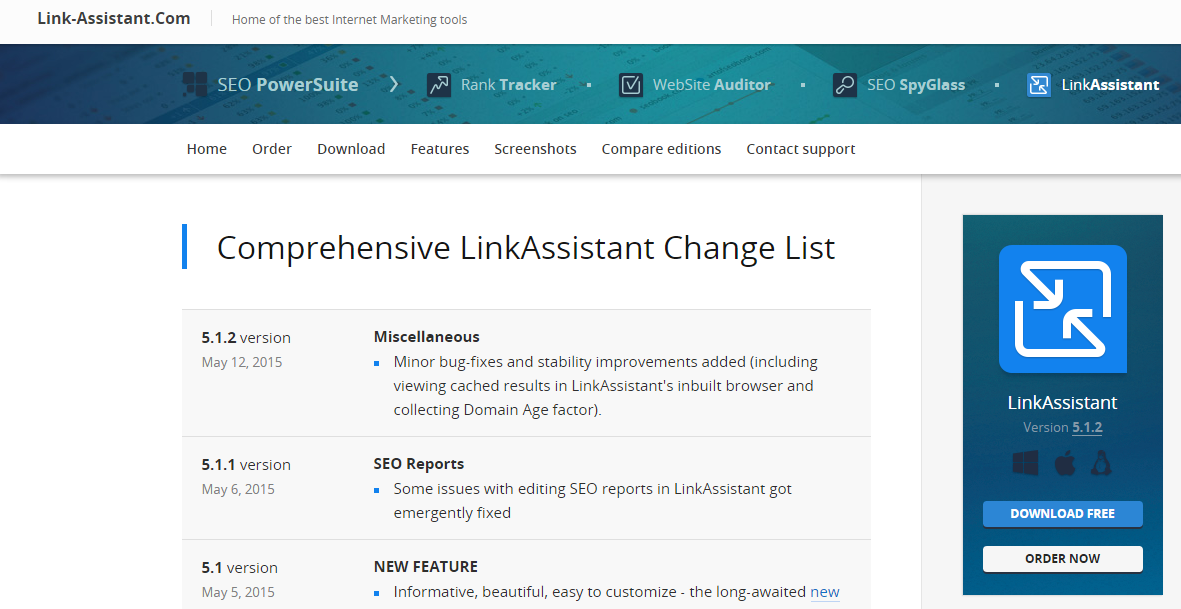 Video presentation:
The program is looking for the sites that are relevant to your niche, helps you to communicate with potential partners (you can use editable email templates), checks references availability (and checks "nofollow" tag, prohibition of indexing in robots.txt, redirects, etc.), generates and uploads links catalogs on the site.
LinkAssistant main features
Convenient storage of backlinks. You can divide links into categories and evaluate them depending on the degree of importance for an easy search. Link info:

URL.
Adding date.
Reference text.
Checking data (presence, "nofollow"/"dofollow" status)
Important SEO-parameters (Domain Authority, domain age, etc.)
Webmaster's contacts.

A search for low-quality resources.

Checking the availability of previously acquired references.
Anchor text checking.
Checking the quality of all referrers.
Check the link pages for the presence of JavaScript, frames, redirects, "nofollow" tags, etc.
Monitoring these parameters allows you to make decisions on placing a particular reference.
Search for new reference sources. No matter what keywords you are promoting, LinkAssistant helps you to find relevant sites. Moreover, the program evaluates each site for many SEO factors and allows you to select the most authoritative ones.
Monitoring and recording backlinks increase. LinkAssistant's professional reports allow you to analyze SEO effectiveness.
Additional features: 1) data import (as text or CSV) 2) professional reports that can be printed, sent by e-mail and uploaded to the site (available in Enterprise Version) 3) task scheduler.
SEO SpyGlass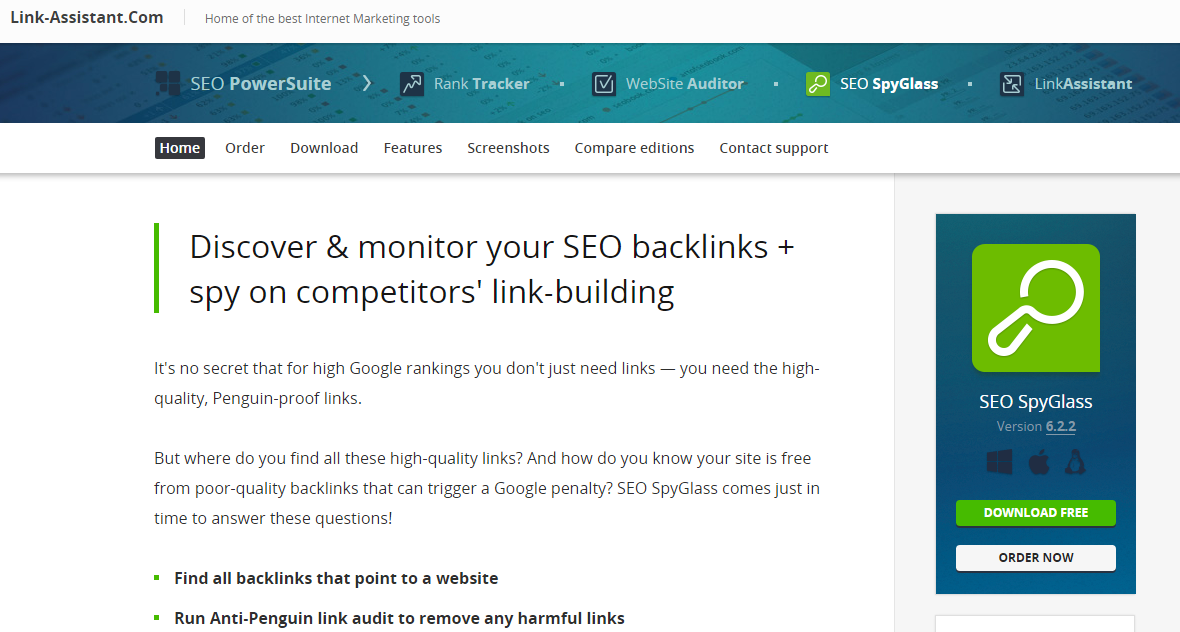 SEO SpyGlass has a unique advantage in comparison with analogs. The software not only finds backlinks but also evaluates their quality. Backlinks search services compete in databases size, but if you are interested in real results and high search position, you should know that not only size counts. You need quality backlinks that don't force the site under the filters and bring position increase. At the time when everyone talks about Panda and Penguins, SEO SpyGlass will be extremely helpful as it uses one of the best backlinks database and functions needed for the in-depth study of data – the best combination of properties for striking SEO. You can find thousands of backlinks for any website to evaluate their quality on 40 different parameters, find "dofollow"/"nofollow" links, analyze existing domains.
SEO SpyGlass abilities
It finds new backlinks from several sources, including one of the largest references databases "WebMeUp backlink tool". Depending on the actual number of site links, checking takes 1–20 minutes (4 minutes on average). If you've gathered information about references from other sources or exporting data backlinks your site from the webmasters Google panel, you can import it in SEO SpyGlass, and then analyze links and assess their quality.
SEO SpyGlass checks the following parameters:
Domain IP address, age, Google rankings.
Alexa rank.
Other external links posted on the referring page.
"Nofollow" and "dofollow" links.
Reference anchors.
Social networks signals.
More than 40 factors of links assessing.
Some other useful features
Creating the "blitz-referential promotion plan" report
PDF-format reports with a detailed reference profile
Reports printing, emailing and uploading to websites
Exporting data in CSV format
Task scheduler
Support for websites in any language
SEO SpyGlass performs the deepest analysis of the reference weight, which cannot be compared with reports of any other tool, available on the SEO market. Remember: even the most "natural" white reference profile can contain problematic links. And even if your site has reached TOP-10, don't drop guard, as competitors are continually seeking to oust you. It is necessary to carry out continuous monitoring.
Money Robot Submitter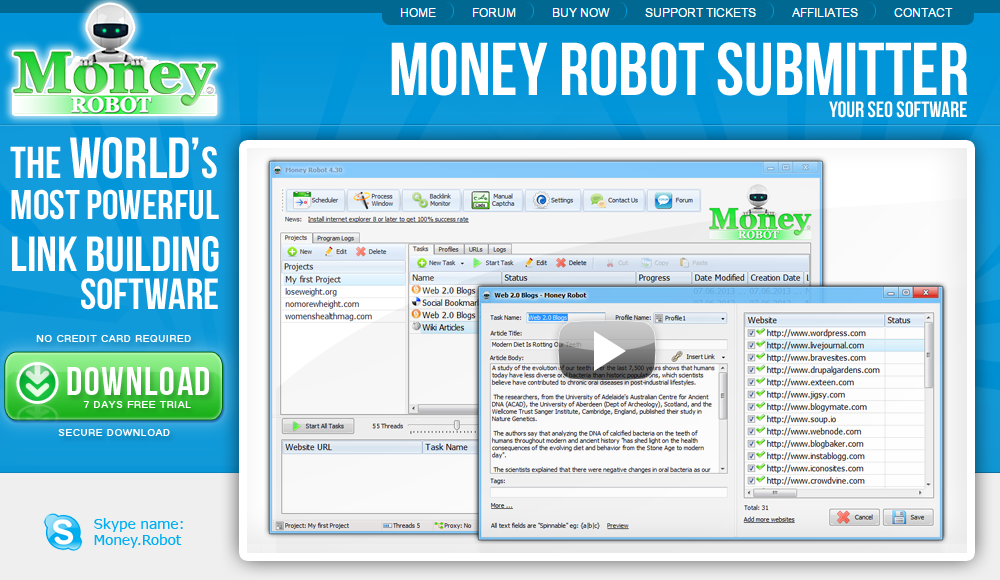 A program is designed for automated backlinking on the popular platform-engines. According to the developers, Robot Submitter replaces the work of 100 employees.
Program supports:
Web 2.0 blogs and directories.
Social networks (messages).
Social bookmarks.
Press releases.
Articles, references.
Web 2.0 profiles.
Wiki-articles
Forums, profiles.
Program features
High-speed submission.
Fully automated submitting process.
Built-in features (rewriter/spinner) that help avoid penalties for duplicated content.
Artificial Intelligence. Any detection mechanisms can be easily passed, as this software uses Chrome, Firefox or Internet Explorer to simulate real user's actions.
No need for website lists search and scrape. Server resources are enough to provide quality backlink sources.
"Backlink monitor". High-speed tracking of backlinks.
Auto-captcha. Simple captchas (calculator, photo, text, etc.) are free.
GSA Search Engine Ranker
Unlike other software, submission website or databases are unrequired. You don't need to input for submitting your web page and finding more websites. GSA also verifies website submissions. GSA creates backlinks under your set of rules, e.g., you may skip submission of spammed websites or submit to high ranked websites only. This SEO software can be extended to any submission system or tool simply by a script engine. Moreover, there is no submission limit.
Gscraper
Overview:
The most accurate and the fastest Google scraper. An average setup allows harvesting 5 URLs per second per thread (the number of threads is not limited). Using GSCRAPER, you can get over 100 000 URLs scrapped for 1 minute.
Time- and type-based proxy.
Footprint support.
Easy cleaning and sorting of scraped lists.
Checking "nofollow"/"dofollow".
Powerful filter.
Auto approve list, easy-to-find location.
Ability to expand the list of chosen domain.
Proxies are one of the problems that people faced when running SEO software (lack of time, inability to afford enough private proxies to run software at fast speed, etc.). Using Gscraper, you instantly get access to unlimited proxies.
Ultimate Demon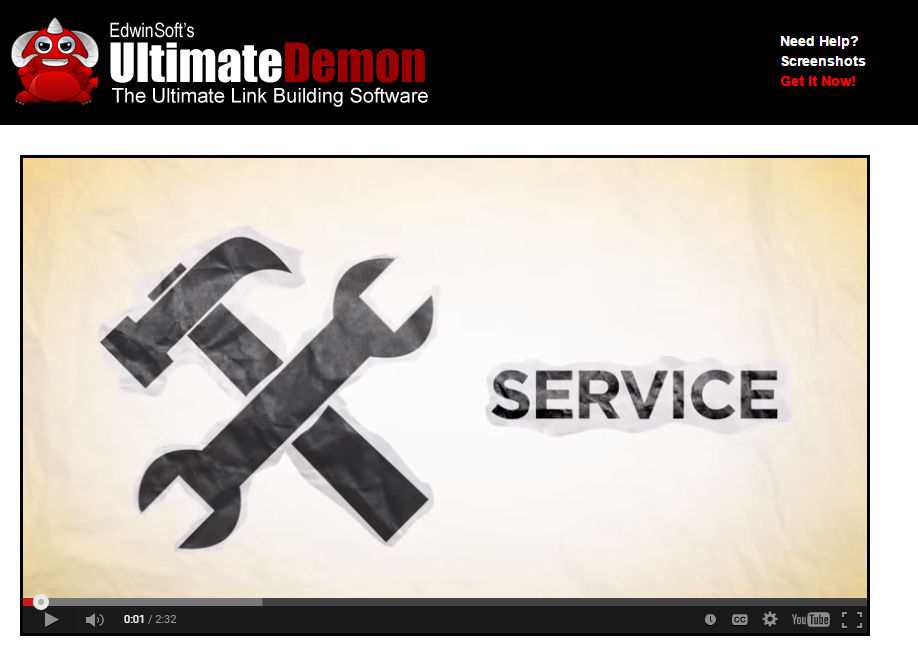 Allows you to submit content to social bookmarking sites, article directories, document sharing sites, wiki sites, web directories, video sites, press releases, web 2.0 sites, RSS Directories.
Features:
Multiple platforms (possibility to submit content to different sites).
Multi-threading support. UltimateDemon submission speed is equal to the simultaneous work of 60 employees.
"Link tree". With it, you can use advanced linking strategies (e.g., "multi-tier level" one). Link pyramid strategies are easy to create.
"Seamless Submission". No babysitting anymore. For now, you don't need to wait for account creation before downloading activation emails.
Visual aids, such as Bypasscaptcha, CaptchaSniper, Deathbycaptcha, Imagetyperz, Decaptcher.
Adding unlimited number of sites with a lot of scripts: web 2.0 sites (phpFox, Dolphin, PHPizabi, Jcow, Elgg), wiki sites (DokuWiki, MoinMoin, TikiWiki, WikkaWiki, MediaWiki,), bookmarking sites (PhpDug and German's PublicBookmark, Pligg, ScuttlePlus, Scuttle), web directories (WSNLink, PHP Weby, phpLD), document sharing site (iDocScript), press release site (Press Release Script), video sharing sites (ClipShare, PHPmotion). Type of added site is detected automatically, from the thousands of available ones at the moment.
Scraper. You don't need to check if the site supports script or not, as it's checked automatically.
Article rewriting and spinning. Rewriter and spinner help you to avoid duplicated content. "Mass Replace Synonyms" creates spin syntax for synonyms. Moreover, you can create your own synonyms database, using synonyms harvester.
Privacy Protection.
Live Link Checker. It offers to test if your links are still at the site where they were placed.
Detailed site scan. Organizes submissions. Using the site scan, you will not retrieve Alexa ranking, IP address, and WOT rating.
Auto pinging. Harvested links (after each submission) are added to the ping queue. Then these found links are pinged automatically, that significantly shortens the time needed.
Scheduler. You got an opportunity to appoint submission on the days you want. Just choose the day and hours of the submission process.
Supporting of proxy service. Allows you to avoid restriction for the maximum number of submission for each day (a site can ban your IP if you are overdoing backlink building). Add your proxy servers, assign each account, and your submission will look natural.
100% socket. It means UltimateDemon uses only fast browsers (not Internet Explorer) to make submission process much faster. It turns into more stable software with lower bandwidth consumption.
Auto sites update. This tool automatically updates sites to maintain submission success rate. You don't need to reinstall the software each time when new sites appear.
Backlink creator software
Backlink creator software, which offers one-way linking. It splits the subscribers into 3 groups: A, B, C, which are quite balanced for their themes. These groups are cycled: sites from A-zone links to the websites of B-zone, and B links to C. It's an easy and very efficient scheme that allows getting quality one-way links. The number of subscribers increases with time, so A, B and C sectors grow. At the moment, there are 750 members (sites), which mean that each partner obtains 250 links. All provided links are from working websites.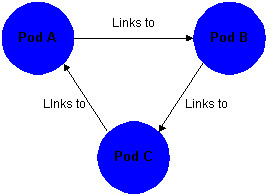 Annual membership costs 250 $.
Advantages:
For August 2018 – 175+ one-way inbound links (now much more).
No spam links ("instant overnight").
No substandard (low quality or silly) directories and linking software.
Unique IP addresses.
No extra charge for new links.
Quality links from hard-working (legitimate) websites.
Tit for tat: you give the one-way link – you got the one-way link.
Variety of partners: 13 anchor text sets allow you to link with different text.
Anchor text includes natural anchors (according to Matt Cutt's comments in early 2013).
No duplicate pages.
No need to buy individual text links (partners help each other).
Probably, this is the best SEO backlink software for one-way links building, despite it's not cheap.
Edu backlinks software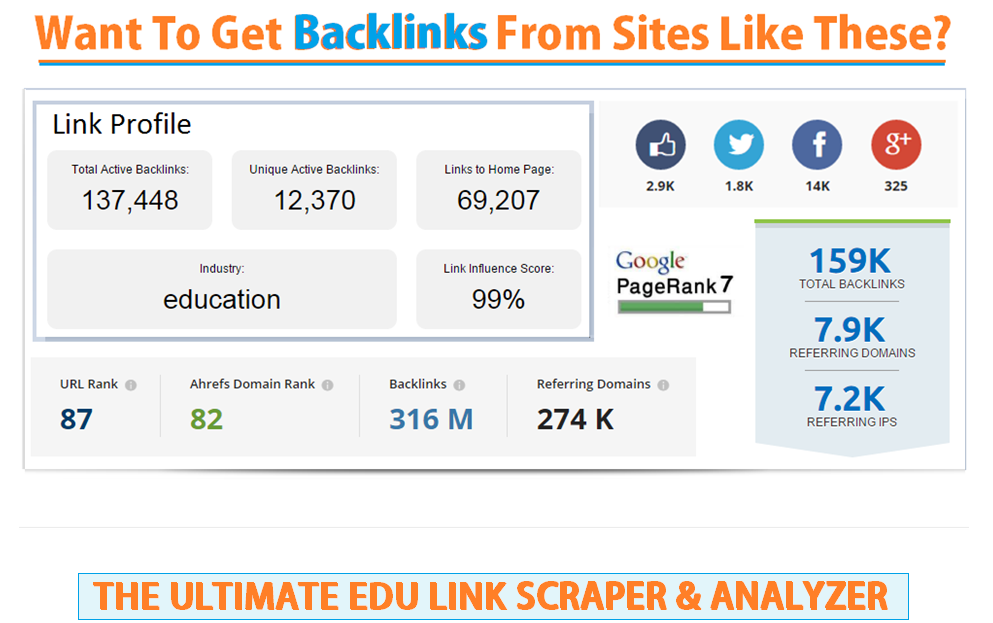 Video presentation:
It's known that even to register on EDU site isn't always possible (let alone link placing in profile or comments). But EDU Link Tool helps you to create one-way backlinks that supercharge your SEO and increase site rank.
Features:
EDU blogs. High-authority blogs, giving you the ability to create comment links that got approved instantly.
EDU forums. Find related to your site niches, and get target backlinks.
Keyword-based scraper. You can find appropriate site quickly, according to your keywords.
Auto-generate lists.
Advanced metrics: PA and DA analyzing.
Unlimited scraping.
Instant reports. You're allowed to get excel reports instantly, based on metrics analysis and scraped links.
Fast speed and minimal load on your computer.
Google filters: how to avoid penalties, using automation software for backlinks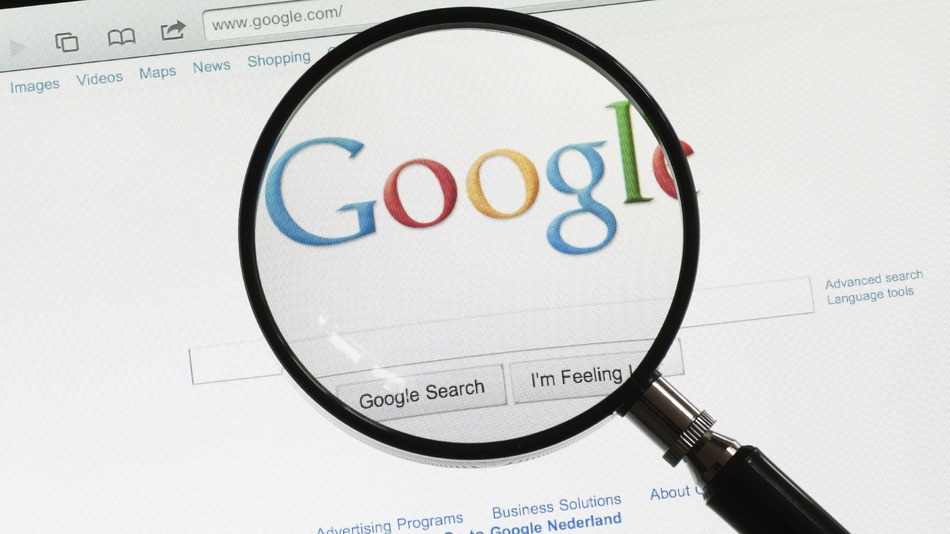 Best SEO link building software offers certain advantages, but still, you should know all significant Google filters and their principles. Whether you're using a free backlink submitter or a paid one, these sanctions could apply to your site in case of ignoring rules of clear promotion.
Bombing. Applied for links with the same anchors.
Broken links. Applied on the site, which has a large number of internal links leading to non-existent pages (404 error). Such resource loses its search positions. To get out of the filter, it is necessary to correct all such links, redirecting them to existing pages. Average time for filter removing is 2–6 weeks.
Too many links. Applied if your site has set too many links at once. As a result, these links cease to influence the rankings. To avoid the filter, you need to control software settings (limit the maximum number of backlinks for a certain period). It is especially true for young sites.
Links. Applied in case your resource has a large number of outbound links that are not thematic. Besides, the position of the donor site can fall out of the index. It is recommended to remove pages with more than 5-7 inbound links, or close links for indexing through the attribute rel = "nofollow".
Bad quality of backlinks. Auto-submitted links have lousy quality.
Reference blast case is an unnatural growth of the reference mass. It may be imposed both on young and old sites. E.g., you had 261 backlinks, and then in a short period – 1500. In practice, such reference weight rise is not inherent even for major portals and sites. Search engines easily define and impose cheating, and apply filters. The essence of the filter is that substantially all references become useless and do not transmit one weight, even those which were natural. To avoid reference explosion, you have to limit link purchase at 50% of your current reference weight, distribute your base for a long time, use the none-anchor link (but this method is still at your own risk).
Despite all Google tricks, best automatic backlink software is beneficial. It offers extensive SEO opportunities that are entirely or at least particularly automated, so it's not necessary to be a specialist to provide a successful SEO campaign. LinksManagement is one of the best services to estimate and purchase quality backlinks. Leave link building to us, and be engaged in other important site promotion matters.
Want to make sure that everything is OK with your backlink profile? Order Backlink Audit to get expert analysis and recommendations from our SEO Experts.
Get Your Backlink Profile Checked Now
Feel free to leave your comments to keep the conversation going!
Please if You Copy or Rewrite Any Parts of the Content on Our Website, Make Sure to Include a Link to Our Website as an Original Source of the Content.

Related Posts