10 Creative Ways For Getting Links
To begin with, let's figure out what ways of getting links are currently the most popular:
Backlinks from comments. It is super easy, cheap, and fast to get crowd links. However, there is a significant drawback of this strategy because of their low efficiency. Crowd links become Nofollow very fast. Many pages are not indexed. More and more forums use stop forum spam. A case study demonstrates that in a ten month period, among 1000 of crowd links only 500 remain active, and only 10-12 are indexed. This example clearly demonstrates that no matter how much these links cost, in fact, this money would be wasted, even if the cost was a couple of dollars.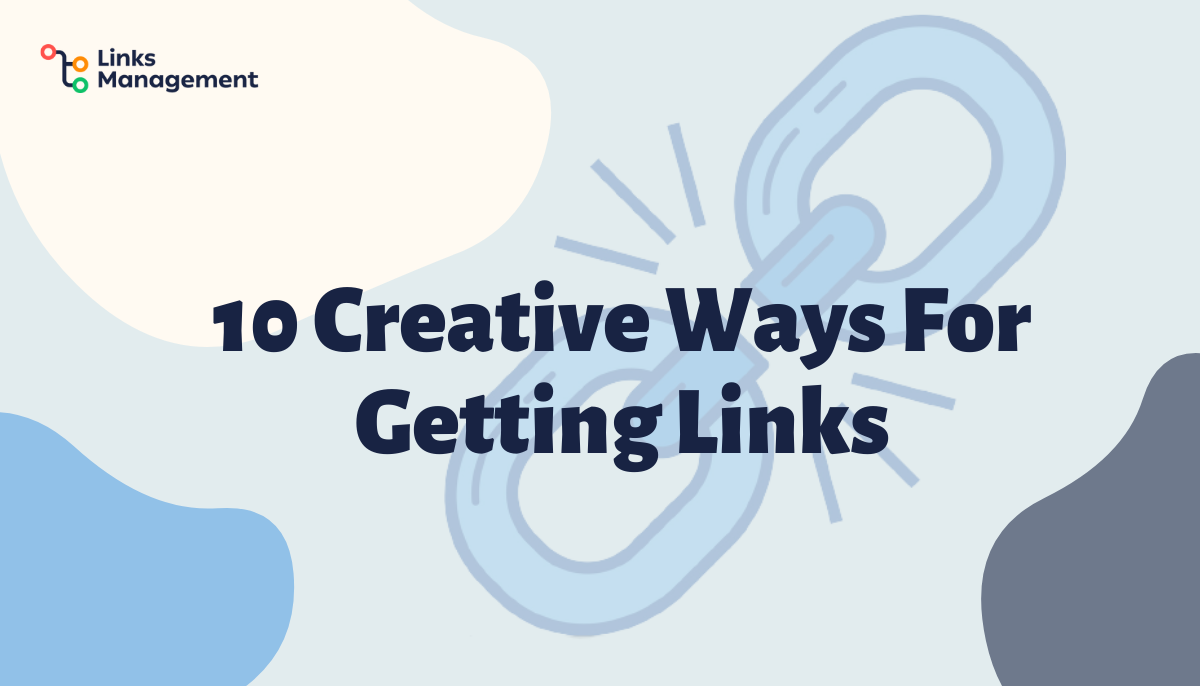 The next method is guest posts from fiverr which is well-known, proven, and used by many. Let's consider this method on the example of the website thefrisky.com.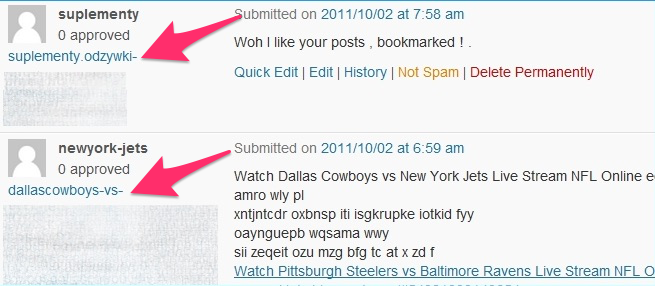 The web site is extremely popular. People massively buy links on it. It has received such an acknowledgement because of a range of reasons:
High domain authority (above 80)
Traffic – 250k
Links are Dofollow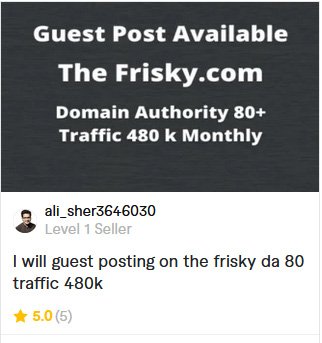 This seller has expired domains, Therefore, the domain authority is high. However, the most significant drawback is that traffic is usually for unpopular keywords, and there is a lot of traffic from Ahrefs. Thus, this traffic itself is not valuable. Moreover, after 6 months, this site makes the link Nofollow.
The following popular way to get links is getting PBN links from Indians..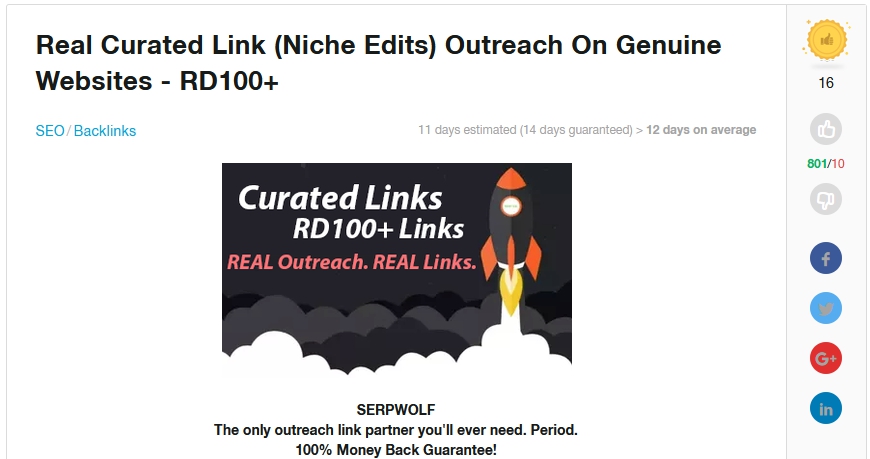 The seller has 800+ positive reviews. By itself, the site to which you are linked is just a site made for all niches. For example, among the categories, there is business, traveling, pets, and others. They post all the articles in a row, and from May to this day, they have posted 800 paid articles. But if you look at the backlinks, the site is nothing. It's just spam. This can work if you link to the homepage of the site. After a while, the link will simply be lost and will have no value.
Scaling link building
There are a number of problems with buying links from outsourcing. They are listed above. Links that are set manually have a range of advantages. This allows us to extract rare links. LinksManagement already has its own database of reliable webmasters.
Before choosing a site to link to, you need to study competitive niches.
It will also be reasonable to study fast-growing sites.
For example, site demonstrates rapid growth. At first sight, you might think that this is thanks to the expired domain, the cost of which is $150-200. Well, if you dig deeper, you can find a series of hidden page redirects. One of the examples shows that it redirects from a specific page to a specific page. By using Ahrefs, you will not see this redirect. We recommend that you used not only popular link analyzers because they just might not see all the links. Search with regular google search.
As an example, review site has a link to Amazon.
If you think of how you can get the link from Amazon, be ready to use a non-standard way. Ahrefs does not show us the links from Amazon, because the site is huge. Still, you can find them by google search.
How to get a link from Amazon?
The site should be converted into a mobile application. Then, upload this application to Amazon through the developer's panel. Then, set the price to 0 in the customer support website field, specify the link, and get a Dofollow link from Amazon.
Another method of getting links is getting them from the main pages of the forums.
Find forums through the vBulletin service.
You should find forums in which the username and the link are displayed on the main page of the site. Then, you can also find unpopular sections in which the message was left 2 or 3 years ago and leave your message there. This will take you to the main page of the forum.
The third way and also one of the easiest and the most interesting is the ranking of sites in a niche.
Make a niche directory and add sites to the directory in exchange for a link.
Another example of getting links is creating a website for a socially significant event. There is nothing difficult here. This is a one-page site, but at the same time, it can receive significant and valuable links from ministries and other government agencies. The example that is currently relevant is creating a website on coronavirus.
Another example is adventurous startups and sites. For example, a block content which is generated entirely by artificial intelligence.
One more way to get backlinks is to create a website where you will tell about your successful startup or project, it's history of promotion and challenges you've faced. One of the examples is Thewanderingrv.com. On this web site, you can find case studies from other blogs, from which the web site gets a link.
Another way to get a .gov link is to create a website about a free event. It should be a socially valuable event, such as how to act in case of a fire. Then, indicate 15-20 cities where it takes place, outreach the event sites and get .gov links from them. It is particularly important that the .gov website had an archive where your link would be stored after that event. If there is no archive, you will just lose the link, and it will be a waste of time and money.
Another way is to outreach content from a web archive. It's no secret that the archive contains a lot of unique content. For popular keywords, you will not find unique texts, of course. However, there are many personal interviews, stories and blogs where this unique content can be found.
What to do?
take a unique content on various topics from the web archive
send it to the sites that accept guest posts
receives links from the websites with a domain rank of 70 and higher.
Another method is the link from Instructables.com.
It is a large website with 25 million traffic. It publishes "how to" content. These are instructions for doing something. The strategy to get a link is quite simple. You can take content from YouTube, put it on Instructables.com, and put a link to your site. In fact, by using someone else's content, you will get a link to your site.
The next way is indirect link exchange. For example, you can write an article for the top 10 best products. Then, publish it on Medium. Promote the article to google top. Outreach to manufacturers or online stores and offer them a link from Medium in exchange for a link to your money site.
And the last lifehack is the Write for Us page. On this page, we can see who is writing to us. Our competitors write to us assuming that we are posting guest posts. They provide us the content with which they have outreached us. In turn, we also get valuable information from them. We get contacts of outreacherers, and we get actual donor sites who are posting guest posts in our niche right now. We do not spend time researching and finding donors but our competitors actually do this research for us.
Final Word
SEO requires creativity, critical, and analytical thinking, as well as a complex approach to promotional campaigns. You can use the above ideas to promote your website if you have enough skills and knowledge to implement them. LinksManagement is always there to share our innovative ideas and ways of implementation with you. If you feel like you are excited to try something new and challenging in your SEO, we are always here to help you.
Get into the Top Google Ranking
free
SEO Cost Calculator Tool
Enter URL & See What We Can Do Submit the form to get a detailed report, based on the comprehensive seo analysis.