Partnership Marketing: How to Build Links & Visibility
Driving top-line revenue is THE most critical priority in business today. So, let us ask you: "What are the primary ways by which companies go for increasing their income?" What do you think of right away? We can assume you would say "sales and marketing."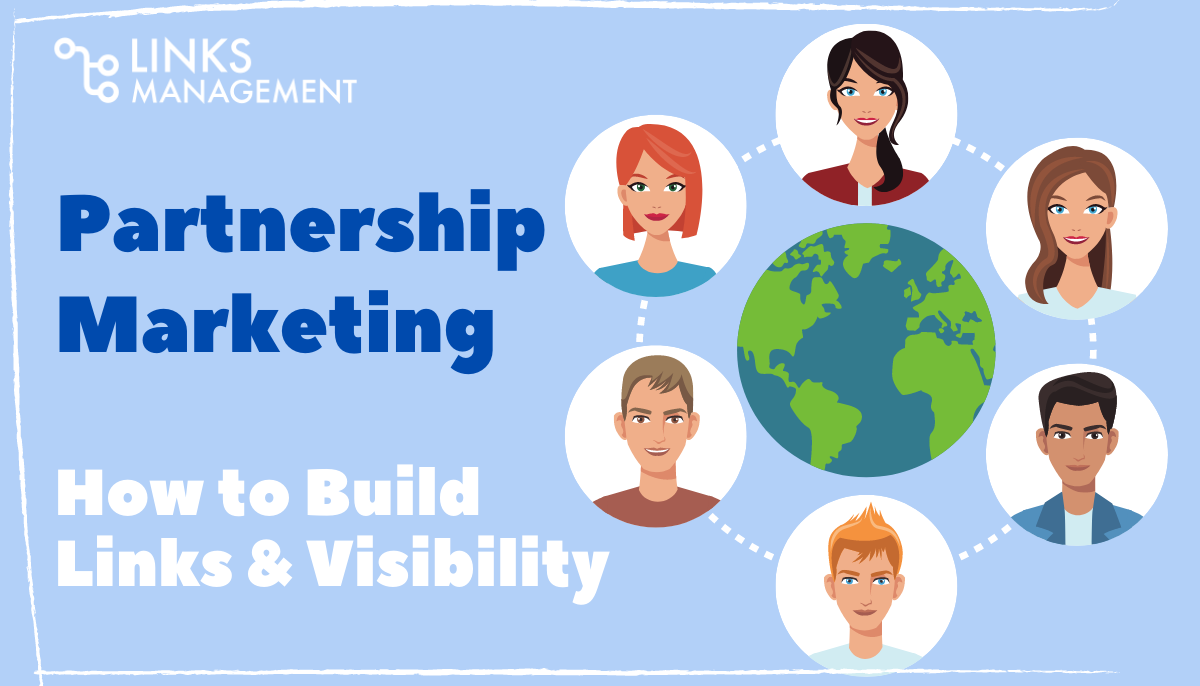 Yes, you are right. Just hire more salespeople, spend more marketing dollars, buy more ads. What is so difficult? But the thing is that many specialists claim that the trend in today's consumer behavior is causing an existential crisis for traditional sales and marketing tactics. Why do they believe that so strongly? Well, let's take a look at some of the facts:
82% of buyers don't trust sales reps. How many of us immediately hang up on the salesperson? We just don't have time to deal with unsolicited salespeople.
874% of buyers don't trust traditional advertising either. They don't want to be sold or marketed too. They would rather do their own research, seek advice, and get recommendations.
890% of growth in digital ad spend goes to Google and Facebook. The last one's rates have increased more than 130% in the last year.
It is a tough world out there for businesses to cut through with their message to acquire customers, using traditional sales and marketing methods. This trend has caused the emergence of a new category of business growth called "partnership marketing". That is what we are going to talk about in this article. Let's dive into it!
What Is Partnership Marketing?
Definition of partnership marketing sounds like this: it is a collaboration of two or more parties with the intent to develop a mid-term or long-term marketing program designed to meet each of their respective business goals. Simply put, that is one of the most effective ways to boost brand awareness and break into new markets.
The need for a partnership marketing program exists when one company (or agency) can accomplish its goals more effectively by leveraging the complementary strengths of another organization pursuing a similar customer base.
Partnership marketing is not an alternative to other marketing strategies. Rather, this type of marketing activity is complementary and purely leverages the assets and marketing vehicles belonging to the members of the marketing partnership in an effort to provide greater value to all.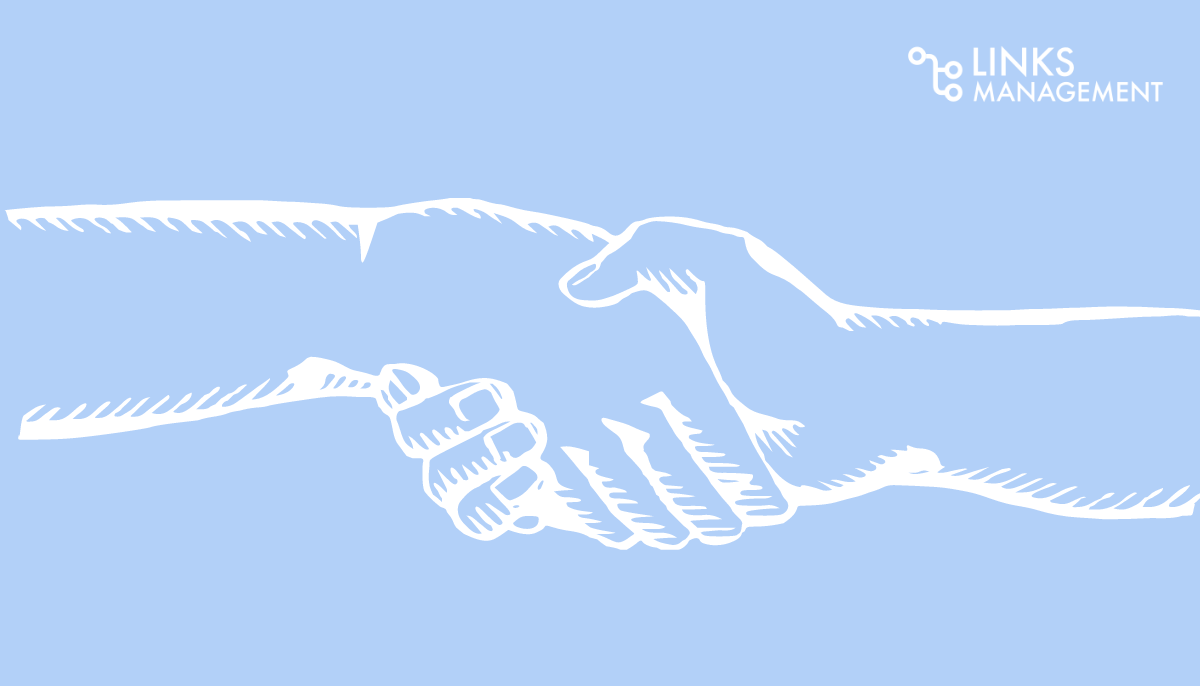 As such, mutually beneficial partnership marketing requires that both partners have an established business and complementary core competencies that they can bring to the relationship.
2021 is a perfect time to pursue non-advertising strategies. This is a big deal that we need to take dead seriously. One reason for that — the World Trade Organization reports that 75% of world trade flows indirectly through partnerships.
Usually, businesses that create these partnerships do it for 3 reasons:
They want to boost revenue & make money
They want to reach a specific demographic that they wouldn't be able to easily reach by themselves or reach as fast.
Partnering makes things easier and less expensive.
So, if these goals are on your business list, we recommend you keep reading to know more about the ways to build a powerful partnership marketing strategy.
Types & Partnership Marketing Examples
We bet you have heard about all kinds of affiliate programs or influencer marketing. These are just some of the forms of partnership marketing. And the question is "What type of partnership is right for you?" The answer depends on what you can effectively manage and support given the nature of your business, products and services, budgets, and how you typically communicate with existing and prospective customers.
There are 10 main types of partnerships:
Distribution marketing partnerships
Added-value marketing partnerships
Affinity marketing programs
Affiliate marketing networks
Content marketing programs
Sponsorship marketing
Licensing programs
Loyalty marketing programs
Co-marketing
Co-branding
When most people think of partnerships, they say about big brands like Apple and Nike getting together. Yes, Google, Microsoft, Amazon, eBay, Apple, Starbucks, Wal-Mart, to name a few, are the "category killers" of their respective industries. But let's pump the brakes here. Today, the partnerships aren't just for the big guys. They are happening with influencers, traditional media publishers, native software integrations, channels, etc.
In our case, we're talking about a partnership with an intent to build links and visibility. For such a purpose, you can take advantage of the following partnership marketing opportunities:
Collaborating on a creative blog post;
Sharing content on social media (Facebook, LinkedIn, etc.);
Name-dropping one another in an email newsletter;
Creating a partner page;
Co-hosting & co-promoting a shared webinar;
Writing an ebook with your partner;
Organizing a networking event;
Creating a lead magnet.
As you see, partnerships can offer numerous opportunities for businesses of ANY size. The only thing left to do is to figure out how to get started with partnership marketing and succeed in it? Below is a clear guide on how to start making things happen.
Where to Begin & How to Build Solid Partnership Marketing?
Delivering a successful partnership campaign is a three-step process that can boost your brand muscle significantly.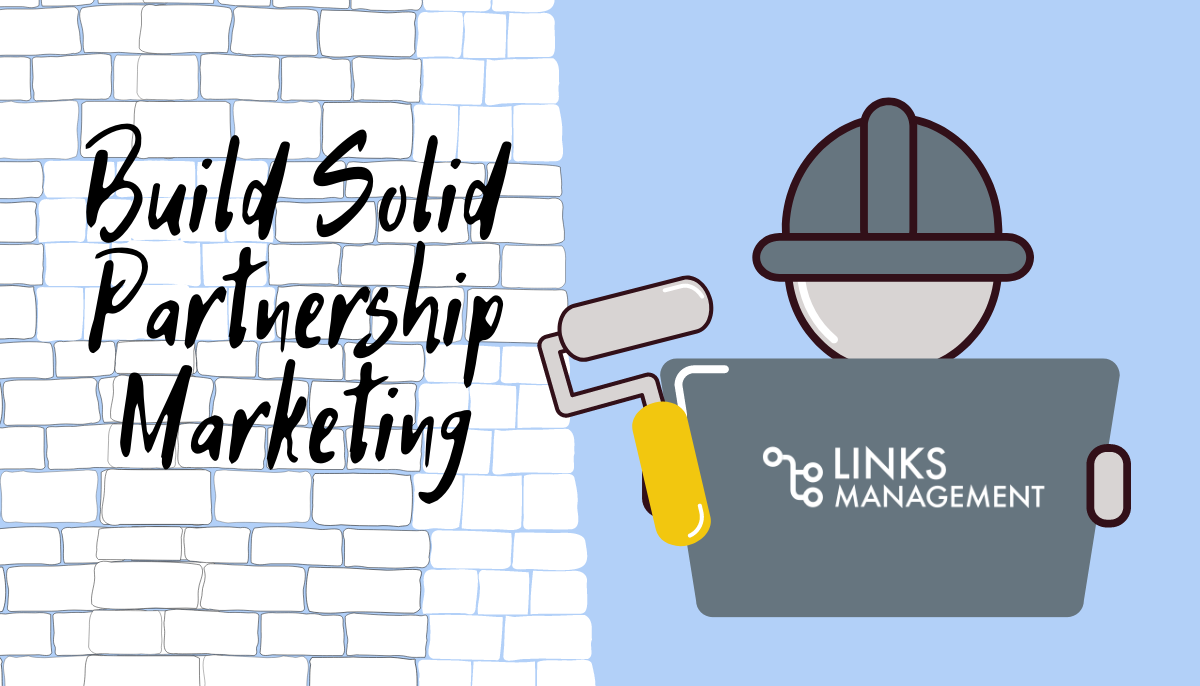 Know who you are trying to target by creating a buyer persona. Why? Because by trying to appeal to everyone, you appeal to no one!
Step 1. Identify the buyer persona & market that you want to capture or expand
Figure out who you are going after, what kind of problems you can help to solve, and how your idea can help your buyer persona. The same thing applies to a market as a whole. Only after that, you can create a project or campaign for that market.
Step 2. Find the right "Partner in Crime"
When it comes to finding a perfect partner, there are three different types of scenarios:
Your reputation and visibility are materially greater than those of your partner. In this case, the other party has to have the resources to do the work or unique data and capabilities.
Your reputation and visibility are about the same. Then, the reasons for pursuing a partnership are obvious: shared resources lessen the burden & shared exposure is mutually beneficial.
Your reputation and visibility are materially less. In this way, you get access to your partner's audience.
But the thing is that regardless of the scenario, there are benefits of partnership that can help you increase your visibility in the long run. So, the question is "What to pay attention to when searching for an ideal partner?"
Here is an important criterion: look for a partner with similar customers, but not similar products (pitching a marketing idea to a potential rival is a bad choice.) Your customers should not just look for your and your partner's products or services in Google, they should have similar attributes of a buyer persona (that's what Step 1 is for). We're talking about budget, economic status, location, time, etc.
To find a perfect partner, use social media tools, networking sites, community groups, forums, blogs, and events (industry conferences, seminars, workshops, etc.)
Step 3. Reach out to the ones you feel would be a good fit
Once again, before that, you should clearly understand and know what type of partnership you are looking for. Is it about creating a blog post or an ebook? Do you want to share content on social media or email newsletters?
If you're done with that, make a list of suitable sources. Find out the ones that have a strong presence on social media where they could potentially share the content (if that is the type of partnership you want to build). Actually, it is not about the number of followers. Dig a bit deeper and see what kind of engagement they have got on their previous posts.
Prioritize partners who provide high-quality content, since you want nothing to do with a site that has a high spam score. It can have a negative impact on your SEO.
Spy on your competitors. There is a lot of information you can get from reviewing their backlinks!
Partnership: Ways to Accelerate Link Building
Now, once you have a partner (at least in mind), let's review in detail things you could do together to get mutual benefits from partnership marketing.
1
Reciprocal guest blogging
Yes, it is that simple. What are the benefits? You reach your target audience, develop your authority by sharing your knowledge, get valuable and safe backlinks, boost your organic traffic (since search engines discover your online authority supported by relevant backlinks), and raise your brand awareness.
2
Shared content
Whether it is social media or email newsletters, the result will not be long in coming! If you tag your partner in the updates on Facebook or engage in email marketing of some kind, it will drive an increase in followers of both of your profiles in a direct way.
3
Co-create an ebook
That kind of partnership may enable you to pool your knowledge as well as your audiences while helping you both attract a more comprehensive set of your target market. If the end product's quality is high, it carries a strong message for you and your partner.
4
Run an Event Together
It can be a real-life event as well as an online webinar. Find with your partner an engaging topic to present to your audience and organize an event that will surely boost your brand awareness. By the way, it can be a great platform to get direct and trusted recommendations from people your target market already engage with.
To Wrap Up
We don't want to end up with wordy paragraphs, so let us just say one thing: Partnership marketing is a kind of activity with high ROI.
Get into the Top Google Ranking
free
SEO Cost Calculator Tool
Enter URL & See What We Can Do Submit the form to get a detailed report, based on the comprehensive seo analysis.