At LinksManagement we work with thousands of customers ranging from small local websites to large international companies in various verticals and niches. Their success is yet another proof that our DA40+ backlinks can help anyone get more organic traffic to a website, boost sales and increase earnings.

Below you can discover HUNDREDS of our customers' SEO success stories they've posted on various forums, social networks, and blogs . Most of our clients provided their contact details and direct links to their websites so you can easily fact-check them.

Read their SEO success stories to find out how LinksManagement helped them create effective SEO campaigns, build loyalty, drive several-fold larger income, and achieve high rankings on Google, Yahoo, Bing, Ask, AOL, Baidu and 500+ other search engines. Join us to have a story worth sharing!
---
Reaching TOP 5 Google and Yahoo Within 3 Months

Owner: Xavier Cloitre
Location: Bangkok

3 Months of successful usage
of LinksManagement services
11.08.2017



We started our SEO LinkBuilding campaigns more than 3 months ago and we have already reached the top 5 positions on most of our Keywords (50 Keywords) on Google and Yahoo. LinksManagement is the most affordable and reliable solution we found on the Internet.
Thanks to our increased visibility on the Internet, we have triple the number of leads we receive for our services. We are still planning to use LinksManagement services to enhance the ranking of our other website pages and work on the SEO of our clients.
I would definitely recommend this services if you want to improve your online presence.
Keep up the good job, LinksManagement!
74 keywords rank in Google TOP20 www.google.co.th, 41 of them – in TOP10.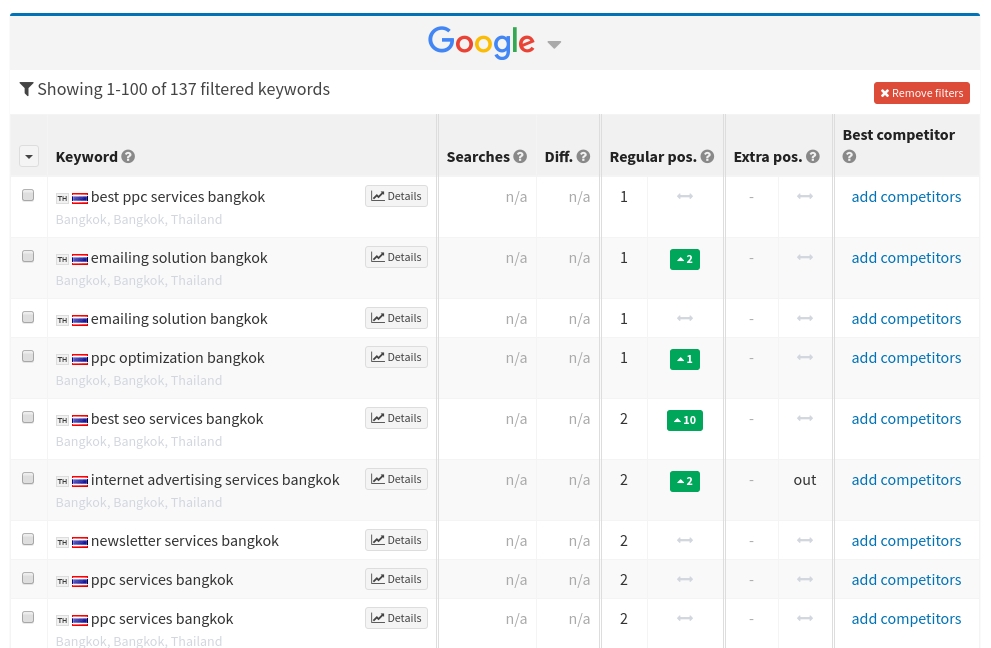 Quantity of ranking keywords is increasing.

---
---
---
---
---
---
---
---
---
---
---
---
---
---
---
---
OTHER
TESTIMONIALS

Owner: David

[email protected]
I am not SEO expert, since my first time signed up, I have been purchasing links with the mix of PR 0, 1, 2 and 3. In the first 2 weeks, nothing much changes in my website traffic. Entering week 4, my website traffic suddenly exploded to twice as much as previous weeks and it's growing 'till now. My Alexa rank jumped from NO RANK to top 2,000,000 in just 2 months. I have about 15 potential HIGHLY competitive keywords positioned in top 20 google.co.id, 6 of them are in top 10 position. With LinksManagement, you do not have to be SEO expert to achieve this.
The number of search impressions and clicks are increasing significantly in these 3 months since I am using your service.
You can see my Google Webmaster Tools screen capture.
I am glad to use LinksManagement service and will continue to use it.
---

Owner: Myles Weisman
Company: REMAX Associates

16787 Bernardo Center
Drive Suite 6, San Diego,
CA 92128
LinksManagement is the only SEO company that has been consistent with their offer of getting my web sites on the first page of most search engines, including Google.com. I have just started a new campaign for two web sites within the past month and I have already seen an impressive movement on Google`s search engine for at least three more key words.

Over the past four years I have been trying to get my web site on the first page of many search engines with several other SEO companies, who promise you the first page but never deliver.

I would highly recommend LinksManagement as a company that does what they say they will do.

Thank you LinksManagement!
---

Owner: Lucas Burton
Company: Consumer Insurance
Services, LLC | Golden Age
Providers
Location: United States
We have been working with LinksManagement.com for over 1 year and have achieved numerous 1st page rankings for multiple keywords and multiple websites relating to our medicare supplement insurance agency.
90% of our traffic
is due to the organic rankings LinksManagement has helped us achieve through their link building strategies. I'd highly recommend them to everyone who wants to improve rankings on Google.
LINKSMANAGEMENT REVIEWS,
FOUND ON INDEPENDENT BLOGS
---
---
---
---
---
---
---
---
---
LINKSMANAGEMENT
PRESS RELEASES
---
---
---
---
Free SEO Cost Calculator Tool
ENTER URL & SEE WHAT WE CAN DO
Submit the form to get a detailed report,
based on the comprehensive seo analysis.