Free Backlink Indexing Service
Note: Google has recently abolished Page Rank, that is why some information in this post may be out-of-date. Instead, we use own evaluation system – SB Rank, which is based on DA and PA index.

There is nothing more powerful in SEO than backlinks build, if they fall into the hands of a talented, skillful specialist. Backlinks give a website more SEO power, rising it up in the SERPs, increasing its Google rank.
However, to make all this true, you need first to index backlinks, i.e. make Google know about them and take them into account when evaluating the webpage's weight. When a backlink to your resource is posted on any third-party website, at first it is not visible to Google, as its robots hasn't detected them yet, so the link is out of Google index. Some backlinks will never be indexed, and sometimes backlink buyer will not even know about this, being at risk to spend money for no effect.
To avoid this, you need to puzzle out a few important things:
How Google backlink indexer works
How to make backlinks indexed
How to check whether a backlink was indexed or not
These aspects we are going to research below. Moreover, you will get efficient tips for how to speed up the indexing process to make backlinks working maximally fast.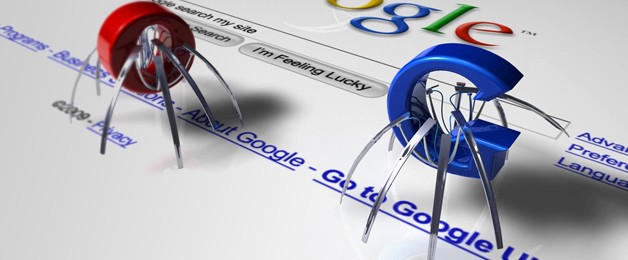 How the links are indexed by Google?
There are millions of new pages and links appearing in the internet every day. The tones of new information must be properly processed by indexing robots to appear in search results and become accessible to online users via Google search. Such colossal ingrowth of new information is hard to digest not only to people, but also to search engines. Very often they simply cannot manage to find and add all new backlinks to its databases immediately. If you have limited time, use LinksManagement free SEO analysis and Free SEO Cost Calculator to estimate how many links and money you need to get to the top of Google.
Data collection by search engines is a regular process, and its periodicity and efficiency highly depends on the technical resources and the technology of the specific search system. Speaking about Google, its robots visit fixed number of websites every day, gathering information about all new or modified texts, links, images. Based on the collected data, they recalculate the position of each webpage in SERP.
The scanning of pages and links in Google starts from the list of web addresses obtained during the previous scans and the sitemaps provided by website owners. During the scan Google robots are searching for the links to other websites (backlinks) too.
There is no specific order of defining what sites to scan first, how often to do this, etc. Google defines all this automatically, and there are no paid scan checks to get backlinks indexed quicker. So the conditions are equal for all data in the Internet. (We will consider how to make your updates more noticeable for Google and speed up indexing process avoiding bad backlinks).
Google updates its index every day. Usually it takes up to 30 days for the most of backlinks to get to the index. There are a few factors that influence on the indexing speed and that you can control:
The quality of donor resource
The quality of a page that a backlink points to
The nesting level of the indexed page
The general dependency from the nesting depth is the following:
It takes about 14 days for the homepage or the 1st nesting level page to become indexed
It takes 21 days for the 2nd nesting level page
It takes 30 or more days for the 3rd and lower nesting level pages.
These are average statistical data for the entire scope of links, both posted on purely developed websites with weak SEO and sites with advanced coding and optimization. In very favorable conditions (and good fortune, yeah! Study the success stories) it can happen that your backlinks becomes indexed in a couple of days after being published. However, the chances for such miracle are rather low. Prepare to wait for a couple of weeks, and don't expect too much from Google robots. The following graph shows, when the backlink will be most probably indexed:
You see that in 21 days since the links purchase the indexing speed is rather low, while on the fourth week the curve slope becomes sharper. Within the next 10 days after the 21st day 25% of all links get into index. We will consider how to speed up this process from the developer's and SEO side.
So, all you currently need is to wait until your backlinks come into force (will get indexed). But how can you know, whether it is indexed or not when tracking Google ranking? Can you do it manually or you need a special backlink indexing service?
Unfortunately, a part of the links stay not indexed even in a month after the purchase. And here you need to keep your eyes on the ball, especially if you purchase links on a monthly basis.
How to check if the link is indexed manually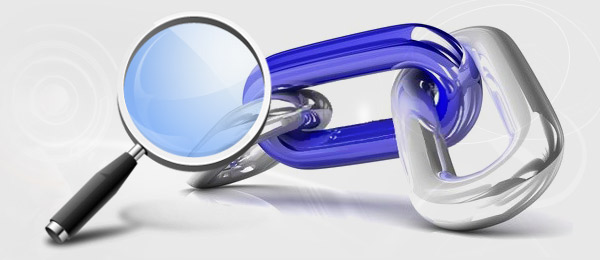 When you buy backlinks on the backlink sale services, you need to know if they were indexed properly.
As for LinksManagement pros, we provide you with info about referring page along before link is put on it.
There are some simple ways to check the backlink indexing status. First let's review the manual approach. It is hardly can be called the best indexing service, but in some cases it can help.
Okay, let's assume you have purchased a backlink on a specific resource and wish to check, if it is already in the index.
Enter URL to the page with your backlink with quotes in the Google search box (or the location bar of your browser, if Google is set as a default search service).
In the search results you will see the snippet of this page in search results, if the page itself is indexed.
In the snippet, to the left from the page address (printed in green letters) there is a tiny green triangle. Click on it and choose 'Cached' to see the cached copy of the page:
If the backlink you've purchased is on the opened page, then it is indexed. If there is no backlink, the page hasn't been re-indexed yet, and the changes were not recorded to the Google database.
This method is great, when you have a few backlinks to check. But when there are tens or more backlinks for each website, and you have tens of websites, it turns into a lifetime routine. It is better to find some paid or free link indexing services to do it automatically.
Link indexing tools
It is rather hard to find backlink indexer tools that will give the full report about the entire backlink profile. All backlink checkers and builders detect only up to 15% of total number of backlinks. That is why it is very difficult to control the situation using such tools. As a solution, it is possible to use a few backlink checkers and combine the results into one report. But again, the combined list of backlinks will hardly reach a half of all backlinks.
However, they do work well for the websites with fewer backlinks (up to 10,000).
MonitorBacklinks
It can be called the best backlink indexing service in terms of usability. It's free trial allows to monitor 1 or 2 domains, 500 backlinks to each. Also you will be able to track the backlinks of up to 2 competitors per domain. The backlink report page looks like this: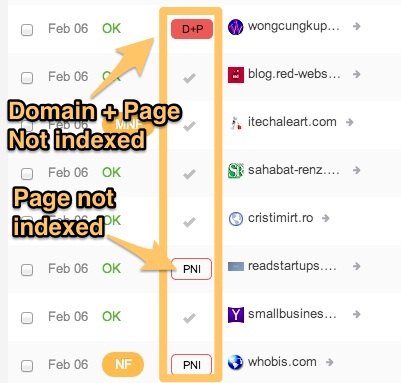 The GI column shows the status of backlink indexation. If there is a tick, the backlink is indexed. If there is a "D+P" value, it means that domain and the page are not indexed. Perhaps, robots.txt prevents Google from crawling, or Google simply hasn't got into it yet. PNI means that the page is not indexed.
Even the paid plans of the MonitorBacklinks have limitations in the number of tracked backlinks.
Pro subscription at $119.90 per month allows analyzing only 5,000 backlinks per domain. It is suitable only for the websites with backlink profiles lower than this number.
Link Sphinx
This is a free link indexing service that works with ready-made lists of backlinks from popular backlink providers (there is a certain list of supported providers, like SemRush, Ahrefs and others):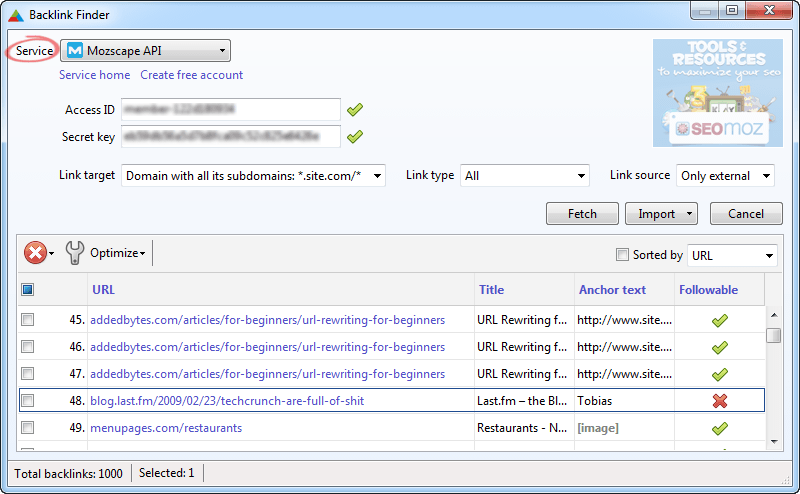 Also it is possible to import the lists of backlinks from text or CSV files.
The service checks the validity of the donor page and the existence of the backlink on it. It also checks, if there is a 'nofollow' attribute that prevents link from indexing. And also you get additional information about the backlinks, including:
Anchor text
Page rank of the page a backlink is located in
The backlink type (text/image).

It also helps to remove unindexed backlinks or nofollow backlinks, limit the number of links from specific subdomain.
Again here we deal with limitations, as the program works only with the list of backlinks you provide to it from certain services or import lists.
SEO SpyGlass
This tool is available for numerous platforms including Linux, OS X and Windows. The report shows the title of the donor page, the existence of reciprocal links, anchor texts, the URL of the linked webpage, Alexa rank of the backlinking website and other params.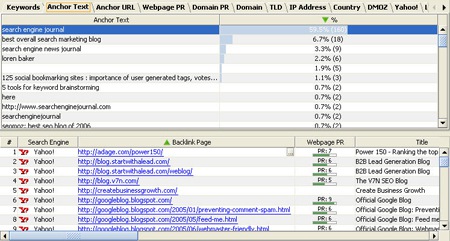 There is a sorting tool that helps to sort links by domain. This application is available in the SEO Powersuite package that also can be used as a standalone utility. In order to use it, you need to make a one-time payment of $99.75 (no monthly fees). SEO SpyGlass is also available in a free trial that helps to evaluate all the features during a month of free use.
Is it worth your money?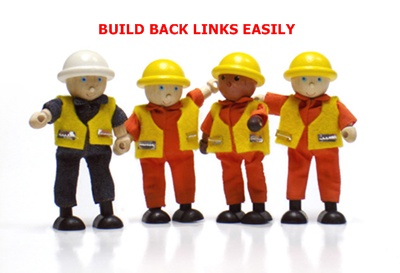 Going back to the origins of the backlinks, it is worth mentioning that usually SEO masters purchase backlinks using special services. And you already pay money for backlinks to monetize blog or website in future. Taking into account inefficiency of any backlink checker (due to the limited backlink detection capabilities), the reasonability of spending money on paid licenses is very doubtful. What is more, it is not always convenient to run regular checks for all websites, as it takes time to review all those reports and react properly on every backlink that was not indexed properly.
There are services that offer quick backlink indexing for a certain fee. However, usually their activity can cause problems in your SEO profile, as there are no legal means to speed up the Google indexation process (according directly to Google representatives). You can influence on this process you're your side, following these rules:
Purchase backlinks only from trusted services with 'white' reputation. Avoid low-quality backlinks.
Take care to have unique, interesting content on the linked pages
Don't overload your own website by links to external resources (unless your users really need such links and find them useful)
Make sure to purchase backlinks on diversified resources, not concentrating them on a certain website
Do your best to purchase backlinks on the pages of the highest possible nesting level (homepage, 1st or 2nd level pages).
If you want to take the full control under the website's backlink profile, apply for backlink providers that feature a free indexing service as an add-on for its customers. This way you will be able to track all your existing backlinks, purchase new ones or delete the unnecessary links in one place. For instance, LinksManagement service features such capabilities (and even the VIP program for those who want to get all spectrum of services), offering highly informative backlinks control panel: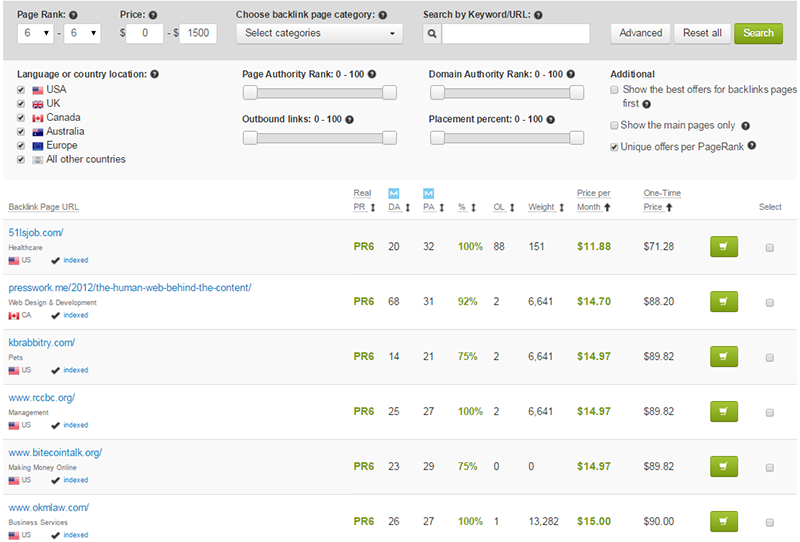 LinksManagement keeps an eye on every backlink it sells, ensuring the customer in the highest quality of the provided resources and giving him a lot of food for thought. It is not only a backlink marketplace, it is a powerful backlink management tool with ability to see the statistics about each link you own in a convenient way. Here you also can learn all about SEO – just download our SEO reports and become a guru in link building.
Using such service, there is no need to purchase additional backlink checkers and managers, moreover, you can using our service you can earn money with our referral program. In LinksManagement a customer pays only for the backlinks. And even if you've purchased one single backlink, you get access to a free backlink monitoring services alongside with a lot of other capabilities. This way you don't need to worry about indexing backlinks, checking their validity and weight, pay for non-existent backlinks.
Also, LinksManagement offers SEO Expert Tool that will ease your life – you can let the tool to select and buy you links automagically. The tool selects links according to the vital SEO rules so that your link profile will look natural.
By the way, LinksManagement also guarantees the payback for a backlink, if the donor webpage was removed from the Google index. While the backlinks are installed manually, there is no chance for them to be ignored by Google indexing robots. You can count the quantity of the backlinks you need to get in the Google Top rankings, using our SEO Cost Calculator.
Working with reliable backlink providers will save you from the constant need to control the backlinks functioning and indexation. It really makes the life easier for SEO masters who run tens or hundreds of websites. 100% valid and indexed backlink profile is a guarantee of Google rankings increase – isn't this what you need?
Please if You Copy or Rewrite Any Parts of the Content on Our Website, Make Sure to Include a Link to Our Website as an Original Source of the Content.

Related Posts