10 Tips to Success in Your SEO in Asian Market
In the Asian market, representatives of every business expect many unconventional discoveries and experiments. But such experience obtained through lots of mistakes may be costly for a young site. So in this article, we'll look at a list of best practices for websites and tips that make the Asian Google take you as one of them. It saves time and prepares for the possible challenges of those who want to expand the geography of their business and create a global SEO strategy.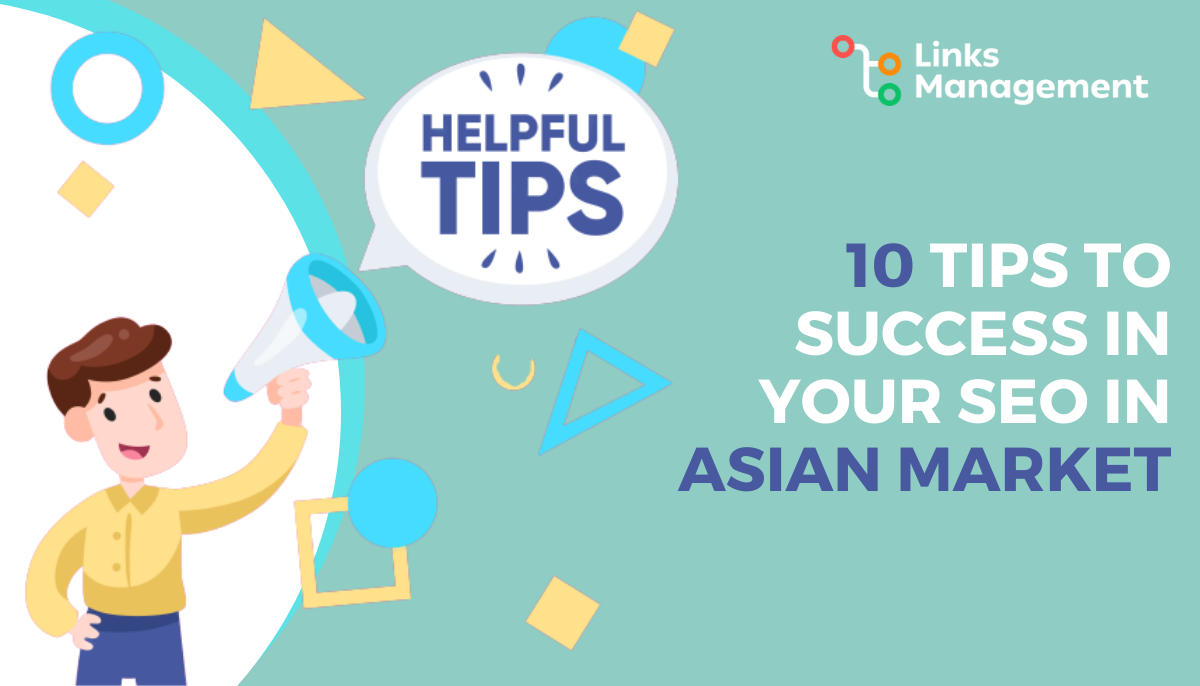 Japan
And let's start our SEO examination of the Asian market with Japan. And to begin with, we answer the question of why Japan is interesting for European business. First of all, it is something distant, closed and unexplored, which is attractive. Second, Japan is one of the wealthiest countries with a rapidly growing market. But it's not easy to get in. When you analyze the Japanese market, you immediately conclude that the usual approaches and international SEO strategy don't work here.
Unfortunately, many sites make the same mistake: they launch the Japanese version, translate the content, wait for an influx of new traffic, and when they see that the traffic is not coming or not converting, they don't engage in further development. The main misconception is that translating content into Japanese alone isn't enough. And below, you'll learn how to tame Asian search engines.
# 1 Tip: Create a Team Specifically for Japan
You should involve Japanese people or specialists who have worked in the Japanese market or at least studied the language. In any case, your team must understand the specifics of the consumers and create a product for them. But there is a nuance: if you decide to cooperate, for example, with Japanese freelance writers, hire a copywriting manager with a good knowledge of Japanese to check the quality of content and correctly set the TOR (terms of reference).
The thing you should know about Japanese copywriters is that they need the most detailed TOR. If you provide only the keywords, topics, general structure, and headings, you will get a low-quality, implausible, or not unique text. By the way, you can check the uniqueness of the material yourself using services such as ccd.cloud or copyrun.net. Be prepared that the work of copywriters have to be proofread. Also, keep in mind that all Japanese writers work only on prepayment, and you have to wait a long time for a large text: from 3 to 10 days.
# 2 Tip: Prepare Content in Japanese Only
It is that simple. But often, site owners have the mistaken belief that all Japanese are good at English. It is not valid, and there are very few queries in English on Japanese Google. So it's better to be concerned about quality Japanese content.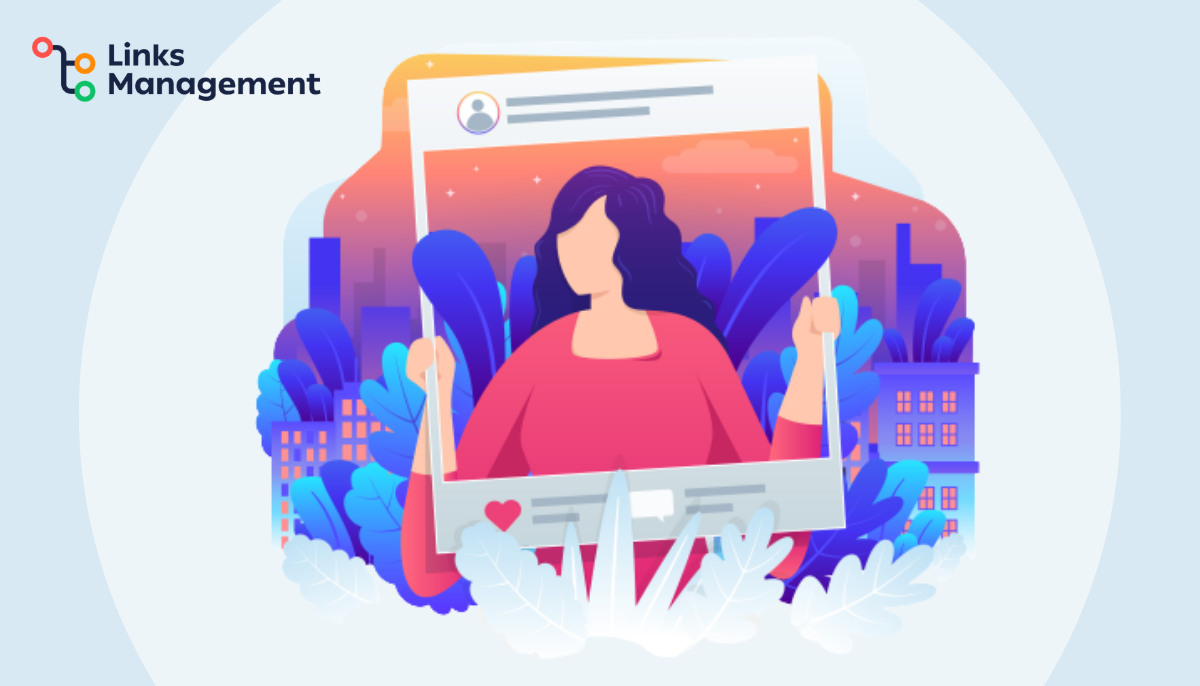 # 3 Tip: Add Colors
Entering the Japanese market, you should be ready, in addition to hieroglyphics, to add bright and flashy colors, motley design, catchy large images, and many colorful banners to your site.
# 4 Tip: Make Your Content as Structured as Possible
The Japanese love to read. But for them, it is a significant ease of perception of the text. Thus, present any idea in as much detail as possible, and introduce new information progressively. Content should be structured and include active links at the beginning of any material. Make concise, short sentences and try not to build long paragraphs: two sentences are enough. Make visible indents between paragraphs. And, of course, it will be a plus to have a headline highlighting the color and size.
Suppose you think that the European consumer also responds better to images, and the American user also doesn't like to read long text canvases. What, then, is the difference from the Western market? You have to do all of the above in double figures for a Japanese website. Their perception colors are different from the classic European ones, and some websites remind sites from the early 2000s.
And the best way to see the difference between Japanese and American sites is on the example of the largest marketplaces: Amazon and Rakuten. If you look at two identical products, the classic American conversion is at the top of the first screen, while the Japanese counterpart is at the bottom, after a whole text. So to create a regional SEO strategy, the easiest thing to do is hire a Japanese designer to draw the website. But if you can't, get inspired by local websites with better conversion rates and create something similar.
China
And next, we're going to talk about SEO in China. It is one of the largest countries in the world, with approximately 640 million Internet users, presenting a limitless opportunity for businesses and consumers alike. So no international SEO agency can ignore China. And yet, when you think of China, you think of various complexities, cultural differences, Internet censorship, and Chinese language search engine difficulties. Nevertheless, your SEO will succeed in this market if you know certain secrets, which we describe below. .
# 5 Tip: Create an Account
Today, Baidu is the most popular search engine used in China, with over 740 million web pages, 80 million images, and 10 million media files in its index. It's a world with web services, an online encyclopedia, messenger, and anti-virus programs. According to Alexa statistics, "Chinese Google" ranks 5th in the top 500 sites in the world.
So the first thing you should do for the success of your SEO strategy is register an account with Baidu. It provides you with a deeper dive into this world. First, go to the Baidu Passport page and fill out all the fields in the registration form. The search engine allows you to register an account for any foreign number. You only need to select the country code, enter your phone number and follow the further instructions.
# 6 Tip: Do Keyword Research for Baidu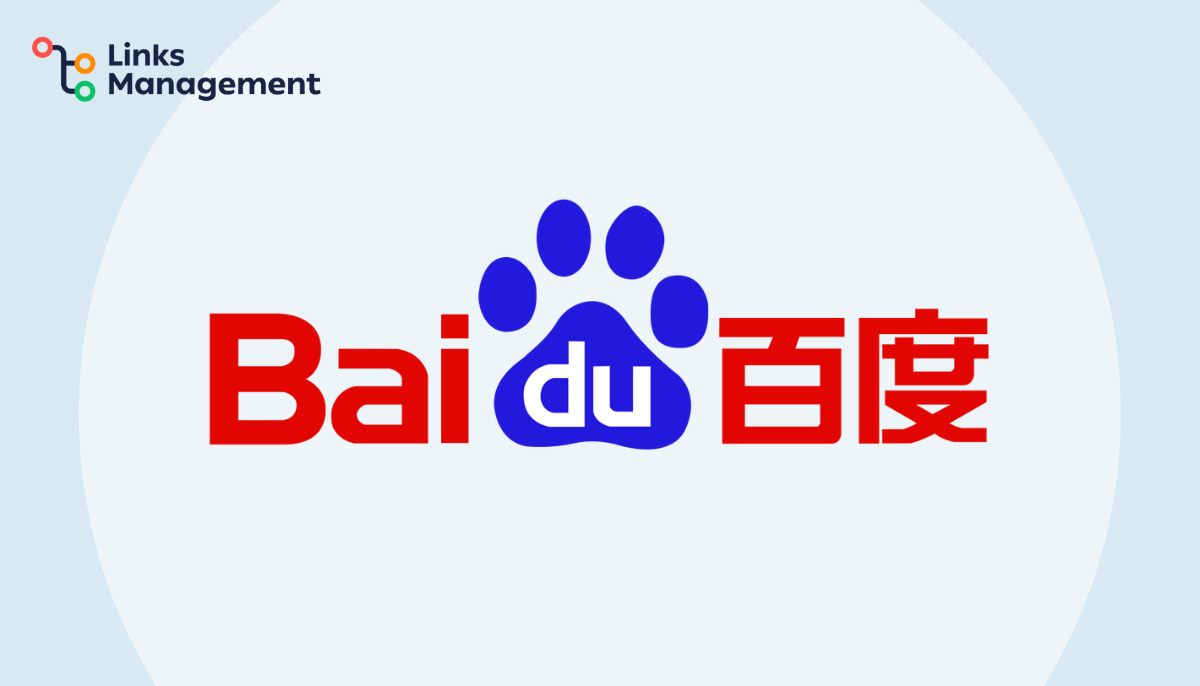 One of the first sources of keywords is search clues, which work on the same principle as Google. These are variants of the most popular keywords that users have entered online, and they appear under the search bar when entering a query. There is also an exceptional service index.baidu.com, the Chinese equivalent of Google Trends, which displays the most popular search queries in Baidu, alternative key phrases, the level of competition and seasonality of questions, and their peak periods.
It is worth noting that all keywords are divided into short (2-3 characters) and long (4 or more characters). Accordingly, the site's promotion for fast queries is the most valuable and challenging, and they are high-frequency. China SEO keyword ranking algorithms are not too different from Google, and therefore reaching the top requires a high-quality semantic core, which consists of popular and valuable keywords.
# 7 Tip: Optimize Your Site per Technical and Text Factors
You need to optimize your site for Baidu according to technical and text factors, as detailed in the table below.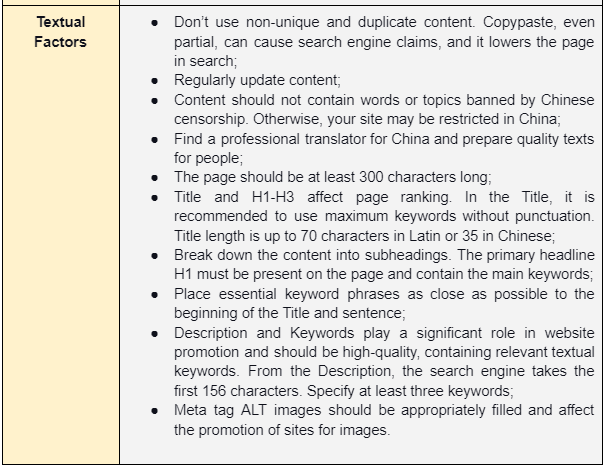 Singapore
The city-state of Southeast Asia concludes the SEO examination of the Asian market. Singapore is the fifth most English-speaking country in the world. Thus, one English language version is enough for optimizing the site. In addition, Singapore is one of the most Internet-engaged cities globally. Website promotion in Singapore is slightly different from similar processes in European countries because the algorithms are identical. But there are some nuances concerning the country's specifics that you should consider. And further you'll learn how to do it.
# 8 Tip: Optimize Your Site for Mobile Devices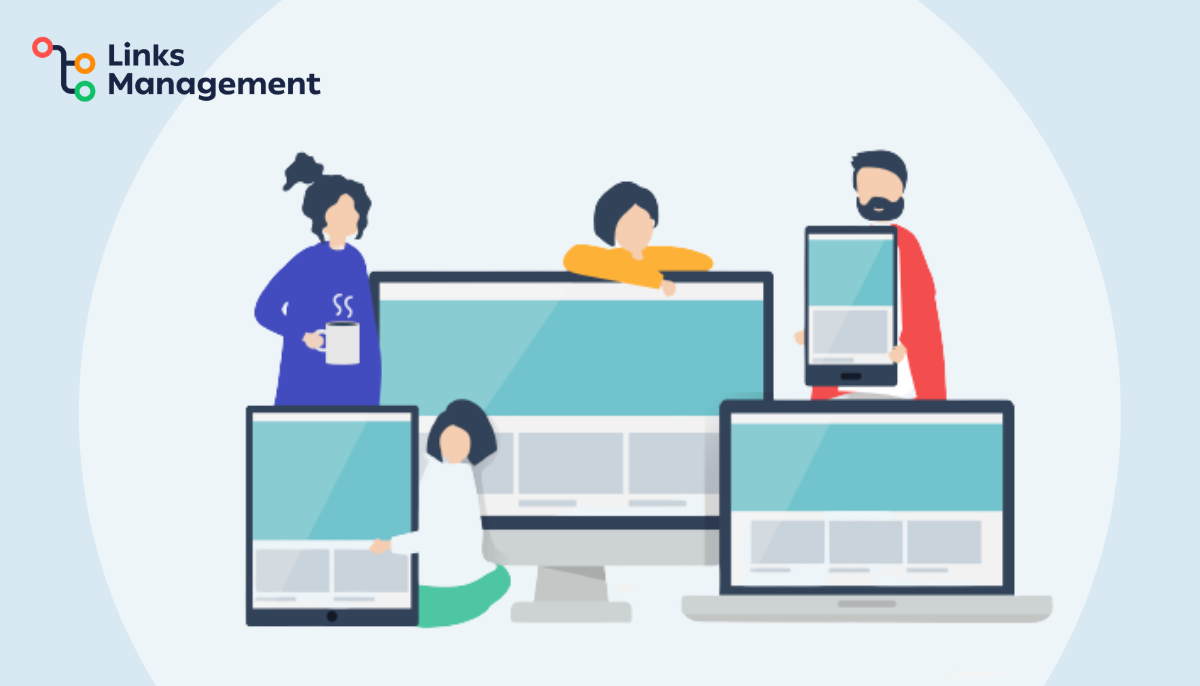 A search engine audit of the site is conducted in terms of its ranking in search engines. In addition, you should analyze the site pages for compliance with the information placed on them. Thanks to these works, it's possible to identify whether or not titles and meta-tags are put correctly on the site's pages, whether they match the search queries, and whether or not they are present on every page.
It is important to remember that Singapore is one of the world's leading e-commerce markets. Therefore, the site being optimized must work properly on mobile devices. Due to the lion's share of traffic from mobile search in Singapore, a massive percentage of hits come from mobile search, and statistics show that more than 50% of buyers come to the site this way.
# 9 Tip: Optimize Images on the Site
It would help if you introduced diversity in content by text and adding images and videos. All images must have optimized alt and title attributes with keywords included. Consider that Singapore has four official languages: English, Malay, Mandarin Chinese, and Tamil.
Therefore, you can write English texts on your site, and the residents of Singapore speak it fluently. However, it would help if you had an editor, namely, a person in Singapore, who would correct the texts and proofread them because there are certain country specifics of communication. Alternatively, you can find a content manager directly on site.
# 10 Tip: Use the Backlinks
There are no link exchanges in Singapore, and by registering in local directories, you are unlikely to attract heavy traffic to your site. However, if you place a link on another resource, you need to take care that it's of high quality, pay a lot of attention to this stage and concentrate all your efforts on this part of the work on the site. On the other hand, many live blogs in Singapore are readable and have a targeted audience.
Bloggers are your most reliable helpers for website promotion in Singapore. Don't ignore web admins or site owners and write them cooperation offers. In this case, the form of payment is negotiable, and the decision depends on the blog author. An option implemented in practice is to provide resource owners with gift certificates for services that they have used and then describe their impressions on their websites or blogs.
This scheme works very well. It all depends on your budget, as prominent bloggers ask for their services for a decent amount. It is also necessary to consider that, after reaching an agreement with the blogger, the article's publication may take up to several weeks. Don't give up halfway, and you are sure to succeed.
Conclusion
To summarize all of the above, in order for your SEO strategy to succeed in the Asian market, you need to gather semantics intelligently and carefully. The main components of building a semantic core is, of course, analyzing the top competitors and constantly searching for new semantics. It's also worth hiring a translator to write quality selling content with a focus on the consumer, paying enough attention to link building, and using international SEO services.
Get into the Top Google Ranking
free
SEO Cost Calculator Tool
Enter URL & See What We Can Do Submit the form to get a detailed report, based on the comprehensive seo analysis.