Earned Media: What Is It and How to Get It
Experienced business leaders are always interested in a quick return on both short-term and long-term investments in online marketing, which, in turn, forces them to look for new, more effective methods of reaching the target audience. As a result of these searches, a new strategy has emerged, and it has become one of the most productive inbound marketing methods, simultaneously generating leads, building brand awareness, and driving traffic from search engines. This method is known as Earned Media.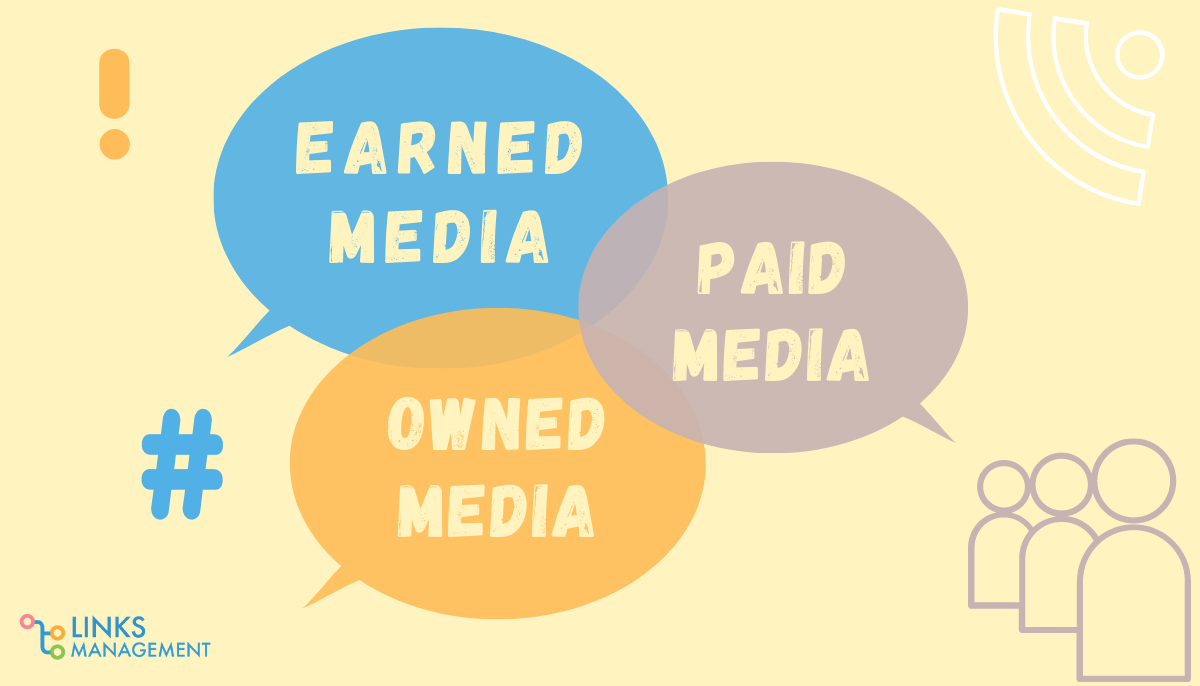 The Earned Media strategy is unique because it uses editorial influence to grab the attention of targeted leads naturally. The result of its application will be the rise of your brand from the field of intermittent, "episodic" online advertising (such as commercials on YouTube) into a respectable category of online publishers generating full-fledged content that is in high demand by the audience.
What is the Future of Backlinks in 2021? Read what do Real Experts say! 
What is Earned Media?
There is no commonly accepted Earned Media definition. We define earned media as the following. Earned Media Marketing (EMM) is a type of content marketing conducted through earned media. EMM is a balanced combination of content marketing and digital PR and is one of three types of media covering all major marketing channels.
Earned Media (definition of earned media)
This refers to information channels that have earned recognition or influence from any media, which, accordingly, benefit from recognition from people or organizations outside the sphere of influence of these media (for example, organic search, authoritative social media, online media, blogs, forums, Internet communities).
Owned Media
This term refers to any media channel owned and operated by the brand (websites, blogs, mobile apps and social media accounts).
Paid Media
This is the name given to media channels that provide advertising services or influence purchasing decisions but are created and managed by people or organizations outside of your brand (paid search engine ads, YouTube ads, display ad networks, affiliate or affiliate systems, marketing).
he key advantage of Earned Media is the absence of negativity from consumers and a high level of trust. Paid Media have a problem with this. Today 38% of US web users have AdBlock or other ad blockers installed. 30 years ago, the average American was the target of 560 daily advertisements. Today their number exceeds 3500. Consumers are tired of the flow of advertising and are skeptical about it. Only 47% of people trust ads that appear alongside online search results.
7 Benefits of Earned Media
A well-run EMM campaign sets off a "chain reaction" in which content posted on "earned media" – online media, blogs, and communities – fuels social media discussions and drives organic traffic from search engines to your landing pages and sites. This inbound traffic is then converted into leads, customers, and community members sympathetic to your brand.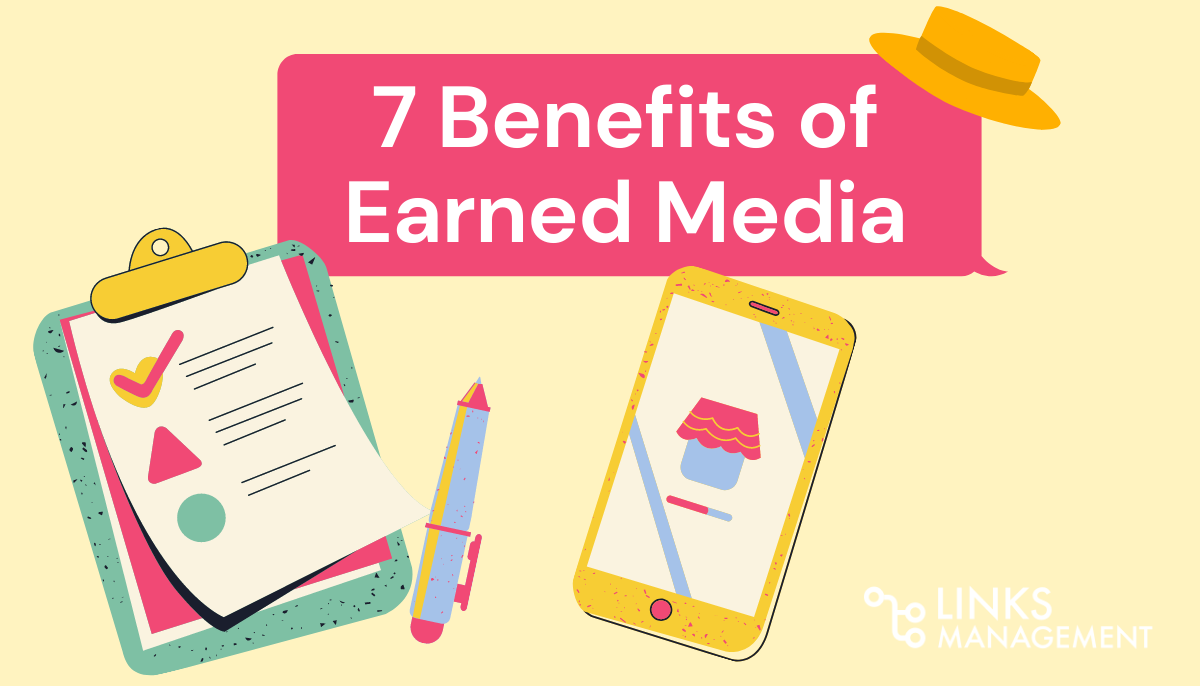 Below is a more detailed explanation of exactly which 7 marketing results you can get with Earned Media.
Web analytics results, in many cases, show that traffic directed from Earned Media has one of the highest conversion rates of all inbound channels. Relevant links posted on such media channels immediately increase the volume of high-quality targeted leads and help to improve the ranking of the brand in the search engines. Search engine algorithms view backlinks from content posted on Earned Media as powerful and authoritative at the same time.
The excitement in social networks
Social media influencers read the same content in online media, blogs, and communities that potential customers do. Marketing materials well placed on earned media will fuel meaningful social media conversations, further driving inbound leads to landing pages and boosting the brand's SERP position.
Search Engine Optimization (SEO)
Inbound link popularity still drives search engine algorithms. The fact that social media links have become important to SEO is just the beginning of an inevitable and immense change. Placing content on Earned Media brings marketers quality backlinks from the best online publications and the most popular blogs, communities, and social networks.
Growth of the subscription base
Potential customers (leads) will be happy to provide their email addresses and demographics in exchange for truly quality content. Email marketers can either buy expensive lists of leads from competitors, or they can create their own followings through EMM campaigns.
Acceleration of retargeting operations
B2C companies are making great strides with retargeting and remarketing campaigns. Done right, every landing page visitor generated by an EMM campaign is a potential lead favorably disposed towards the brand's thought leaders. This brand interest can be used to "grow" leads with relevant retargeted ads.
Formation of the Internet community
Building a brand-focused, vibrant online community is the ultimate goal of digital marketing. But there is no "magic wand" that allows you to easily and quickly create such an online association. The desired result is achieved only by constant hard work. Earned Media attracts new members to communities, sparks discussions, and sets the standard of quality for user-generated content.
The previous 6 results listed demonstrate the impact that a successful EMM campaign can have on brand awareness and brand perception among target audiences. Leveraging Earned Media is a great strategy for building brand awareness in the marketplace. A synonym for online brand awareness is digital relevance.
Tasks for Marketing Structures/h2>

Modern advertising offers a rich and complex brand experience. But you should not forget that the consumer is waiting for logical, related information from various sources, so now the ways of presenting it and the usefulness of the materials come to the fore in importance. In addition, the importance of publishing technology, brand perception, cultivating consumer support, and a personalized approach to potential buyers is increasing. Given the prevailing realities, marketing structures now have four main tasks.

Strategic rethinking of the role of each of the media channels. 

When choosing a more aggressive policy in the field of Owned and Earned Media channels, the role of paid advertising should change: it should be used to switch consumers' attention to the company's own media resources, or, preferably, make it a "stimulator" in the framework of new product launches and other advertising campaigns. Such steps may require clearer coordination with advertising agencies regarding the design and placement of advertising materials. In addition, it is necessary to revise budgets and organizational issues, taking into account the increase in traffic to their own media channels.

Redistribution of the balance between time and resources

Owned Media channels require patience, constant attention, and a willingness to improve. Focus on the product of any successful online content publisher. By analogy with it, corporate media means a continuous stream of programs to increase traffic, fresh materials, and user-friendly design. Building your own media platforms is impossible without targeted management, sufficient funding, and an appropriate level of the media channel. Examples of opportunities in this area are serious research aimed at social media programs, Internet information centers, alerts, and communities to collect feedback.

Developing a clear strategy for web communities and social networks

Companies need an approved set of principles and guidelines to manage and respond to spontaneous or coordinated brand attacks. It is imperative to hire a manager with experience in working with communities and social networks, with practical skills in interacting with marketing, PR, legal, and other necessary departments, endowed with the appropriate powers and the right to make decisions. An ineffective response, in this case, can be very costly. One multinational company responded to allegations of unfair business conduct on its Facebook page not only with active objections to opponents but also by blocking and deleting messages. Such a move only fueled public interest in the controversy, and as a result, the page turned into a hijacked media channel until the company publicly apologized.

Improving the art and science of marketing

Discussions among marketing experts usually boil down to whether marketing is an art or a science (with the respective conclusions about the importance of creativity or an analytical approach). In practice, we see a gradual rise in the bar, not only for the creative and scientific components but also for the third aspect – implementation. Its importance grows as marketing becomes more complex and marketers are looking for new ways to enrich the consumer experience. This task involves a team approach. Such a team should develop campaigns for a wide variety of media resources – from television to social media and search engine optimization. Generating solutions and implementing them successfully will require more efficient data manipulation. Modern technologies will help to cope with the complicated tasks, getting the highest return on every dollar invested. Quality should become quantifiable and measurable, and risks reduced and manageable.

Of course, investing in additional employees who will deal with replies to all messages on social resources, without exception, will not pay off at first. But do not forget that only this approach will avert the threat of corporate brand hijacking. Moreover, a company that decides to refute negative conclusions and monitor its legitimacy needs to be prepared to increase the level of service and make changes to decisions if consumers want it. The list of tasks goes on and on. Depending on the competitive dynamics of the organization, the readiness for experiments, and the level of its specialists, the priorities will be very different.

But the main thing is that the necessary changes can only partially be "brought down from above" – they must be organic. Ideally, CEOs work with other executives to bring together fresh and talented employees, as well as proper financing, without which major breakthroughs are impossible. The broadest choice of media channels has significantly enriched the arsenal of marketers, making it easier to engage users in the brand at no extra cost. But it is possible to meet high expectations only if we revise our views on the implementation and coordination of projects, the speed, and the quality of response.

What do you need to know about the Correlation Between Authority Links and Rankings? Read the article here. 

Conclusion

EMM campaigns allow you to achieve many marketing goals simultaneously. Applying an EMM strategy is a multi-step process with a variety of marketing benefits. A well-run EMM campaign will drive traffic from search engines to landing pages and convert it into sales, energize social media, grow your follower base and lead lists, launch retargeting campaigns, build an online community around your brand, and increase your brand awareness online.

This strategy allows you to "earn" the placement, not buy it. Earned Media brings diversified marketing returns. Of course, it can happen that great content itself will attract a few visitors, but it is EMM strategies that aim to maximize the ROI of online marketing. Make an effort to promote your content organically by engaging various influencers and leaders who will lead your target audience.

Remember that niche content always performs better in terms of driving traffic and converting leads. Focus on marketing personas and target them when making decisions in key areas such as content idea development, reaching online influencers, and landing page design. Always remember about personas during your EMM campaign: this will simplify the process of "earning" media and will bring you a relevant selection of visitors (target leads) from search engines and referral links.

Given the enormous potential in the method described above, companies in each business vertical will inevitably adapt and optimize their EMM strategies and processes. Businesses investing in developing EMM campaigns will simultaneously achieve short-term and long-term results

Order Top-Quality Links and Rank High
free
SEO Cost Calculator Tool
Enter URL & See What We Can Do Submit the form to get a detailed report, based on the comprehensive seo analysis.