Free BackLink Search and Building Tools: Automated Creation of Backlinks Profile

Backlinks (or inbound/incoming links) are links, directed to your site. They are the key for any site promotion. Backlinks are very important for SEO, because search engines give more link juice to websites with quality backlinks, and consider them as more relevant in search results.
When SEs calculate a site relevance to keywords, they take into account quality backlinks to that site. Today, not the number, but the backlinks quality is more important. When backlinks to your websource come from other ones with relevant to yours content, these links are considered as of a higher quality. As search engines want all sites to be equal in chances to get on the first page, they look for natural links, grown slowly over time.
In recent years, the criteria for the quality of incoming links became even tougher, and in such circumstances the use of specialized programs for linkbuilding automation is given even more attention than before. Are there tools, which can give 100% guarantees not to be sanctioned and move straight to the top? No one can give exact answer to this question, since only Google workers know authentic info. But as practice shows, the best results are achieved by those who come professionally to the construction of link mass.
Despite the fact that in this article we consider the best paid and free backlink tools review for the semi-automatic and automatic backlink building, we recommend you to avoid the amateur performance, as without help of professional SEOs you'll probably move our site directly under the sanctions of SEs.
The best link building tools for SEO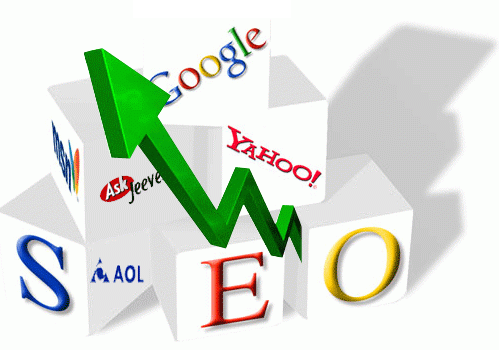 It would be correct to note that most best free online link building tools as well as paid ones are not limited by only one of a few functions, but provide possibilities for complex SEO promotion.
Free Backlink Building Tools
Short presentation:
It's a community of bloggers for the collection of organic backlinks from groups of interests. It works like the next: you wrote a promotional post, it attracts themed visitors and they distribute (repost) link to your content through social networks. As a result, you get new readers. This service is good to redirect traffic to your main resource.
Main features:
Brand building through social networks.
Reaching new audience.
Getting free and exclusive content, free targeted traffics, new fresh perspectives (for site/blog owners).
Earning additional links.
It has similar features as the previous service, connecting bloggers together and providing you additional opportunity to get more natural backlinks.
An unconventional approach to the brand promo and backlink building. It is a community of journalists and bloggers from around the world, and more than 100000 news sources. HARO is the largest free repository of news. You can publish a story that will disperse to various sources around the whole planet.
Plugin that allows you to open, copy and bookmark multiple links on the page. Convenient when collecting top links.
Paid Link Building Tools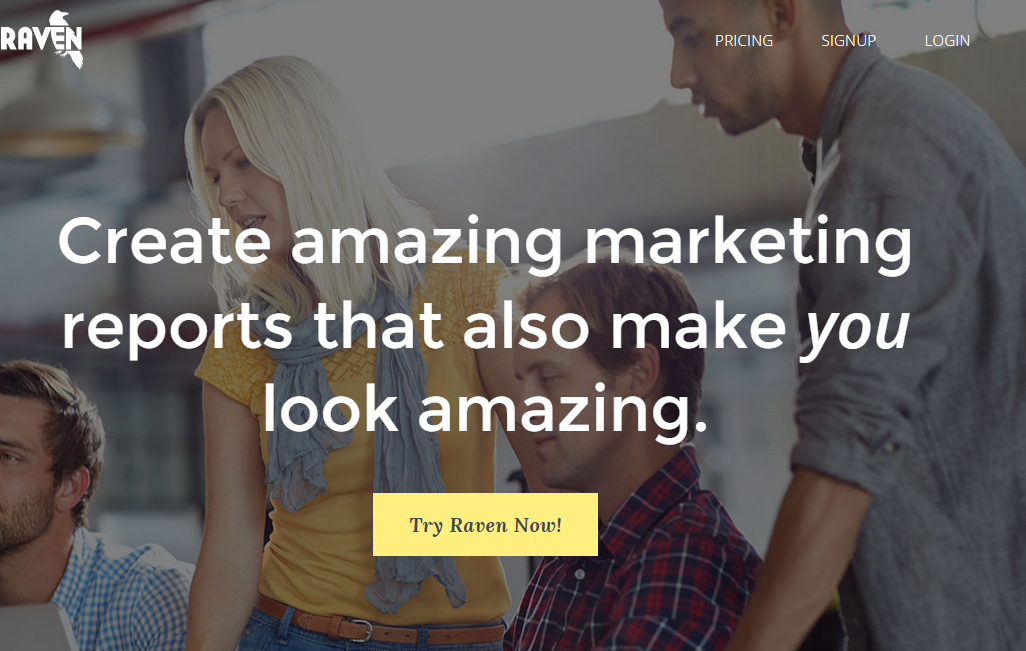 It's all-in-one online marketing SEO back link tool, suitable for management, control and reports of your promo campaign. The service is completely online – just register, log in and begin to work. Raven tools combines data of such services as Google Analytics, SeoMoz, SemRush, Majestic, Calais, Wordtracker and Google AdWords.
There are 2 paid plans: pro ($99/month) and Agency ($249/month). Free 30-days trial is available as well. It's a nice tool for outreach. At the first glance – is has nothing special, but it put under one roof all the tools you're using separately.
Main features:
Quick access to necessary basic metrics.
Analysis of backlinks and their anchors, taking into account redirects, nofollow, dofollow, internal links.
Analysis of the root domains that contain backlinks.
Comparison of several sites by key metrics.
Graphical representation of metrics.
Showing domain and pages authority.
The service allows to evaluate the competitors' efforts on backlink building by assessing such indicators as the domain and its authority, PR, presence of anchor text, comparative references. The best way to use Open Site Explorer is to estimate the incoming links and compare your backlink activity with performance of competitors. Some features are available for free, but generally service is paid – $ 99/month for a standard package.
It allows you to download the profile of backlinks to any competing site. You can get detailed access to thousands of incoming links for a particular competing site. There is a free version as well as several tariff plans: Silver – $ 49 a month or $ 499.90 a year, Gold – $ 149, 99 per month, or $ 1,499.90 per year, and the most expensive plan – $ 399.99 per month, or $ 3,999.90 per year.
Main advantages:
Time economy on finding promoters of your content. Fast identifying of publishers and authors who link to your site. Contact information is given as well.
Speeding up and focusing the content research by collecting, prioritizing and organizing of similar content.
Identifying of linkbuilding opportunities to accelerate your promo campaign.
How to work with Ontolo?
Create a name of report.
Define target phrases to find specific topics.
Choose footprints template.
Choose the number of results you want to collect.
Create a list of content research.
The price for the packages: Solo – $ 47 a month, Professional – $ 97 a month, Agency – $ 297 a month.
Video review:
One of the best backlink tools:
Boosting of SEs rankings.
Brings profitable traffic.
Saves your time.
Credible search results.
Opportunities of the service:
Simplification of key SEO tasks (generating thousands of keywords in minutes, measuring the competition level, writing SEO optimized website copy, etc.).
Deeper options for long-tail keywords research.
Identification of profitable market niches.
Tracking of competitors.
World-class support.
A tool for a quick backlinks check. You can select the format of the report that you are interested in after the results of monitoring: guest posts, links to pages, surveys, content promotion, free giveaway of something. Depending on the options you are interested in, you can generate a list of backlinks. The price of services is based on credits. The basic version of the service provides free test for 1 credit (Free version is available for 7 days). Price per 5 credit is $ 10, or $ 2 for 1 credit. After the test period, you can order one of the available packages with monthly fee (for $27, $47 or $97 per month).
To build trust on the Internet you must increase quality of relationships with influential people. Buzzstream simplifies and shortens the time for the whole process. It automatically keeps track of all the points of intersection of your contacts or contacts of your group through the mail Google, Twitter, blogs, etc. Buzzstream allows you to get a snapshot of the metrics that helps to set priorities in management. Amid all this, you can analyze and look for donors.
Manage Link Prospects.
Find Contact Info.
Track Email & Twitter.
Monitor Backlinks for outbound links, nofollows, anchor text and banner words.
Split prospecting from outreach and delegate contacts.
Track conversion rate and activities.
It's quite a robust tool for link detection, link and relationship management. Moreover, using the BuzzMarker bookmarklet, you can easily edit backlinks in browser.
A great tool for outreach and social management:
Search for relative blogs. Using GroupHigh, you can construct list of bloggers, dividing them on content theme, location, etc.
Collecting contact info for easy pitch optimizing.
Relationship management. Keeping your blog up-to-date.
Blog research automation. Fast providing with SEO, social, traffic, and contact info.
Social media. Blog outreach prioritizing based on bloggers metrics.
Productivity tools. Importing to top bloggers list.
Not many services can boast of having their own database, because it suggests scanning of page to get full picture of relationship in the network. Ahrefs.com is a commercial backlink search tool, but there are also some limited free features.
To check the backlinks you need to register, and enter site URL in "Site Explorer" field. There are 3 different modes of site testing:
All pages, including subdomains.
All pages of only the primary domain.
Links that lead to the homepage only.
Select the appropriate option and click on the "Explore links". Then you'll see a backlink report (all results can be exported to CSV) and report table for backlinks, which shows ALR coefficient, calculated on the basis of Ahrefs search traffic, referring and referred pages, their types and data.
"Anchors" tab shows link anchor.
"Crawled pages" displays he most popular site pages.
"Referring Domains" displays information about the domains that referred to you.
"Positions" tab shows the visibility of a website by keywords in Google, Yahoo and Bing.
Some other webmaster tools for backlinks
Link builder tool that automatically place links for 24 hours a day. No database of submission needed. Service just fund resources and automatically submit your webpage to them without any assistance of yours. Moreover, program checks if links were really placed. At the end of the process you'll see backlinks together with correspondent attributes (type – nofollow or dofollow, anchor text, number of links). Service is paid – $ 99 per month.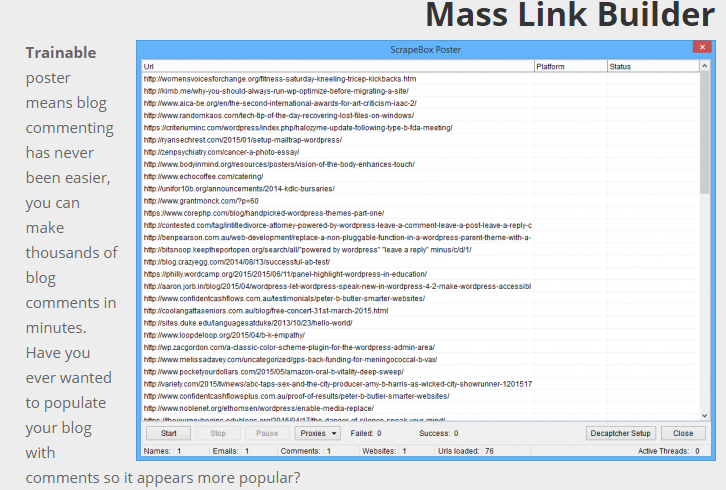 SEO complex, used by many optimizers around the world:
Fast multi-operation.
Highly customizable.
Numerous addons.
Outstanding value.
Great support.
Reliable functioning from 2009.
Backlink finder tool allows to scan thousands of pages to verify if your backlinks still exists, as well as anchor text. Mass Link Builder – an integrated instrument – allows to automate commenting to blogs process, which gives you opportunity to get loyal audience and additional backlinks.
Tools for backlink quality check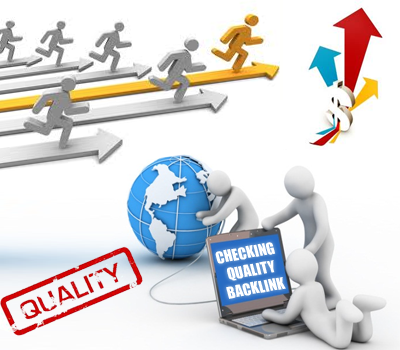 Outreach as a necessary tool for Link Building: the main principles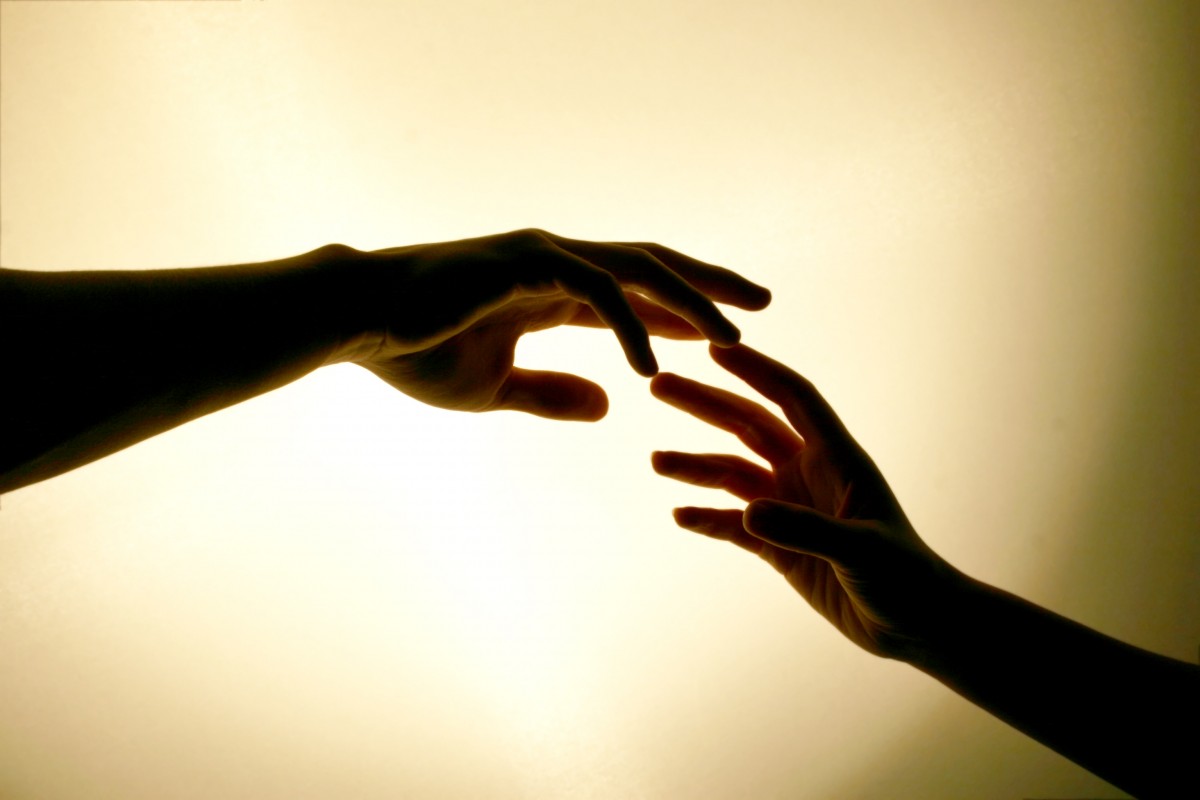 E-mailing for finding the potential prospects. When outreaching, you must build not links, but lists of contacts to who you can contact. After you get target contacts, you should try to persuade interlocutor (by inbox dialogue, e-mailing or any other action) to put a link to your site or blog.
Search for link prospect all the time and everywhere. You can use SERPs method, just navigating through search results, or study sites, thinking what you can offer them to get a link.
Try to create offers that are not limited by audience and other factors. E.g., ask experts to take a survey.
Write pitch templates. When creating a pitch template, highlight offer's benefits to publisher and audience, flaunt your brand with understandable success metrics.
Simplify your success metrics and prospect qualifiers.
Try to contact as many sources as you can.
Buzz Bundle – tool to get social networks popularity
It's a tool for social networks management with a great amount of platforms.
More characters. Create characters with dozens of accounts in social networks. You can easily manage them all at once, whether it is a PR representative of your company, general manager, technical support worker, or even your aunt.
More communities. Launch you promotional campaign on multiple social platforms, no missing a single opportunity to make your brand more popular. Manage all social profiles through one convenient program.
More profiles. Create and develop new social profiles, or use existing ones. Boost the credibility of profiles and increase awareness of your brand and its reputation. Enjoy powerful and user-friendly management system in social media.
More discussions. Build more noise around your brand. Maintain a positive feedback and challenge negative comments. Make your brand recognized on the Internet.
Conclusion
Both paid and free backlinks tools for linkbuiding automation should be used wisely and without fanaticism. Google and other search engines are constantly evolving, and therefore released software rapidly loses its relevance. To be confident in the quality of your reference profile, the best is to trust to the LinksManagement professionals who already held numerous backlink building campaigns.
Please if You Copy or Rewrite Any Parts of the Content on Our Website, Make Sure to Include a Link to Our Website as an Original Source of the Content.

Related Posts