Google Alerts for Link Building: A Deep Guide
Being a natural link builder going for high-quality links, you must understand the struggle of communicating with webmasters. Asking someone to put a link to your website on their source and write your business pitch that might not even be that much connected to the topic is tough. Tough, but possible!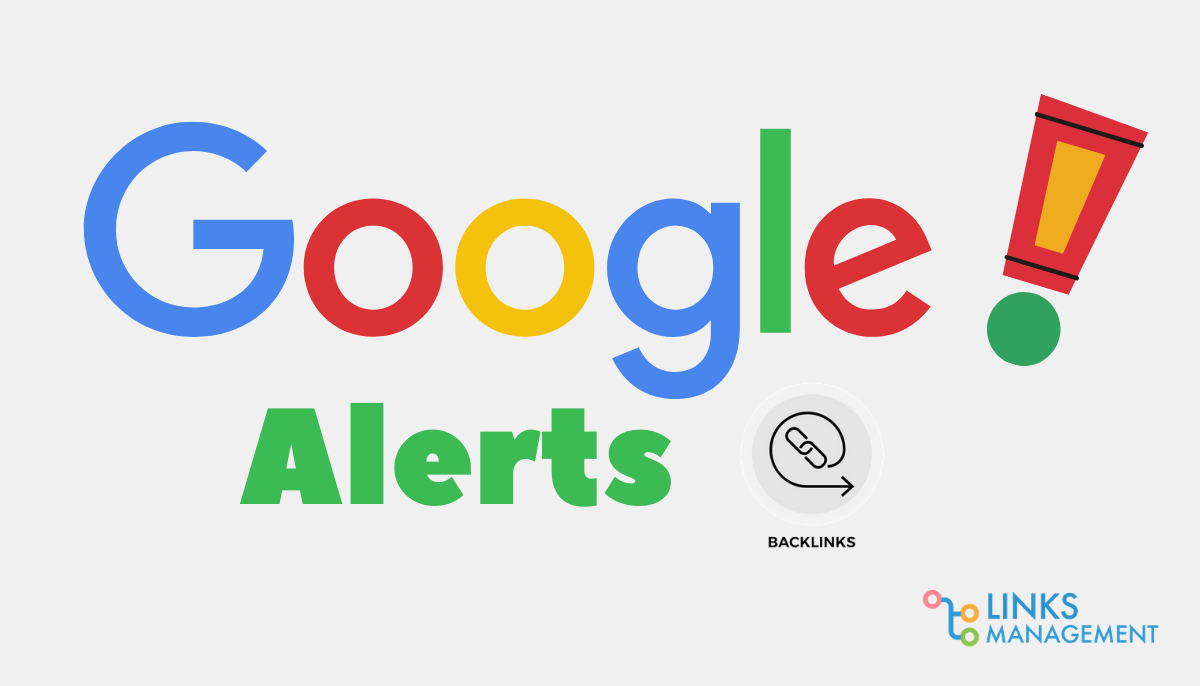 Have you heard the saying "Link building is relationship building"? Repeating this like an affirmation, experienced link builders knock on the doors of webmasters, asking for an organic link.
After all, before they mention you on their site, you should earn trust and build a relationship. And this doesn't only mean contacting them politely and asking for a favor. This means following them on social media, commenting on their posts, and talking about their writing pieces via email.
This is an effective yet time and effort-consuming process.
Obviously, what we want to say is that there's another, quicker way.
There are instances where a webmaster mentions your brand, website, or you as a blogger in their post without adding a link. These so-called "fresh mentions" are also amazing opportunities to build links easily. No business pitches, no relationship building. You're one polite email from your goal.
Fresh mentions are difficult to find manually. And that's where Google Alerts come to the stage.
Have you already read the guide on How to Improve the Domain Authority of Your Webiste?  Do not waste your time and learn it right now!
What is Google Alerts?
Google Alerts is another innovative tool from Google that will notify you about your business's new mentions. All you have to do is to set up notifications and wait. Anytime the keyword you want to be notified about is mentioned on any website indexed by the search engine, you'll know about it.
If the mention is really about you or suits your link well, contacting the webmaster and getting a new organic link won't take much time.
How to Use Google Alerts for Link Building
The service will detect mentions of your:
Email;
Name;
Website;
The name of the website;
The name of the company;
The main topic of your website or blog;
A statement made by you that has an impact, etc.
Depending on the alerts you create, Google will send you notifications about any of the above. Not every website will be suitable for link building, probably, but many of them will. To finish the mission, proceed to the website, contact its webmaster, and ask to change a simple mention to a hyperlink.
While Google is working on detecting fresh mentions, you can focus on other strategies like building relationships with webmasters or working on high-quality, engaging content.
Setting Up Google Alerts
Using Google Alerts is very easy, like most Google services. To add Google alerts:
Log in;
Type a keyword;
Choose additional options;
Set up the alert.
Now, let's see how to add Google alert in more detail.
The start is the same for all Google services. Visit Google Alerts and log into your Gmail account if you haven't already (the button is in the top right corner of the page). As soon as you log in, a couple of potential notifications are available with your name or email.
If none of the recommendations are suitable, type in the keyword you want to be notified about. Here are a couple of tips on choosing the right keywords:
Keep in mind that if it's a phrase, any part of it will be detected, which may not be very convenient. If you want the service to detect a certain phrase exactly how it is, put it in quotation marks.
For example, setting a notification for Google Alerts will detect Google Alerts, Alerting Google, Alert, Google, etc. You don't want that because there will be multiple irrelevant links. But setting a notification for "Google Alerts" will do the job.
Sometimes you want to mix up words with quotation marks and without them. For example, you need to look for images or information about images on the topic of link building. Write "link building" images, and you will get notifications with the website that have used the words "link building" and related images or info about them.
After you determine the keywords, there are two ways to go:
Looking at the preview of your notification and set it up;
Adding options from the "Show options" section.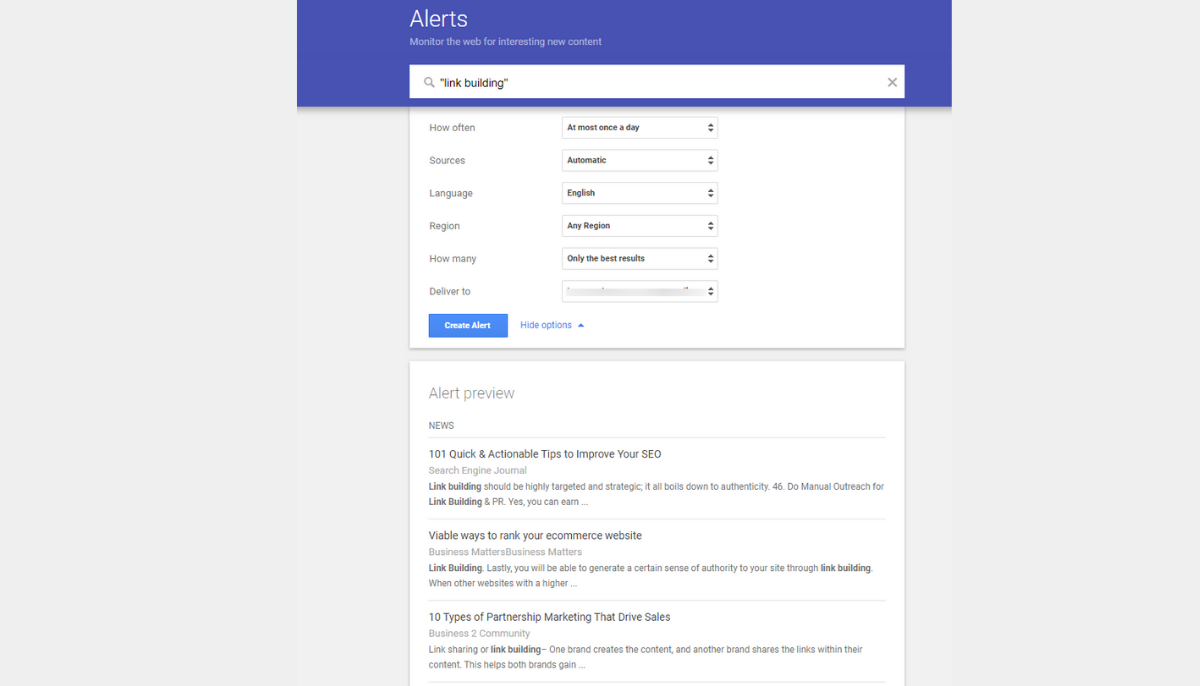 If you decide to go the second way before creating a Google alert, there are additional settings like: 
How often you want to get notifications;
The kind of sources you want to detect (automatic, news websites, blog alerts, video content, etc.);
In what language you need mentions;
What region you target (any country)
How many results you want to get (only the best mentions or all mentions);
Where to deliver notifications to (your email or RSS feed).
The default settings work very well. But if you want more control, suit yourself.
After all, you will have the keywords, customized settings, an alert preview with the latest examples of keyword mentions. Now, click "Create Alert", and that's it!
Google Alerts for Guest Posts
Guest posting is one of the best tactics for the development of your website's authority. It's been around for ages and doesn't go anywhere. However, it might be difficult to find sources to post on after a while. You have to go site by site, looking for "contribute by writing" and similar sections.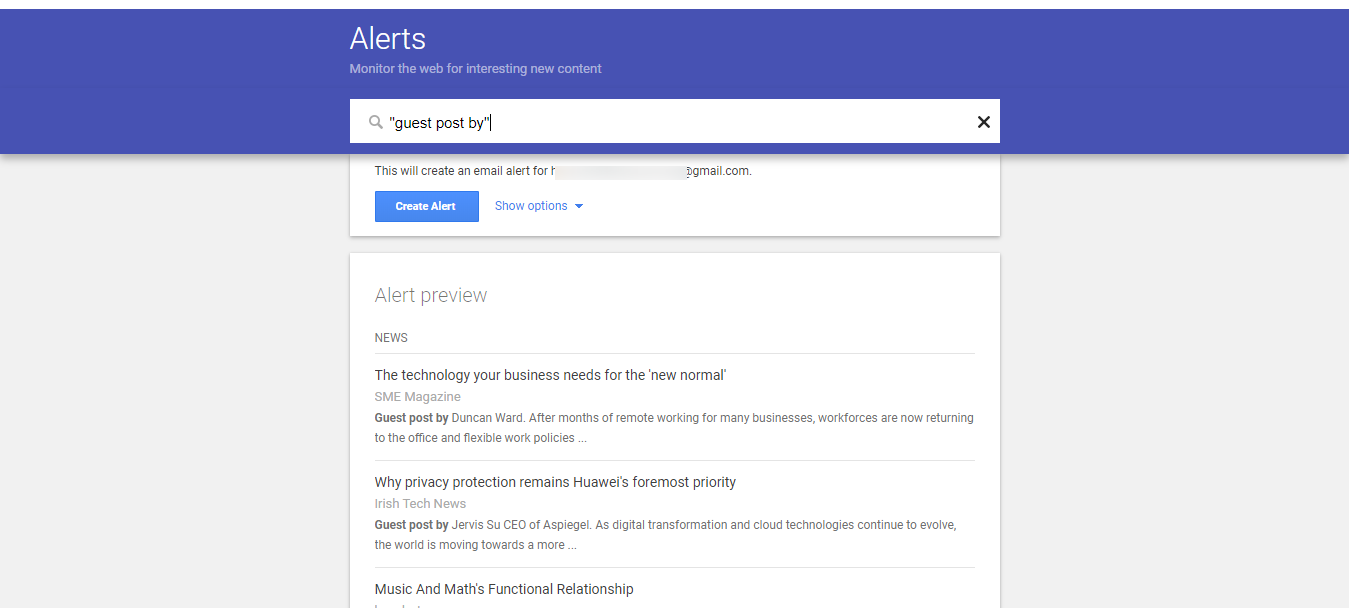 Google notices websites with "write for us", "contribute", etc. pages and notifies you about them. You will only have to accept invitations by writing high-quality content for suitable sources. The competition may be tough, but there are millions of websites, after all.
Setting a Google alert for "guest post by" or a similar phrase, you'll detect websites that have already posted something.
Multiple Google Alerts for Link Building Practices
To maximize the use of Google website alerts, create multiple. For example:
Domain – the easiest mention to get a link to;
Brand or company name – see what posts and articles use your name without linking to it;
Products, services – see if your product or service is mentioned on a website without a link;
Focus keyword – focus on relevant websites you can partner with;
Related words and phrases – to diversify the campaign, ask for mentions on websites relevant to your niche;
A pro tip: To avoid confusion by multiple daily emails with potential websites to build links on, learn how to add google alerts to separate emails and let it send notifications of a certain type to a particular address.
Another pro tip: You can use Google Alerts not only for finding link building prospects but to track the competition as well. Look at the strategies they are using, websites that link to them instead of your project, and get valuable insight and analysis possibilities.
Set Up Multiple Alerts
It's as easy to create Google alerts as creating a single one. Just apply one notification after another, using the same or different emails.
Consider including some of the most common misspellings in your Google Alerts email notifications list. While Google algorithms are very smart, some results may be lost, along with potential high-quality backlinks.
Getting Links
Now that you have learned how to make a Google alert and why you need it, let's find out how to actually get links. Check every alert and see if the website has already linked a piece to you.
If not, you'll have to contact the webmaster of the website and ask to link you. Over 50% of the sites will be on your prospects list. 
To develop every prospect into real backlinks, use one of the following email templates.
Examples of Letters
Here, you'll find 4 email templates for webmasters.
1) Your domain
If someone has mentioned your domain:
Subject: Thanks for mentioning
Name, hello!
First of all, thank you so much for mentioning (your website) in your article (include the link). You must be very busy, so I'm distracting you for just one minute.
Would you please link the mention to the website? (insert the link)
This won't take a lot of time from you but will really help my team evolve and get more traffic. Websites like yours are golden because they help others improve.
Have a nice day,
(your name)
PS: If you need any further info, I'll be glad to provide some.
(your brand name)
12) Brand name
Subject: Maybe you forgot?
Hello, (name),
Thanks so much for mentioning (brand name) on your website (link). I'm so flattered you liked it (or I hope so haha).
I feel like I'm asking too much, sorry, but would you mind making the mention a link? (link) It would mean the world to me.
Sorry if I'm reaching you at the wrong time.
Have a nice day,
(Your name)
PS: If there's anything I can help with, just email me.
13) Name of your product or service
Subject: Hi, did you forget?
Hello (name).
First of all, thanks a lot for mentioning (brand) (service or product) in your article (link). I feel seen and appreciated. Hurrah!
Could you please add a link there so that people who find it useful can reach me faster? Sorry, this might be too much to ask, but such small things really help my website improve.
Thank you very much, once again.
(Your name)
PS: If you need any info about my website, I'll be glad to provide it.
14) Email address
This is a rare occasion but it happens. You may want people to link your website to your email. But if you don't, it's fine. Getting a link for your email is more difficult than just asking to change it to the Contact Us page of your website.
Subject: Privacy inquiry
Hello (name),
I saw my email address (the address) on your site's page (link to the page). Please, could you change the link to the Contact Us page of my website? (link to the website)
I'm grateful for the mention, but I'd love people to contact my team and me through the official channels to keep my privacy.
Thanks in advance.
(our name)
If you don't want to start getting tons of spam messages, it's better to ask webmasters to change the links.
FAQ on How to Make a Google Alert and How the Service Works
Let's learn more basics!
How to remove Google Alerts?
Go to Google Alerts, look at your notification plans. Choose the one not relevant to your website anymore and click "Delete". Another way is to open any notification email and choose the "Unsubscribe" button. It's at the very end of the letter.
It's that easy to manage my Google Alerts!
How to sign up for Google Alerts?
The easiest way to sign up is to have a Google account ready. It's easy to create it. Then, follow the steps explained above to set up and customize your alerts.
However, you don't need one to apply for notifications.
How do you set up a Google alert without a Google account?
Google doesn't require you to have their account to use all the services. So, you can use any email at the end of the notification creation process.
Follow all the regular steps:
Write the keyword (in braces or without them);
Choose the type of alerts (blogs, video, images, websites, etc.);
Choose the frequency of alerts;
Choose if you want to get all results or only the best ones;
Write your email in the last box (doesn't have to be a Gmail address);
Click "Create Alert".
Conclusion
Google Alerts is an amazing tool in the hands of a talented link builder. It combines a certain degree of automatization, which is the key to modern development and good-old relationship building.
Plus, you can see how your competitors are doing! Insight into the strategies and campaigns of your competition is crucial for the success of your own tactics. See what works and what doesn't. 
It's time to get Google Alerts, set up Google notifications, and start your way to easy link building!
Get DA40-60 Links to My Site
free
SEO Cost Calculator Tool
Enter URL & See What We Can Do Submit the form to get a detailed report, based on the comprehensive seo analysis.