Why #1 Gets 18x More Traffic Than #9: CTR in Google SERPs [2021]
Every website owner is striving to occupy the Google's top. Have you ever wondered why no one dreams about the fifth or at least ninth website position in Google SERP? What is the point in being the leader?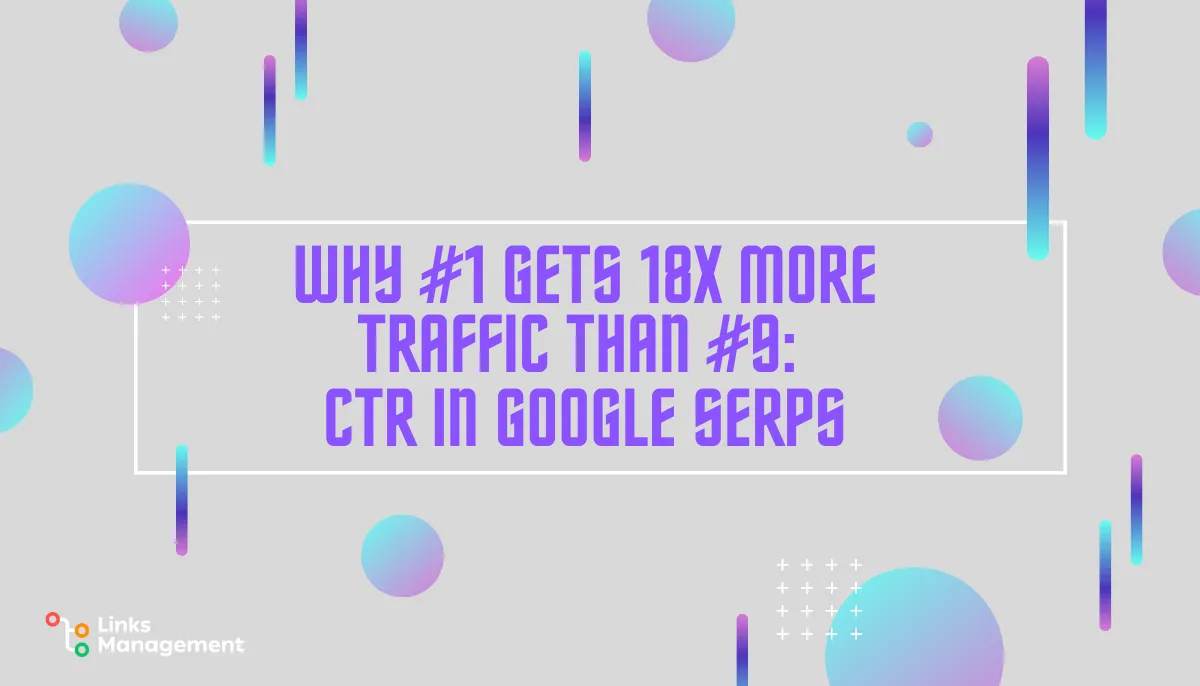 The thing is that the organic SERPs CTR of #1 is 18 times bigger than that of #9! It means that the #1 has more visitors, money and thus possibilities for its brand promotion.
Let's look at the bare facts of the statistics: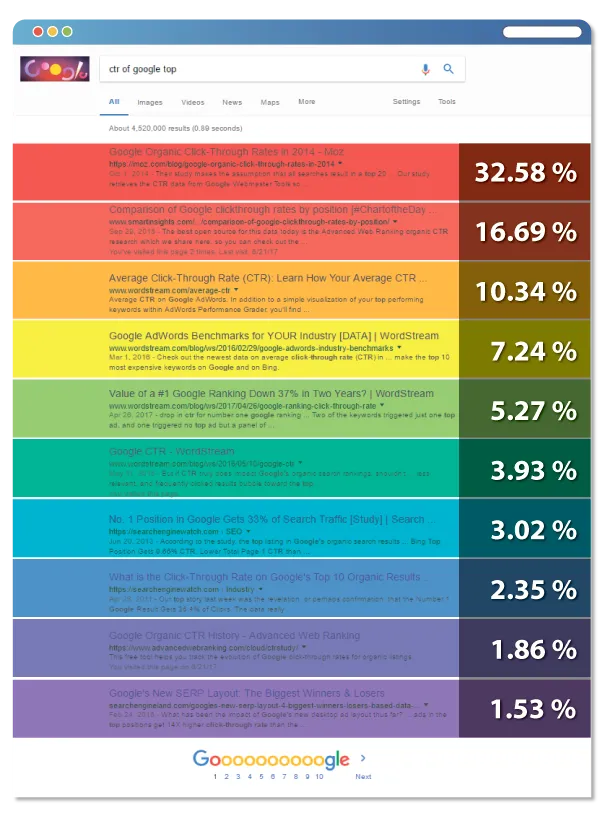 The importance of being the number one on Google is evident. It will just suffice to glance at the above numbers to understand that first-position-websites have a great advantage over any competitors listed below.
As you can see #1 position gets 32.58% of organic traffic from Google, while #9 position gets only 1.86%. What does it mean? It is like getting 1000 clicks on #1 position and only 57 on #9 position. And those are visitors you get for FREE. A tremendous difference, isn't it?
And how will your traffic increase if you climb from position #9 to #1?
32.58/1.86 * 100 = +1752%
And the point is that it's only for the single keyword! Just imagine the traffic boost if you implement a well-planned.
So publishing 4 new articles on your website every month with 1000 words and up to 20 keywords within each article, will give you 4 * 20 = 100 new keywords every month. At least 10% of them (depending on the number of new backlinks) will get in the Top of Google. That means 10 new keywords every month. On average a single keyword generates about 100-150 visitors per month, so that's 1000-1500 new visitors per month. Based on the average CPC rate in Adwords ($2 per click), it means the value of these visitors is around >$2000-$3000 per month. Bear in mind that the success of your articles depends on the quality backlinks.
Now, the desire to get to the first spot is clear. And it's time to figure out the main ranking factors in 2021.
A list of factors that influence website position in 2021 Google SERP:
Website visits. The number of website visits, in other words, your actual traffic, seems to be the most crucial ranking factor of a website. According to some researches, websites with higher authority consequently gain more traffic, and as a result, have a better chance of getting on the Google's top.
Behavioral factors (time on site, pages per session, bounce rate) also stand among the most important ranking factors. Because if you want to get on top and stay there, you need to understand your users. Moreover, the latest Google updates are primarily user-oriented. So keep tracking various metrics describing the success of user experience on your website to stay relevant.
Content. The quality and usefulness of content you post usually forms a user's opinion about your website. Moreover, the length of your articles also matters, because when people see a long article they get the impression that you have conducted a thorough analysis to provide such a long read. Herewith you should keep in mind that any of your articles should be useful and relevant regardless of the word count.
Backlink profile. The notion that the more referring domains your website has, the better it is for your rankings is still valid. Once again, the quality of your backlinks also matters, as well as their number. A natural and trustworthy backlink profile just can't appear overnight. Take into account how difficult it is to build a strong backlink profile within a highly competitive niche. So be steady and follow you carefully elaborated link building strategy.
On-page optimization. On-page SEO is important not only for better rankings but successful marketing campaigns as well. You need to properly optimize your website's pages not only for Google crawlers but for people, for their ease and comfort.
Here are some simple but effective tips on improving your website position
If you make people like and trust your website and its content, you will win the desired traffic boost! So put more focus on the user experience on your website. Its clear design, simple navigation, security, useful articles and established contact with your readers will play a significant role in your traffic increase rate. Google considers behavioral factors, so it can understand if your website is interesting and useful for people.
Whenever you start writing an article for your website, keep in mind the needs and desires of your target audience. People appreciate articles that somehow simplify their lives or solve their problems. Moreover, long, detailed reads bring along more traffic. These tactics have been proved to produce a 10% traffic boost at least.
Use rich snippets. Google is constantly changing snippets options. Now they can contain events, songs, videos, and other info. Videos and authorship in snippets help increase CTR. Rich snippets make your website more noticeable in SERP, boost CTR and thus conversions.
The author's photo in the SERP raises the prospects of higher ranking. There are no strict rules on how this photo should look. However, we have tested hundreds of images and may tell for sure that it will work better if:
You place an image with the real human face, not the logo of your company or any other useless icon
You use contrast colors. Take into account that the photo is small so it is imperative to make it visible
You consider your target audience: their age, gender, interests, origin, etc.
YSocial activity in Google+. If you share content via Facebook or Twitter, people can see it only being online. And if you share some info in Google+, people will see it every time they do search with Google. Moreover, content shared via Google+ is ranked and visible to everyone, even if they don't belong to your Google circles. To take advantage of these features, it is a must to grow your target audience in Google+ and make regular posts there.
Even if you are on #9 position your key phrases bring along some traffic. For instance, if one keyphrase gets you 1,000 visits per month now, then getting to #1 will increase your traffic to 17 520 visits per month. (1000*17.52 = 17 520). So find and choose keywords that get you between #2 and #30 and get high-quality backlinks for these key phrases to get you to the first position. Obtaining backlinks for these keywords will boost your website traffic. Find out how to choose quality backlinks and learn more about our customers' success stories
Regular work with on-page SEO. To be the best, you need to take care of every single thing that may somehow influence your traffic. It's important to include keywords in every element of your article on-page optimization. Once everything is done correctly, your rankings will start growing up.
Look beyond the described factors and solutions! There are many other criteria that help to increase Google CTR by position. At those, technical SEO issues are becoming more and more complex. The good news here is that now you have a lot more possibilities than ever. It's easy to say that there is nothing new in SEO nowadays and that SEO is an easy task. But the truth is we should work hard to gain the desired results.
Order Top-Quality Links and Rank High
free
SEO Cost Calculator Tool
Enter URL & See What We Can Do Submit the form to get a detailed report, based on the comprehensive seo analysis.