Best Rank Tracking Tools
SEO is a multifaceted tool or set of tools, the wise use of which have a tremendous effect on how your website will operate and flourish. That's why understanding and monitoring the basic key features of SEO is of great necessity.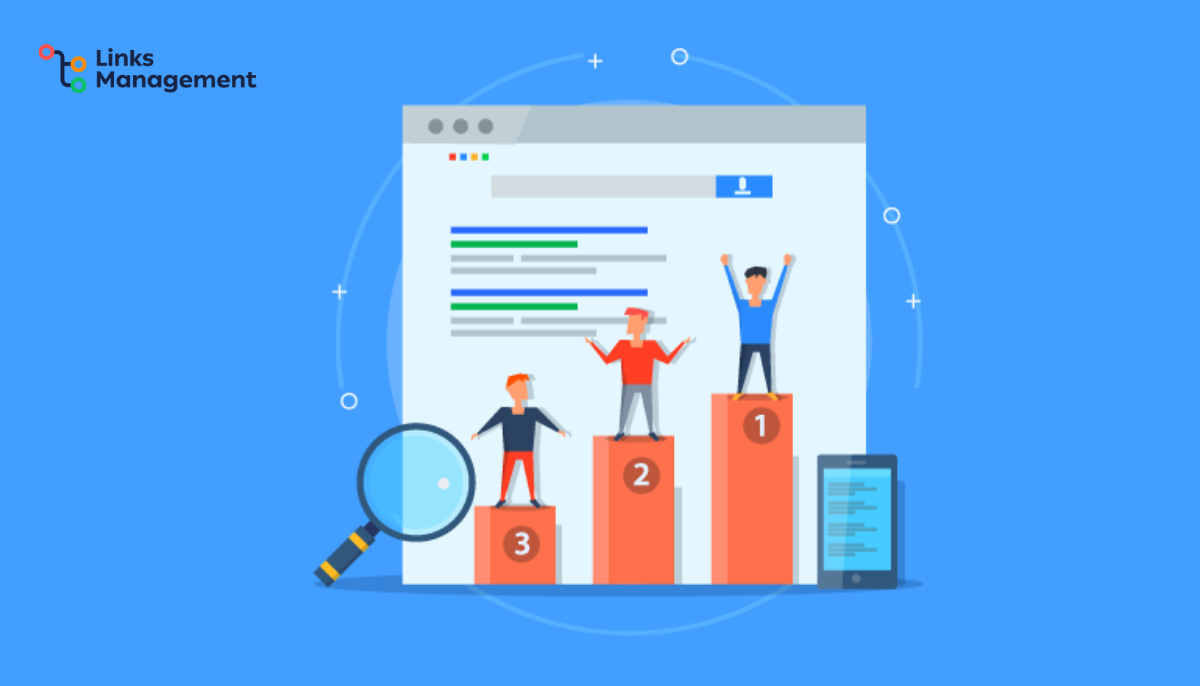 Tracking and monitoring are valuable verbs to keep in mind while establishing your Internet business. The reason is competition. Never-ending fiddling and tuning is the only way to keep yourself afloat. Adjusting your contemporary stance based on the current trends and occurrences are valuable and powerful tools in the hands of a skillful SEO manager. In that way, many beginners ask the very basic but, nevertheless, the crucial question of "What are the best rank tracking tools?" There is no singular answer to this question, simply because the overall magnitude and amount of various tools and software, browser plugins, and complex desktop applications are overwhelming. Thus, to help you find your bearings in this overgrown jungle of unknown and identify the best rank tracker for your needs, we created this article.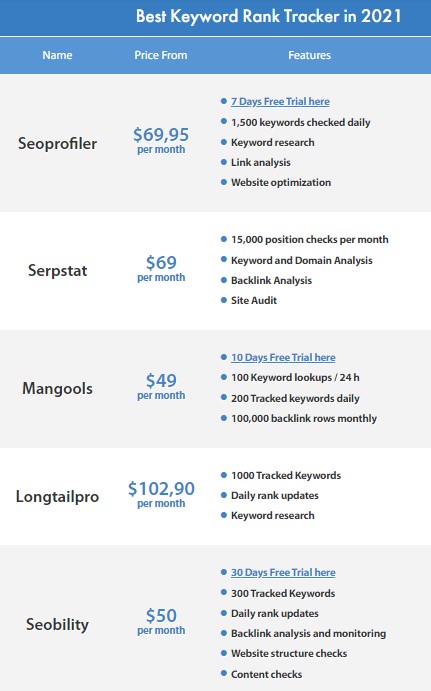 Keywords Basics and How they affect SEO
First, let's take a closer look at what keywords and their position mean. Keywords refer to the words that define your website's orbit. They are one of the main driving forces when it comes to SEO. Indeed, keywords are the element that helps people find your content, product, or service. Therefore, knowing what and how people are looking for this or that thing is extremely helpful and game-changing. And implementing the right keywords at the right time will aid you in overtaking your competitors.
For this simple reason, the topic of keywords in and out of itself is overarching, it is easy to run headlong and make mistakes like:
Not doing SEO research at all or monitoring it rarely.
Carelessly using the same keywords without adapting and updating.
Using unoriginal and beaten-to-death keywords.
Best Rank Tracker Elements and What to Choose
Based on those criteria, we can see how crucial it is to keep track of your progress and current trends. Therefore, finding the best rank tracker is of such high relevance right now.
Researching keywords should be regarded as a routine check-up with your dentist but more consistent, frequent, and enjoyable. Obsolete or long-standing keywords should undergo reassessment, keywords of high competitiveness should also be changed to something less hackneyed. Keywords have to be tweaked and played with on an ever-evolving basis, otherwise, you might run into a plateau and stagnation. Thus, tinkering your keywords to cater to a broader audience is a must.
Also worth mentioning is diversification. It is a great practice to diversify not only your keywords but also content on your website. This will help you glean a far wider outreach and attract more visitors.
So, after long research and strenuous deliberation, you finally decided upon the keywords you want to use. Now, don't rush things up. One more thing to take into consideration is placement. Although it is rather self-evident, it's still worth mentioning that important keywords should be included in the areas of the highest interest on your websites like URLs, title, body text of pages, and even file names. However, be cautious of not filling your one-page website with all possible keywords, so it doesn't look like a celebrity wardrobe. Such practice is unlikely to bring anything positive.
Meaning of Rank Tracking and Best Keyword Rank Tracker
Now, let's get back to why tracking the position of keywords is highly advisable. Or, in other words, tracking your current ranking. Rank tracking means monitoring how a particular keyword or set of keywords is scoring on a SERP (Search Engine Result Page). As was briefly mentioned before, it's an invaluable tool, clever use of which will be of great benefit to the overall success of your website.
Being able to look into current standings and historical data, evaluate the impact of a given keyword, its relevance, and competitiveness is hard to overstate, thus picking up the best keyword rank tracker is important. Obviously, after such a prelude, you most definitely are eager to reap a crop of success with a tool of such power and find the very best rank tracking software. However, you should also keep in mind that Rank Tracking must be regarded as a complementary tool, powerful at that, to your success rather than being a defining factor.
Focusing too much on graphs and stats can and will be detrimental in the end. Getting the gist of keywords and how they work while using Rank Tracking tools as an addendum is a far safer route. With that warning out of the way, let's take a closer look at what choice we have when it comes to tracking keywords position.
Best Rank Tracking Software What's Your Choice?
To say that the selection of available tools for Rank Tracking is abundant would be an understatement. It comes down to your personal preference and what you are comfortable with. Some key features of the best SEO rank tracking software should be ever-present like reliability, accuracy, checking speed, and, of course, proper pricing. There are also preferential aspects like: looks, user interface, and usability. So, on these terms, it will be better to take a glance at what choice we have regarding accessibility rather than looking at every tool separately. To generalize, we have 2 groups: specialized online services and multifunctional SEO services (Ahrefs, Semrush).
Let's start with multifunctional SEO services. They offer arguably the best variety and boast a slew of useful features. Instead of being one-dimensional keywords ranking tool, these complex tools provide a myriad of useful additives like backlink research (looking at how competitors get their backlinks), debugging your potential SEO mistakes, and informing you on the best ways to fix them, guest posting finder and many more.
Let's take the popular SEO tool like Ahrefs as an example. It offers an enormous amount of useful features that can give you an edge in the SEO battle. It also provides an unprecedented functionality, although the learning curve may be a bit steep, tons of freely available guides on how to use it won't leave you stranded. Most tools of this sort offer a subscription-based payment plan. Whether it be a monthly or annual subscription, the choice is yours. Most of the time, services like that will be cheaper than their counterparts. Often there is also a trial version to check out. Surely, tools of such magnitude are a great choice for сomplex and comprehensive SEO management, not to mention that oftentimes they are decently priced, considering the versatility and don't impose an additional fee based on the number of requests.
However, the main downsides of these tools are the accuracy of the position check and its speed. Thus, for someone who focuses specifically on keywords ranking and monitors it religiously, it might be better to turn your attention to specialized online SEO services. Services of this type are the opposite of tools like Ahrefs. They are quite cursory in their use and don't offer the same versatility and multilayered functionality. However, when it comes down to keyword ranking and tracking, they may probably be unmatched. They are usually far more accurate than their vis-a-vis and also offer a greater check speed.
Also worth mentioning an overall simple and approachable interface that is not cluttered with unnecessary and useless things for someone who is looking for Rank Tracking. There is one caveat – pricing. They are not cheap. Generally, you are paying for the request packages rather than consistent monthly or annual fees. Therefore, here you should exercise caution and be considerate of the amount spent.
For example, one of the services like that is Rankinity. You can calculate the cost by entering a number of keywords and checks per month and see what monthly cost you can expect. Free SEO tools deserve their share of mention too. They might not be the best Google rank trackers, nevertheless, they might be exactly what you are looking for, especially when it comes to "light" SEO work, like checking keywords trends and popularity.
Mobile and Desktop What's the difference and Local SEO
Generally, SEO tools can also be further divided into mobile, desktop-oriented, and local business focused. As you probably know, the mobile-friendliness of a website is a substantial plus point in the Google Algorithm basket. From that also follows that Google has different indexation for mobile users. The same notion also goes to local business ventures, since the first search result that google gives you is based on your current location.
We shall start with local business SEO tools and see how they differ in their use from standard SEO.
It's no wonder that people tend to look for local businesses nearby. Partially because it's a relatively new trend of 2019, and this trend will probably continue its stead in 2021 as well. And partially because to shop locally and support local businesses is a genuinely great practice. From that novel trend, it's only obvious that people start to set up and steer their business closer to their "home customers". Not only is that a profitable thing to do according to statistics, but it also narrows down the competition. Unsurprisingly then, that best local rank tracker also saw a sudden rise in inquiries.
So, what are we lookin for when choosing a SEO tool that focuses on local businesses? Firstly, it's an ability to turn the search down to cities, which will give you an overview of current rankings and will help you optimize your strategy. Second is real-time monitoring. And third is to track competitors' rankings. These three criteria should be the guiding light in choosing which local SEO tool to use.
So, do we really need to categorize SEO into two separate groups: mobile and desktop? The mobile market possesses a massive share of the internet market. But the question of whether we ought to treat mobile SEO separately is still up for debate. Although there are already quite a few warranted statements about its importance. As such, it would be reasonable to assume that there is definitely a grain of difference at play.
There are little things that you can use solely to optimize mobile search, and there are certain details that only apply to desktop sites. First, a rather prominent difference is that mobile platforms often require a separate strategy because the user interface and user experience are markedly different than those on a desktop. From this point stems that mobile users are not as tolerant to wholly text-based sites, thus cramming down a 500+ keyword-ridden text is probably not the most reasonable way to go.
Mobile users are far less likely to scroll to read the whole text because of the limited screen ratio, which means that information presented on the website ought to be concise and graphically engaging. There is also an even more poignant point worth mentioning. The fact that mobile search employs, separate from desktop, ranking algorithms. It might be a justifiable factor to treat desktop and mobile SEOs as two different ecosystems.
Want Higher Ranks? Basic Ranking
What factors contribute to the ranking being higher in 2021? To be honest, there is a host of them, and listing all would prove itself time-consuming and problematic. What you need to know is that there are basically 4 main factors,  each with a handful of subfactors. These four are:
On-Page factors or how well your pages are optimized. These include the keyword in the title tag, keyword in the meta description and keyword in URL, etc.;
Site factors or how structured and "whole" your website is. For example, mobile-friendliness, the trustworthiness of your site (you can read about it more here) and, finally, Sitemap;
Off-Page factors or factors that regard outside elements of your website, including DA (Domain Authority), backlinks (referrals from other authoritative sites), diversity of links, anchor text;
Domain factors like history of your domain, specific country TLD (.uk, .lt, .ru). It is far from an all-inclusive list because there are still a copious amount of factors that can influence the ranking.
SEO's Hardships and How to alleviate them
One can't help but notice how multilayered SEO is. Although helpful tools like rank tracking are indispensable, they won't be a singularity point of your success. In the end, it all comes down to the aptitudes of the user and how effectively he or she interacts with given data. Therefore, understanding and seeing the whole picture is of a mandatory nature.
No wonder that learning SEO is an incessantly evolving undertaking. It takes time and dedication but the end result is worth the effort. Since not many of us are willing to spare time to learn SEO from scratch, it might be a viable choice to turn attention to services that can help you with that. Therefore, if you don't think that you are up to the task, there are always ways to outsource and offload things you are not enthralled about.
LinksManagement SEO Service Provider
The same counts for SEO as well. With an obscenely wide array of online SEO providers, it might be hard to make a thoughtful choice. If it were not for LinksManagement.
LinksManagement provides a SEO service of unmatched quality and reliability, transforming the burdensome SEO work into a trivial matter. With the process being fully automated, you won't have to worry about making a mistake or misunderstanding data. Or, if you are willing to control the process yourself, there is also manual management.
LinksManagement's professionals are equipped with the latest and bleeding edge SEO tools to help you fuel up your business. No need to pay additional fees for a Rank Tracking software, everything is being dealt with in a swift fashion. With a copious amount of amassed experience, working in the SEO market since 2009, LinksManagement seems like a reliable and effective way to conduct SEO work without overstraining your already busy life.
Reliability and Testimonials
What describes a successful service better than reviews and testimonials from the users themselves. Thousands of people have already brought an enormous reinvigorating factor to their mundane and empty internet business by using LinksManagement service. We cherish our users' time and money, putting an ever-growing effort into bringing to our customers the best user experience on the market.
Get into the Top Google Ranking
free
SEO Cost Calculator Tool
Enter URL & See What We Can Do Submit the form to get a detailed report, based on the comprehensive seo analysis.