How to Choose the Right SEO Software for Your Business
‍Once you have created a website for your small business or company, you will need to keep an eye on it. SEO software is a kind of solution that would allow you to track all the aspects of your website's health and performance. Website SEO tools can help you track website ranking, pick up the most appropriate keywords, monitor your competitors' activities, and perform other essential tasks. Thus this article will tell you more about software for SEO checking and explain how you can benefit from it in your daily SEO workflow.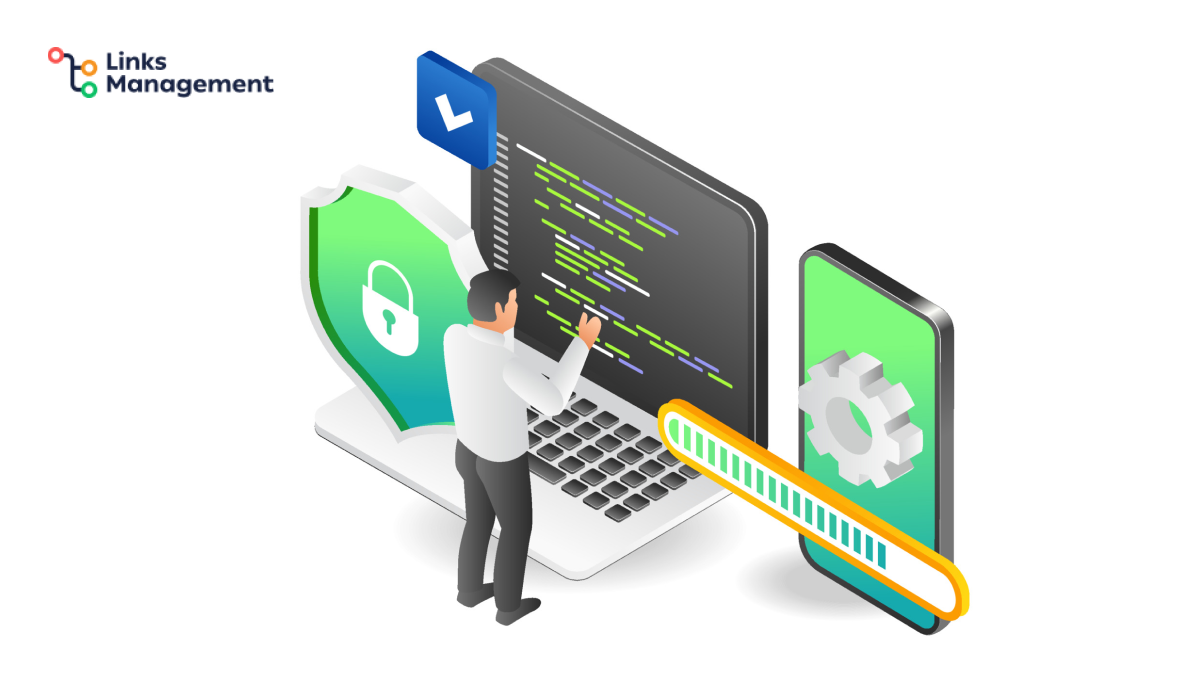 ‍Given that there is a variety of SEO tools on the market, it is also necessary to select the ones you really need. While some types of software, such as SEO analysis tools, would be essential for any business, other types of SEO tools might be more applicable to websites operating in certain industries. Therefore, this article will provide information about an SEO tool range for you. Moreover, you will also learn how to choose the best SEO tools for your business so that they help you promote your website properly and keep it monitored.
Types of SEO Software
‍From the very beginning, we need to emphasize that there are two principal types of SEO software: all-in-one and standalone SEO tools. The first type would be discussed later in this article, while now we are focusing on a variety of SEO tools each of which carries out a specific function.
Rank Tracker
‍As you put hundreds if not thousands of dollars into search engine optimization for your website, you expect visible and tangible results at the nearest time possible. Even though SEO results are not immediate, and they do not appear after several days after an SEO campaign starts, there are tools that help to notice the first results. Those are SEO tools named rank trackers also known as website rank monitoring solutions.
‍Owing to a typical rank tracker, you will see how the website ranking changes for certain keywords. In brief, you will see whether it appears higher or lower on search engine results pages once users enter the corresponding search query.
When Needed?
‍Implementing a rank tracker SEO tool in your everyday practice might be very helpful. Such SEO software helps you be aware of any changes to your website positions. You will see how your website climbs the search ladder over time. In case you already have your website high in search rankings, such SEO tools will help to detect any malicious activities or abrupt ranking drops.
Examples
‍One of the most popular SERP checkers in the market is the tool named Ranktracker.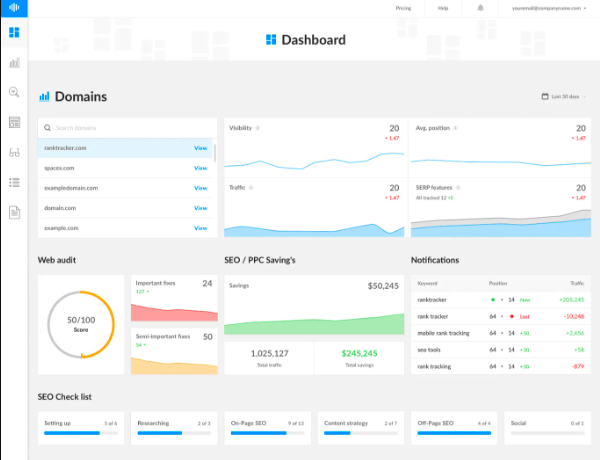 ‍Another good example of a website SERP checker is a solution provided by SEMrush software. You might also consider tools provided by SE Ranking or Sitechecker that could be used for free during a trial period.
Backlink Profile Checker
‍Building a reputation online is possible due to websites interlinking in the online environment. Such an approach is known as backlink gaining, outreach campaign, or link-building strategy. Whatever the term is, its main purpose is to get as many outer links from other websites as possible.
‍An important point of any link-building campaign is to associate a website only with high domain authority websites. Here come backlink profile checker SEO tools to assist webmasters in checking domain authority ratings of websites. Also, such tools provide a detailed overview of your backlink profile and help detect any low-quality backlinks.
When Needed?
‍Backlink checkers would be inevitable if you have a strong link-building strategy and gain new backlinks regularly. Even if not, a backlink checker will help you detect new backlinks that appear and the ones that get removed. Such information will help you make a necessary investigation of the new or lost backlinks.
‍Some backlink checkers also find an option of finding broken links on other online resources. You can benefit from such a feature: find a broken link and inform a webmaster that you have found a link on their website that leads to nowhere. Then suggest substituting that broken link you have just found with the one incoming to your website.
Examples
‍An excellent SEO tool for the purpose of backlink profile monitoring is called Seobility. In fact, Seobility is an all-in-one SEO solution, where the backlink checker makes a part of it. You can use this SEO tool by simply pasting the URL address of your interest – the system will provide you with the number of total backlinks, their rating, and anchor texts.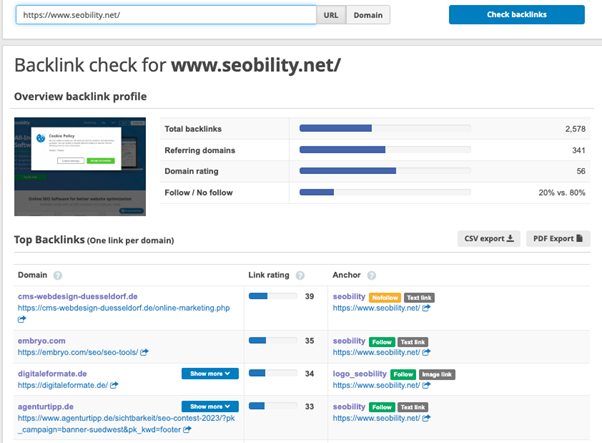 Reporting and Analysis SEO Tools
‍As soon as your website starts driving plenty of traffic, you need to immediately analyze it. Reporting and analysis SEO tools are used for disaggregating the information about traffic – visitors, time spent on a page, and other crucial characteristics. The obtained results could be further used for enhancing SEO strategies and marketing campaigns.
When Needed?
‍The usage of reporting and analysis SEO tools is required when you plan to grow your business online. They help to better identify your target audience and their behavior on your website. For instance, you will know exactly what the average age of the people visiting your website is. Also, you might discover what subjects your customers prefer so that you will know how to build better relationships and trust with your potential and current customers.
Examples
‍Google Search Console and Google Analytics are the most popular examples of reporting and analysis SEO tools. What makes them even more popular is that they are provided for free, so each webmaster could use them right after the website goes online.
‍Google Search Console is an online service that helps to detect whether all your pages were indexed on Google. If not, there will be crawling errors mentioned so you will need to correct them in order to make your website appear on Google searches.
‍Google Analytics provides you with insights into the technical characteristics of your website and users' behavior patterns on your website. For instance, you will clearly see which type of device people preferably use when accessing your website.
Website Audit SEO Tools
‍Google and other search engines have a set of requirements for any website to appear in search results. Those criteria refer to the quality of content, availability of metadata, security standards compliance, etc.
‍Even if you do everything properly, and carefully follow every step of your SEO strategy, you still need to discover whether you are following the right direction. Thus, website audit SEO software will check your website, decide whether it meets the most recent requirements, and point out the points for improvement.
When Needed?
‍Typically, SEO tools for website audits are needed when you work on the on-page SEO elements. Audit tools will help you detect white spots on your web pages and provide hints on how to make certain improvements.
Examples
‍Almost every all-in-one SEO software offers an SEO audit tool as the basis of everything. Thus, such SEO tools as SEMrush, Serpstat, SE Ranking, SEOptimizer, and many others offer website audit options.
Content Reviewers
‍Another group of SEO software is dedicated to content creation and its verification. Those tools could be used for the website content as well as for the posts created for social media. The majority of SEO tools for content generation and check currently use artificial intelligence, thus you need to be very careful when using them.
Examples
‍The most popular content reviewers are grammar and spelling checker tools. Such tools are often embedded in most text editors regardless of the operating system so that the content is checked while it's being written. See Grammarly is the most common and precise grammar and spelling checker that you can use for free for verifying the quality of your blog articles and other pieces of text for the website.
‍Another widespread content reviewer is Hemingway – a tool aimed to check the readability level of your texts. This tool is extremely important especially when you prepare articles for a blog – you need to make sure people will find the articles easy to read, so they will stay on a page.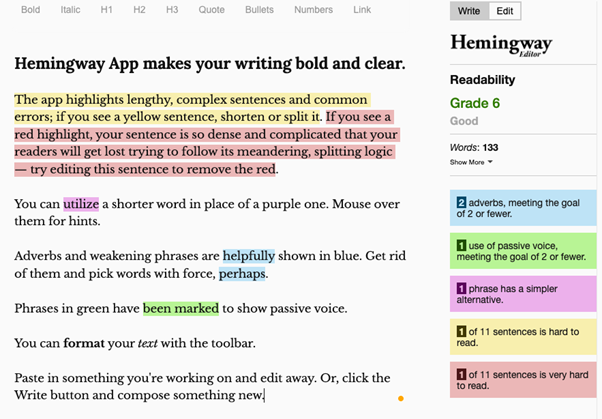 The Reasons to Use an SEO Tool Set
‍There are enough SEO solutions that offer essential tools for website audit and performance in one package. You might have already heard of the best SEO software for website monitoring – SEMrush, Serpstat, Moz, Seobility, and others. Such tools are usually paid and require a monthly or yearly fee depending on the services included in the package. However, you will always have the possibility to start with a free trial and explore how an SEO tool works.
‍The reason to use such all-in-one SEO solutions is obvious – you will have better control over your website. Every aspect of your website performance will be under your supervision owing to such comprehensive SEO instruments.
‍Another benefit of employing complex SEO solutions in your daily workflow is that it helps you save plenty of monetary resources. You will not have to separately buy one tool for backlink profile check, and another tool for website audit – you will have everything in one place. Whether to acquire an SEO package depends on your allocated SEO budget and the objectives of your business you are trying to achieve with a strong online presence.
‍If you are still thinking about whether to implement SEO software in your strategy, we are here to convince you. We present several obvious benefits of SEO tools that would help your business grow online.
Gradually Grow Organic Traffic
‍By monitoring the website rankings, checking how backlinks perform, and seeing what your users do you will understand how and what should be improved about your website. Even if it seems that everything functions perfectly and more users come to your website, there is no time to relax. The Internet offers a very dynamic environment, and your competitors are not resting on their laurels as well, so SEO tools help you remain aware of everything that is going on with your website.
Increase Brand Awareness
‍Backlink profile checkers are SEO tools that not only offer to monitor the current backlinks to your website but open new opportunities. Such SEO tools present ideas on how to expand your brand awareness even further by outreaching the websites that match your business profile.
Reach Mobile Users
‍Report and analysis SEO tools will help you discover what types of devices most of your website visitors use. In case there are plenty of users who reach your business website from smartphones or tablets, then making your website mobile friendly would be essential. Thus, use SEO audit tools that will analyze how your website appears on various mobile devices. Based on the performed check, you will see how to change your website layout for mobile and what other elements to adjust.
Prevent Website Attacks
‍Internet space is highly competitive, so there are always people and rival companies who would want your website ranking dropdown. Low-quality backlinks, content duplication, and website hacking are the most popular SEO attacks. When using SEO tools, you will be able to detect early signs of such attacks and make your website less vulnerable to them.
Conclusion
‍Using SEO tools, whether those are free or paid solutions, is a must for every website owner nowadays. Choose exactly those tools that would help achieve your business goals and attract stable organic traffic to your website.
‍The market offers a range of all-in-one SEO software – SEMrush, Mangools, Serpstat, Seobility, and other popular ones. They contain backlink checkers, rank checkers, and website audit tools for ensuring holistic monitoring of a website. Such software also implements solutions for marketing, so it could be used both by SEO and marketing teams.
‍Very often small businesses do not have enough resources to implement comprehensive SEO tools as those could be rather expensive. Therefore, implementing standalone solutions could be reasonable in that case.
Build My Backlinks
free
SEO Cost Calculator Tool
Enter URL & See What We Can Do Submit the form to get a detailed report, based on the comprehensive seo analysis.