5 Ways to Make the Best of SEO Link Building with LinksManagement
Whether we want to admit it or not, efficient link building is a foundation for climbing to the top of Google's rankings. No matter how good your content is or how structured your site is, the golden rule still works: there is no traffic if there are no backlinks. In this article, we offer you to learn how to make the best of SEO link building with us.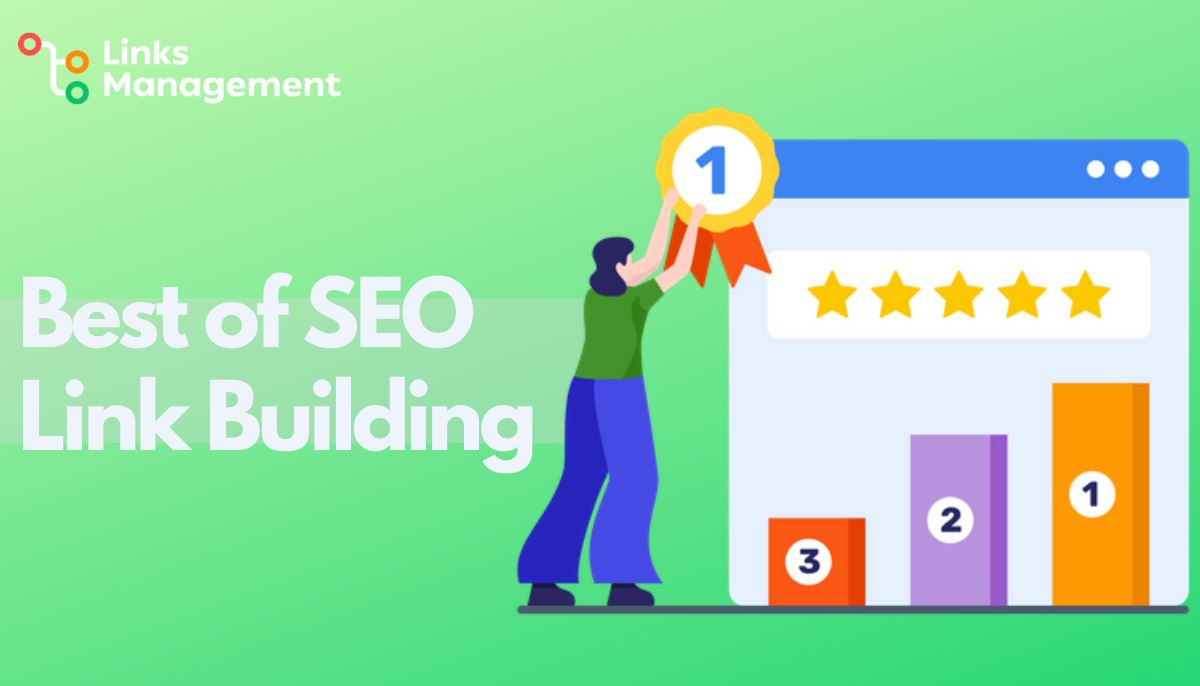 The best SEO link-building services differ from low-quality ones in that they don't try to dazzle you with a bulk of obscure SEO terminology, which, with all your desire, will not fill in all the gaps in your promotion strategy. But you have nothing to worry about because you have come to the right place at the right time. LinksManagement provides the very best link-building services and knows how to realize your ambitions for sales and leads in the shortest possible time.
With us, you can buy the best backlinks and immediately get all the benefits arising from that. Yes, indeed, those very top positions in search and the increased interest of the audience to your site. How? Leave it to us! The only question we have: "Are you ready?"
Method #1. Article Backlinks: Conquer the SERP faster than EVER!
It's one of the easiest, fastest, and what's more important, organic ways to pull in new links as well as diversify your backlink profile. Yes, Article Backlinks are one of the most natural, effective, and everlasting methods to enhance your traffic & conversion rate.
Whether you're at the very beginning of your SEO Campaign or stuck on pages 2-3 of Google search results, they are something that your website needs. Why so?
Just look what you get choosing Article Backlinks for your SEO:
1
100% Unique & Relevant Content
We're talking about unique & relevant articles placed on newly-created pages of the selected sites. As a result, you'll get natural and top-quality links to enhance your backlink profile & conversion rate.
2
Time & Money Saving
Since every article link works like a permanent one and is protected with a 12-month guarantee, you'll save your link building time and budget.
3
AWider Attention to Your Site
That point is kind of self-explanatory. Niche backlinks from DA25-55+ websites with real organic traffic will inevitably end up with consistent & steady growth of rankings in Google as well as wider attention of the desired audience.
Method #2. SEO Automation Tool
To ensure your effective link building, SEO Automation Tool from Linksmanagement analyzes the parameters you specify and selects unique pages from category-relevant websites (with a proper number of indexed pages and high placement percent.)
How does it look?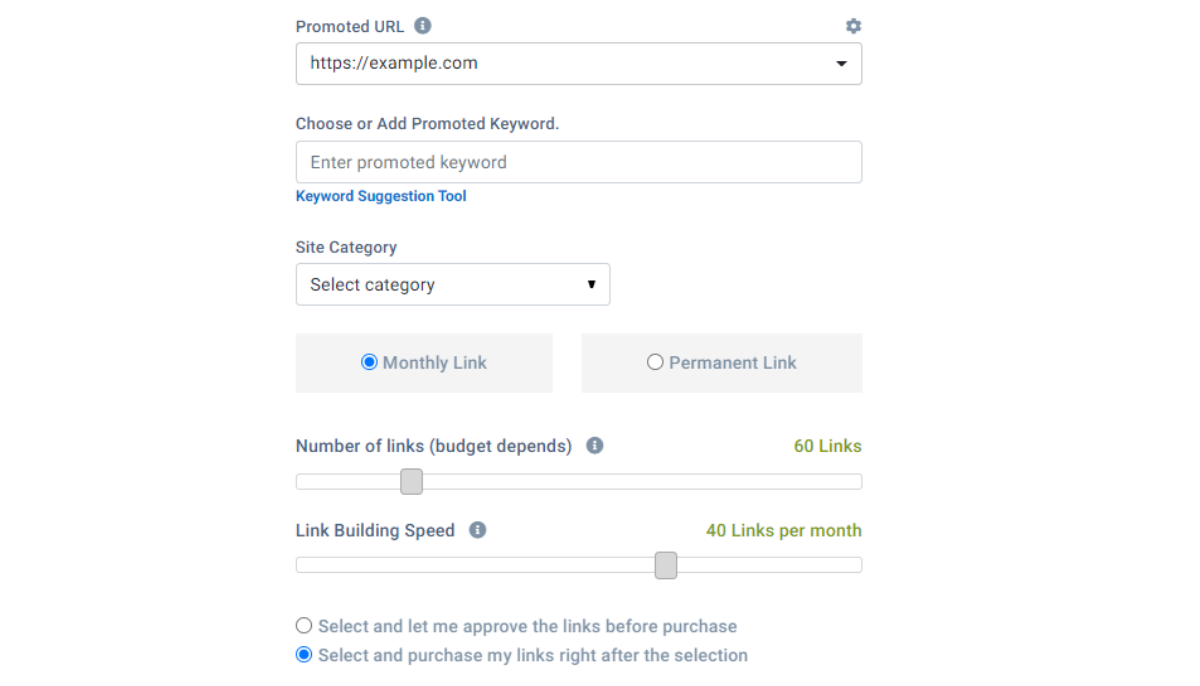 Any campaign you start can be pre-validated, meaning you can review and approve the links our Tool selected for you before they are purchased. This way you stay sure of your backlinks' quality and relevancy.
Start New SEO Campaign
Method #3. Advanced Mode
The innovative algorithm from LinksManagement helps you build corresponding to your parameters backlinks at the optimal speed. Go for the Advanced Mode to configure your campaign at the most professional level!
For the most efficient link building, we offer you to adjust the settings of your projects and make full customization of your SEO Campaigns with the help of advanced filters.

Using advanced mode, you can set extra parameters for backlinks selection, such as link type, country, budget for each SB Rank, preferred language of on-page content, etc.
Method #4. Benefit from Comprehensive Link Building Strategy & HUGE Publisher Library
Building a link acquisition strategy is a serious and complex business. Self-management of this process can result in a large number of useless and chaotic actions. We can deal with it.
The thing is that without a strategy, there is no direction. Without direction, there is no movement. That is why before you start working, you need to audit your site and check the source data that you have to work with.
We have all the necessary tools for this. Together we will study your main competitors, their link profile, their efforts, and just perform it many times better. We will also determine which content is best for you to publish. LinksManagement will give you clear directions for further movement.
Huge Publisher Library
The selection of relevant domains from which you can get a link could be a problem. But not with us. We have over 8 million pages covering a wide variety of topics. If you wish, you can pick them yourself using more than 15 advanced filters.
Each site that will link to you is an authoritative and competent resource. It has high DA and an extensive readership that may be interested in your services directly through the posted article. That is why working with us, you can be sure that you are buying the best backlinks.
Method #5. SEO Cost Calculator
SEO is a multifaceted tool or set of tools, the wise use of which has a tremendous effect on how your website will operate and flourish. That's why understanding and monitoring the basic key features of SEO is of great necessity. That's what our SEO Cost Calculator is for.
How can you take advantage of it?
We analyze your backlink profile (SB, PA, DA, Alexa Rank, CF, and TF) and keyword competition in your niche in Google Adwords, figure out how many backlinks you need, how long to run your link building campaign, and how much money to spend to rank high in SERPs.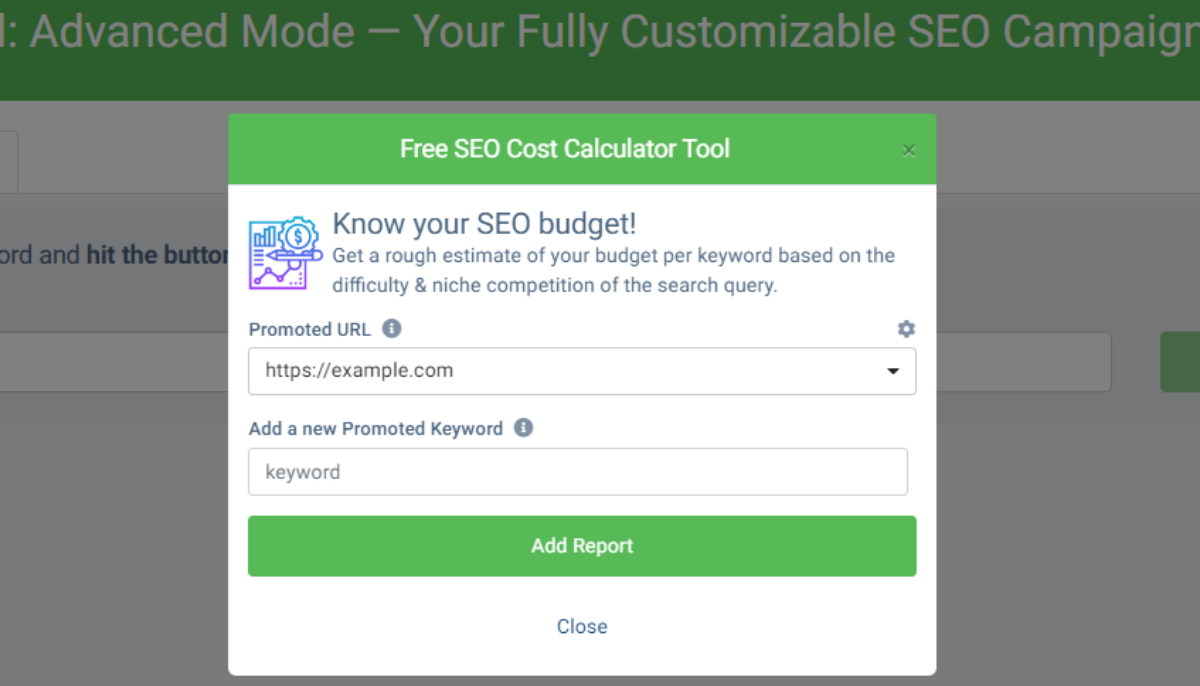 We will prepare a detailed link-building plan for you: how many links you need, how much it will cost, how much time it will take for you to get in the Top 10 of Google for your keywords?
Moreover, our free Google SEO Keywords Suggestion Tool helps you find your top traffic driving keywords.
Working with links takes time, but businesses are short of time, as always. LinksManagement gives you the opportunity to conquer time: competent automation, huge publisher capabilities, and ease of use will not let you spend a single minute in vain.
Get into the Top Google Ranking
free
SEO Cost Calculator Tool
Enter URL & See What We Can Do Submit the form to get a detailed report, based on the comprehensive seo analysis.