Best SEO Newsletters to Subscribe
‍Regular upskilling and staying up-to-date with the latest industry news is paramount in the rapidly developing world of SEO. While textbooks may not provide the necessary knowledge, email newsletters offer promotion specialists valuable insights and the latest news about SEO from colleagues. Let's evaluate which resources will be most beneficial.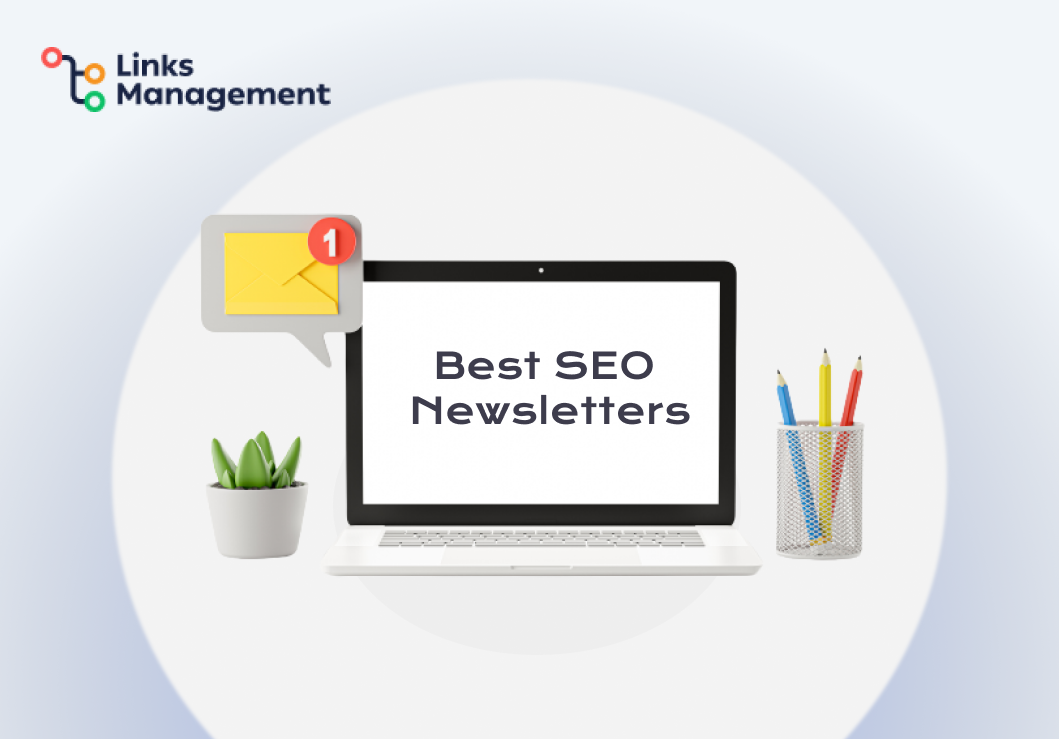 Benefits of Newsletters for SEO
‍Experienced SEO professionals know how to effectively organize and use email newsletters to promote their content. However, not all readers classify themselves as subscribers. Nonetheless, consistent newsletters can offer tangible advantages and valuable insights. Let's examine why they're beneficial and why you should consider signing up for one or multiple newsletters.
Companies use only current and reliable data, ensuring that you have access to the latest information. Stay up-to-date with the latest developments and trends through the newsletters, which provide valuable information to help retain the audience.

You get an expert opinion. All newsletters in our collection were authored by seasoned professionals in the SEO field who have acquired extensive experience and accomplished successful outcomes. Subsequently, they impart their practical solutions and observations.

You save time. You no longer need to search the Internet for the latest news because it can be delivered straight to your email. Additionally, some mailing lists offer valuable thematic collections, providing a list of top-rated articles, tips, and expert-recommended tools.

You see the practical application of methods and techniques. Many newsletters utilize case studies as illustrations, providing practical examples of theoretical knowledge and enabling immediate evaluation of their effectiveness.

You receive timely information about important events. SEO newsletters provide information on upcoming webinars, conferences, and expert meetings. These events offer a valuable opportunity to exchange experiences and gain first-hand knowledge. Missing out on these opportunities due to ignorance would be regrettable.
‍Newsletters keep you informed of the fast-moving world of SEO, saving you time and effort. Take advantage of this opportunity as a responsible professional.
The Newsletters to Check
‍The vast array of mailings can be overwhelming. While having a variety to choose from is beneficial, it can also hinder finding the desired information quickly. To streamline the process, we have compiled a list of the top newsletters worth your attention.
SEO Notebook
‍It is a popular weekly newsletter created by Steve Toth. Each issue provides updates on the latest SEO developments, along with downloadable resources such as templates, algorithms, and checklists to optimize promotional processes and enhance their efficacy.
‍A noteworthy feature of the publication is the author's unconventional perspective on many aspects of SEO, which is backed by practical examples and case studies. At the same time, the author's reliance on extensive experience and practice has made the acquired materials particularly valuable.
LinksManagement
‍Our company specializes in SEO promotion and has significant expertise in this field. Every week, our team of LinksManagement experts shares news, provides practical advice, and discusses the latest updates.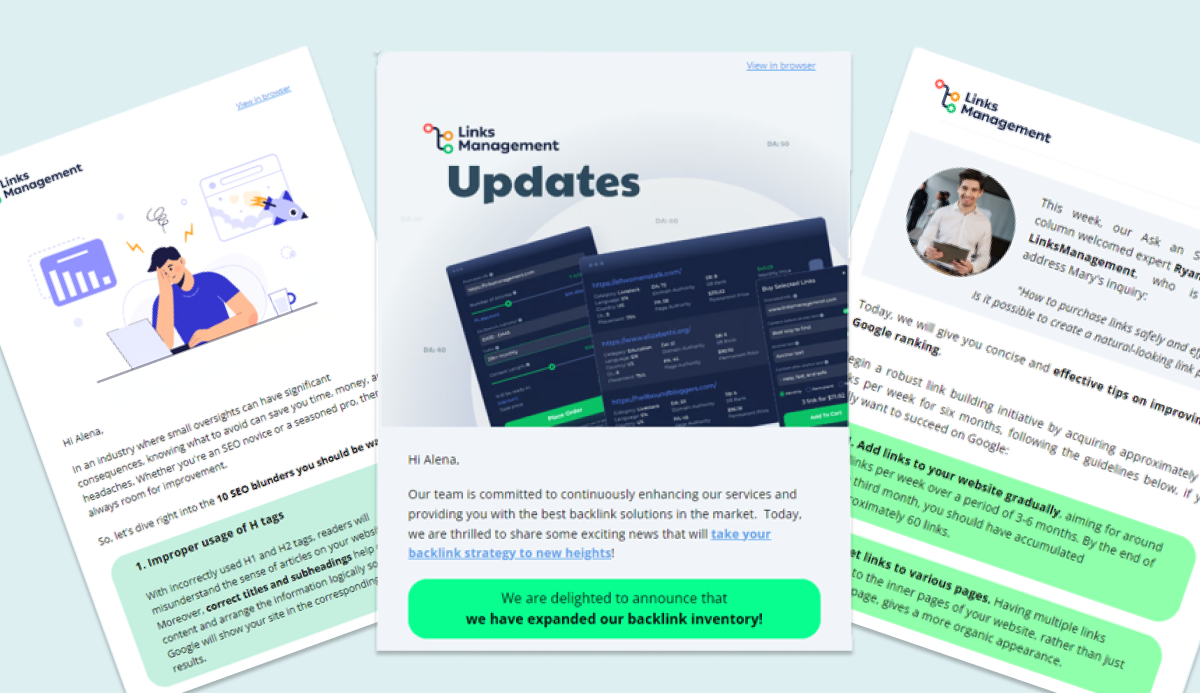 ‍One unique aspect of our newsletter is the subscriber Q&A section, where our SEO experts address various inquiries related to SEO, backlink building, and website promotion. Our team answers the most common or challenging questions to ensure our customers have a clear understanding of these complex topics. What's more, our subscribers receive a curated collection of informative articles and instructional materials intended to enhance website traffic and optimize SEO performance on a monthly basis.
MozTop10
‍Every issue of the Moz newsletter features a list of the top ten articles, resources, or tips in the field. By reading this newsletter, you will save time and avoid the need to sift through various sources. It will keep you up-to-date with the latest trends and news, making it an invaluable resource for SEO experts, website owners, and professionals in related fields.
#SEOFOMO
‍This newsletter is curated by Aleyda Solis, a renowned expert and founder of the Orainti agency. Rest assured that the content you receive will only include vital updates. As such, readers can expect to receive excellent insights from industry professionals. This newsletter features current events weekly, highlights the most efficient tools, and delves into career prospects.
Search News You Can Use
‍Most likely, you are familiar with Dr. Marie Haynes, known for her expertise in Google algorithm analytics and informative podcasts. The weekly newsletter comes in both free and paid versions, with the latter offering in-depth knowledge and a wider range of topics. Nonetheless, the free version still grants a wealth of insights, analyses of prominent SEO practitioners, and outlines the most effective tools and techniques. This information source is essential for any professional in the field of marketing.
#SEOSLY
‍Managed, by CEO Olga Zarr, it gives readers updates and connects them with others in the promotion industry. Joining the community provides an opportunity to collaborate and network, fostering valuable connections.
WTSNewsletter
‍This newsletter, made by Areej AbuAli, mostly targets women. It shares the Women in Tech SEO community's accomplishments, encounters, and the obstacles that women experience in promotion. Nonetheless, it doesn't limit the newsletter to women as anyone who specializes in the field will discover helpful information in it.
Kalicube SEO Newsletter
‍Newsletter, authored by Jason Barnard, targets brand SERPs, managing reputation, and knowledge panels. Jason is a trusted professional in these fields and delivers exclusive, valuable insights to subscribers.
‍You will learn how to maintain your brand's ideal reputation with these materials. You can put all of the practical tips from specialists into action.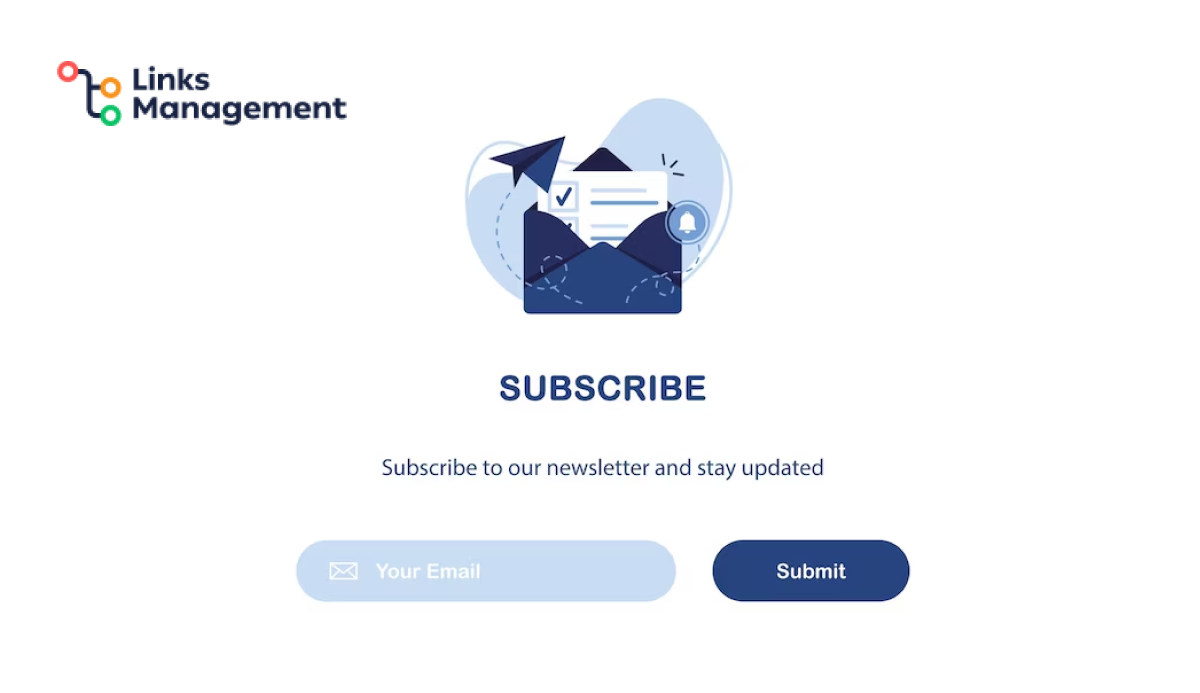 WTF is SEO?
‍This newsletter covers ways to improve your search rankings. Jessie Willms and Shelby Blackley will talk about links, optimizing them, and topic authority. You'll learn about search mechanisms and how to use them to your advantage.
#SEOForLunch
‍Nick LeRoy, who has been a CEO for over a decade, creates weekly newsletters. The newsletters include an analysis of popular articles and a summary of recent changes. This saves time and delivers essential news right to you. This newsletter is among the best for SEO, as its information is unparalleled. It's an ideal solution for busy individuals who want to stay informed.
SEO Sprint
‍Newsletter writer Adam Gent specializes in the intersection of SEO and related industries. You'll gain valuable information on team collaboration, specialists' interaction, and how to raise overall efficiency. The newsletter highlights each profession's importance and the SEO's proper alignment when working with developers and product managers.
Ahrefs' Digest
‍Any SEO expert is familiar with Ahrefs, a business that offers essential software and tools. You can acquire more knowledge by signing up for Si Quan's newsletter.
‍Every week, subscribers receive a recap of the most valuable publications and SEO news from around the globe. This summary lets you know which articles are worth your time. You will discover updates to major software and the progress of commonly used tools.
Rich Snippets
‍Jamie Indigo, who creates this newsletter, shares SEO news every week. They discuss algorithm changes and strategies, offer practical examples, and highlight the most significant weekly updates. This information will assist you in adjusting your practices and eliminating ineffective methods.
Niche Site Project
‍This newsletter is from Doug Cunnington, an expert in affiliate marketing. The letters contain a lot of practical content that is easy to apply. You'll get templates, instructions, tools to find effective keywords, and step-by-step guides. You'll learn how to use SEO in affiliate marketing and turn it into a full-time income. Plus, subscribers can enjoy reading case studies and exciting articles.
The Menu
‍This example stands out among the previously described formats. Every issue is an essay about advertising and selling with useful links and clear explanations of critical tasks. Finally, the author includes a recipe. That's right! In addition to valuable advice for improving your SEO tactics, you can also add variety to your meals.
The SEO Freelancer
‍The Nick LeRoy newsletter is useful for people who have left salaried employment for the challenging path of being an individual professional. In these emails, freelancers can gain insights and tips on building their personal brand, establishing a reputation, and building their career. The newsletter also contains information on communicating with customers and managing products.
SEO for Google News
‍Barry Adams shares his tips for reaching the top of Google News in this newsletter. Authors will learn how to budget and prepare materials for publication. The newsletter provides specialized information that is valuable for experts.
How to Select Suitable Newsletters
‍We only shared a small number of useful newsletters in this post. Actually, there are a lot of them, which can make it hard to choose. If you sign up for too many, it will be overwhelming. Use these tips to help you decide. It's better to select one or two helpful newsletters to read.
Determine your current objectives. If you seek to broaden your knowledge about SEO, consider subscribing to materials relevant to your interests.

Choose how frequently you want to receive updates. Monthly letters work for some, while weekly news updates work for others. Decide which interval is convenient for you and how many mailings you want to receive.

Information is only useful if you read and apply it. If you have too many subscriptions, you won't have enough time to devote to each one. Thus, establish the number of emails you can handle without overwhelming yourself.

Periodically review your subscription list.As you make progress, some subscriptions may become unnecessary. Feel free to unsubscribe from these emails to avoid cluttering your inbox.
‍With these suggestions in mind, you can have a handy list of subscriptions that are a good fit for your professional growth and development.
Conclusion
‍In today's world, where there is an abundance of news, it is essential to take control of your information intake. Newsletters are valuable to an SEO professional as they provide brief, essential updates without wasting time. Following subscription management tips can enhance your skills and prevent information overload.
Build My Backlinks
free
SEO Cost Calculator Tool
Enter URL & See What We Can Do Submit the form to get a detailed report, based on the comprehensive seo analysis.