How to Find Relevant Backlink Pages for Your Links

If you are here, you already know that it is not enough to just have high-quality and useful content when we are talking about acquiring links to your source. Plenty of criteria should be taken into consideration when purchasing backlinks (find out more about the backlinks quality criteria). We took these criteria into account when we were creating our inventory. So now, you can easily find the sources that fit you. Just create a detailed link building plan based on the following selection criteria and get top 10 rankings on Google.
When buying links, the relevancy of the web page that your link will be placed on should be the first factor you pay attention to (get $50 – refer a friend). To make the process of choosing backlinks easier, we established SB Rank based on DA and PA of selected sources. There are many link building factors that contribute to high search engine rankings, so buying links relying only on these metrics will not accomplish your goals.
Select Relevant Sources
It's highly recommended to purchase links from relevant backlink pages. Relevant backlink pages are pages from other websites that have a chance to reach your target market. If you have a real estate website, then, of course, advertising on other real estate websites or real estate sections would be a good choice, but advertising on other related sites such as mortgage sites, moving company sites, local area guides etc. would also be relevant to your general theme.
Search by keyword, full URL or domain
There are three ways to set the search of relevant and right backlink pages for your website in our Buy Links Interface:

1. Search by Keyword/URL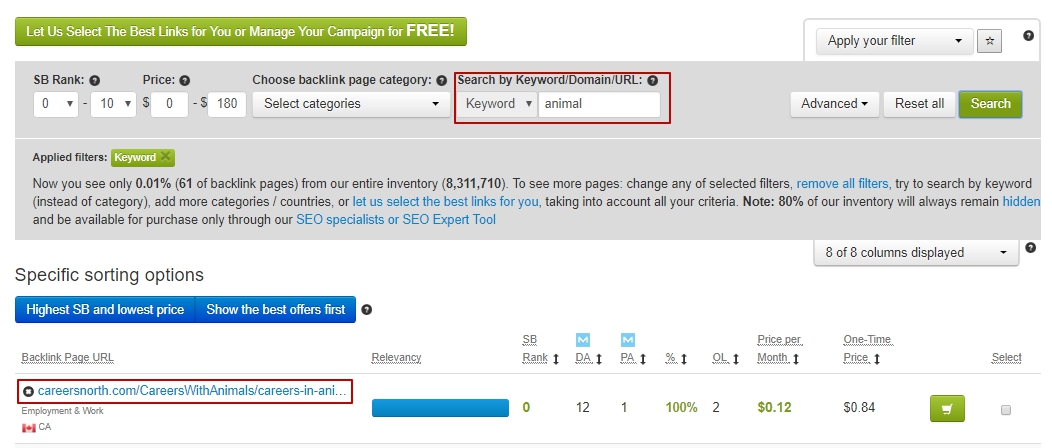 The Search by Keyword/URL Filter was designed to find the most relevant backlink pages. But before buying backlinks, count how many of them you need with the help of our SEO Cost Calculator.
Our 'Search by Keyword/URL' interface is a search engine that searches for your keyword within the content of our publisher's sites. Moreover, you can simply insert the URL of a specific page where you want to place your links. It allows you to find web pages that are relevant to your business and acquire links from those pages. So, to find a relevant webpage, from which you want to get a backlink, you need to submit some keywords that describe your business. Then you can purchase links from those pages with any anchor text that you want.
For example, if your goal is to achieve #1 on Google for keyword 'buy luxury houses', you can search for keywords like real estate, home, homes, house, houses, apartment, cottage, property etc. Moreover, you can also use keywords like mortgage and moving that are less relevant but still reach your target audience. Using such keywords will allow you to find many web pages relevant to your business. Then you can select the desired webpages, click 'Buy' button, and on the next step, you'll be able to enter your desired anchor text 'buy luxury houses' that will be used in the text links, pointing to your website. Getting backlinks from these relevant web pages will lead to significant ranking improvements of your site in Google SERPs.
Please, note that if you only try to find backlink pages in our inventory that contain your exact anchor text 'buy luxury houses', you'll find a much lower number of backlink pages relevant to your business. That's why we advise you to use some short general keywords related to your business to find more available backlink pages.
2. Search by Domain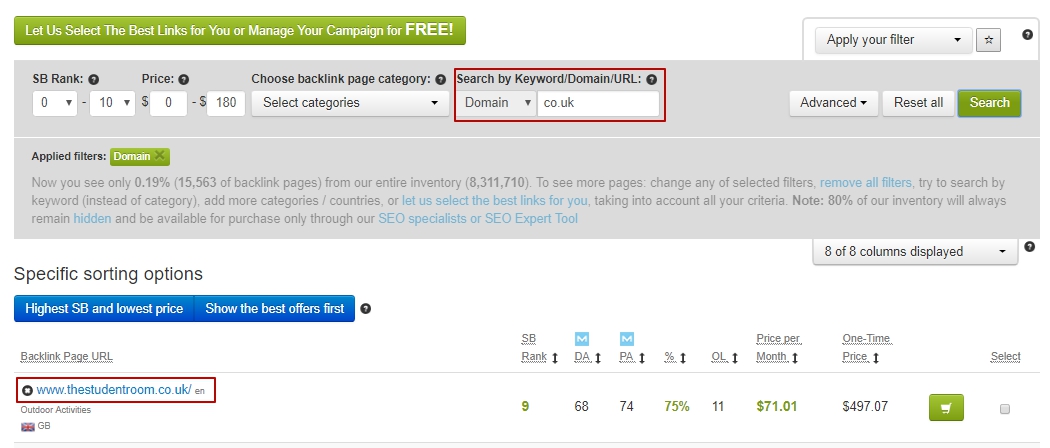 You can also find backlink pages from different domain zones. If you want to buy links from web pages with specific domain zones, such as .co.uk, .ca, .com.au, .edu, .gov, etc, type your desired domain zone into this field, for example, .co.uk, and press Enter. It allows you to see backlink pages in our inventory with .co.uk domain zone.
Select Appropriate Domain Zones. When selecting websites, it is essential to get links from different domain zones. Google loves .edu and .gov websites; they are trustworthy, and that's why links from these websites are rank well. It is great if you buy links from such domains, but don't overdo it, as it may seem suspicious if you have a lot of links from only .edu and .gov domains.
How to Buy Backlinks from .edu, .gov domains
Apart from searching for some well-known generic top-level domains as com, info, net, and org in our inventory, you can now find edu and gov domains that are considered extremely reputable in Google's eyes. It means that such backlinks will make your website more trustworthy and reliable, and give your website higher positions.
Edu domains are usually used by colleges and universities, or other educational institutions. So backlinks with such domains come from sources that provide users with verified and true information. The same applies to gov domains, which are basically used by governmental entities and agencies. Information from such domains is more than valuable and objective. Usually, edu and gov domains have Google's trust, and this is definitely good for your backlink profile.
To find backlinks from .gov, edu domains, insert URL in a search field and select the variant you need:
.gov/
.edu/
.gov.
.edu.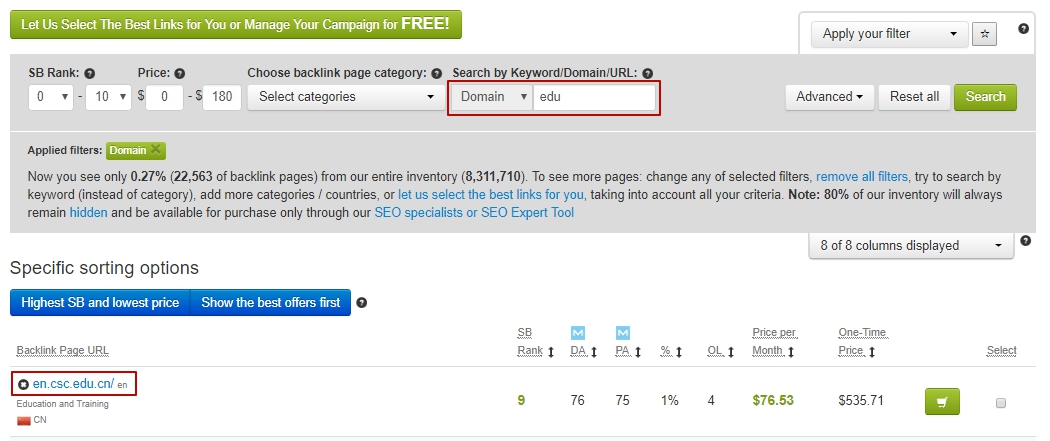 3. Search by Full URL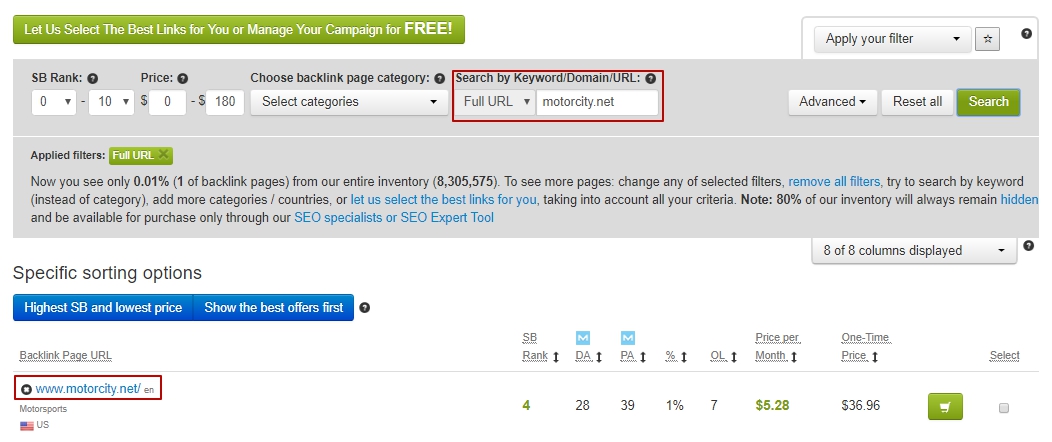 Find specific backlink pages or publishers by URL. If you want to buy links from a specific webpage, that you already know about, enter its URL in the Search by URL field and press Enter. For example, it can be useful when you receive an offer from your account manager with backlink pages selected for you manually, and you want to buy a link from those exact pages. Use this Search by URL field to easily find those pages in the LinksManagement inventory and buy links from them.
Choose Categories

Choose Backlink Page Category Filter helps to find relevant websites by choosing a category of the businesses which you are interested in. For instance, if you own a travel agency, then you can click 'Select Categories' button and then Recreation and choose 'Traveling & Hotels'. After you add this filter, you'll see all the backlink pages which owners determined as 'Traveling & Hotels' category for them. You can choose multiple website categories if your website is relevant to a different niche.
If you are hunting for a few high SB Rank links (SB4-SB8), but can't find such backlink pages in your website category, then you can remove all category filters, set the SB Rank and view all the offers from various categories with SB of your interest. However, it is strongly NOT recommended to buy links based on SB only since  Penguin update the webpage relevancy became so important. Sometimes even SB1 link from a relevant webpage can improve your site rankings much better than SB7 link from a not relevant website.
Moreover, an unrelated backlink can even lower your site rankings. So, focus on getting only relevant backlinks to your website. If you already have unrelated backlinks, pointing to your site, you'd better remove them and acquire relevant links instead.
Choose the region of your interest

Links from your country or region are more effective. Therefore, we have added the criteria where you can choose a region and even a ccountry sothat you can find relevant backlinks connected with your site and location. There are 7 regions:
Asia
Africa
Central America
Europe
North America
South America
Australia and Oceania
and 240 countries in our list. In addition, the search line will help you to find the country you're interested in faster.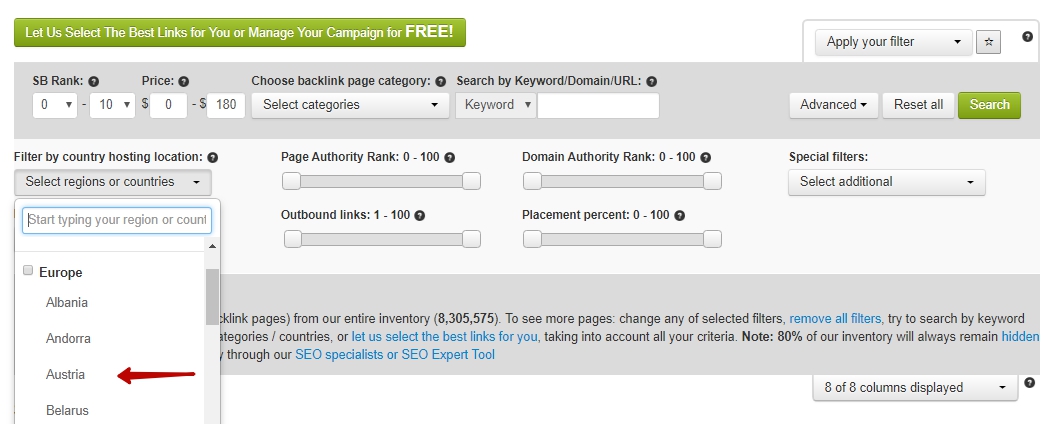 Language filter
Set the language filter to find the sites with content in English, German, Spanish, Russian, Italian, Chinese, Japanese, Swedish, Korean, Bulgarian etc. If you have a non-English site, it's always better to choose links in your language. The most relevant content is certainly written in language connected with your business.

What You Can Do to Increase The Quality of Backlink Page Offers
Below we will describe the tools which will help you to filter the most valuable backlink page offers.
1. Special filters

Unique offers per SB Rank -Use this option when you see too many offers coming from the same websites. Once enabled, you will see only one offer for specific SB per website. For example, if there is a website with 100 SB3 backlink pages and 50 SB4 backlink pages, and you don't want to see the long list of all these pages from this website, check this checkbox and LinksManagement will show you only one SB3 and one SB4 backlink page from this domain name.
Using the special filter you're able to exclude Blogspot links and Blog Platforms or choose only the main pages to be shown.
By choosing "Show the best results", you receive content filtered by this criteria.
We have an index =price/max.price for a link with the same SB
Example:
a link with SB5 costs $5, the maximum price for a link with SB5 is $60, the index equals 5/60=0.083
a link with SB0 costs $0.09, the maximum price for SB0 link is $1, the coefficient is 0.09/1=0.09
With this filter on, you'll receive a link with lower coefficient first in the link list. The lower index is, the better the link is. So, according to the example, the SB5 link for $5 is a better choice than SB0 link for $0.09.
2. Choose Domain Authority and Page Authority

Domain authority and page authority are the main indicators of the website's quality. These scores, developed by Moz, predict how well a certain website will rank in Google.
What do DA & PA include?
These scores are calculated by combining several website characteristics, which include the information about:
how many individual websites link to that site (linking root domain);
what are the total number of links;
the importance of the page on the internet (MozRank);
how trustworthy the linking source is (MozTrust).
In general, the higher DA and PA are, the better. It is also recommended not to select websites with DA and PA that are less than 10 points. However, It is also essential to pay attention to each of these indicators, as it can be that the domain has high authority whereas the page has PA 0.
How to select DA and PA of the page?
Press "Advanced" button;
Move the sliders to select how many points of PA and DA should be;
Select the price range in the tab at the top of inventory;
Press "Search" and select pages among suggested.
3. Choose Quantity of Outbound Links
The next factor, which is also important, is the number of outbound links. If the page has too many backlinks, it is more likely that a page is of a low quality and considered by Google as spammy one. SEO-experts suggest selecting pages where the number of outbound links is less than 10. To select pages with the exact number of the backlinks on it, move the cursor of "Outbound Links" filter as it is shown in the picture.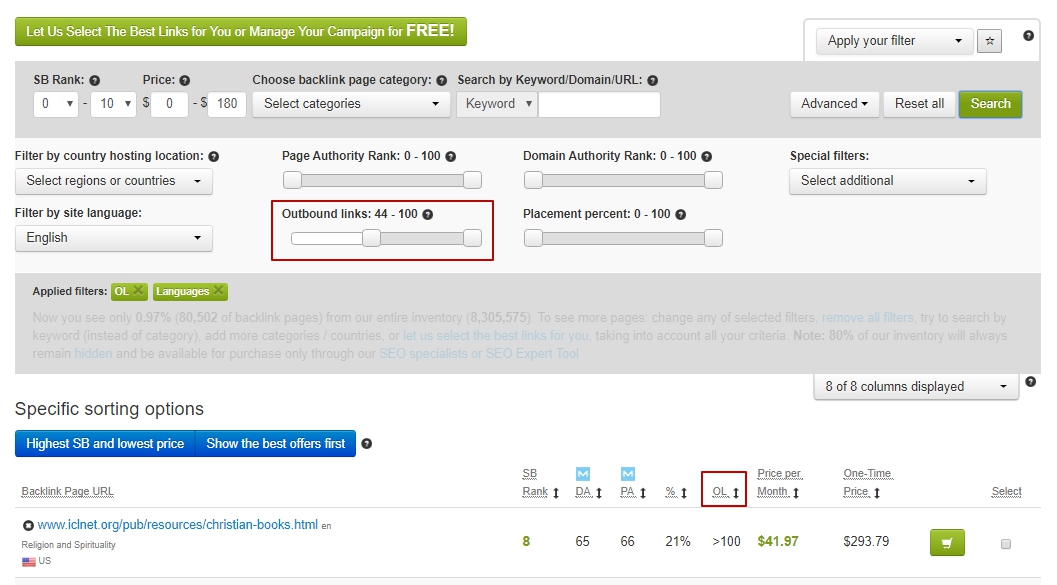 What's next?
What characteristics to look for when selecting websites for links purchase?
Click on the search criteria to sort by:
SB Rank
DA and PA
Percent of successful backlink placement
Number of external outbound links on a website
Price per month and One-time price
1. Placement Percent
"Placement Percent" indicator shows how likely a site owner will place your links on his page. Move cursor of "Placement Percent" filter to set a certain percent. It is recommended to select sites starting with 50%.

2. Does SB Rank matter?

Another characteristic that many people take into consideration when selecting sites for link purchase is SB Rank that focuses on DA and PA of a web page.
To set the SB Rank for backlinks, you should:
Go to the SB Rank filter in the left corner at the top of inventory
Enter the SB and press "Search" button
Nofollow or Dofollow Links
After you've successfully selected sources to purchase links in accordance with all the characteristics described above, it's time to decide whether to make your links dofollow or nofollow. You can learn more about types of backlinks here and now let's just focus on these two types. The main difference between them is that a dofollow link passes link juice to your website whereas the nofollow link doesn't pass any link juice.
Why do we need nofollow links?
Nofollow feature was created by Google in order to prevent spam, as a lot of link builders and black-hat SEOs just spammed in forums and blogs in order to boost their rankings. As many site owners place the links on their sources to other sources use nofollow & noindex feature, it will be strange if your website has only dofollow links, which pass the link juice. That's why purchasing links, select a few nofollow as well. They won't pass you any link juice, but thanks to them, your link profile will seem natural to Google.
Add Non-Relevant Offers to the Blacklist
While searching for relevant pages to purchase links, you can come across non-relevant offers. If you want no longer see them in your inventory, you can complain and add to the blacklist. When you click on a cross near to a certain backlink page URL, you add it to a blacklist, and all the pages from this website will be excluded from your inventory. Learn more about BlackList Function.

To add a domain to a Blacklist, you need to choose the reason why you complain.

How to find the blacklist of selected pages?
Go to your personal account in the right corner at the top of the page
Choose "My Blacklist" tab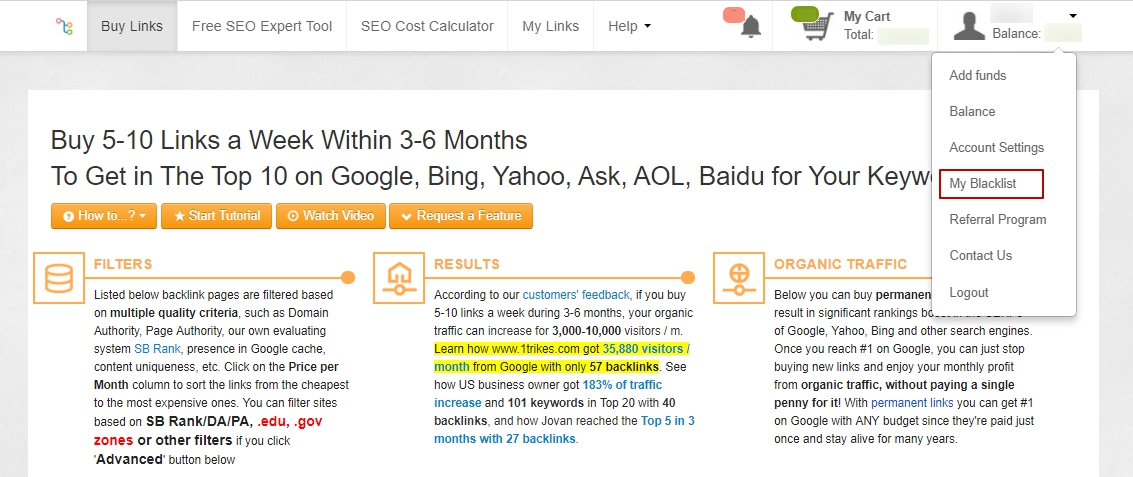 Find the list of the added offers
Delete selected websites if needed
How to Purchase Links
Select backlink page URLs where you want to place your links.
Press "Buy" button that is shown in the picture below.


1. Fill in the required fields in the appeared window.
add your URL in the first field
add content before your link (links that are surrounded with a content look more natural to Google)
enter an anchor text of the link
add content after your link
When you are making a decision what anchor text of your link will be, remember that it should be around 40% of links without anchor, 15-20% anchors with brand name or name of your site, 15-20% of informational anchors (here, this, website etc.) and 15-20% of anchors with the promoted keyword. E.g. "business plan", business model", "order professional business plan".
2. Put a tick to select "make the links nofollow" option if needed.
3. In the end of the window, you will see how your link with surrounded text will look like.
4. Press "Add to the cart" button.
5. Select promoted URL and Anchor text.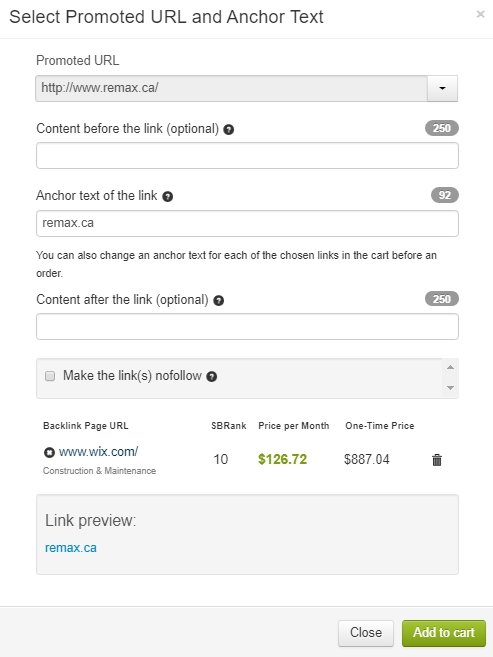 6. Go to "My Cart" where you will find selected links to purchase.
7. Check links that you are going to purchase, delete inappropriate ones if needed.
8. Select Monthly Link Type if you are not sure whether your project is long-term.
9. Or select Permanent Link Type if your project is long-term and you want to save money (Learn more about a lifetime of rented links). You can also convert links from monthly to permanent and vice versa if needed.
10. Add funds if you do not already do this and click Purchase Gradually button.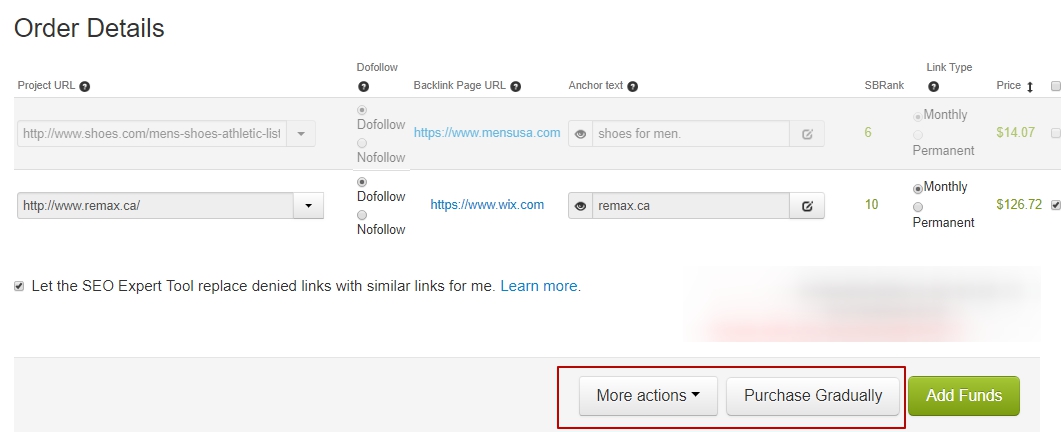 How To Add Funds?
Press Add funds button.
Select a payment method. It is recommended to choose PayPal Express Checkout method, to be sure that your backlinks won't be deleted if you forget to pay for them on time. There are 73 methods to pay. Choose the most suitable for you.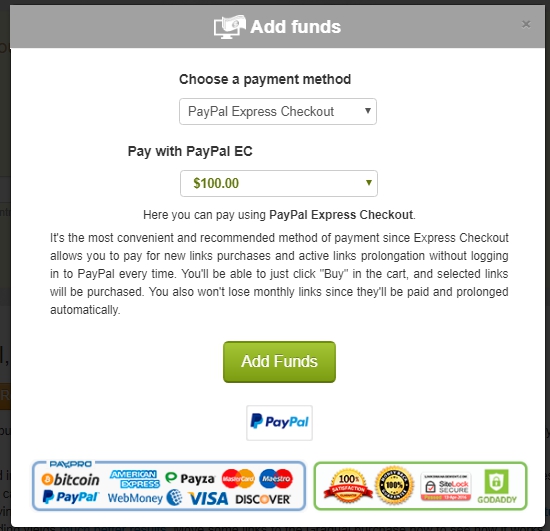 There is no exact number of how many links you need. The best advice that we can give you is to check the link profiles of your successful competitors, using any backlink checker software for SEO, and select links based on this information. Or you can also use our free SEO Cost Calculator to find out how many links you need and how much they will cost you.
Conclusion
While purchasing links, remember – diversity is what makes your link profile look natural to Google. When you select sources where you want to place links, please follow these recommendations:
Pay attention to the domain and page authority or SB Rank.
Don't select pages with content that doesn't relate to yours in any way.
It is better to select the category of the site that is the same as yours or at least similar.
Select links from sites that are from the country where you are going to provide your services.
Select a few links from .edu and .gov domains.
Check your link profile from time to time and get rid of bad links if they appear.
Build links steadily and gradually. Find out how to choose the speed of building links.
And once again, remember that diversity of links is a key to convincing Google that your link profile is natural.
Add Credit Card Preapproval method. It will charge you for the exact amount of money needed to prolong your backlinks. You do not need to pay each month manually.
Don't expect to receive results right away. Link building, as well as SEO in general, is a long-term process. It can take approximately 5-6 months and sometimes even more before you see the first real result of your work. Learn more when to expect results from link building.
You can also find competitors backlinks profile to examine their strengths and weaknesses. It will help you to build your link building campaign properly. For this purpose, you can use ScanBacklinks tool. It allows learning site's link profile. Learn more about SEO – download our SEO reports in PDF for free.
Please if You Copy or Rewrite Any Parts of the Content on Our Website, Make Sure to Include a Link to Our Website as an Original Source of the Content.

Related Posts