Payment Methods You Can Use On LinksManagement

Preparing of SEO campaign is being done, link building strategy is being planned. It's time to pay for the provided services. When it comes to payment for LinksManagement backlinks, there may arise many questions concerning the available payment methods. Thinking ahead, we have prepared this article to cover all your possible why and how questions.
You can pay for our services by clicking on the pointer (1) in the right upper corner of the menu bar. In the pop-down menu, you will find the "Add funds" command (2).

Clicking on "Add funds" will bring you to the payment window. There you will have to choose the payment method you prefer. Each of them has its advantages, which we covered below.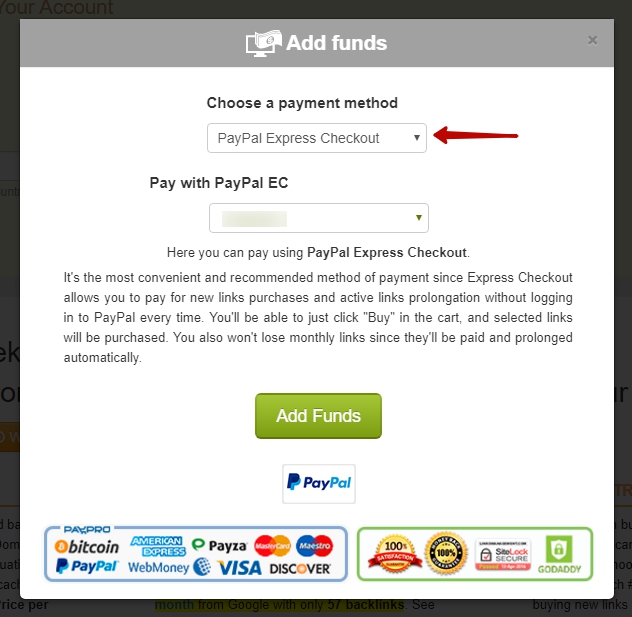 Payment methods in LinksManagement
PayPal Express Checkout
Payments with PayPal are super handy and secured at the same time. PayPal Express Checkout allows you to pay for the new backlinks as well as prolong the active ones without logging into your PayPal account every single time. Moreover, this payment method is the perfect all-in-one solution when you run the SEO campaign, prepared by SEO Expert Tool. Be sure that every step you have to do within your SEO plan will be done properly and you will take the minimal care of the financial matters.
To buy the selected links you will need to click "Buy" button in the cart and they will be added to your backlink profile.
Your monthly links will stay with you since the payment for their prolongation will be automatically debited from your PayPal account. We do auto-charging to ensure that your SEO campaign goes on and keeps all your backlinks together. It means that you don't have to worry about your SEO while you are away, too busy to keep control of your balance, or merely forget to pay by yourself. Moreover, our system lets you know how much money there should be in your account to purchase new backlinks or prolong the active ones.
Keep in mind that every time you add funds to your balance there is automatically created the PayPal Express Checkout Billing Agreement. So, if you want to refill your balance manually, cancel the Billing Agreement every time you pay for backlinks. This is done to cancel auto-charging.
Advantage: express payment without disturbing the smooth action of your SEO campaign.

PayPal Subscription
PayPal Subscription is one more method to preserve your links since it automatically charges you once per month for the same amount of money. The payment for your monthly links are automatically debited every single month, so the risk to lose your links because of payment delays is minor.
Usually, it works great if you have both PayPal Express Checkout and Subscription accounts. And you should clearly distinguish these two payment methods.
PayPal Subscription ensures that there is enough money for your monthly backlinks prolongation and you are charged the fixed amount of money every single month no matter if you have new backlinks to purchase or not, while PayPal Express Checkout keeps control of your active monthly backlinks to be prolonged over time, and takes care of new backlinks purchase within your link building campaign automatically. You can manage both of these payment types whenever you want.
This is the standard subscription procedure until you cancel it.
Advantage: automatic payment for the monthly backlinks
VISA, MasterCard, Maestro
Digital payments via VISA, MasterCard or Maestro cards are convenient, inexpensive, and traceable. They are also secure and trusted. You don't need to create an account in any other payment system to pay for our backlinks. Besides, these payment systems operate worldwide and offer a wide range of privileges to the cardholders.
The downside of such payment is that you will have to control the payments for your monthly links by your own.
Be sure that all the sensitive data on your cards isn't stored by us or our servers. Every payment made via one of these methods is safely encrypted and processed by our merchant processor which has an obligatory authorization from VISA, MasterCard, and Maestro.
When you lack funds on your account, we may automatically charged you for:
prolongation of monthly backlinks
automatic purchase of backlinks from Gradual or Campaigns carts
replacement of backlinks (this option has to be activated in My Links interface)
Still, you can always make sure that your monthly links and campaigns remain active. Just add the credit card for us to charge you for backlinks prolongation or new scheduled backlinks purchase.
Keep in mind that every time you pay with your card, there is automatically created the Billing Agreement. And if you accept it, we do auto-charging to ensure that your SEO campaign runs flawlessly and smoothly without losing the valuable backlinks. 
Advantage: common and secure way of digital payment
PayPro gateway (+ 71 payment ways)
PayPro is a digital payment system that helps us to accept payments online. This is our service provider that allows making payments via AMEX, Discover, Bitcoin, EPS, CashU and many other.
Advantage: you may choose the most relevant payment method
American Express
American Express is one of other leading companies offering payment solutions to its customers. Basically, people like AMEX cards for the excellent customer service and decent rewards for the cardholders. For your convenience, LinksManagement features a payment with AMEX cards for the links.
The payment process will look like that:
You'll be redirected to our merchant service provider, PayPro. After payment, funds will be added to your LinksManagement balance.

Please note that PayPro has 4.5% commission fee that will NOT be added to your LinksManagement balance. You will have to pay an additional 4,5% fee. To avoid this, better pay with PayPal since it has lower commission fees.

Customers from Europe may have to pay additional VAT tax (up to 19%). Since we pay taxes in USA, you may avoid paying this VAT tax by indicating the non-European address in the following step in PayPro interface. In case you use European address, you'll have to pay VAT for PayPro services. It means that these funds will NOT be added to your LinksManagement balance.
Bitcoin
Bitcoin is a worldwide cryptocurrency and digital payment system which was initially introduced in 2008. Making a payment with bitcoin is quick, easy, and ultra secure. The point is that you don't need to enter sensitive card information.
Instead, you'll have to use your Bitcoin Wallet to pay a Bitpay invoice. Alternatively, you might send us payment manually directly to our Bitcoin wallet. Learn more.
Advantage: an option to pay with one of the most secure and stable currency in the world
WebMoney
This is the well-known system and environment for online business activities with a high-security level. All payments within the system are safe and anonymous. If you encounter any difficulties paying through the WebMoney interface, you can also send us payment manually.
Please if You Copy or Rewrite Any Parts of the Content on Our Website, Make Sure to Include a Link to Our Website as an Original Source of the Content.

Related Posts