What Is Prohibited When Buying Backlinks for SEO: Short Rules
It's a well-known fact that Google uses links as a benchmark for the website's credibility to rank it higher. And as the algorithms are constantly updating, the search system now weighs link quality over sheer link quantity.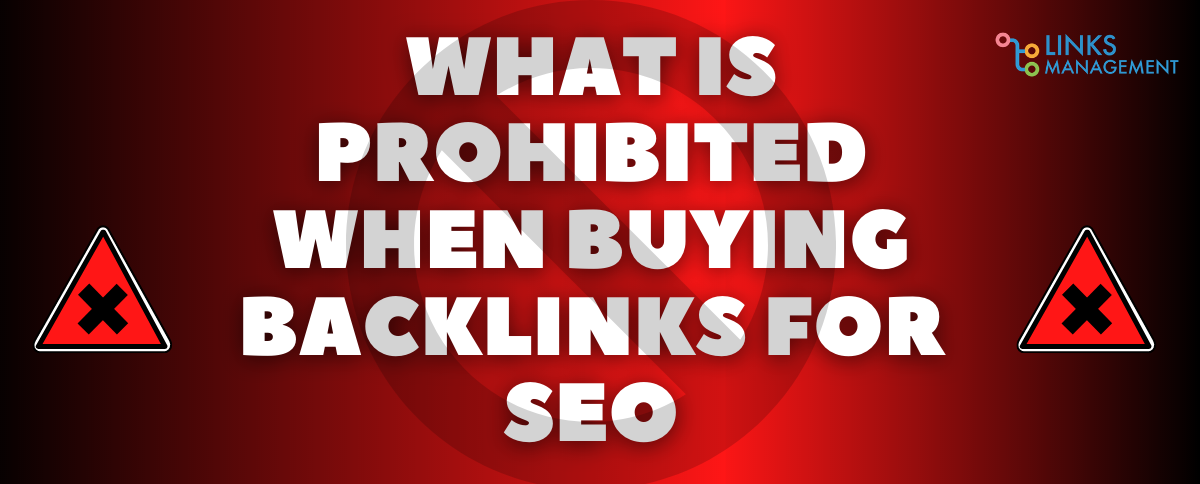 Today, paid backlinks come in various shapes and forms. Some links are black-hat, some are white, and others are somewhere in between. Therefore, effective link building is more of an art than a pure SEO strategy. And if you are not well-versed in this art, some of your takes may backfire.
In this article, we'll discuss some link building do's and don'ts that will help you find your way around it and avoid typical mistakes and prohibited actions when buying links.
Google's Stance on Link Building
If you've ever rebounded from Google penalties, you know the struggle. The repercussions are painful: lost organic search visibility, traffic, and, of course, revenue. Ouch. And even if you are among the lucky ones whose record is clean, the looming threat is a cause for concern.
It's crucial to play it straight with the search engine with unnatural links lurking around every corner. So better leave blog networks, paid links, and comment spam in the past.
Link building, on the contrary, is a viable strategy to get in Google's good graces, if done properly. However, the search engine titan does not settle for manipulative links. To make a link building homerun, make sure you:
check the DA of a backlink;
share superior-quality content (relevant and SEO-friendly);
create amazing share-worthy infographics;
chart out an outreach strategy;
solve the broken link problem;
have internal linking in place;
use testimonial link building.
Overall, a high-quality and pitch-perfect copy is what helps win Google over and enthrall your audience at the same time.
Do's and don'ts when buying backlinks
Although Google's algorithms don't like to mess around, there are still a few things you can do to boost your rankings by using mighty backlinks. Let us first go over the don'ts of link building practices.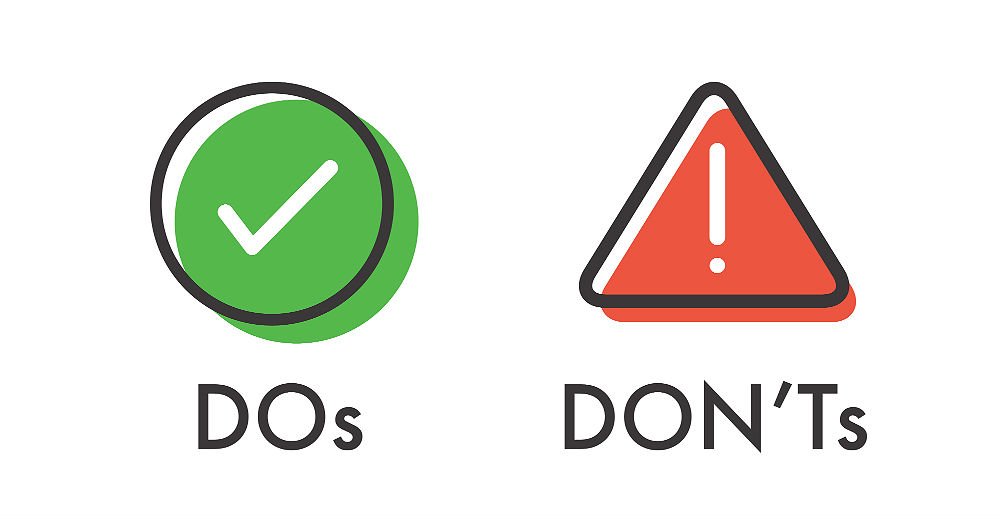 Don't Build Your SEO Strategy on Link Networks aka House of Cards
Probably, the cutoff way to build a glorious link profile is to buy 1000 backlinks on a link network. Why not stock up on a load of domain names, create tacky websites, and enjoy your links? Indeed, buying backlink packages is the shortcut for an easy win, but it can easily end up being your hardest blow.
In simple words, a link network is a bunch of interconnected sites that often have the same owner. And the biggest issue with a link network is the low quality of interconnected websites, including hideous spun pieces and over-the-top cross-linking. These sneaky links will murder your positive relationships with the search system.
Do not Buy Cheap Backlinks from Fiverr or Any Other Low-Cost Marketplaces
Using Fiverr gigs as your one-stop backlink shop is another popular mistake made by non-tech-savvy people. With countless spammy offers promising to build 100 diseased-ridden links in 24h, it is tempting to fetch a bulk order for half the price. But if you opt for budget services, you usually get budget results. 
The links are typically created from web 2.0 tools, which suggests their poor quality and a high link velocity. Unless you don't care about getting penalized and falling off the charts, you can go ahead and trust your platform to the local 'pros'. In other cases, steer clear of buying backlinks in bulk since legitimate links don't happen overnight. And remember that link building cost shouldn't be suspiciously low.
Do not Turn to a Vendor Offering You to Get Placed on Authority Sites
Buying pagerank backlinks is not the magic bullet for whipping your SEO into shape. Domain authority backlinks are good, but relevant links are better. Essentially, relevant links are links put within valuable and useful content.
An irrelevant domain with an impressive DA score can't be on a par with a platform that's firing relevancy on all fields. Surely, there exist unicorns that have both a high DA and niche-relevance covered, but it's not always the case. In most cases, you can't have a double win. Therefore, if you get to choose between the authority domain and relevance, the latter is more critical since relevance accounts for bona fide natural links.
Now that we've gone over the dirty moves of backlinking let us proceed with holistic tips that will get your website ranking higher in no time. But before we start, here's a quick disclaimer: almost all suggestions are based on an outreach-driven approach since it guarantees that backlinks are placed on quality sites.
Craft Value-Loaded Content
Valuable, high-quality content is the bread and butter for an effective SEO strategy. Make sure your website shares robust and detailed information, whether it's your About page or a tech blog.  Original, compelling, and keyword-infused content tends to naturally receive more backlinks because people love to share enthralling posts. Additionally, if you deliver value and relevance, webmasters and editors are more inclined to link back since your platform shares linkable assets.
Reach Out to Real Sites and Blogs
There is nothing wrong with contacting niche-specific sites and asking them to link back. If you've taken care of your content quality, chances are, site owners will respond to your request with no problem. The best place to start is your customer base since satisfied customers will be more than happy to list you as a preferred partner.
Another vital tip to keep in mind is that all links are different. Do not chase quantity – always choose quality. Quality-driven linking opportunities can be found on reputable news and niche-based publications, educational platforms (.edu), government websites (.gov), and organizations (.org).
Overall, always seek opportunities that apply to your company's vertical. As mentioned above, if you are to choose between a domain level and relevance, the second option could still be worthwhile.
Comment Posting on Blogs and Forums
Let's address the elephant in the room: comment backlinks are deemed low-quality SEO-wise. But despite ongoing Google updates, commenting on blogs and forums may still come to fruition if done properly. 
If you fetch some links on decent blog pages, you'll add more relevant diversity to your link profile and score some Google points. All you need is to find niche-relevant blogs and forums and chip in to the discussion, firing extra value to the users. Just make sure you don't go over the top with commercial keywords as your anchors.
Genuine Guest Posting
This surefire technique is among the most popular ways to fuel your SEO efforts. Guest posting allows you to expand your horizons, win over new followers, and interact with them on platforms they use. Being the most treasured tool of all SEO wizards, this inbound marketing technique helps site owners drive new traffic and double their revenue.
You can either look for niche-relevant platforms on your own or turn to guest posting services that will handle mundane tasks, including generating quality content.
A quick tip: If you're engaged in the automobile industry, it'd be pointless to pitch editors at publications about, say, software development. In fact, it is almost impossible to submit content that polar and fetch relevant on-topic links.
Catch the Eye of the News and Press
This tip sounds surreal, yet all is fair in love and Google rankings. A newsworthy publication is sure to make a noise in the press world and add inestimable assets to your link box. You can achieve this effect by posting something controversial and pressing. Again, a pitch-perfect crisp copy has every chance to grab headlines.
Find Bloggers Who Don't Raise Money and Offer a Paid Link
Since the prevailing majority of bloggers aren't getting compensation for their efforts, offering a sponsored link has the highest hit ratio of all outreach approaches.
You can find countless possibilities to reach bloggers:
Ahrefs content explorer
Google 'a keyword + top bloggers'
Search Twitter profiles
Look for contributors on major media sites (not editors).
However, there remains a possibility that bloggers will get offended by your bold offer. But hey, that's part of the outreach game.
5 Link Building Don'ts You Didn't Know Existed
So, now that we've got to grips with the apparent SEO rules let's move on to the obscure link-building DON'Ts.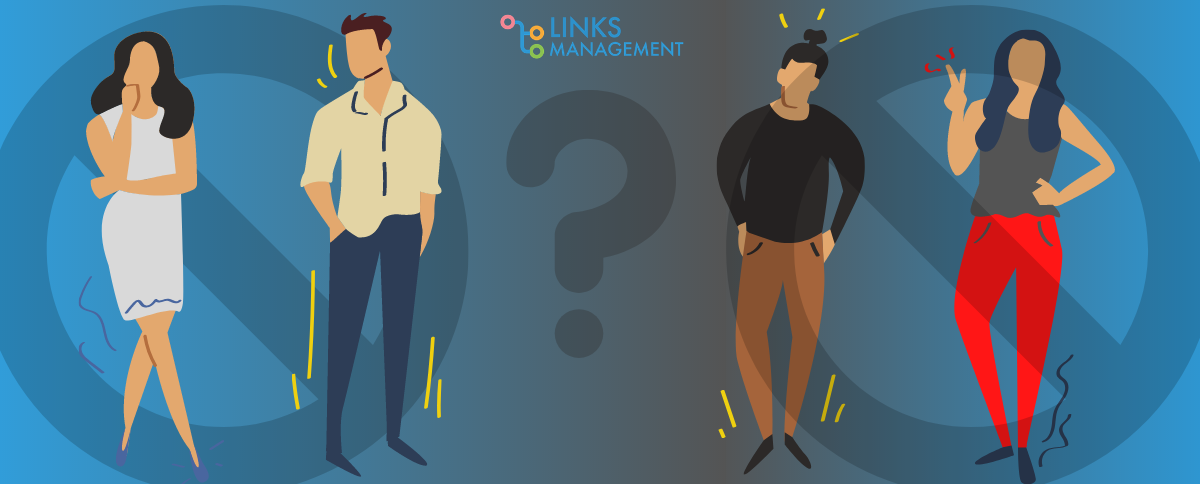 Linking to Just Your Homepage Doesn't Work
You might have thought that internal linking boils down to obtaining links to your homepage. Well, it doesn't. You should make sure to amplify internal pages to skyrocket the overall SEO of your site, rather than just drawing more links to the main page. Otherwise, your link building will appear irrelevant to the search engine.
However, if someone mentions your brand in general, the main page reference will seem on point. But if your product or services are in the spotlight, the main page linking is unnatural and far-fetched. Besides, more diverse linking accounts for a higher conversion rate on your platform.
Do not Buy Specific Links
By this point, you should know that buying links in bulk violates Google's webmaster guidelines. If high ranking is what you're aiming for, steer clear of this tactic by all means. But what about paying for a specific link from a nice, niche-relevant platform? Will it affect your long-term ranking? Will the all-seeing Google remain laissez-faire in this case?
The chances are high that you'll manage to get away with just one paid link. However, it's still a non-viable SEO technique. If the platform has sold you one link, it is probably ladling out inbound links to other brands as well. As the amount of suspicious links on a platform grows, the penalty threat is coming after you.
Do not Spin Your Content
Most brands and individuals are wary of reposting the same content, yet content recycling is still a widely used technique to fetch more inbound links with no quantifiable costs. Little do they know that recycled content still remains copycat content since manual or automatic switching and altering do not create new copies. In the long run, this black-SEO trick can backfire.
Instead, try crafting unique and engaging articles each time you're pitching a new platform. Yes, creating new content is time- and money-consuming. But no one said it'd be easy.
Do not Leave Out Social Media
If you're taking your link building strategy seriously, leverage your social media presence to add extra SEO weight. Social media does not contribute to high ranking per se, but the shared links build brand awareness. They account for extensive content distribution, post longevity, increased brand exposure, and local SEO metrics. That is why getting shares, tweets, and reposts will improve your website credibility.
Besides, the number of followers you boast on social media affects your rankings anyway. The bigger your audience is, the more possibilities you have to get eyeballs on your content.
Do not Get Into Foul Play
Today, Google's real superpower of detecting unnatural links is more robust than ever. That is why your link building strategy should become natural in the full sense of the concept.  Ideally, natural links are ones that you didn't have a hand in. In practice, natural linking means that the content is beneficial to the user, and all links are weaved into the relevant content. You should never have the number of quality links as your primary aim. Drive as much value as possible, and you'll enjoy the rich SEO rewards.
The Bottom Line
No SEO strategy is complete without link building. While it is considered as one of the thorniest and labor-intensive SEO tactics, the benefits your website obtains compare favorably to other tricks.
Over the years, Google's policy toward inbound linking has become more stringent. Today, it's not the quantity that matters, but the quality of each link. And with ever-evolving guidelines taking effect, most website owners can't yield impressive results. Therefore, if you are not on a first-name basis with inbound linking, consider turning to professional backlink services. The backlink agency won't play with search engine algorithms; instead, you'll get to blaze the trail with your URL.
Get into the Top Google Ranking
free
SEO Cost Calculator Tool
Enter URL & See What We Can Do Submit the form to get a detailed report, based on the comprehensive seo analysis.