Affordable Quality Backlinks from PR1-PR7 Pages: $0.93 / Link

Note:

 Google has recently cancelled Page Rank, that is why some information in this post may be out-of-date. Instead, we use a new system of links ranking – SB Rank, which is based on DA and PA index.
In order to buy cheap backlinks from PR1-PR7 high quality backlink pages at LinksManagement for such prices as PR1 for $0.93, PR2 – for $1.05, PR3 – $1.74, PR4 – $3.09, PR5 – $7.74, PR6 – $49.26, PR7 – $105.21:
Once you login, click on the Cost per Month column in order to sort the links from the cheapest to the most expensive ones.
Select desired backlinks and add them to your cart. Learn how to find highly relevant backlink pages.
Go to your cart to complete your purchase.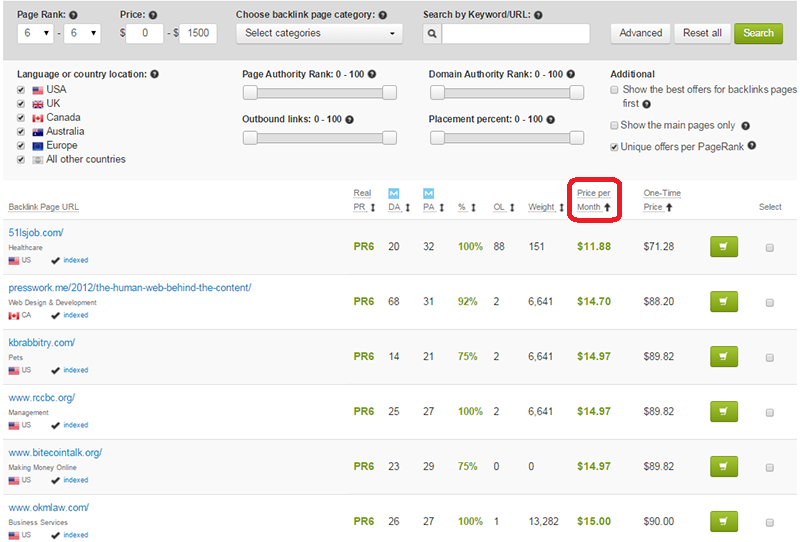 That's how you can buy cheap high PR backlinks at LinksManagement. However, extensive link source base gives ability to get cheap backlinks even from the websites with the highest PR. Learn more about our PR1-PR7 Link Building Service.
Please if You Copy or Rewrite Any Parts of the Content on Our Website, Make Sure to Include a Link to Our Website as an Original Source of the Content.
Related Posts