What is the best keyword rank tracker?
If you are engaged in website promotion, you should constantly monitor the position of the website using the best keyword rank tracker to show the client the results of the work. If you promote your own websites – checking positions of the sites you need to understand the situation and objectively assess the results. Developing a website, you spend time and money on content, links, hosting, domain, etc. But if you do not have a list of queries, using which you want to reach the TOP 10, it is monkey business. Moreover, using only the best keyword rank tracker you will achieve success promoting your site.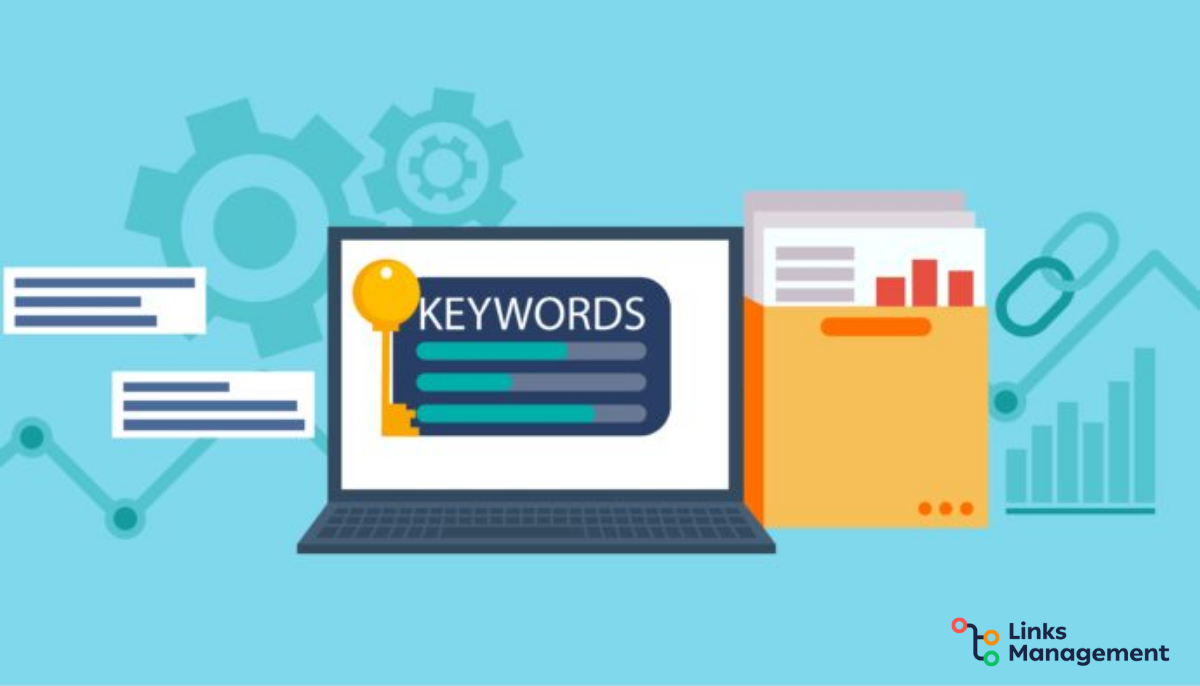 How can you assess your progress and achieve goals if you don't know them? High positions for relevant queries with a good level of traffic is the criterion for the success of the website's search promotion. There're a lot of SERP tracking services 2019 with different functions and achievements. Some of them are simple, others are complex. You should choose a rank tracking service depending on own needs. All in all, SERP tracking services are a very important part of any site promotion campaign.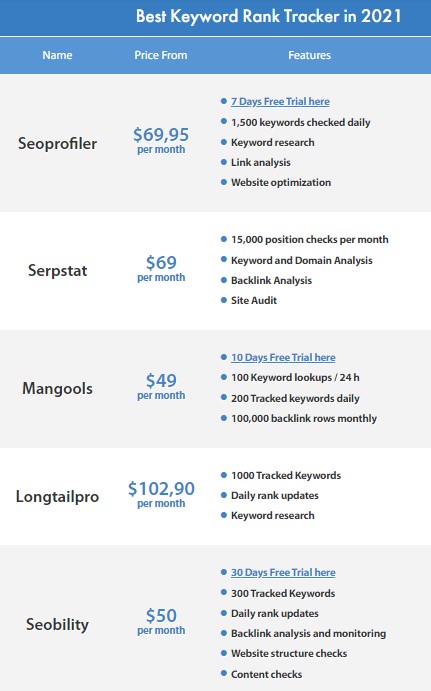 What is the best keyword tracker and why is it important?
In everyday practice, the promotion of a personal website always requires tracking the position of the website in the most basic search engines. The most convenient tools for this are automatic online services for tracking site positions. They provide users with all the information about the dynamics of the development of their sites and services, as well as the changes in the position of the site for an accessible period. It gives you, as an SEO specialist, the opportunity to get information in any form convenient for you, any time. It saves your precious time. Of course, you can spend a huge amount of time manually tracking the positions of your sites for each keyword. But it's much easier, more convenient, and faster to use specially created tools for monitoring sites, and to direct the main efforts on analyzing the results to optimize the site.
SERP tracking services 2019 help to track the daily rank of any website for a custom set of basic or targeted key phrases. You can track rank targeting geographic location and even device type (mobile phone, computer, laptop, tablet, or other devices). Rank tracking service implies many functions, such as tagging, filtering, sorting, and exporting reports. It allows specialists to find the most important information with ease.
SERP tracking services are:
Specialized online services;
Multifunctional services like Ahrefs or Semrush;
Desktop applications.
Dozens of multifunctional and specialized online services and desktop applications have been created for an quick, automated, and high-quality analysis of search results. They make it possible to almost instantly check a site's position in search results for many numerous key phrases, words in different search engines. You need not install the best keyword rank tracker software on a computer or other technical device if you don't want it. Analysis can be made using online services.
The creators of the best keyword trackers want to make working with them as comfortable as possible for the client; therefore, they constantly improve the interface and add various new functions. Unlike standalone programs, they work much faster and do not require installation of additional software and regular updates on a computer.
The advantages of using the best keyword tracker 2021:
Significant saving of time (especially if you need to check more than 50 requests);
High accuracy;
Advanced functionality (you don't track only positions, you also form a semantic core, analyze competitors, create reports, and collect statistics on many parameters);
Dynamics analysis (formation of a ready-made summary with visualization is very handy);
The ability to change geotargeting settings;
Various types of technical support and advice.
What functions the best SERP keyword rank tracker must have?
Below you will find the functionality that a SERP tracking system must support. The more functions from the text below there are in the service, the better it is. Of course, the more functions the more costs. Cost is a very important aspect, because nobody wants to overpay. As you will see below, depending on your requirements, the amount for checking the same number of keywords may vary several times from service to service.
Supported search engines. The mandatory presence of Google search engine, as it is the main one on the Internet; other search engines like Rambler, Bing, or Yahoo are not critical and are considered as a nice bonus.
Regular site's position check (daily, weekly, monthly). Daily positions check, of course, is a waste of money, because during one day your website page may take different positions for a given keyword. To see the trend and change dynamic, you should analyze positions once a week. This approach allows you to adequately assess the situation and save money. If you analyze positions every day, you will spend 7 times more money than analyzing positions once per week.
Site position checks on demand. Sometimes you need to check positions off the schedule or check positions for specific keywords. This is where you need a check on demand.
The ability to check position by region/country. If you have clients in other countries or if you promote websites in regional search results – for example, geo requests related to a specific city/region (e.g. "Chicago dentistry" or "hairdresser in New York") – you need to know the position of the site in that country or region.
Exporting reports to .CSV or .PDF. Exporting data about a website's positions is necessary to be able to provide reports to customers and to back up data. Some services have time limits for the duration of which they store positions.
Guest access. Generating and sending reports to customers takes time. Guest access to statistics on the site's positions allows you to give the client guest access, so that they can view the current position of the website at any time.
Display competitor sites. If someone is trying to get into the TOP 10 for the same requests as you, you need to take a closer look at these sites, perhaps you will find relevant requests that you have not thought about before. Almost all specialists try to find out what the 3 closest competitors in the niche are doing and replicate their best strategies. Many of them use the best SERP keyword rank trackers to analyze competitors. If you are not a professional in the niche, it is convenient not to guess who is really a competitor. The best SERP tracking services 2021 will show sites that are most often met by your requests – they are your direct competitors.
Sending reports by email. The generation and forwarding of reports to customers may take a lot of time. Automatically generating reports and sending them to the right addresses according to a schedule allows you to save both your time and that of your customers.
Viewing the dynamics of growth and decline in positions. It is convenient when the service shows the dynamics of growth and decline in positions compared to a previous date. In such a way, you can see whether there was a drop in all positions or only some queries have fallen. It allows you to respond quickly to possible problems, search engine sanctions, and updates.
The ability to create graphical reports. A lot of specialists like graphical reports because they show the change dynamics much more vividly than a table. The ability to build charts based on site positions is important in SERP tracking services.
Displaying the popularity of the query. It comes in handy when you can immediately see the popularity of the query and the dynamics of growth in positions. It helps to prioritize requests and correlate the traffic to the website.
What SERP tracking service is the best?
There is no answer to what the best keyword tracker is. All of them are different and suit different purposes. As a result, it is best to use only the best keyword trackers (specialized), because they have a convenient interface, high accuracy, and speed of removal of positions, but they are also more expensive. For $100 you will be able to track positions, and for the same $100 Ahrefs and Semrush will analyze links and search for keywords. If it is a desktop tracking tool, as a rule, it can build backlinks and have some other functions.
Semrush or Ahrefs: which one is the best keyword tracking tool?
We can advise you on some relevant multifunctional services for tracking the positions of the website. We know some tools for the most convenient and quick promotion of the site. They may not be cheap but they're very useful.
Semrush is the best local keyword tracker with a lot of tools that are designed to promote and increase the effectiveness of site promotion as well as marketing in general. Perhaps the most basic and most significant function of this specialized service is to quickly check the position of a given site in search results. Also, what can be attributed to the advantages of this particular service is that it provides its customers with the opportunity to compare specific indicators with those of their competitors.
Ahrefs is one of the best keyword tracking tools for analyzing a website. Using Ahrefs you can find parameters, backlinks of sites, analyze available competitors, and build strategies for raising site in the search results.
It is worth noting that there are many different services for checking the search result position of the site. Choosing the right online service or software for your requirements and your financial capabilities should not be difficult.
5 rules that improve site's position in Google
Improved snippets 
Enhanced snippets attract much more attention to the page. Applying micro markup, you can form an attractive and clickable snippet for the user. You can add the most advantageous page titles to a snippet, change descriptions, use navigation chain instead of long and bulky URL. By the way, recent research proves that URL attractiveness also affects the number of clicks on a snippet.
Optimization of the "least valuable" pages of the site 
The meaning of this approach is as follows: sometimes, the website has several pages that are not of particular value to users and are not very well indexed by search robots. To understand how much valuable content the pages of the resource contains, the webmaster should analyze the entire site. If any pages are of poor quality or contain advertisements or content that are useless to the user, they should be excluded from indexing.  Do not neglect these actions to improve pages. This allows you to significantly increase the number of pages of the resource in the index.
Page load speed
Increased page load speed can reduce the number of returns to SERP from pages of your website. This increases the number of visitors who appreciate content and boosts the site rank in search results. Increasing page load speed may not be cheap, but it is worth it.
Reviews on the website
Ask visitors to leave reviews on your website or share the content page with friends on social media. This  increases the amount of links to the site, which will consequently improve the search results rank of the site. Why? Because links are an important part of how search robots work.
Improvement of the pages with little organic traffic from the search results
There are pages that are distinguished by a large number of re-transitions, user involvement in the interaction with content, a large number of clicks on the content of the page. But they get no traffic from the Google. Most often, the reason lies in the fact that such pages have not been correctly optimized, and keywords are not relevant to search queries of users.
It is important to identify these pages and attract professional SEO experts to work on them: choose the right keywords, optimize the headings, more actively distribute content on social networks and services. Sometimes it makes sense to change the URL and then use 301 redirect. This method will allow the owner of the resource to achieve the re-indexing of the page, and it will finally get the deserved search traffic.
Get into the Top Google Ranking
free
SEO Cost Calculator Tool
Enter URL & See What We Can Do Submit the form to get a detailed report, based on the comprehensive seo analysis.