Best SERP Tracker
Google's algorithms are becoming smarter and smarter. Therefore, as a rule, one Internet project requires the efforts of a whole team of developers, designers, marketers, SEO specialists, and content writers in order for the site to begin to receive traffic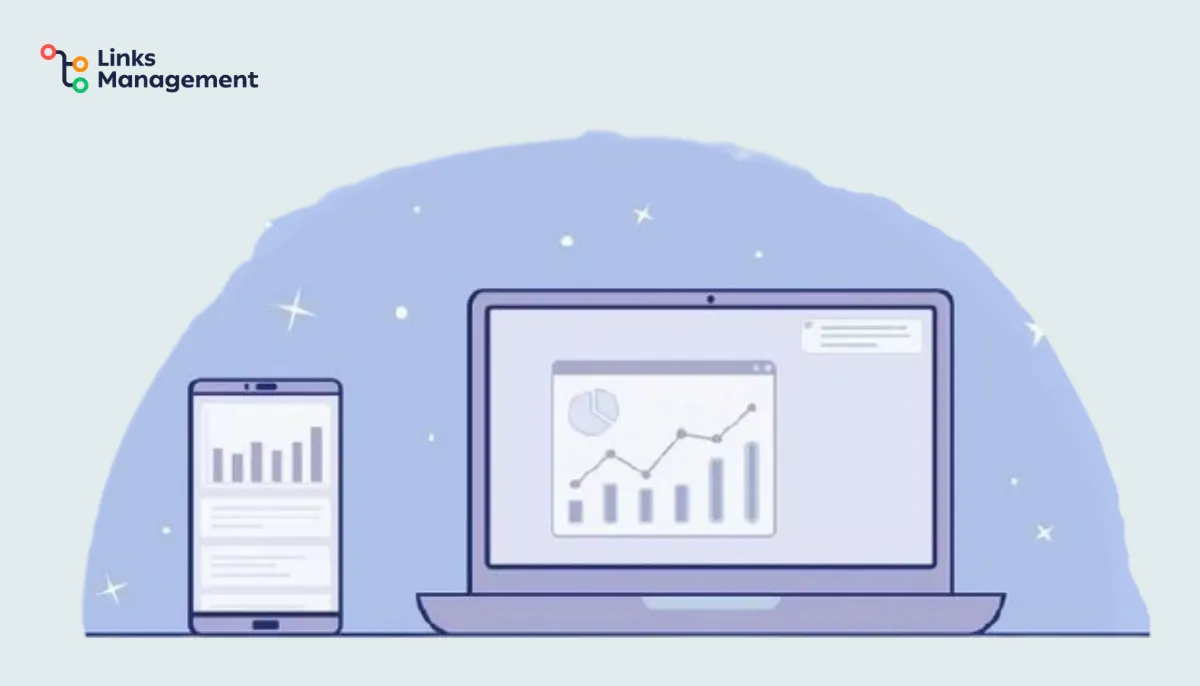 However, Google's algorithms of 2021 are not only getting smarter. In addition, they change quite often. That is why it makes sense to check the site's position in the search results from time to time, and most importantly, be sure that you get the most accurate result. This means that you need the best SERP tracker app, and of course, it's worth starting with an understanding of how it works and what benefits it can give you.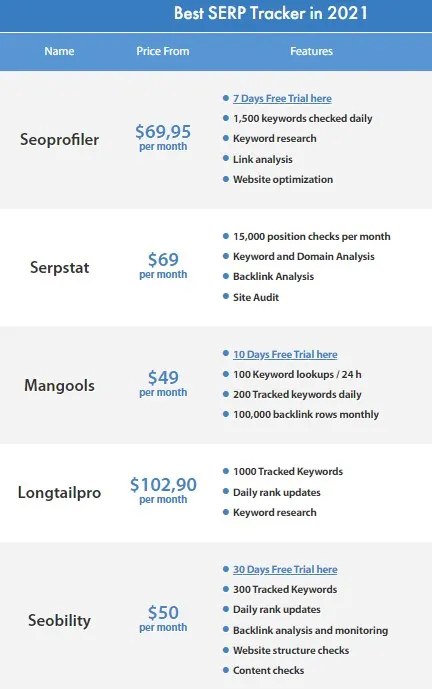 The Best SERP Tracking Tool – What Is It?
The best SERP tracking tool is a specialized application based on search and rating algorithms. In simple words, this program requests data from search engines and specifies your SERP position depending on a particular key request.
It is also possible to talk about the SERP tracking tool as an analytics system. Some programs provide access to a whole array of data about your site, while not being limited to data on search results. Next, we will look at the types of such programs, find out what basic functions they should have, and also help you make the right choice.
Who Needs SERP Tracking Services
The best SERP tracking app allows you to evaluate the effectiveness of your SEO and content strategy since the application is able to show your progress for each of the keywords that you have chosen for your semantic core. Who will benefit from this information?
SEO specialists who work on website promotion in search results. SERP tracking is a key indicator of the effectiveness of an SEO specialist.
Link builders and outreach professionals. Keywords are not the only factor that Google takes into account when putting your site on one or another position. Google also rates backlinks. Thus, by making a SERP analysis, a link building specialist can evaluate how effective one's strategy is and how links from third-party resources work.
The direct owners of projects who want to control the promotion of the site. Trust and a contract are unquestionably good, but accurate reports are always better. The best SERP keyword rank tracker allows you to generate reports in the main convenient formats, as well as track the dynamics of your success.
Why Do You Need to Track Your SERP?
As one of the founders of the best SERP tracking tool said, "Having a company site does not guarantee sales growth. It is necessary that the user stumbles upon the site exactly when he or she is looking for an online place where to spend money. "
In simple words, you need an analysis of your search positions in order to:
set a benchmark. If your project is new, then you need to understand what position you are starting from and continue to observe your development dynamics.
sensibly evaluate your place in a particular business niche. Obviously, the top position, the fifth row of the first page, and the third page of search results require completely different response strategies.
understand the effectiveness of a particular keyword around which you create your content. For example, you can assume that users use a specific search query when they search for you, but in reality, the picture is a bit different.
develop a new response strategy in time. Promoting your site without understanding where you are and where you are going is like walking through a maze without a flashlight. You can wander forever. A SERP analysis gives you insights into what you can improve already today.
For example, some programs allow you to understand the causes of a sharp outflow of traffic. Next, let's find out how to choose the best software for SERP analytics and what functions should be implemented in a good application.
How to Choose the Best SERP Keyword Rank Tracker
Before choosing the best software that fits your business needs, it is necessary to compare several applications according to the following criteria.
Consider the Main Types of Services
There are several types of services for SERP tracking.
Specialized online services. This is the easiest option. Many free services are implemented as a one-page application with a string for your URL. After clicking the Check button, you get the result of your site. It is worth noting that free online services do not always give an accurate result. Paid online applications look more reliable.
Multifunctional services. In this case, you can analyze not only search results but also receive other insights about your business, for example, analyze traffic, user behavior, mentioning your brand on social networks, the presence of backlinks, and much more. Of course, access to all of these features is paid.
Desktop applications. As for desktop applications, they usually require a license for a year or for life. At the same time, you can perform any number of checks, and this does not affect the cost of the license.
Cloud applications. In general, cloud applications work almost the same as desktop ones, but you do not need to download them to your computer, and the license is replaced by a subscription. You can only subscribe to the services you need if the developer offers something more than SERP analysis. Plus, cloud applications are more reliable in the context of the security of your data.
Analyze Main Functions
A good application should have the following features.
Keyword analysis. Of course, keyword analysis is a top feature that should be in a good SERP tracker. All other functions do not make sense without this. Moreover, user requests, trends, and market dynamics are changing, therefore, your SEO core 2021 also cannot be static. A SERP by keyword helps you understand which search queries work best and which don't work at all. Plus, you can test new keywords this way.
Competitor analysis. All professional marketers speak unanimously – before you start to do something, look at what competitors are doing. It may be honest, or not very honest, but competitor analysis is always a whole pool for new ideas for promotion. In the case of SERP analysis, you just need to add a competing address to get information about its positions in the search results and keywords that work best. Each application allows you to analyze the results of competitors in different ways, but this is a must-have function regardless of which SERP tracker you choose.
Analysis by region. One of the features of search engines is that search results become as local as possible, especially if it's a commercial request. That is, if you make the same request, for example, buy a Gucci dress, in Detroit and in Chicago, then the list of sites that you get as a result will be different. This is how regionality works, and you definitely need to consider this during your analysis. This will be ideal if you can compare your position in the context of the whole country with the search results in each city of interest to you.
The number of search engines. Ideally, your software should work not only with Google. Yes, Google is the main source of traffic for most sites in the world (with the exception of China and Russia), and yet, it is sometimes useful to look at your results in Yahoo and Bing as well.
Distributed monitoring. This feature will be useful if you have several online projects, or you work with several projects as an executor. In other words, this is the ability to create shared accounts or demo accounts, for example, to show the customer or someone from the team what the dynamics of website promotion are.
Prospects. If you choose an online service that has SERP tracking functionality only, then it will be right to evaluate the prospects before paying for this service. The current trend is that it is not enough to evaluate SERP only. It is also necessary to track backlinks, user behavior, collect and work with data in order to constantly have a full picture of what is happening.
Compare Payment Alternatives
Each SERP tracking platform can also offer different payment options. It is difficult to unambiguously single out the most convenient or optimal – it all depends on your business needs. Here are a few options from which you can choose.
Fee for each request. That is, you have to pay every time you make a request about your search results. This is a fairly convenient and cheap option if your site is in the initial stages of development, that is, you are testing a certain strategy, and checking the effectiveness, for example, once a month.
Fee for a certain number of requests. This means that you must immediately pay a fixed number of requests – for example, one hundred, five hundred or a thousand. Moreover, these requests may also have an "expiration date", that is, for example, you must use them up within a year. Carefully read the terms of the contract when you make the payment. This option is suitable if you approximately understand how many checks you or your team need on average for a certain period of time.
License or subscription. This is the best (however, not so cheap) option if you want to have unlimited access to data about your search results. This is a payback investment if you have several online projects, and you, as an owner, track each of them, or if you are a freelancer working with several clients, each of whom wants to constantly be aware of his progress dynamics.
Evaluate the Accuracy of Results
You may need to try a few tools to compare the results, but practice shows that desktop applications are the least accurate. Although the most beneficial in terms of the license.
By the way, there is another subtlety that you need to know about desktop applications for tracking SERP. The next section is about that.
Personalization – One More Important Thing You Should Know About SERP Tracking
The main difficulty in obtaining SERP results is getting accurate results on request. This task is constantly complicated by the fact that search engines show personalized results. That is, the order in which sites are displayed after the user's request is completed is also determined by their personal preferences. The possibilities for collecting such data from a search are endless. Therefore, it is important to exclude the factor of personalization and get an objective result.
Typically, tracking services collect data without personalization. And in order to compare the results, if necessary, you must either switch the browser to the incognito mode or first clear the browser cache from all types of cookies and disable third-party plugins that can affect the search results. Only with these recommendations, you can see the results without personalization.
As for desktop applications for evaluating positions, these tricks will not work, since it will be carried out outside the browser. In this situation, you will need a proxy server to trick the personalization function, and a proxy server means additional costs. Although the license is, of course, the most profitable option for unlimited checks.
And Finally, What Is the Best SERP Tracking Tool?
The best SERP tracking tool is one that suits your business. However, practice shows that specialized online services do their best. They show the most accurate result, you can see the dynamics for short periods of time (for example, services like Ahrefs and Semrush do not allow you to find out your positions every day), the terms of payment and the number of available checks are as flexible as possible.
Get into the Top Google Ranking
free
SEO Cost Calculator Tool
Enter URL & See What We Can Do Submit the form to get a detailed report, based on the comprehensive seo analysis.