SEO with Low-Quality Backlinks: 3 Sites That Nailed It
Today link building is still one of the frontmost SEO tactics. The sheer fact that Google considers backlink profiles before bringing websites atop of SERPs speaks volumes about link building relevancy. We've got used to the quality-and-authoritative-backlinks mantra because it's been written about a thousand times that only quality and authoritative backlinks can drive your website to success.

As a natural result, only websites with lots of quality and authoritative backlinks break in Google's Top 10. Right? Not exactly. The truth is that low-quality backlinks can drive your site to success just as high-quality links. Sounds like dud advice? Let us explain.
Top-quality backlinks are great. They do upgrade your website and make it look prettier in Google's eyes. Quality links are hard-hitting but super effective. And, indeed, you cannot trick search engines anymore because they are getting better and making their algorithms as smart as a whip.
There is every reason to believe that quality backlinks are a godsend to your website. But there is a catch. What if we told you that you could have been overlooking the potential of low-quality backlinks?
Unexpectedly, but low-quality backlinks can work wonders as well. To illustrate this, we've investigated in practice how low-quality backlinks function. Before we dive into in-depth details, let's figure out what we call high-quality and low-quality backlinks.
High-quality vs. low-quality backlinks
Before we begin, we have to clear up the difference between high-quality and low-quality backlinks. Good backlinks are the backbone of your website's success. On the other hand, we have bad, low-quality backlinks. SEO folks say that these links are the ones to be avoided whatever it takes. But how to quickly define which backlinks are good or bad?
We have figured out five specific areas in which the differences between high quality and low-quality links can be outlined. And here's a quick 5-step guide to differentiate bad links from good ones:
Source of backlinks. It is the first thing you should look at before getting a new backlink. It seems evident that you can get no good link from a spammy website, and visa versa, if the website metrics are excellent, then the backlinks from such sites are also great.

The intention behind building backlinks. The most important reason that should stand behind your link building campaign is developing authority within your niche and make people come to your website just for the sake of useful content. Nowadays, you cannot fool Google at getting a bunch of irrelevant, poor-quality links.

Structure of backlinks. To get a perfectly-balanced backlink, you have to cover these four main issues: anchor texts for your link, internal linking between your home page and subpages, position in your backlinks in the source page, number of internal links (the less, the better).

Type of backlinks. There is no single decision on the most efficient type of backlinks. However, dofollow links are desirable. Still, if you are about to get a nofollow link from an authoritative and high-quality site, then you should definitely get it.

Frequency of linking. Your link building campaign should be consistent and wise. You have to add new links to your profile as if they come there naturally. The point is not to overcomplicate your link building and stay off Google's radar.
So, what's the point of our research?
The main goal of our research was to unveil the off-beat path in link building and show you that bad backlinks don't necessarily work against your website.
We picked up three different websites that had low-quality links in their profiles and analyzed the overall performance of such sites in SERPs. We used SimilarWeb and Ahrefs during our research. So you can easily recheck all the data provided in this article.
Jumping ahead a bit, the websites with low-quality backlinks are doing just fine in Google.
Before we start our thorough breakdown, a few words about our research in a stepwise fashion.
Step 1. We selected websites in niches with relatively low competition. Otherwise, we wouldn't receive such representative results.
Step 2. We've analyzed the performance of the selected websites in 4 dimensions: general overview, keywords, backlinks, geolocation, and anchor texts.
Step 3. We used Ahrefs and SimilarWeb to back up our theory with facts
Website #1: bestsharkvacuumreviews.com
Overview
The first website that fell under our investigation was bestsharkvacuumreviews.com, a specialized site with heaps reviews and tests of Sharp vacuum cleaners. From the customers' viewpoint, it's a super handy website with relevant info on this or that vacuum cleaner. In other words, the site correctly responds to search queries. Statistics from SimilarWeb illustrates this: the website gets 6,890 users/mo from Google, and 229 users/daily.
Google acts as the primary traffic source for this website. It comprises near 90% share of total search traffic. Direct search lies in second place with 9% of overall search traffic. A miserly 1,45% of the search traffic comes from social media.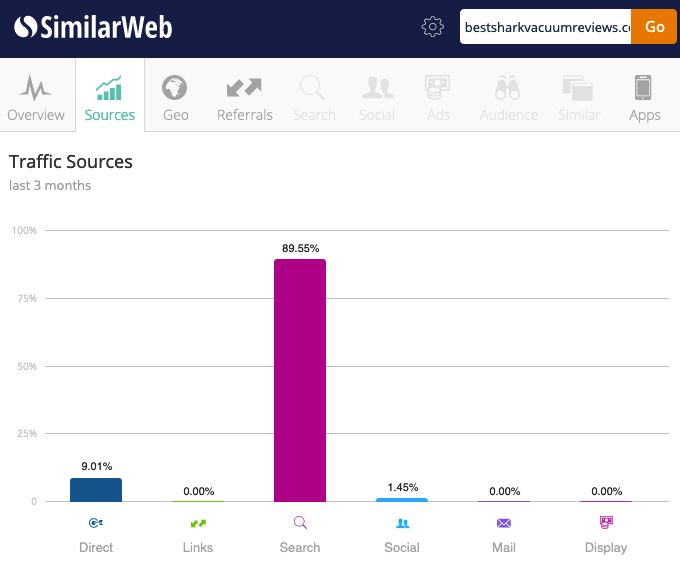 Moving on with SimilarWeb, we can see that the vast majority of all traffic to the website comes from the USA and makes out 83,92%. Canada, Trinidad and Tobago, Australia, and India divide up the remaining 10% of the search traffic.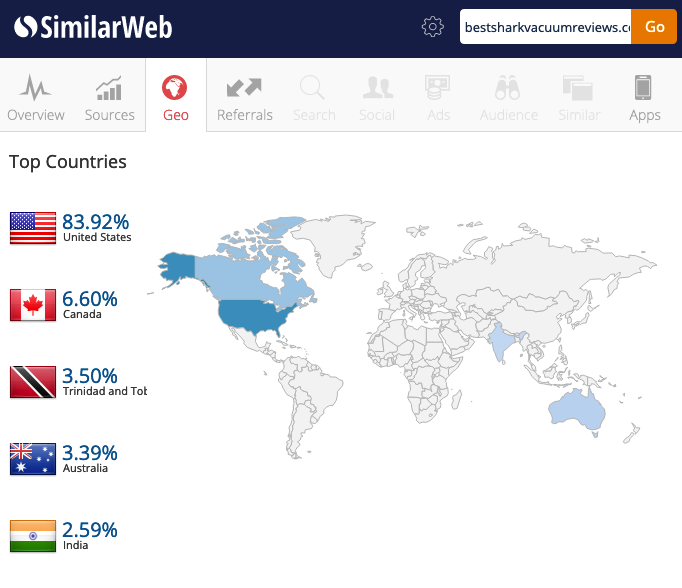 That done, let's check up how many pages are indexed by Google. The easiest way to find it out is to use a so-called site:" -operator and the URL of the website. The result of our search request unveiled 128 results.
Keywords
Once we found out the total number of indexed pages, let's move on to the target keywords which are bringing all that traffic to the website. Here's what we see from the organic keywords list:

It's only a small part of the whole semantic core. But what we can clearly see is that the website is in the top 10 results for more than 1700 keywords. And it's only for the USA region. And we shouldn't slide under the radar other countries and regions.
One more thing that is worth mentioning is the search volume of the keywords. The keyword with the highest volume of 1000 is in 10th place.
Backlinks

Bestsharkvacuumreviews.com has 82 referring domains that overall produce 1006 backlinks.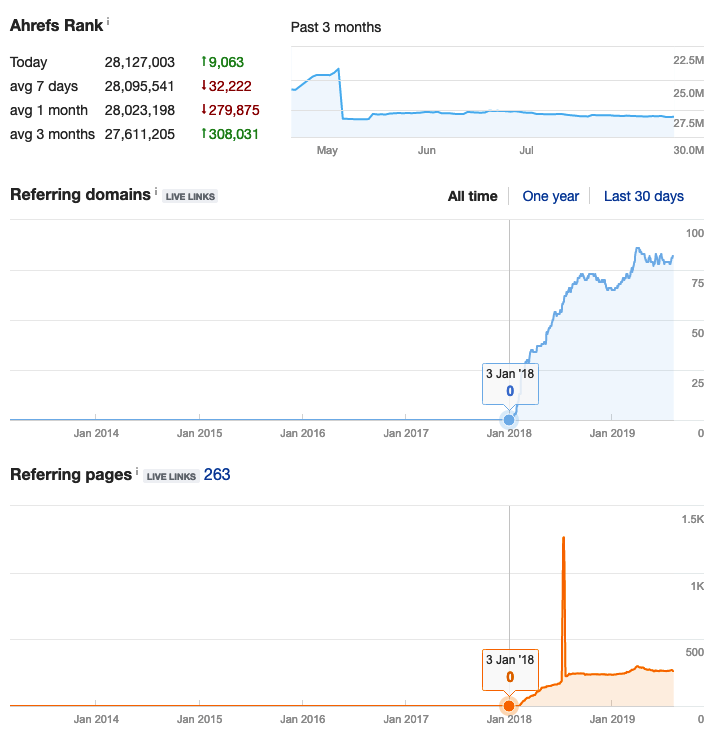 If we look at the time scale of this website, we'll clearly see that the very first backlinks appeared in January 2018. However, the number of referring domains increased steadily if not to say slowly in the course of a website's lifetime.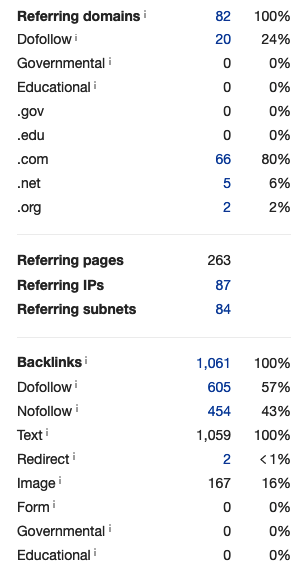 Let's move forward and check out in detail the backlink profile of this website. Ahrefs shows us the quality and type of backlinks.
From the above picture, we can see that only 24% of all domains, i.e., 20 domains, provide dofollow backlinks. All the rest 76% of domains deliver nofollow backlinks. In other words, we have only 20 referring domains that give us traffic and keywords ranking in Google Top 10.
The second picture signifies that the backlink profile is composed of 57% of dofollow and 43% of nofollow backlinks.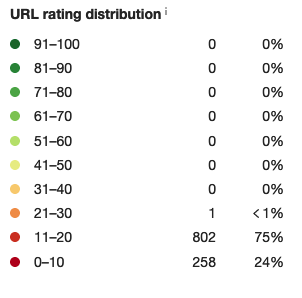 Let's have a look at the quality of backlinks. And the picture shows us not the brightest view. The major part of the backlink profile is made up of low-quality backlinks that are never more than 20 scores on a 100-point scale.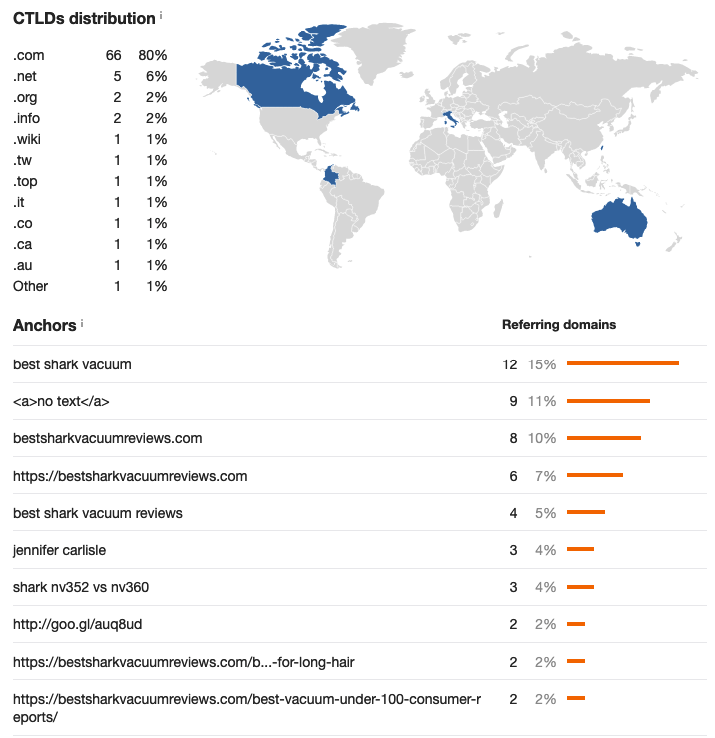 Geolocation anchor texts
Geolocation of the backlink profile includes about 60% of .com domains, which means that we couldn't tell for sure the domains' geo because .com domains are international ones.
In a nutshell, anchor texts of this website are primitive and straightforward. It seems fair to say that they're the most natural as well.
If we take a closer look at the backlink profile of this website, we'll see that on the very first place there is a link that can everyone obtain with ease: https://www.dmca.com/Protection/Status.aspx?ID=4092a76a-942a-4075-9727-22725c484a36refurl=https://bestsharkvacuumreviews.com/
All other backlinks aren't very authoritative or challenging to get them. Nine-tenths of the backlink profile is made up of free backlinks that can everyone get.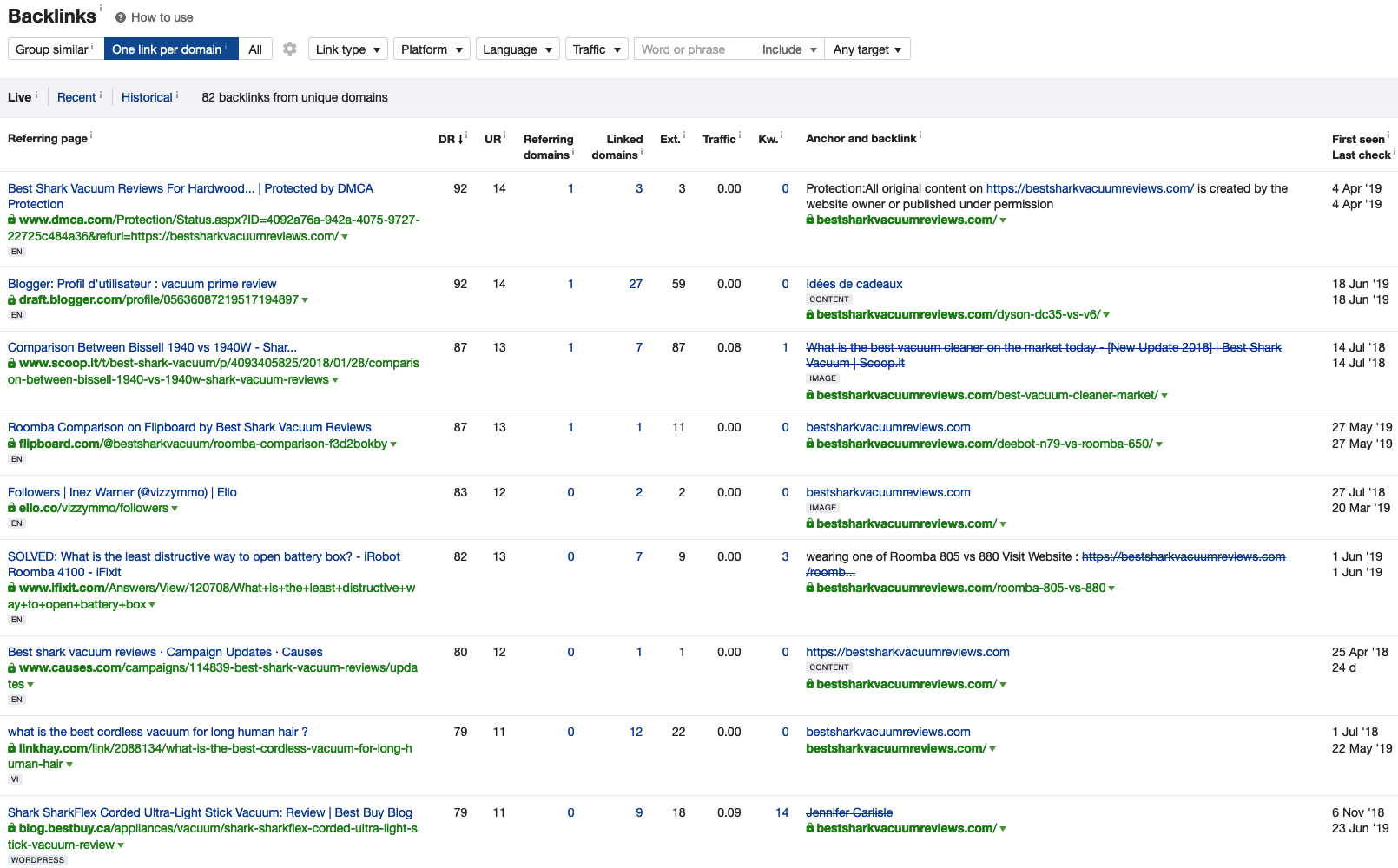 Website #2: carpetgurus.com
Overview
Our second case deals with a website specializing in carpet reviews. It's not the type of website that everyone reads daily. However, there are 11,800 visitors/months. About 10,620 visitors come from various search engines, resulting in 354 users/day.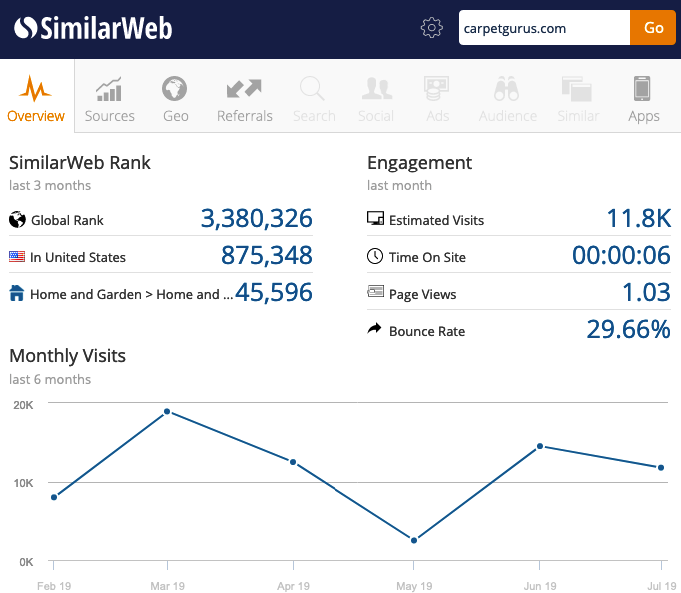 At that, organic/search traffic amounts to a massive 87% of all website traffic. SimilarWeb spotted only 13% of direct searches.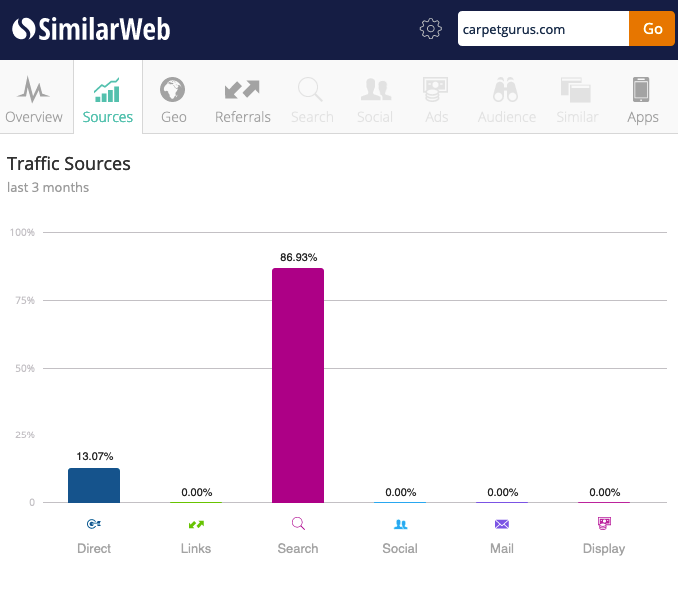 Keywords
Carpetgurus.com has 754 keywords in Google's Top 10. Altogether, the site ranks for more than 7,000 keywords. The longtail keyword with over 3,300 searches/month gets 5th position in Google SERP.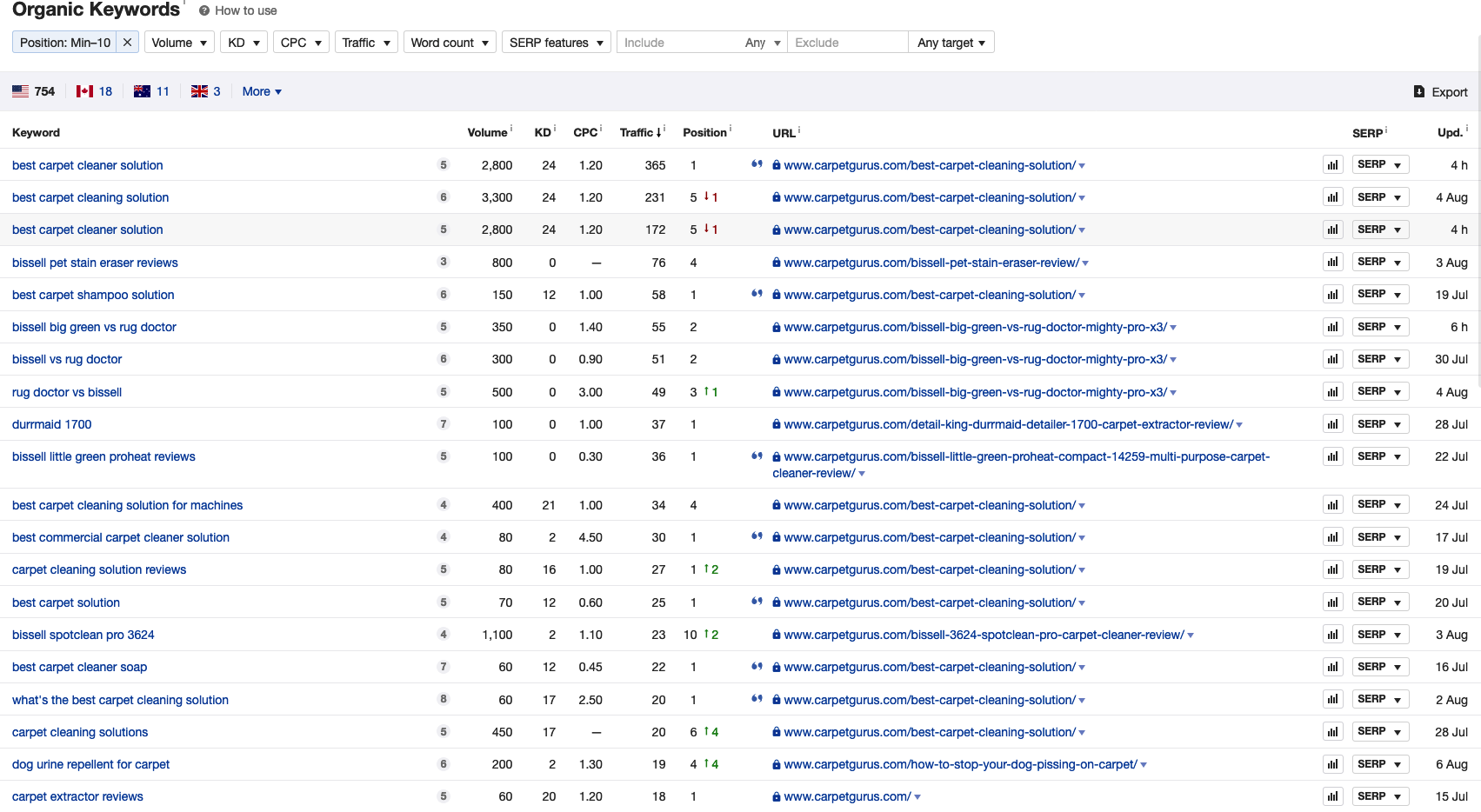 Backlinks

From the screenshot, the analyzed website doesn't impress us with a long list of referring domains. There are only 64 domains giving few and far between 274 backlinks. At that, it's quite enough for the website to rank just fine in SERPs and get a decent traffic flow.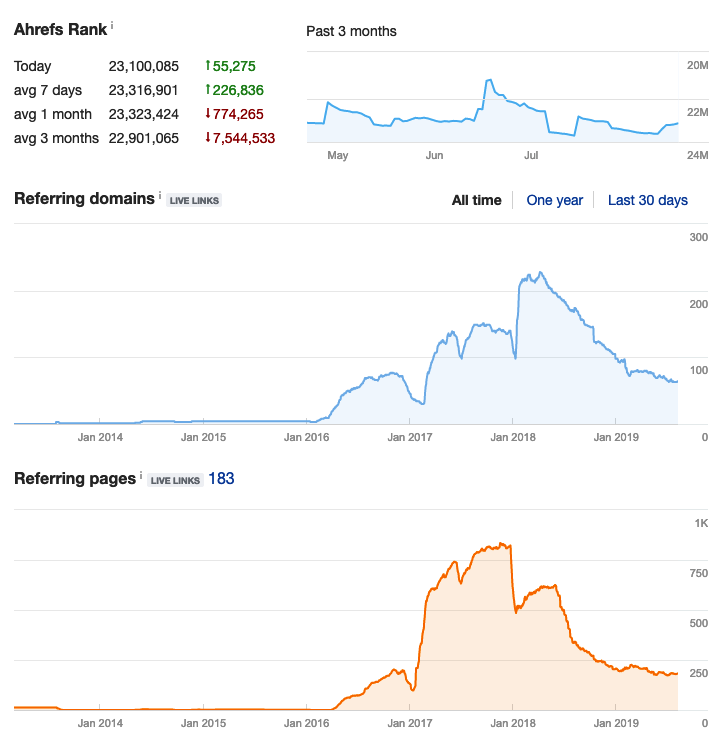 The growth pattern of the backlink profile is unstable and currently is decreasing.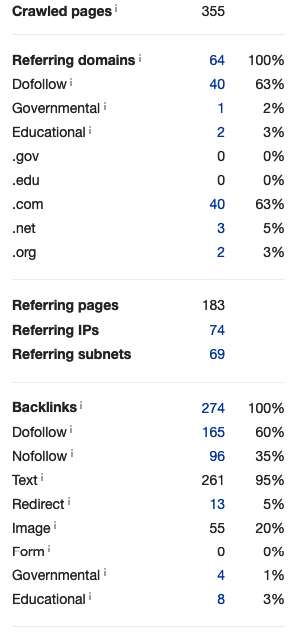 What about the structure of the backlink profile? Around 63% of domains provide the site with the dofollow links. Regarding backlinks, the situation is nearly identical, 60% of the links are dofollow, while 35% are nofollow one.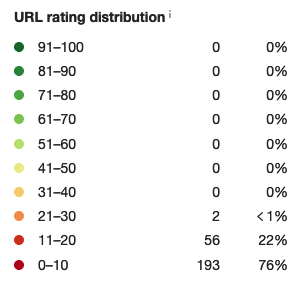 The quality of backlinks is below average. The vast majority of all incoming links arrive from low-quality websites.
Geolocation anchor texts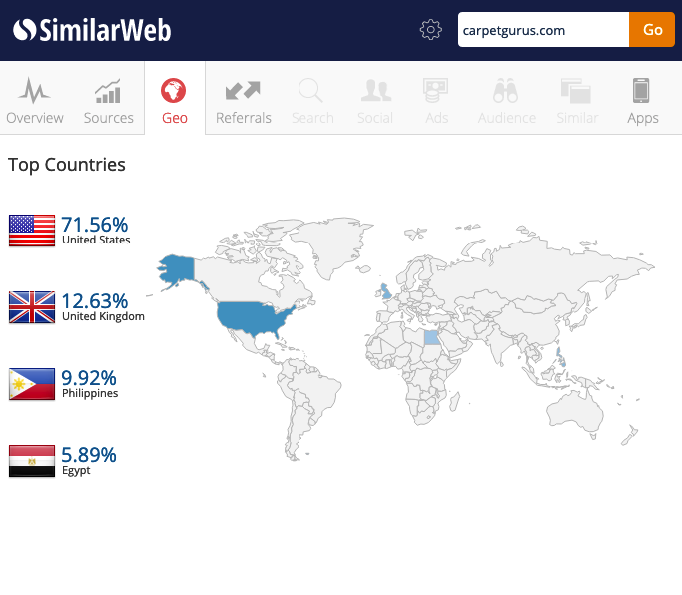 SimilarWeb shows us that carpetgurus.com receives users from the United States (71,56%), United Kingdom (12,63%), Philippines (9,92%), and Egypt (5,89%).
In Google SERPs, we can see about 116 results.
Geolocation of backlinks almost entirely consists of international domain zones such as .com, .net, and .org.
Anchor profile is easy and plain. We'll go so far as to say that anchor texts look as truthful and natural as possible.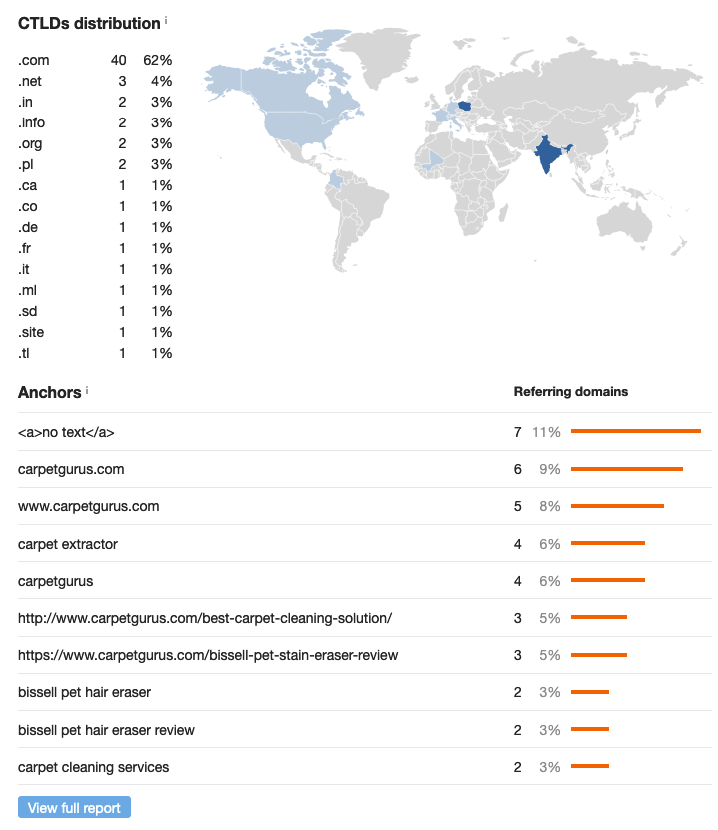 Website #3: juicingnation.com
Overview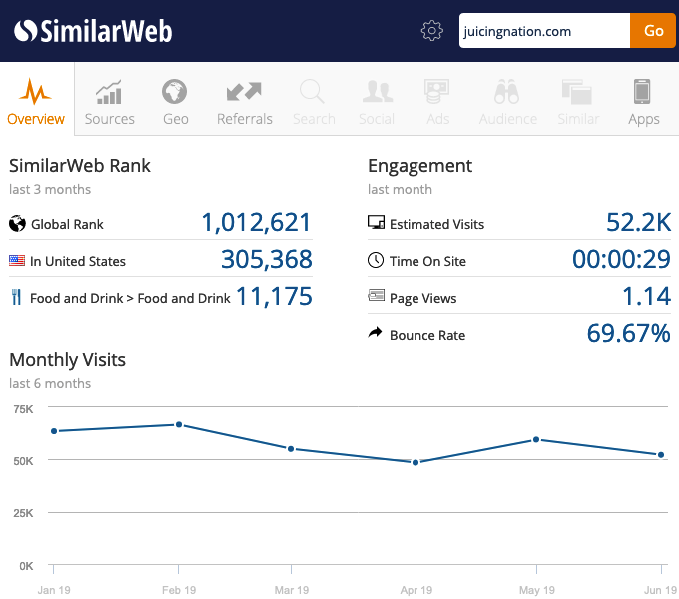 Our third case is juicingnation.com. The name of the site suggests its niche and topics.  The website gets about 52,200 healthy lifestyle promoters/month. The part of organic search traffic is 89-90%, or 46,980 visitors/month, which is 1,500-1,600 users/day.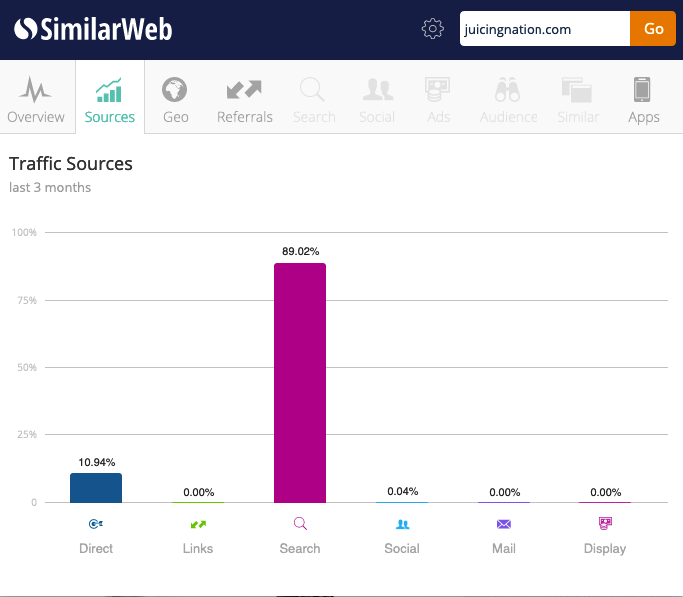 SimilarWeb shows that juicingnation.com gets 89% of organic traffic and almost 11% of direct search.
Keywords

This website has 2,688 keywords in Google's Top 10. Broadly speaking, the site ranks for more than 17,900 keywords.
The keyword with the highest search volume of 4,200 and takes 4th place in SERPs.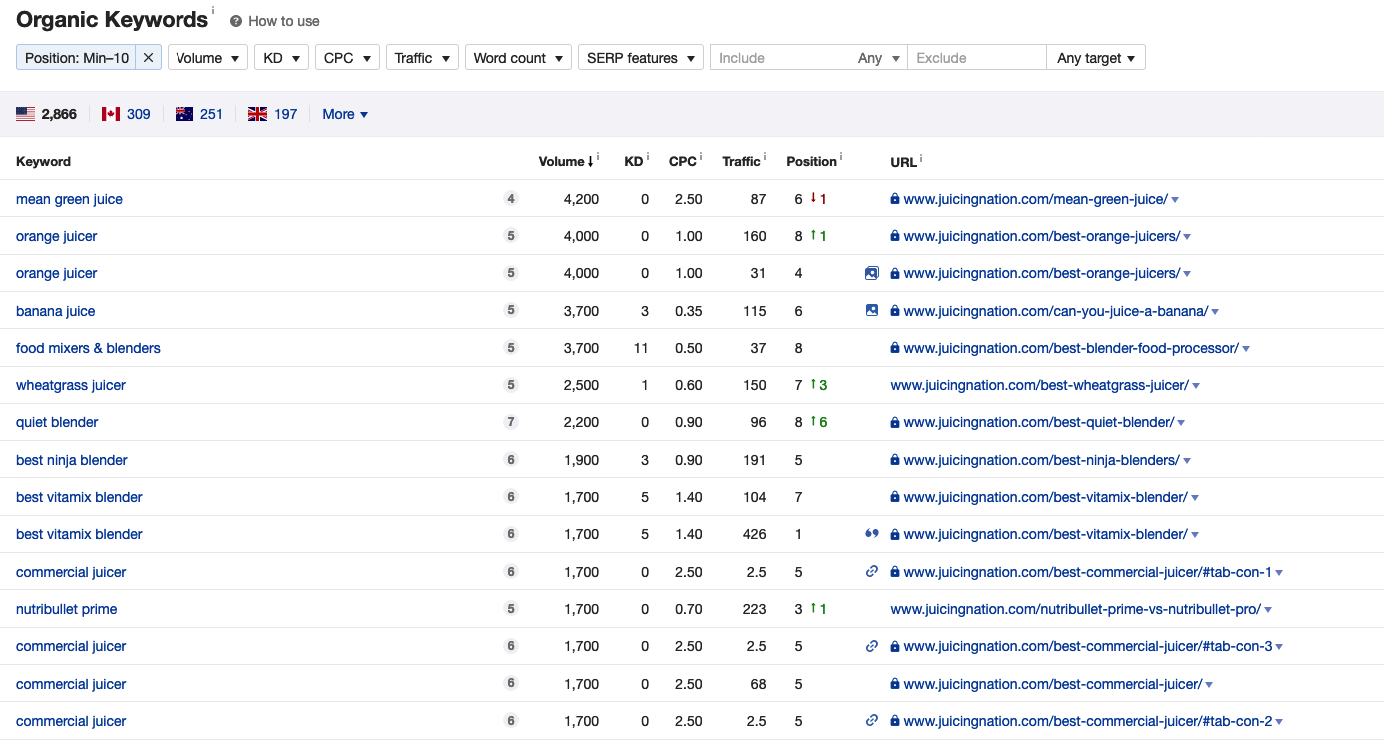 Backlinks

Juicingnation.com has 223 referring domains that produce 1,200 backlinks. It provides a high ranking in Google and organic traffic for the website.
When talking about the dynamics of the backlink profile, it's relatively stable. However, the number of backlinks has decreased over the last year.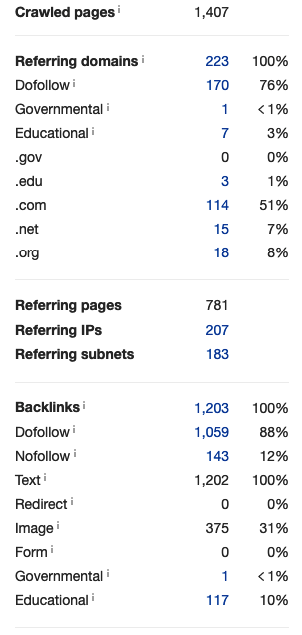 At a closer look at the backlink profile, we'll notice that 76% of domains give us dofollow backlinks. If we talk about backlinks we'll see that the picture here is similar: 88% of them are dofollow, while only 12% are nofollow ones.
Now it's time to assess the quality of the backlink profile. From the above print screen, we see than about 91% of backlinks derive from low-quality and poor websites, the quality scores of which more often than not amount to 0 at the 100-point scale.
Geolocation anchor texts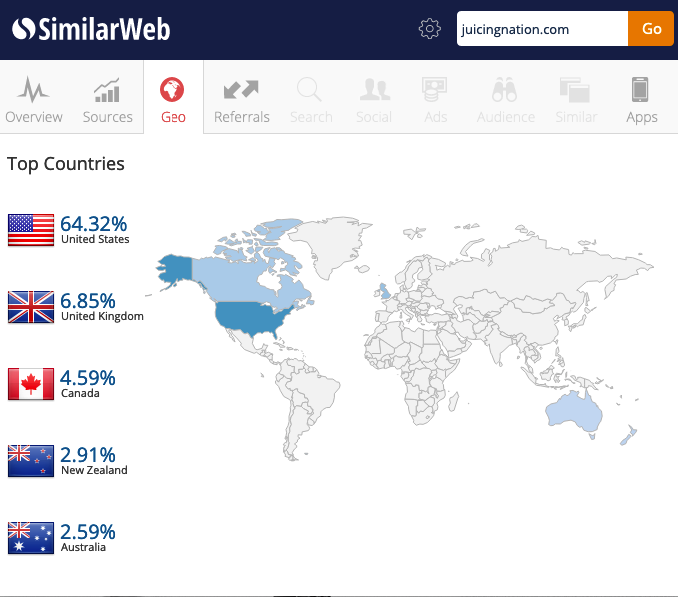 Geo-location of the website traffic consists of 64% of the USA and the other 36% of other English-speaking countries.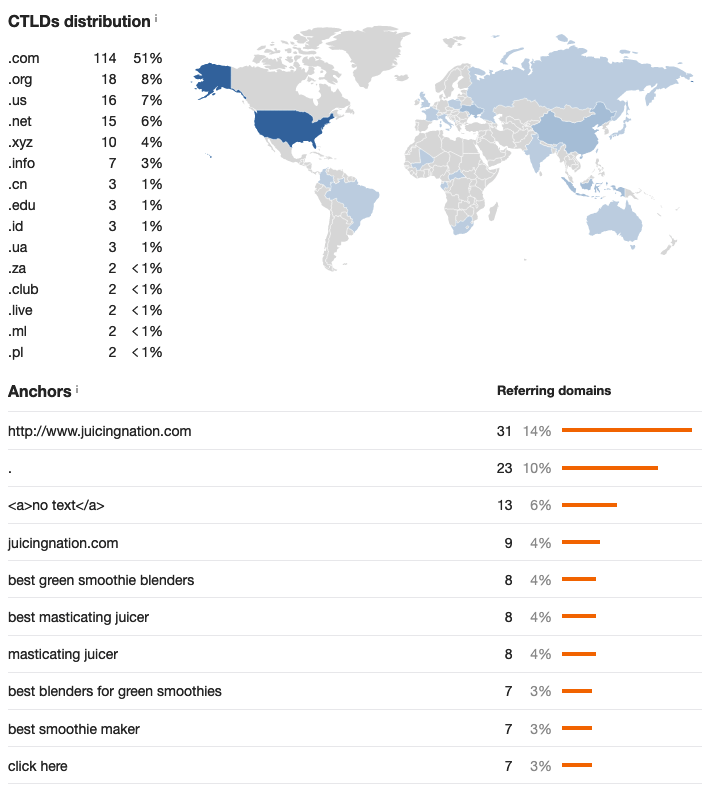 Geolocation of referring domains is made up of international domain zones. Anchor texts look a little bit spammy because of frequent usage of exact match anchors. As you know, according to the anchor text distribution formula, the number of exact match anchor texts shouldn't exceed 1% of all anchors. So, the larger the backlink profile will become, the more problems in Google SERPs it will cause.

Here's a small glimpse of the backlinks. The most quality links are openjournals.wsu.edu/index.php/landescapesarchived/user/viewPublicProfile/31916 and reasonboot05.hatenablog.com/entry/2017/06/03/152017. All the rest are free backlinks that everyone can quickly obtain.
The bottom line?
Don't shy away from low-quality backlinks. If handled properly, "bad" links can work wonders with your SEO. Nobody but you (or experienced SEO Specialist) can figure out the healthiest link building strategy for your website. Try out the best tips and tricks in link building, use different tools that are created to simplify your SEO routine, and ask for help when you're stuck. Besides, you never know what works better for your site. Low-quality backlinks are a low hanging fruit that no one wants them. However, you've seen that even the cheapest and ugliest backlinks can bring in jaw-dropping results. So why not to try them out?
Get into the Top Google Ranking
free
SEO Cost Calculator Tool
Enter URL & See What We Can Do Submit the form to get a detailed report, based on the comprehensive seo analysis.