5 Channels to Chase the Best Offers from LinksManagement
If you are running a website or nurturing your business, you are always looking for ways to optimize expenses and spend less on the quality services. But more likely you don't have enough time to fish out the most profitable offers and promotions available on the Internet.

Knowing this, we provide you with one of the fastest and easiest ways to grab the most attractive offers from LinksManagement. All you have to do is follow us on social media. If you aren't our follower yet, here are 5 good ways to hop on board right away!
# 1 Special Offers on Black Hat World forum
Follow LinksManagement on BHW forum to stay in the loop of our latest news, lucrative sales promotions, and recent researches! By the way, BHW promotions are usually time-limited, so only the quickest users have a chance to reap the benefits we offer. Just so you understand here's one of our recent threads on BHW. Wise up and become a member of one of the largest online marketing and digital business community today!
Sign Up Follow Us on BHW
#2 Stay in step with news on Facebook
Since Facebook is one of the most popular social networks that covers over 2,07 billion people, we are constantly sharing our latest news on this social network. Follow us (if you haven't yet), make sure you choose to SEE first option in your news feed and be the first to know about our system updates, researches, and unique promotions!
Here's how to tune up your Facebook news feed to stay informed about our best promotions: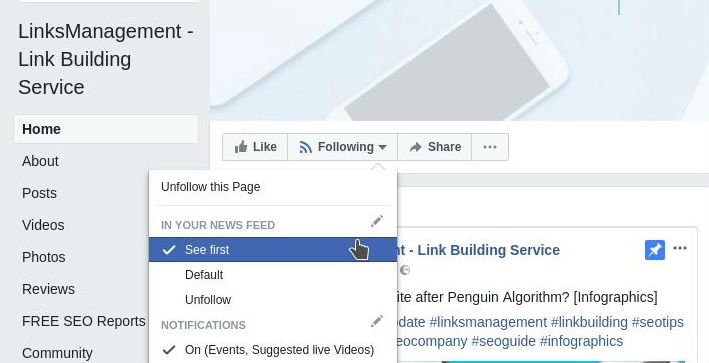 Follow Us on Facebook
# 3 Get an extra knowledge base with Telegram
We also share some valuable tips and recommendations on Telegram. In addition to our new blog posts, we share a ton of interesting information on SEO which will help you make the most of your website promotion with LinksManagement.
Follow Us on Telegram
# 4 Start the conversation going with Twitter
With more than 500 million tweets a day, Twitter turns out to be one of the go-to social networks. Plus, it's the perfect tool for communication! We'll be glad to get in touch with you and answer all your questions regarding LinksManagement! We are eager to know what you think about our services!
Follow Us on Twitter
# 5 Know us better with LinkedIn
Our LinkedIn account is worth noticing too. We regularly post news and special offers through LinkedIn. So if you're an active user of this social media network, then you have to follow us on LinkedIn to be the first to know the best offers from us. Plus, you'll see that all that we do is to ease your SEO efforts and make you succeed.
Follow Us on LinkedIn
We often cover the success stories of our customers through the social media channels. Our readers claim that they really enjoy other people's stories because they give them extra hints and motivation for their own success story! Read our customers' case studies, and reveal your areas for improvement.
Be sure that you'll manage to make the most of sales promotions! As soon as we launch any special offer, we share this news via social media channels.
Connect with LinksManagement social media community now! Choose the channel you are interested in, click the link and join us. Welcome!
free
SEO Cost Calculator Tool
Enter URL & See What We Can Do Submit the form to get a detailed report, based on the comprehensive seo analysis.