4-Step Guide On How To Buy a Domain
Do you want to get more customers and establish an online presence for your company or brand? Then you should definitely go online and get a website. To succeed, you need to know domain name tips and tricks. Moreover, this article uncovers several tips for choosing a domain name, as well as domain name selection tips, and provides you with a simple guide on how to buy website domain.

In 2017 the vast majority of people search for any kind of service and goods online. That is why, running a website is not merely an option, but a must. The very first step to setting up a winning website is to register a proper domain name.
In this article, we will share some tips and tricks on how to buy a domain name so to have a basis to run a credible and profitable website.
Why you should have a domain name
Before we begin, let us clarify 5 substantial reasons why you should have a domain name:
If you decide to move your current hosting, your domain name stays with you. It means that your customers, who got used to your website name, would not even have to be informed about any changes. The old familiar URL of your website will work the same
Small businesses, as well as worldwide corporations, boost their credibility significantly with their own domain name. People tend to build business relations with companies that managed to get a domain name.
If your domain name is catchy and evidently describes your business, people are more likely to remember it and visit your website without additional consultations offline. In fact, good domain name means that your website is recognizable and can be easily accessed. Besides, it provides the "first impression".
Domain name is helpful to involve advertisers or investors. It works for your brand recognition and website authority.
A domain name has an impact on your SEO. Since there is no need to use exact match domains, keywords in your domain name are still able to help your SEO rankings.
Buying domain name tips
Ok, you've decided that website is a thing that worth your money. Still, this is just the point where it all begins. "How to buy a website domain?" is one of the frequently asked questions by far. It's easy as 1-2-3-4. Literally, here is the 4-step domain name guide:
Think of the domain name
Check it's availability
Select a domain registrar that will register a domain for you
Buy the domain
There are so many nuances on each of these steps that we will take a closer look at each of them.
What's in a name?
We have told that above, but let us remind us, your domain names play a crucial role for your website further success. You need to take this naming step seriously. Because your website will be recognized and associated with this or that name.
The best domains ever have several similar features. Usually, they are short, descriptive, catchy. To simplify your choice, here are some basics to follow when looking for a highly winning name for your domain.
Brandable domains are always better than the generic ones. The point is that your website name is what will stay with you for a long time. Let them become creative and recognizable. This approach to selecting a domain name will help you stand out of the pack.

Short domain name. The shorter domain name you find, the better. Firstly, short names are easier to remember. Secondly, the short name is easier to type. Thirdly, researchers prove that websites with short names are more successful in comparison to the websites with long names.
A domain name that slips off the tongue. It correlates with the shortness of the chosen domain name. Easy pronounceable and short name is handy when you share your website name orally. Besides, you'd better avoid name which may be misspelled.
No symbols or numbers. Once again, imagine how your potential customer will pronounce it. If the domain name pronunciation is unclear, then move on that name.
Smart keywords stuffing. Keywords are important for your ranking boost. Still, you need to be careful here since if to use keywords straightforward, there is a risk to turn your domain name into the following generic name. Use the keywords at the very beginning of your domain name to get the most of it.
Check availability. Ensure that the name you've chosen isn't someone's trademark, copyright or another company's name. Otherwise, it could cost a great deal of dollars, as well as your domain.
Domain name extensions matter. When choosing a name for your domain, be sure that .com is still the best variant possible. The reason is that .com extension is familiar, easy to remember, and bears more credibility. You may also use other top-level domain extensions like .co, .info, .net, .org, .biz, and many more. Still, a website name ending at .com is always the best choice ever. Small tip: avoid that strange extensions like .pizza, .club, .create etc.
Be quick, but don't hurry. Once you decided on the domain name you need, buy it. Sounding domains sell out very soon.
Check the accessibility of a domain name
Once you have a shortlist of your preferred domain names, it's time to check whether it's free for your utmost ownership rights.
List of domain name registrars
There is a great variety of domain name registrars. Below are just several of them, with short descriptions. Keep in mind that the industry of domain names is highly competitive, that is why the prices are changing all the year long. For this reason, the indicated prices are average. Please check all the latest prices by yourself.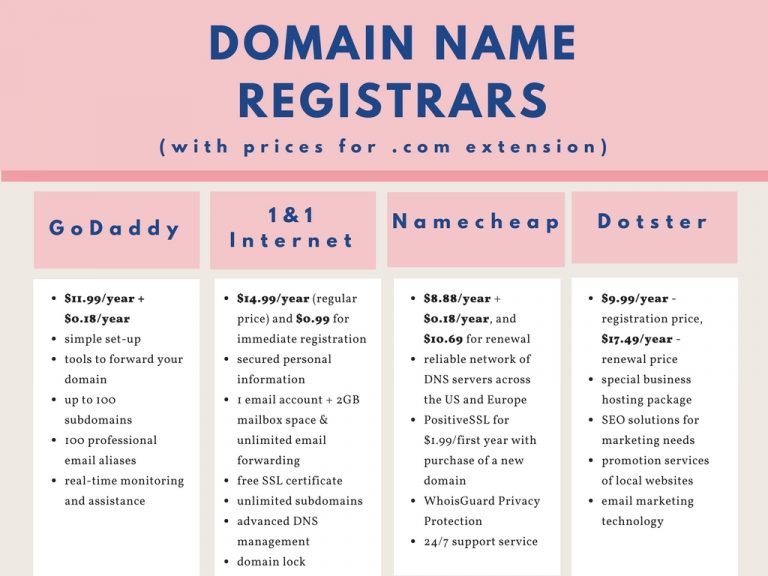 Step 4: Purchase your domain
Congrats! This is your final step. After that, you'll get your brand-new domain name registered and ready to use.
free
SEO Cost Calculator Tool
Enter URL & See What We Can Do Submit the form to get a detailed report, based on the comprehensive seo analysis.