Article Links: Content Solution You Will Love
Posting sponsored content as an SEO strategy has been pushing daisies for some years now. Or at least that's what they say. But is it really so? Turns out, it isn't! As long as it is done right and is not the only tool under your belt.

The strategy of not having all eggs tucked in one basket has proven its effectiveness over the years. That's why your SEO campaign must include a diverse arsenal of tools, like both high- and low-quality backlinks or strong on-page optimization within your website. But what you should really add to your array of instruments right now to increase traffic is backlinks surrounded by your own valuable content.
Create. Control. Succeed.
You see, all that your customers want while surfing the Web are solutions and opinions. If your content can provide one or both of these things, then it is definitely a hit. Let's say, you can post an article. Or a how-to guide. Or an engaging and scrupulous product review. The bottom line is that the content must be valuable.
More so, if such content comes from a high DA website, you are bound to get people's attention. They will come searching for more. That's where backlinks carefully placed in your article, guide, or product review come into play, directing traffic to your own website.
Pretty simple, right? But we have taken things a step further to make it even easier! All you need is some quality content and about ten minutes of your time. You can increase your conversion rate by up to three times in just a few steps.
1. Create content
Your customers want to know more about your business. They want to know your opinion. They want you to ooze authority where it matters to them. This is your chance to represent your business's image as accurately as only you can. Keeping that in mind, your content must be:
Relevant – give opinions that are sound, advice that works;
Unique – hundreds of users are out there for content that only you can provide;
On-point – get to the gist of it at once, don't keep them waiting;
Easy to read and understand – drop every complex term, unless it is necessary. Sophistication does not always equal authority, at least in the customer's eyes.
And never – and we mean NEVER – make your content spammy. A hawker's approach is never an effective one.
2. Sign up with LinksManagement or log in to your account.
3. Select Article Backlinks from the menu at the top of the page and click Buy Article Backlinks.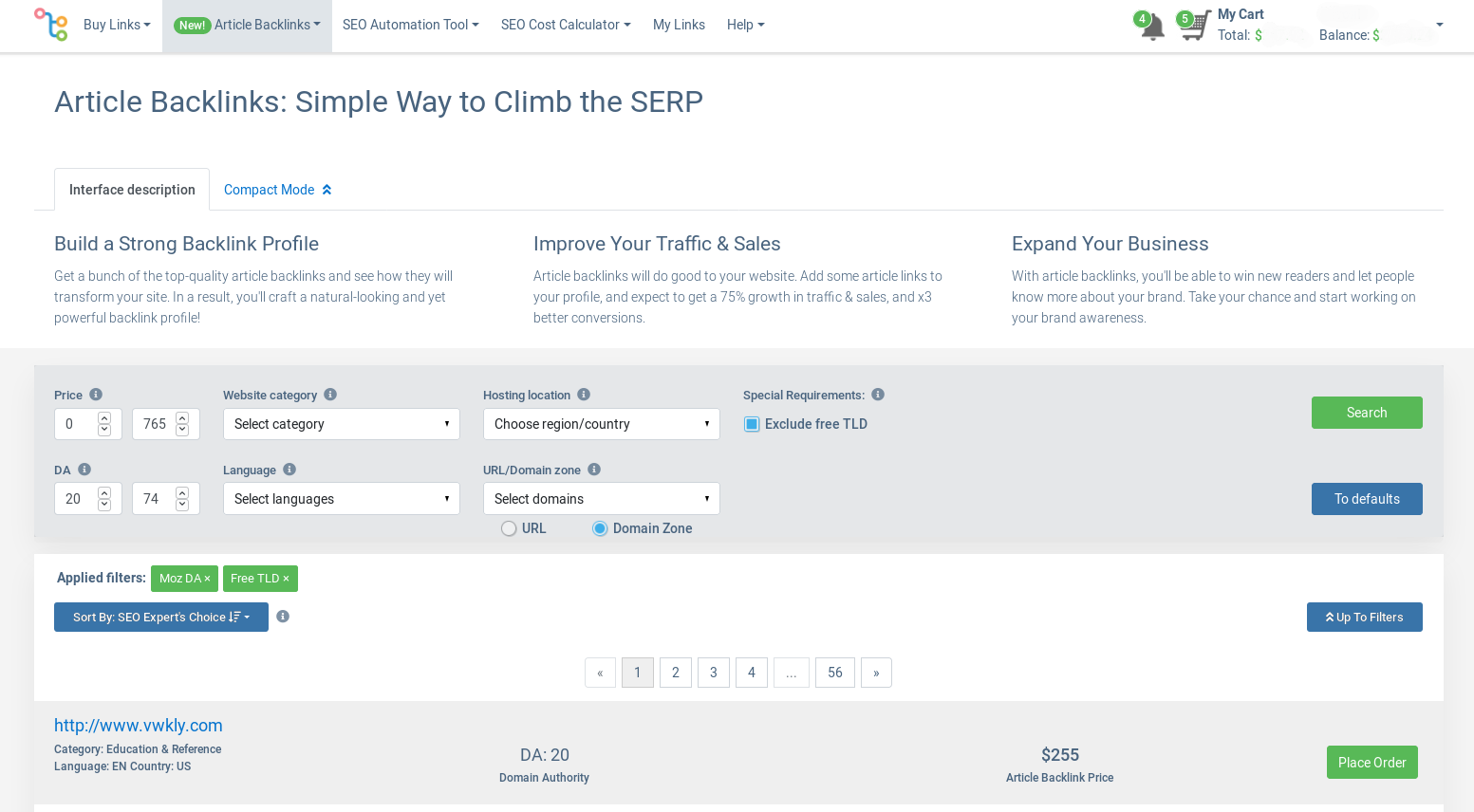 4. Use filters to select a website you want to post your guest content. Once you're done, click the Place Order button

5. Enter your article's title and text into the corresponding fields. Don't forget to place your links in the text, so the readers know where to find you!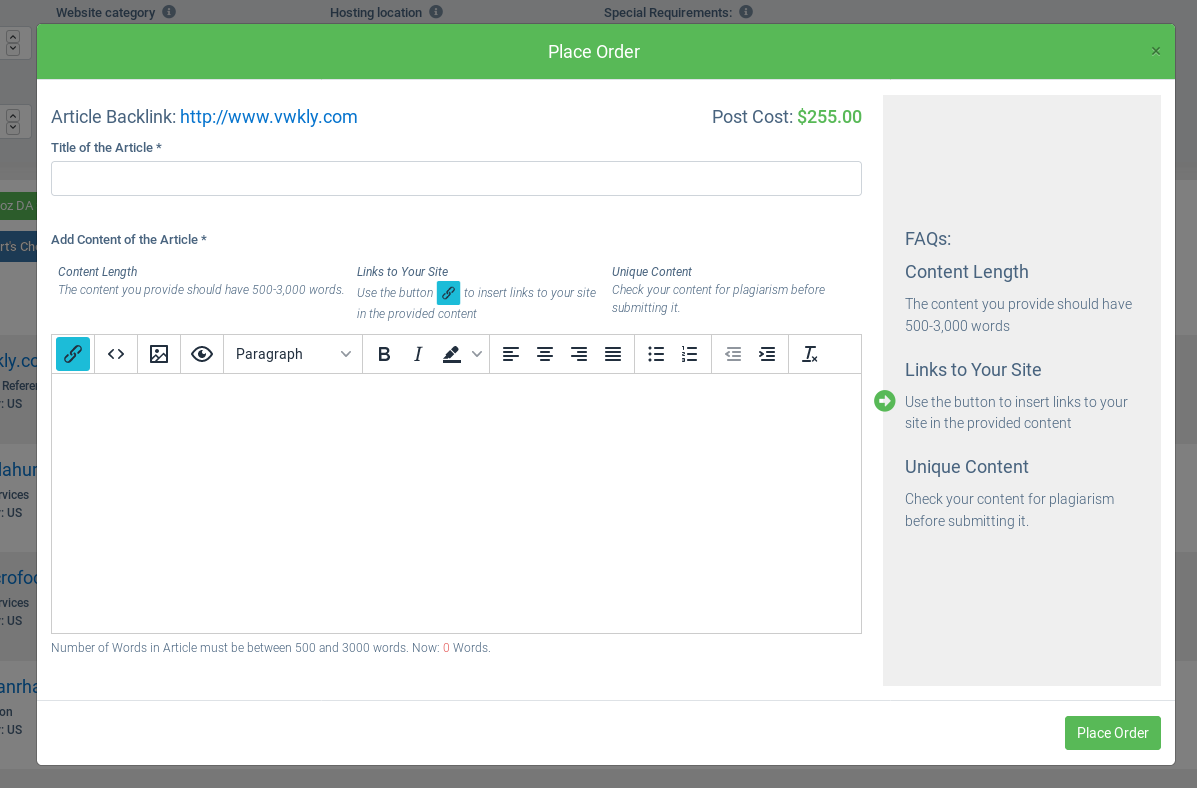 6. Click the Place Order button and proceed with the payment.
That's it! Your selected website has one hour to five days to check your content for compliance with their policies, after which they will post your links on a separate page, surrounded by the content you created!
Judging from our experience, you may need from 50 to 70% of your backlinks to be surrounded by valuable content to have a lasting impact on your SERPs. The exact ratio depends largely on your competition and your SEO strategy. Our SEO Cost Calculator is there to help you analyze your backlink profile and set you on the way to success with the exact number of links you need.
Others May Promise. We Guarantee.
With our Article Backlinks, your content is safe – as well as the money you invest in it. High-quality content usually takes between 1 hour to 5 full days to get placed on your chosen website. This depends mainly on how long it takes our partners to check and approve your content for posting. However, if they decide not to – you still lose nothing! Our money-back guarantee has you covered:
100% refund if your content is not posted after five days since order placement;
100% refund if you decide to cancel your order within five days since its placement;
A partial refund if your content becomes unavailable within one year since it was posted.
We guarantee that your content will be checked for being alive for at least 365 days since first placed, along with the links leading to your website. This is enough for affecting your SERPs in the long run, and it is common for the content to stay there for much, much longer! To make this happen, our AI-driven system will continuously monitor the website for your content's availability for a full year's period since day one. In case it becomes unavailable, you will get a refund for every day your content isn't there.
For example, if, say, your article disappears after 250 days and is not reinstalled by the website, you will get the remaining 115 fully refunded, in proportion to what you paid for the service. How neat is that!
What You Get In A Nutshell
Total control of the content that will accompany your links and represent your business;
The links you include in your content are there to stay – much like permanent backlinks;
One-time payment for a long-term effect. The conversions may take time to fully kick in but will be coming long after you first placed the order;
Convenience – you won't have to go to and fro in the negotiation game with the publishing websites, which can take weeks on end and lead you nowhere;
Up to 75% growth in traffic sales, and up to x3 better conversions with top-quality content fully controlled by you.
The bottom line is, while others still stick to the misleading opinion that using sponsored content to get SERPs is not effective, you can capitalize on this false opinion by investing in Article Backlinks. Conquer by content and reach Google's Top 10!
Get into the Top Google Ranking
free
SEO Cost Calculator Tool
Enter URL & See What We Can Do Submit the form to get a detailed report, based on the comprehensive seo analysis.